HEALTH CARE BRIEFING: Senate to Vote on Interim Hospital Relief
Bloomberg Government subscribers get the stories like this first. Act now and gain unlimited access to everything you need to know. Learn more.
The Senate plans to meet today for a potential vote on an emergency stimulus package of as much as $500 billion, as Speaker Nancy Pelosi (D-Calif.) said negotiations are "down to the fine print."
"We have, I believe, come to terms on the principles of the legislation, which is a good thing," Pelosi said on CNN last night. She said she hopes the Senate can vote on the measure today and the House tomorrow.
The legislation would add funds to the tapped-out Paycheck Protection Program for small businesses and also would provide money for coronavirus testing and overwhelmed hospitals.
Senate Majority Leader Mitch McConnell (R-Ky.) said earlier in the day, "It's past time, past time, to get this done for the country."
Unanimous consent would be required for the Senate to pass the bill during a pro forma session allowing most members to avoid traveling to Washington.
House Majority Leader Steny Hoyer (D-Md.) notified lawmakers last night they could meet as soon as Thursday to consider a deal. Because an objection to unanimous consent is likely, Hoyer said that members would probably have to go to Washington for a recorded vote.
Some known provisions of a deal include:
$310 billion in emergency aid to the Small Business Administration's Paycheck Protection Program, designed to help small businesses keep employees on their payrolls as much of the country remains under stay-at-home orders.
$50 billion to $60 billion for a separate Economic Injury Disaster Loan program that provides financing and advances as grants of as much as $10,000 for businesses.
$75 billion of the $100 billion Democrats have demanded for hospitals, with a significant portion aimed at rural hospitals, as well as $25 billion for virus testing.
A person familiar with the talks said yesterday that Democrats and Republicans still have disagreements over the formula to distribute health-care relief to the states. Another dispute remains over the testing program, including which U.S. agency, the Centers for Disease Control and Prevention or National Institutes of Health, should oversee it, according to one person familiar with the discussions.
Pelosi has also come under pressure from her party's liberal wing to wring more concessions, like relief for state and local governments that the GOP is resisting putting in the package. "It is going to be very difficult to support a package that doesn't have what we need in terms of help for state and local governments," Progressive Caucus Chairwoman Pramila Jayapal (D-Wash.) said.
Combating an Equipment Shortage
Pence Says U.S. Has Test Capacity to Reopen: The Trump administration declared yesterday the U.S. has enough laboratory testing capacity for states to begin reopening economies shuttered to fight the coronavirus outbreak, though governors say they still lack supplies such as swabs needed to diagnose sick people. President Donald Trump and U.S. governors have sparred for days over who is responsible for expanding testing for coronavirus infections, which public health experts say isn't sufficient to begin relaxing the social-distancing practices adopted to curb the outbreak.
"We told the governors once again today, that by our best estimates, we have enough testing capacity today for every state in America to go to phase one" of the White House's reopening plan, Vice President Mike Pence said at a news conference. They also need to "meet the other criteria of 14 days of reduced cases and sufficient hospital capacity to prepare for any eventuality that may occur."
Republican governors in three southern states — Georgia, South Carolina and Tennessee — announced yesterday that they would lift some social-distancing orders, allowing some businesses and recreation sites to reopen, including South Carolina's beaches. Read more from Emma Court and Josh Wingrove.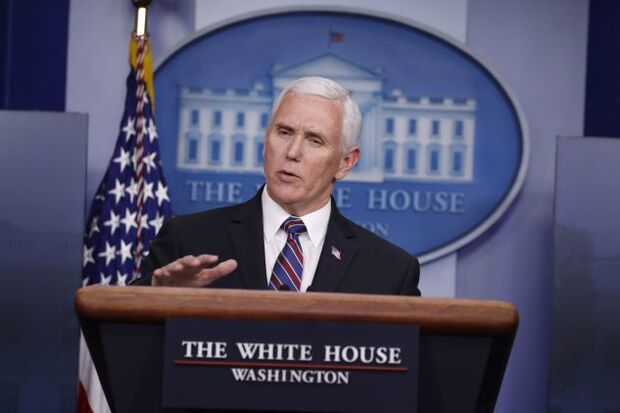 Defense Production Act to Get Virus Test Swabs: For weeks, U.S. laboratories have complained about shortages of swabs and other testing supplies that state governors say are key to reopening the country. Now, the Trump administration says it's moving to meet that need. The White House is finalizing plans to invoke the Defense Production Act to bolster the output of swab manufacturer Puritan Medical Products, a closely held company based in Guilford, Maine, according to Peter Navarro, the act's coordinator.
Navarro didn't say how much funding the company would get. But the goal, he said, is to increase Puritan's output to over 20 million swabs a month within 30 days of the contract award, from 3 million now. Without sufficient test supplies, many laboratories have been limited in how much testing they could do. Some have had to cobble together different systems so that running out of any one material won't ground their efforts. Emma Court and Josh Wingrove have more.
Grassley Probes Virus Relief Waste in Puerto Rico: Senate Finance Chairman Chuck Grassley (R-Iowa) said yesterday he's looking at "questionable contracts and potentially wasted relief money" related to coronavirus efforts in Puerto Rico. "It appears that procurement and contracting in Puerto Rico often passes through a filter of political connections before resources intended for the people of Puerto Rico actually reach them," Grassley said in a letter to Gov. Wanda Vázquez Garced. In particular, he's conerned about contracts for testing going to firms "with close ties to a Puerto Rican political party" but without any experience in medical supplies. Read the letter here.
House Energy and Commerce Chairman Frank Pallone (D-N.J.), Health Subcommittee Chairwoman Anna Eshoo (D-Calif.), and Oversight and Investigations Subcommittee Chairwoman Diana DeGette (D-Colo.) are seeking answers from HHS Secretary Alex Azar and FEMA chief Peter Gaynor about the "administration's efforts to acquire and distribute medical supplies to states," according to a statement. Read their letter to two administration officials here.
Printer Fights to Make N95 Masks: The nation's largest industrial 3-D printer is getting a crash course in federal bureaucracy as it scrambles to make millions of critically needed N95 respirators for essential workers. Edward Dominion, head of D6 Inc., is feeling optimistic he'll win quick approval from the FDA for a new N95 respirator the Portland-based company designed to meet or exceed federal safety standards. If approved, he said his D6 facilities could manufacture up to 7.2 million masks a day. But there's a lot of regulatory hurdles in the way. Read more from Cheryl Bolen.
More Headlines:
Research, Prevention & Response
Gilead Drug Virus Response to Open Data Floodgates: The first look at how well Gilead's Ebola drug treats Covid-19 patients in an NIH clinical trial should come in a matter of weeks, the agency's head said yesterday. If available, that initial analysis would come a little more than two months after the trial began. It's also the first wave in a deluge of data the National Institutes of Health and the FDA will need to assess as they aggressively shepherd in new medicines to treat the viral outbreak. Read more from Jeannie Baumann.
Trump Encourages Providers in Virus Clinical Trials: The Trump administration is making a slight adjustment to encourage additional participation in Covid-19 clinical trials by giving health-care providers a chance at more money from a Medicare quality and performance reporting system, according to an announcement yesterday. Read more from Shira Stein.
Path to Resume Elective Procedures: The Trump administration is touting its blueprint to resume nonessential medical procedures and elective surgeries in regions where the coronavirus threat has subsided. The new guidelines issued on Sunday by the Centers for Medicare & Medicaid Services allow communities that are in "Phase 1″ of the White House blueprint for re-opening the economy to lift restrictions.
The ban on elective procedures has hurt revenue and caused financial hardship at hospitals that are struggling to handle the outbreak. It's also reduced patient volume at physician practices and ambulatory surgery centers, causing some to shut down or lay off staff. Many areas of the country are seeing fewer Covid-19 cases and low incidence of the disease, CMS Administrator Seema Verma said yesterday in a phone briefing with reporters. "So we're providing a roadmap for providers to offer some forms of non-coronavirus related care to asymptomatic patients." Read more from Tony Pugh.
Deferring Premiums Needs Federal Action: An increasing number of states are delaying their premium payments for health-care coverage or encouraging insurers to be flexible with billing during a pandemic that has brought much of the nation to a standstill. With over 22 million people now seeking unemployment benefits, the states' orders are meant to help those struggling financially, but they only cover a small swath of people with insurance. It would require action from the federal government to defer premium payments for everyone, which insurers might not support, health law scholars say. Lydia Wheeler has more.
WHO Says Virus's Stability Helps Vaccines: Researchers have studied about 10,000 genome sequences, and it appears that the new coronavirus is relatively stable, which is good news for the potential of a vaccine, epidemiologist Maria Van Kerkhove said at a World Health Organization press briefing in Geneva. A big proportion of people are vulnerable to Covid-19 infection as several studies suggest only a single-digit percentage has been infected, Van Kerkhove said, a smaller-than-expected estimate, which raises the risk that lifting lockdowns too quickly or all at once will fuel a resurgence. Read more.
Coronavirus May Be More Widespread Than Thought: A collaborative study between the Los Angeles County Public Health Department and the University of Southern California estimated about 4.1% of the county's adult population has antibodies to the coronavirus. That estimate, researchers said, is 28 to 55 times higher than the 7,994 confirmed cases of the virus in L.A. county at the time of the study. Antibody tests, which show not whether a person is currently suffering from Covid-19 but whether they have ever been exposed in the past, are key to understanding how widespread and deadly the illness is. Read more.
Levin Pushes for Telehealth Expansion: Rep. Andy Levin (D-Mich.), vice chairman of the House Education and Labor Committee, yesterday sent a letter to Labor Secretary Eugene Scalia calling for "additional action to expand telehealth access amid the COVID-19 pandemic." Levin told Scalia that telehealth "coverage is essential to protecting the health and wellbeing of the millions of Americans who depend on employer-sponsored health coverage," amid heightened concerns of leaving the house to visit a doctor's office. Read the letter here.
More Headlines:
What Else to Know
Tennessee Abortion Provider Wins Halt to Ban: Tennessee may not enforce an emergency coronavirus order suspending elective and nonessential medical procedures to stop an abortion provider from performing procedural abortions, a federal court in the state said. Adams & Boyle is likely to win on its claim that applying the order in this fashion is unconstitutional, as it places a substantial burden on a woman's right to end a pregnancy before viability without undue state interference, the U.S. District Court for the Middle District of Tennessee said. Read more from Mary Anne Pazanowski.
Trump's Move to Cut WHO Funding Prompts Fierce Internal Debate: Trump's decision to halt funding to the World Health Organization has sown confusion within his administration, as staff argue over what the decision means and whether some programs that the agency oversees should be protected from the cut.
In the days since Trump suspended funding to the WHO for a review period of "60 to 90 days," some administration officials have argued that, no matter what, the organization should get far less than the $400 million to $500 million it receives each year from the U.S. They see the review as a way to redirect money permanently to other organizations focused on health-care issues. Others insist the halt is aimed — as the president said when he announced the cuts last week — at seeking reforms from the WHO and cleaning up what the administration sees as the pro-China bias it showed during the early stages of the coronavirus pandemic. Read more from Nick Wadhams.
Democrats Urge Trump on WHO Funding: Senate Democrats yesterday sent a letter to Secretary of State Mike Pompeo calling on the administration to "reconsider its treatment of the World Health Organization" through the duration of the Covid-19 crisis. The letter, signed by Majority Leader Chuck Schumer (D-N.Y.) and Foreign Relations Committee ranking member Bob Menendez (D-N.J.), raises concern "about the consequences of further withdrawing the United States from multilateral cooperation to confront the coronavirus pandemic." Read the letter here.
More Headlines:
To contact the reporter on this story: Brandon Lee in Washington at blee@bgov.com
To contact the editors responsible for this story: Giuseppe Macri at gmacri@bgov.com; Zachary Sherwood at zsherwood@bgov.com; Michaela Ross at mross@bgov.com
Stay informed with more news like this – from the largest team of reporters on Capitol Hill – subscribe to Bloomberg Government today. Learn more.