HEALTH CARE BRIEFING: Senate Stimulus to Delay Drug Price Change
Bloomberg Government subscribers get the stories like this first. Act now and gain unlimited access to everything you need to know. Learn more.
Senate Democrats would postpone by one year a proposal to let states claw back money from drugmakers, according to two people briefed on forthcoming stimulus legislation. The change is one of several that largely help hospitals, drug firms, and other health-care industry groups.
The Senate's version of the Covid-19 relief package would end the cap on Medicaid's drug rebate program starting in 2024, one year later than the House-passed version (H.R. 1319), the people said. The Senate package would also offer $8.5 billion for rural hospitals affected by the Covid-19 pandemic, they said.
Democrats have proposed ending Medicaid drug rebate caps, which are currently set at 100% of a drug's average manufacturer price, for certain medicines. Once that cap is reached, drug companies could raise their prices without increasing the net rebates that must be paid. Drug companies had sought to eliminate or delay the end of the cap.
The Senate enters the final stages of debating President Joe Biden's $1.9 trillion pandemic relief bill today, with passage in the chamber likely pushed off until the weekend. Senate Majority Leader

Chuck Schumer

(D-N.Y.) had planned to kick off the process last night but lacked an official cost estimate on the latest version of the bill, which has been trimmed down from the House-passed measure. The Senate is plowing ahead despite warnings from federal law enforcement agencies that a militia group may be plotting to attack the Capitol today, about two months after a Jan. 6 siege of the building by extremist supporters of then-President Donald Trump that led to five deaths. Read more from Erik Wasson and Laura Litvan.
The Senate's version of the stimulus package would also let Americans keep their employer-sponsored health insurance at no cost through Sept. 30 after they've left a job, according to Rep. Bobby Scott (D-Va.).
The change increases to 100% the proposed subsidies of insurance premiums for workers eligible for COBRA after they lost their jobs or had their hours reduced. Subsidies were 85% under the House-passed stimulus.
Hospitals, employer groups, and labor unions all have pushed for COBRA subsidies amid the coronavirus pandemic to help people who've lost their jobs and employer-sponsored health insurance. Hospitals and doctors typically make more money treating people with employer-sponsored insurance plans, Alex Ruoff reports.
Happening on the Hill
Becerra Nomination Heads to Full Senate: Xavier Becerra, Biden's pick to lead the Health and Human Services Department, will be voted on by the full Senate after the Finance Committee split its vote on his nomination. The Senate Finance Committee was split 14-14 on the nomination. Becerra's nomination will now need four hours of debate and a majority vote by the Senate in order to bring it up for a final vote, Finance Committee spokesperson Taylor Harvey said. Read more from Shira Stein.
The anti-abortion lobbyists SBA List is keeping up the pressure on Republicans to vote against Becerra for HHS. SBA List said it will "score" the vote on Becerra's nomination, meaning support for him would count against the group's scorecard of lawmakers on abortion issues. That move might not matter to Becerra's most-likely GOP supporters, like Sen.

Susan Collins

(Maine), who already has a failing grade from the list.
Similarly, conservative advocacy group Heritage Action announced yesterday it would spend an additional $500,000 airing ads in West Virginia and Arizona to pressure Sens.

Joe Manchin

and

Kyrsten Sinema

, two centrist Democrats, to vote against Becerra's nomination, Alex Ruoff reports.
Quagmire May Await in Surprise Billing Disputes: Doctors, hospitals, and health insurers in surprise medical bill disputes will face dual arbitration systems with conflicting requirements once a new federal law goes into effect. Unless states launch an arduous process of changing their own hard-fought surprise billing laws, insurers, doctors, hospitals, and employers will be forced to navigate a confusing array of requirements for resolving disputes.
The No Surprises Act, included in an omnibus spending bill (Public Law 116-260) at the end of 2020, protects patients from high bills for emergency treatment or for services from out-of-network providers at hospitals that are in a patient's health insurance network. States are in charge of enforcing the federal law. But 32 states previously enacted their own surprise billing laws and many of their laws stipulate requirements for resolving disputes that conflict with the federal law. Read more from Sara Hansard.
Biden Hosted Durbin, Crapo in Cancer Meeting: Biden hosted a bipartisan meeting at the White House on cancer yesterday his first move as president to reinvigorate efforts that he made during the Obama administration. "Defeating cancer is of significant personal importance to the president, first lady and the vice president," White House Press Secretary Jen Psaki said at a briefing. Biden, whose eldest son Beau died of glioblastoma in 2015, has spoken frequently about his desire to advance cancer research as president. Read more from Justin Sink.
The Coronavirus Pandemic
U.S.'s Vaccination Pace Hits 2 Million a Day: The U.S. is injecting an average of 2.01 million doses a day, the first time it has crossed that threshold, according to the latest analysis from the Bloomberg Vaccine Tracker. A spike in make-up doses temporarily postponed during the winter storms last month, combined with increasing national vaccine supply, has pushed the seven-day average of doses injected above that 2 million mark. Read more from the Tracker.
U.S. Commuting at Highest Since Last March: Pandemic commuting is slowly returning to normal as states push forward with reopening their economies. The increase in trips to work poses a threat of infection even as case counts fall. In the last week of February, the average number of visits to U.S. places of work hit its highest level since March 20, 2020, according to Google Community Mobility Reports data. And the rate people are staying at home fell to the lowest since Nov. 12. Read more from Nic Querolo and Jonathan Levin.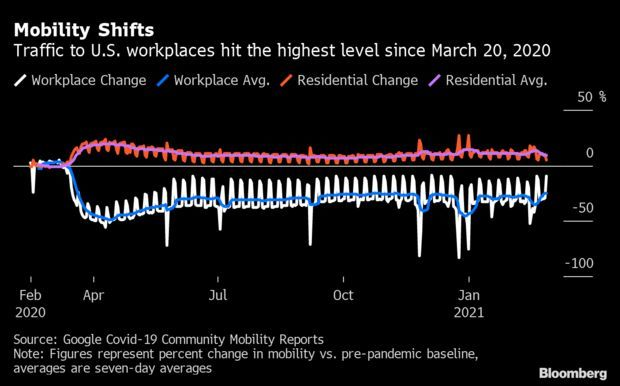 Biden Blasts Abbott, Reeves for Mask Reversal: Biden said two Republican governors were wrong to lift mask mandates in their states, calling the decisions "Neanderthal thinking." It's "a big mistake," Biden said of announcements by Texas Gov. Greg Abbott (R) and Mississippi Gov. Tate Reeves (R) that they would no longer mandate residents of their states to wear face masks in public. "I hope everyone has realized by now these masks make a difference," Biden said at the White House. Read more from Josh Wingrove and Jennifer Jacobs.
Earlier, top U.S. health officials urged residents in Texas and Mississippi to keep wearing masks, saying it's premature to abandon mitigation efforts and that the virus could still erupt again. Rochelle Walensky, head of the Centers for Disease Control and Prevention, said yesterday that though cases have slowed their decline from January records, it's not yet time to lift restrictions. Read more from Josh Wingrove.
Retail chains including Best Buy, Macy's and Kroger say that they will continue to require face masks in stores even as several states begin to lift their mandates, highlighting the delicate balance for public-facing businesses amid a health crisis that has yet to subside. Read more from Richard Clough and Jordyn Holman.
Some Catholics Told to Skip J&J Vaccine: Some U.S. bishops are advising Catholics to avoid what the prelates contend is a Johnson & Johnson coronavirus vaccine that's immoral because aborted human tissue was used in its manufacture. The guidance is harsher than the Vatican's declaration that the formula is broadly acceptable for the faith's 1.3 billion followers. A quarter of Americans identify as Catholic, a Gallup Poll found in 2018. Elise Young has more.
More Headlines:
What Else to Know Today
Virus Stifling FDA Surveillance of Foreign Drugs: U.S. inspections of foreign manufacturing plants that make the bulk of pharmaceuticals taken by Americans ground to a halt during the coronavirus pandemic, according to a government analysis, heightening concerns about drug quality during the public health crisis. The Food and Drug Administration was unable to carry out more than 1,000 planned inspections in fiscal 2020, the Government Accountability Office said in the report. Read more from Anna Edney.
ACA Sees Rise in Signups as Biden Reopens Enrollment: More than 206,000 people signed up for health insurance plans during the first two weeks of the Obamacare open enrollment period declared by Biden. The 206,236 people, who selected plans from Feb. 15 through Feb. 28, represent an increase of 76,000 consumers over the same period in 2020, the Centers for Medicare & Medicaid Services said. Read more from Sara Hansard.
Injunction Debate in LGBTQ Medical Care Case: Attorneys for Christian medical providers, the federal government, and groups representing LGBTQ people yesterday sparred over whether a federal court should permanently bar any future government action that would require doctors to provide care that goes against their religious beliefs. Read more from Mary Anne Pazanowski.
More Headlines:
With assistance from Alex Ruoff
To contact the reporter on this story: Brandon Lee in Washington at blee@bgov.com
To contact the editors responsible for this story: Zachary Sherwood at zsherwood@bgov.com; Giuseppe Macri at gmacri@bgov.com; Michaela Ross at mross@bgov.com
Stay informed with more news like this – from the largest team of reporters on Capitol Hill – subscribe to Bloomberg Government today. Learn more.