HEALTH CARE BRIEFING: Senate Passes $484 Billion in Interim Aid
Bloomberg Government subscribers get the stories like this first. Act now and gain unlimited access to everything you need to know. Learn more.
The Senate passed $484 billion in new pandemic relief funds yesterday to bolster a tapped-out small business aid program, pay for coronavirus testing and help hospitals deluged by sick patients.
The legislation, which the House could take up as early as tomorrow, includes $320 billion for the Paycheck Protection Program designed to help struggling small businesses keep their workers on the payroll. The program has already committed all of the $350 billion allocated when it was created just weeks ago.
The bill also includes $75 billion for hospitals, with a significant portion aimed at those in rural areas, and $25 billion for virus testing. The testing funds include $18 billion for states, localities, territories, and tribes to conduct Covid-19 tests, $1 billion for the Centers for Disease Control and Prevention and $1.8 billion for the National Institutes of Health. Up to $1 billion would cover costs of testing for the uninsured.
President Donald Trump said he would sign the legislation and then turn to the next round of stimulus for an economy that has ground to a halt.
The bill sets aside $30 billion of the PPP loan funds for banks and credit unions with $10 billion to $50 billion in assets and another $30 billion for even smaller institutions.
The measure includes $60 billion in loans and grants for a separate Economic Injury Disaster Loan program, and makes farms and ranches eligible for the loans.
The legislation, Congress' third big-ticket pandemic response package, follows last month's $2.2 trillion economic stimulus measure (Public Law 116-136), the biggest rescue package in U.S. history. Congress also approved in March free virus testing, up to 12 weeks of paid family and sick leave for some workers, and bolstered unemployment and food stamp aid.
Lawmakers are expected to turn next to a broader measure that will include aid to state and local governments, coronavirus caregivers, and possibly for workers at grocery stores, drugstores and others providing needed goods and services to a locked-down American public. Congress is scheduled to return on May 4. Read more from Laura Litvan, Erik Wasson, and Steven T. Dennis.
Rural Hospital Boost Fails Despite Bipartisan Push: A bipartisan Senate push to let publicly run hospitals tap into the federal guaranteed loan program did not make it into the bill, despite a duo of lawmakers saying such facilities were unintentionally left out and are struggling to stay afloat. Sens. John Barrasso (R-Wyo.) and Tina Smith (D-Minn.) wanted to add language to the next stimulus legislation language to clarify that small, county-and locally owned hospitals can apply for loans through the Paycheck Protection Program, Alex Ruoff reports.
Virus Aid Watchdog Will Have Subpoena Clout, Member Says: The congressional watchdog overseeing a half-trillion dollars in virus-related spending can rely on the subpoena powers of other parts of Congress if it needs to fight for documents from the Trump administration to conduct its work, according to Rep. French Hill (Ark.), a Republican member of the commission. Hill said the $2.2 trillion virus relief act clearly directs the executive branch to provide details needed for oversight, although the five-member congressional commission by itself does not have subpoena authority. Read more from Saleha Mohsin.
State-Level Actions & Funding Pleas
Trump Meets With Cuomo Amid Tensions: New York Gov. Andrew Cuomo (D) said yesterday that he and Trump had a "productive" coronavirus discussion at the White House in the latest chapter in an unusual relationship that's included a public exchange of insults and on-again, off-again bonhomie. "The big issue was testing," Cuomo said in an interview on MSNBC. "That's going to be the next step as we go forward. And how we separate the responsibilities and tasks of testing going forward, vis-a-vis the state and federal government."
The governor said he used the Oval Office session to lobby for more supplies needed to process coronavirus tests, and to ask for the federal government to address supply-chain issues. He said he also discussed the need for additional federal funds going to states. Cuomo said Trump was open to including financial relief for hard-pressed states in a phase four stimulus. Read more from Justin Sink and Keshia Clukey have more.
Also yesterday, New York City Mayor Bill de Blasio (D) said that the city is creating its own strategic reserve of medical equipment and supplies to make sure it's prepared for a future pandemic. "We have learned the hard way that we cannot depend on the federal government," he said at a press briefing. New York will stockpile ventilators and protective gear for health workers—gowns, masks, face guards and gloves—both locally made and purchased elsewhere. Read more from Henry Goldman.
Treasury Uses Half of Relief Fund: The U.S. Treasury has deployed more than half of the Coronavirus Relief Fund, which provides for payments to state, local, and tribal governments. The daily Treasury statement notes that as of Monday, $81.9 billion had been used this month. The $150 billion fund was established to help lessen the economic impact of the coronavirus pandemic. Alex Tanzi and Saleha Mohsin have more.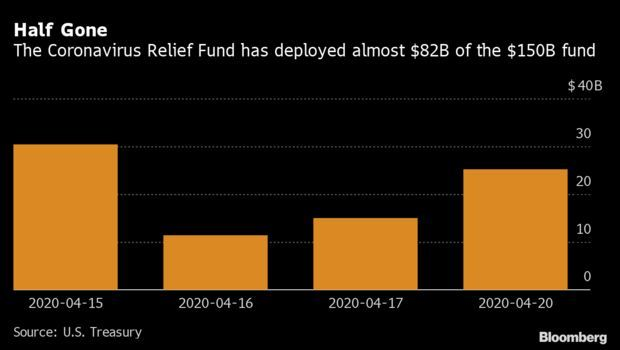 Disparities in State Funding: More populous states are losing out in Covid-19 funding because of the way it's distributed, and 50 House lawmakers wrote in a letter to Speaker Nancy Pelosi (D-Calif.) and House Minority Leader Kevin McCarthy (R-Calif.) to require that both past and future funding is distributed per capita. The letter, led by Reps. Bill Foster (D-Ill.) and Sean Casten (D-Ill.), belies a far bigger problem, Foster said: The Senate has "systematically come up with spending formulas" that disadvantage big states across federally-funded grant programs.
Bigger states are paying more in taxes to the federal government than they get back in grants, a shortfall of $20 to $40 billion per year in Illinois, Foster said. The problem is both the overall formula, and the minimums set that each state needs to receive. Foster's solution is that the minimum each state receives should be set at the administrative costs for dispersing the funds. If it doesn't cost anything to disperse, there should be no minimum, he said.
Lawmakers are hearing from every city in their districts about how the money they're receiving is inadequate to handle the coronavirus pandemic, Foster said, and he thinks that there will be a renewed interest in this problem as a result, Shira Stein reports.
More Headlines:
Research, Treatment, Response & Testing
Inspections of Medical Supply Facilities: Senate Health, Education, Labor, and Pensions Committee ranking member Patty Murray (D-Wash.) and five other Senate Democrats urged the FDA in a letter yesterday to inform them about the "steps it is taking to evaluate medical supply manufacturing facilities given the suspension of foreign and domestic in-person inspections of these facilities," according to a statement. The senators told FDA chief Stephen Hahn that "uncertainties around COVID-19 and broader vulnerabilities with the medical supply chain" underscore the need of robust assessment of medical equipment. Read the letter here.
'Shark Tank' Said Needed for Testing Woes: The NIH would set up a $1 billion "shark tank" fund to fulfill a shortage in coronavirus tests needed to re-open the nation, two key Republican senators proposed yesterday. The legislation from Sens. Roy Blunt (R-Mo.) and Lamar Alexander (R-Tenn.) comes as a lingering disagreement remains between Democrats and Republicans over the testing program, including which agency should oversee it.
The U.S. is conducting about 150,000 tests a day to diagnose cases, according to the Trump administration, but public health experts like Ashish Jha, director of the Harvard Global Health Institute, estimate it will take more than 500,000 daily tests to reopen by May 1. And there will be many more antibody tests required to understand how far the disease has spread and whether some people have developed immunity that would allow them to return to work. Read more from Jeannie Baumann.
First At-Home Sample Collection: The FDA gave its green light for the first home diagnostic kit for Covid-19 that will let people take their own nasal swabs and mail them for testing. "With this action, there is now a convenient and reliable option for patient sample collection from the comfort and safety of their home," FDA Commissioner Stephen Hahn said in a statement yesterday. The collection kits will be available to consumers in most states with a doctor's order in the coming weeks, the agency said. Jacquie Lee has more.
First U.S. Virus Death Came Weeks Earlier Than Thought (Axios): The first U.S. coronavirus death appeared to have come weeks before the Feb. 29 date that officials have pinpointed, according to autopsy results of two cases released by Santa Clara County, in California, Axios reports. Samples from two people who died at home on Feb. 6 and Feb. 17 were sent to the Centers for Disease Control and Prevention, which confirmed they both tested positive for the virus that causes COVID-19, according to a statement from the county. That's earlier than the previously-thought first-known death from the virus, which was a Washington state patient who died on Feb. 29, Derek Wallbank reports.
When Ventilators Run Short, a $500 Invention May Save Lives: As hospitals scour their storerooms in search of ventilators for Covid-19 patients, Israeli inventors have proposed a solution: an open-source, build-it-yourself breathing machine that costs less than $500. Called AmboVent, it's the brainchild of a team led by David Alkaher, a 40-year-old engineer with the Israeli Air Force. Based on simple components that are easy to find like windshield-wiper motors, the device has a price advantage over full-scale models: High-end ventilators made by the likes of Philips can cost almost 100 times as much. Read more from Thomas Muller.
Guidelines Reject Trump-Backed Drug: A panel of medical experts convened by the NIH recommended against a drug combination touted by Trump for Covid-19 patients. The NIH panel, made up of 50 doctors, pharmacy experts and U.S. government researchers and officials, specifically recommended against the use of the anti-malaria drug hydroxychloroquine in combination with the antibiotic azithromycin. The malaria pill can cause heart issues, and the panel warned of the potential for harm from the combination. Read more from Michelle Fay Cortez and Robert Langreth.
HHS Awards $955 Million to Aid Vulnerable: Community-based organizations will get $955 million to help seniors and people with disabilities amid the Covid-19 pandemic, the HHS announced yesterday. The funds will go to organizations such as independent living centers, senior centers, and faith-based groups to allow them to deliver meals, provide transportation to grocery stores or the doctor, give care in the home, support families and caregivers, and offer other services. Read more from Shira Stein.
HHS Agency Chief To Leave Post: The director of the U.S. government agency responsible for helping shepherd a vaccine for the novel coronavirus to market has stepped down. Rick Bright, who has led the Biomedical Advanced Research and Development Authority since 2016, will take a smaller role at the National Institutes of Health working on a plan to accelerate the development of diagnostic tests for coronavirus vaccines and treatments, an HHS spokeswoman said. Gary Disbrow with the Office of the Assistant Secretary for Preparedness and Response will serve as the acting director of BARDA, the department said. Read more from Anna Edney.
More Headlines:
What Else to Know Today
Health Insurers Step Up Lobbying: The health insurance industry spent more on its efforts to influence Washington in the first three months of 2020 than in any quarter in recent years, as lobbying expenditures by the rest of the health-care sector remained relativity steady.
America's Health Insurance Plans, which represents the bulk of U.S. health insurers, spent $3.6 million in the first quarter of this year on lobbying, a 28.5% increase over the $2.8 million the group spent in the same months in 2019, federal lobbying disclosure forms show. The Blue Cross and Blue Shield, Anthem, and UnitedHealth all similarly spent more on lobbying in the early months of 2020 than they did in the year-earlier period. Read more from Alex Ruoff.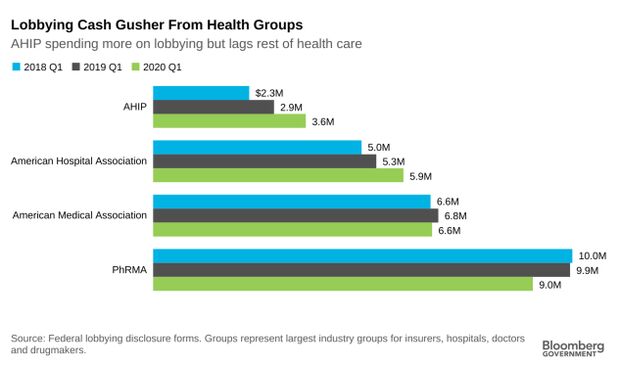 U.S. Virus Contracts Top $7 Billion, Aiding Some Winners' Stocks: The federal government has awarded $7.2 billion in contracts to fight the coronavirus pandemic, including one that would pay a little-known Massachusetts biotech firm more than its reported revenue for the last three years combined. Shares of Moderna rose sharply after the U.S. Department of Health and Human Services agreed to pay as more than $400 million for the company to develop and test its Covid-19 vaccine now in an initial clinical trial. The company's shares were up 152% this year at Tuesday's close.
It's just one example of the thousands of federal contracts awarded by the Trump administration to fight the coronavirus, according to a review of federal data compiled by Bloomberg Government. Some companies have secured nine-figure deals to supply thousands of ventilators, face masks, hospital capacity and other critical services needed to manage the outbreak. Read more from Ryan Beene and Phil Kuntz.
Drug Pricing Bill Includes Rebates: Drug manufacturers would have to provide Medicare inflation rebates, and out-of-pocket drug costs for beneficiaries of Medicare would be capped under the December 2019 draft of drug pricing legislation (S. 2543) from the leaders of the Senate Finance Committee. The bill includes changes to Medicare Part B, which covers outpatient care and drugs administered by physicians, as well as Part D, a voluntary prescription drug program administered through private insurers. It also includes changes to Medicaid, which is administered by states and covers low-income individuals. Read more from Sarah Babbage.
The oubreak has exposed weaknesses in the world's health system that patient advocates say can move the needle on years-long arguments over pricing and availability of medicines. The drug industry says it's undertaken an unprecedented effort to find vaccines and treatments for coronavirus. Researchers are sharing work and vowing to make sure any treatments are widely available and affordable. These global efforts give patient advocates new leverage in the debate over drug prices that could continue after the pandemic ebbs. Valerie Bauman and Susan Decker have more.
Lawmakers Urge Cyber Officials to Protect Hospitals: Sens. Richard Blumenthal (D-Conn.), Mark Warner (D-Va.), Tom Cotton (R-Ark.), David Perdue (R-Ga.), and Ed Markey (D-Mass.) sent a letter to Chris Krebs, director of the Department of Homeland Security's Cybersecurity and Infrastructure Security Agency, and General Paul Nakasone, commander of the U.S. Cyber Command, urging them to bolster defenses, coordinate with hospitals and work to deter cyber attacks against hospitals, which have increased during the Covid-19 pandemic. The lawmakers asked the agencies to make cyber threat information public and to provide technical cybersecurity assistance to states and the medical sector.
Indian Health Service Chief Confirmed: The Senate yesterday confirmed Michael D. Weahkee to be director of the Indian Health Service within HHS for a term of four years.
More Headlines:
To contact the reporter on this story: Brandon Lee in Washington at blee@bgov.com
To contact the editors responsible for this story: Giuseppe Macri at gmacri@bgov.com; Zachary Sherwood at zsherwood@bgov.com; Michaela Ross at mross@bgov.com
Stay informed with more news like this – from the largest team of reporters on Capitol Hill – subscribe to Bloomberg Government today. Learn more.