HEALTH CARE BRIEFING: Second-Dose Delay Weighed to Speed Uptake
Bloomberg Government subscribers get the stories like this first. Act now and gain unlimited access to everything you need to know. Learn more.
U.S. public health advisers are weighing recommendations for extending the interval between the first and second doses of Covid-19 vaccines, a potential strategy for quickly administering the shots to more people amid the spread of new variants.
A working group of the Centers for Disease Control and Prevention's Advisory Committee on Immunization Practices has debated the tactic, a person familiar with the discussions said. It hasn't been decided if the full committee will take up the issue and provide official guidance, the person said. Jose Romero, chair of the committee and Arkansas health secretary, declined to comment because the deliberations are confidential.
U.S. health officials have rejected a dose-stretching policy adopted by the U.K. that allows up to 12 weeks between Covid-19 shots. Most drugmakers have concurred, arguing that policies should follow the protocols used in the shots' testing, in which the intervals were set at three or four weeks. As dangerous variants threaten to boost U.S. cases in coming weeks, however, some states are asking what they can do to widen protection.
"We know that until we have sufficient vaccine, there's the requirement to have some sort of prioritization scheme," Clay Marsh, West Virginia's Covid-19 czar, said. "The next question is, is it better to put a single dose in the arms of more people?"
President Joe Biden has increased U.S. orders of vaccines from Moderna and Pfizer, predicting that supplies will be in place to vaccinate 300 million Americans by the end of this summer. The strain could ease further in coming weeks if a single-shot vaccine from Johnson & Johnson is authorized, but immediate supply is not expected to be large.
States are still trying to speed immunizations, and West Virginia is among those pushing for the CDC and Food and Drug Administration to offer more shot-stretching recommendations, according to the person with knowledge of the discussions. One potential strategy involves adhering to existing schedules for high-risk cohorts such as health workers and the elderly, while allowing for flexibility in younger people.
The debate over the pause between doses—three weeks between Pfizer's in company studies and four weeks between those of Moderna—has been heated. Supporters of longer intervals say one dose provides at least some protection, while detractors counter that it's unclear how long that protection lasts or how much is even provided. A notable exception is AstraZeneca's vaccine, which has yet to be cleared in the U.S. Read more from Anna Edney.
Related: U.S. Vaccine Data Reveal Big Racial Gaps in Who's Getting Shots
More on the Pandemic
White House Covid-19 Briefing: The White House will host a press briefing today at 11 a.m. with its Covid-19 response team to provide updates on the pandemic.
Biden Says He Invoked Production Law for Vaccines: Biden said that Moderna and Pfizer agreed to sell more doses of their coronavirus vaccine to the U.S. faster than planned after he invoked federal law that could force their production. The government announced last week that the two companies would deliver 300 million doses of each of their vaccines to the U.S. by the end of July, enough to inoculate all American adults. "We got them to move up time because we used the National Defense Act to be able to help the manufacturing piece of it, to get more equipment," Biden said at a CNN town hall event in Milwaukee last night. Read more from Josh Wingrove, Jennifer Epstein and Justin Sink.
Deaths Seen Falling to Lowest Level Since November: The pace of Covid-19 deaths will fall sharply in the next four weeks, according to a new forecast that shows a brutal wave of cases ebbing and the U.S. plodding forward with vaccine distribution. The U.S. is expected to have about 12,666 deaths in the week ending on March 13, the University of Massachusetts' Reich Lab's Covid-19 Forecast Hub said. The prediction is based on independent models collected in collaboration with the CDC. Jonathan Levin has more.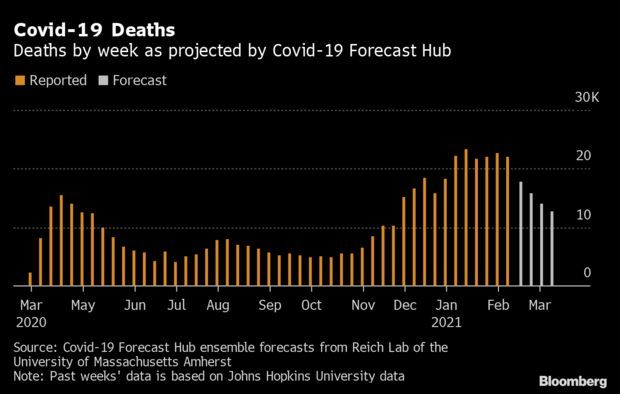 More Headlines:
Happening on the Hill
Democrats Plan Vote on Biden Aid on Feb. 26: The House is aiming to vote Feb. 26 on its $1.9 trillion stimulus plan. House Majority Leader Steny Hoyer (D-Md.) laid out the schedule in a letter to fellow Democrats yesterday. It's possible House members will have to take the measure up again the week of March 1, in case senators send back an amended version, Hoyer's letter said. Speaker Nancy Pelosi (D-Calif.) has said she'll send the bill to the Senate as soon as it passes the House. Read more from Laura Davison and Erik Wasson.
House Panel to Explore Equity in Vaccinations: The House Subcommittee on the Coronavirus Crisis will hold a video briefing on Feb. 19 with public health experts to examine the steps that need to be taken to make sure coronavirus vaccinations are administered equitably, according to a statement from Chair James Clyburn (D-S.C.). "Under the Trump Administration, the early vaccine rollout advantaged wealthier communities" over low-income, rural, and minority communities, the statement says.
Pregnant Worker Protections Push Renewed: Pregnant workers would get new protections from retaliation and other accommodations in a bill reintroduced by a bipartisan group led by House Judiciary Chair Jerrold Nadler (D-N.Y.) yesterday. The bill, titled the Pregnant Workers Fairness Act, passed the House last year by a vote of 329-73. The bill (H.R. 1065) received an endorsement from the U.S. Chamber of Commerce, Andrew Kreighbaum reports.
House E&C Confirms Pharma Execs for Hearing: The House Energy and Commerce panel confirmed yesterday that executives from AstraZeneca, Johnson & Johnson, Moderna, Novavax, and Pfizer, which are developing Covid-19 vaccines, will testify at a Feb. 23 hearing.
Today's Hearings:
What Else to Know Today
SCOTUS Review of Medicaid Work Rules Hinges on Letter: The Trump administration's eleventh-hour attempt to preserve Medicaid work requirements and circumvent Biden's plan to rescind them hinges on the question of whether the effort amounted to guidance or binding contracts, legal analysts say.
At issue are letters former Centers for Medicare & Medicaid Services Administrator Seema Verma sent to states in January to keep Medicaid waivers in effect for nine months after any government movement to rescind them. Verma's move is seen as an attempt to keep the work requirements alive until the Supreme Court can rule on their validity in a case it will hear in March. The Biden Administration on Friday notified those states that the Verma letters are rescinded. Read more from Christopher Brown.
HHS Beats Obamacare Provider Fee Appeal by Texas: A Texas-led state group again failed to recoup Obamacare provider fees they paid to the IRS on behalf of Medicaid Managed Care Organizations as a federal appeals court reaffirmed that fee was a valid federal tax. The Fifth Circuit withdrew a July opinion rejecting the states' attempt to get back roughly $480 million they gave to the U.S. under the Affordable Care Act. Read more from Mary Anne Pazanowski.
Anti-Transgender Bias Rule Suit Halted: A lawsuit challenging the Trump administration's rewrite of a rule implementing the Affordable Care Act's anti-bias language that could allow discrimination against LGBTQ people was halted yesterday by a federal judge in Washington pending the rule's review by the new White House. Judge James Boasberg of the U.S. District Court for the District of Columbia canceled a hearing set for today between HHS and groups suing over the changed rule. Read more from Pazanowski.
Hogan Lovells Hires Health Attorney Roehrenbeck: Law and lobbying firm Hogan Lovells snagged Cybil Roehrenbeck away from Polsinelli, where she served as head of its telehealth practice. Roehrenbeck, who will serve as a partner in Hogan Lovells' Washington D.C. office, previously worked for the American Medical Association, and on Capitol Hill for former Reps. Walter Jones (R-N.C.) and J.C. Watts (R-Okla), Megan Wilson reports. Read the full statement.
More Headlines:
With assistance from Megan R. Wilson
To contact the reporter on this story: Brandon Lee in Washington at blee@bgov.com
To contact the editors responsible for this story: Zachary Sherwood at zsherwood@bgov.com; Giuseppe Macri at gmacri@bgov.com; Michaela Ross at mross@bgov.com
Stay informed with more news like this – from the largest team of reporters on Capitol Hill – subscribe to Bloomberg Government today. Learn more.