HEALTH CARE BRIEFING: SCOTUS Set to Overturn Roe, Politico Says
Bloomberg Government subscribers get the stories like this first. Act now and gain unlimited access to everything you need to know. Learn more.
The U.S. Supreme Court is poised to overturn the landmark Roe v. Wade decision protecting the constitutional right to abortion, according to a draft majority opinion circulated inside the court, Politico reported.
The draft opinion, which Politico said it got from a person familiar with the court's deliberations, was written by Justice Samuel Alito and has at least preliminary support from four other Republican-appointed justices, the publication said. The court is scheduled to rule by July in the case.
"Roe was egregiously wrong from the start," Alito wrote, according to Politico. "It is time to heed the Constitution and return the issue of abortion to the people's elected representatives."
A ruling overturning Roe would be transformational — legally, politically and socially. Twenty-six states would be likely to ban most abortions, according to the Guttmacher Institute, a research organization that backs abortion rights. That shift would come even as countries elsewhere liberalize their abortion laws.
The opinion was labeled "1st draft" and included a stamp indicating it was circulated to the other justices on Feb. 10. Supreme Court justices occasionally switch sides in cases after the initial vote. The justices are considering a Mississippi law that would ban abortion after 15 weeks of pregnancy. Read more from Greg Stohr.
Such a decision would hand Republicans a long-sought victory, yet could galvanize Democrats who have been bracing for the prospect of losing their House and Senate majorities this November. "This decision will put women's rights and abortion rights front and center in the elections," Geoff Garin, a pollster who advises Senate Democrats, said. "Up until now, many voters did not take the threat to legal abortion seriously or believe that Roe would be overturned." Read more from Steven T. Dennis and Mike Dorning.
Speaker Nancy Pelosi and Senate Majority Leader Chuck Schumer issued a joint statement on the report: "Every Republican Senator who supported Senator

McConnell

and voted for Trump Justices pretending that this day would never come will now have to explain themselves to the American people," their statement says.

Pelosi

(D-Calif.) and

Schumer

(D-N.Y.) say votes "would go down as an abomination, one of the worst and most damaging decisions in modern history," Chelsea Mes reports.
State Covid Orders Put Hospitals on Edge
States are scrapping their Covid-19 public health emergency declarations despite cases trending upward, threatening hospitals' ability to respond to surges promptly. Hospitals across the U.S. face greater liability for patient care choices they may make without proper supplies or staffing as the declarations—and the shields attached to them—fall by the wayside.
Many facilities experiencing a regional influx of Covid-19 patients can no longer call in practitioners licensed in other states as the declarations allowed. "It's the same pandemic. It's the same conditions. But we are fighting it with different legal tools" that leave hospitals vulnerable, said James Hodge, director of the Center for Public Health Law and Policy at Arizona State University.
All 50 states made an emergency declaration in March 2020 to allow them to respond "quickly and aggressively" to the pandemic, said Josephine Gittler, a professor at the University of Iowa College of Law.
Governors and legislators in states including Arizona, Idaho, Indiana, Kentucky, Louisiana, New Jersey, Oregon, Virginia, and Wyoming have rescinded their emergency declarations in the past two months, according to the National Academy for State Health Policy. More are set to expire in the coming months unless renewed. Disaster declarations in other states ended as long as a year ago, while about a third of states are holding onto their emergency measures. Read more from Allie Reed.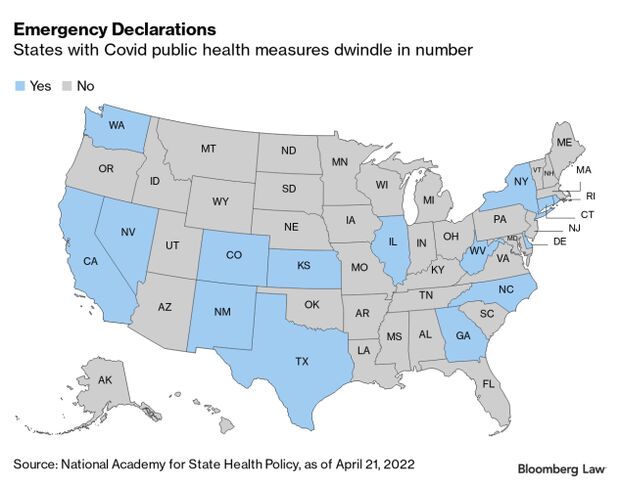 What Else to Know Today
Restore FTC's Consumer Refund Power, Cantwell to Urge in Bill: Sen. Maria Cantwell (D-Wash.) plans to introduce legislation this week to restore the Federal Trade Commission's ability to seek monetary awards for consumers in court, the lawmaker's office told Bloomberg Law. The bill would bring back an authority that the U.S. Supreme Court curtailed last year that lets the FTC return money to consumers who were subject to scams, fraud, or other forms of deception. The agency's commissioners called on lawmakers for a legislative fix at their latest meeting. Read more from Andrea Vittorio.
SCOTUS Reviews Public Nursing Home Resident's Rights: The U.S. Supreme Court on Monday granted review in a case asking if public nursing home residents can sue facilities for violating rights set out in the Federal Nursing Home Reform Amendments. This isn't the first time the nation's high court has been asked to decide if the FNHRA provides residents of public nursing homes a private right to sue them. It has previously denied review, though some justices had said they are interested in looking at the issue. Read more from Mary Anne Pazanowski.
Migrant Children Separated at Border by Trump to Get Counseling: A federal judge in San Diego ordered the U.S. to provide behavioral health services for families whose parents and children were separated during a crackdown on southern border crossings during the Trump administration, Peter Blumberg reports. "The behavioral health services to be provided under this order include child centered pre-reunification counseling, clinical treatment services, behavioral health case management, psychoeducation and parenting support that the parties agree are necessary to facilitate successful reunifications and/or to help prevent ongoing harm caused by the initial separation," according to the order by U.S. District Judge Dana Sabraw.
From the Courts:
Biden Team Suspends Georgia's Plan to Abolish Obamacare Exchange: The Biden administration blocked Georgia from abolishing the federal Obamacare exchange in 2023. The Georgia Access Model that was approved under the Trump administration will be suspended unless the state responds with a "corrective action plan" by July 28, Centers for Medicare & Medicaid Services Administrator Chiquita Brooks-LaSure said in an April 29 letter to Georgia Office of Health Strategy and Coordination Director Grant Thomas.
The state's model, under which consumers would have bought health insurance directly from insurers or through web brokers, doesn't meet requirements of the Affordable Care Act, the CMS said. The action was taken on behalf of the Department of Health and Human Services and the Department of the Treasury. Sara Hansard has more.
VP Harris Tests Negative for Covid, Will Resume in-Person Work: Vice President Kamala Harris will return to in-person work on Tuesday after testing negative for Covid-19 on Monday, her office said in statement, Maria Luiza Rabello reports.
More Headlines:
To contact the reporter on this story: Michaela Ross in Washington at mross@bgov.com
To contact the editors responsible for this story: Giuseppe Macri at gmacri@bgov.com; Brandon Lee at blee@bgov.com
Stay informed with more news like this – from the largest team of reporters on Capitol Hill – subscribe to Bloomberg Government today. Learn more.