HEALTH CARE BRIEFING: School Reopening Push Gets Panel Scrutiny
Bloomberg Government subscribers get the stories like this first. Act now and gain unlimited access to everything you need to know. Learn more.
Children can transmit coronavirus, a Johns Hopkins public health expert will tell the House Select Subcommittee on the Coronavirus Crisis, in a challenge to President Donald Trump's push to reopen schools in the fall.
"We can say with confidence that outbreaks in schools are likely," Caitlin Rivers, assistant professor at the Environmental Health and Engineering Department at Johns Hopkins Bloomberg School of Public Health, will tell the panel later today. Researchers don't yet know if children without symptoms transmit the virus as efficiently as adults, she said in testimony prepared for the hearing.
Trump, in an interview yesterday with Fox News, said that children are "virtually immune" to Covid-19. Rivers will remind lawmakers that although children are less likely to die due to the virus, schools are also workplaces for teachers and staff who are at higher risk of severe illness from the virus.
"Our classrooms are a petri dish," Angela Skillings, an Arizona second-grade teacher plans to say at the hearing.
Many school districts this week began in-person classes for the fall semester. Others—including 12 of the country's 15 largest districts—have rejected White House calls to reopen, opting to hold classes virtually.
Rivers will urge lawmakers to pass legislation to study how children spread the disease, which mitigation measures are most critical, and how to make remote learning more effective. Senators are discussing the details of another stimulus package. The GOP plan released last week provides $70 billion for K-12 schools but attaches most of that aid to physical school reopenings. Read more from Andrew Kreighbaum.
Workers Fear Virus While Schools Eye Immunity: Meanwhile, college campus workers who scrub classrooms, dining halls, and operate other campus facilities say colleges planning to resume in-person instructions haven't done enough to make sure the health and safety for those on the job are a priority. The workers say colleges should make Covid-19 tests free and readily available, boost hazard pay for workers, and guarantee they won't miss a paycheck if they have to take time off to recover from the virus. Kreighbaum and Fatima Hussein have more.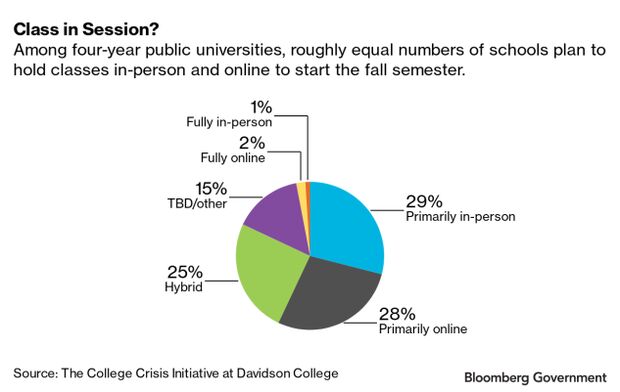 Happening on the Hill
Deadline Looms for Stimulus Talks: The White House and congressional Democrats are running up against a self-imposed Friday deadline to strike a deal on a virus relief package with little sign they've narrowed most fundamental differences. Neither side indicated they would walk away from negotiations if an agreement can't be reached. But Treasury Secretary Steven Mnuchin and White House Chief of Staff Mark Meadows said unless some compromise can be found soon, more negotiations may be fruitless.
"Our objective is to try to reach an understanding of the major issues by Friday," Mnuchin told reporters after meeting with House Speaker Nancy Pelosi (D-Calif.) and Senate Minority Leader Chuck Schumer (D-N.Y.) on Wednesday. "If we can't reach an agreement on the major issues, it's going to be hard to complete a deal."
Meadows said the administration and Republicans have already given more ground than Democrats in talks. He said if a deal was still out of reach by the end of the week, President Donald Trump was prepared to use executive authority to provide forbearance on student loans, impose a moratorium on evictions and extend supplemental unemployment insurance. Read more from Erik Wasson, Billy House and Laura Litvan.
Kodak Loan Prompts House Scrutiny: House Democrats have launched an investigation into Eastman Kodak's $765 million federal government loan and are seeking documents from a U.S. agency involved in granting the proposed funding. House Financial Services Chairwoman Maxine Waters (D-Calif.) is among the Democrats who want all communications about the funds from the U.S. International Development Finance Corp., the agency that handles financing provided through the Defense Production Act, which is how Kodak would secure funding to make ingredients for generic drugs. Read more from Jesse Westbrook.
Telehealth to Get Ways and Means Discussion: The House Ways and Means Committee's Rural and Underserved Communities Health Task Force will host a bipartisan member roundtable on "the Role of Telehealth during COVID-19 and Beyond," according to a committee statement. Telehealth services have become "increasingly important" amid the pandemic and the task force will discuss how people in "rural and urban underserved communities use these technologies," the statement says of the discussion later today.
Democrats Call for National Virus Plan: Senior House Democrats will renew their call for the White House to lay out a 50-state plan for combating the spread of the coronavirus and lay out their oversight plans today.
Rep. James Clyburn (D-S.C.), the third-ranking House Democrat and chairman of the House Select Subcommittee on the Coronavirus Crisis, and other House committee chairs will outline their investigations into the Trump administration's response to the coronavirus pandemic. As a group they're expected to make the case that the White House has failed to properly respond with a testing and tracing strategy and actively obstructed oversight efforts, Alex Ruoff reports.
Rodney Tests Positive: House Administration ranking member Rodney Davis (R-Ill.) said on Twitter yesterday he tested positive for the coronavirus and will work from home.
Research & Treatment Efforts
Johnson & Johnson Forges $1 Billion Deal: Johnson & Johnson said it's agreed to supply 100 million doses of its experimental Covid-19 vaccine shot to the U.S. for over $1 billion, the latest in a string of such pacts between pharmaceutical companies and the government. Under the agreement, J&J will manufacture and deliver its SARS-CoV-2 investigational vaccine in the U.S., the company said. The U.S. government has recently forged a series of deals with companies including Pfizer and Moderna to secure access to the vaccine. Riley Griffin has more.
Demands for Gilead Seizure Said to Misread Law: The attorneys general pushing the U.S. government to flex its might on the only approved Covid-19 treatment misunderstood the 40-year-old law that they rely upon, according to intellectual property lawyers. The high cost of Gilead's remdesivir isn't enough for the U.S. to step in and seize the patent and license it to other companies for production, they said. Read more from Valerie Bauman.
Fauci Says Virus Testing Too Slow: The U.S. needs to improve its coronavirus testing to deliver results within two days, said Fauci, hours after Trump boasted that U.S. testing is the "best ever." Fauci instead said, "we need to do better. No excuses. It needs to be done." Fauci and other public health officials have often said that faster test results are necessary to end the pandemic. Waiting days for test results means many may unwittingly spread the virus before learning that they're positive and take precautions. Read more from Josh Wingrove.
NIH Will Use A.I., X-Rays: Government scientists are pioneering better Covid-19 diagnostic methods using artificial intelligence and stacks of digital heart and lung images through a new project the NIH announced yesterday. The National Institutes of Health established a new center that will collect medical images of infected patients and other data in an effort to help doctors tailor coronavirus treatments to specific people. Read more from Jacquie Lee.
SCOTUS Lifts Order Aimed at Curbing Virus at Jail: The U.S. Supreme Court lifted a lower court order that required specific steps to curb Covid-19 at four southern California jail facilities that have seen more than 400 cases since the outbreak began. Voting 5-4 along ideological lines, the high court granted a request from officials at the Orange County Jail, as the facilities are collectively known. The officials said a federal trial judge had overstepped his authority by ordering spacing, cleaning protocols and inmate testing. Greg Stohr has more.
Twitter, Facebook Block Trump Video Citing Misinformation: Twitter and Facebook blocked a video shared by accounts linked to Trump for violating their policies on coronavirus misinformation.
The Trump re-election campaign's Twitter account, @TeamTrump, was briefly banned from sending new tweets after it posted a clip of an interview Trump did yesterday with Fox News in which he said children were "virtually immune" from the Covid-19 coronavirus. "[Children] don't have a problem, they just don't have a problem," Trump said in the video as part of an argument for why schools should reopen. "It doesn't have an impact on them. I've watched some doctors say they're totally immune."
Trump posted the same video to his account on Facebook, which removed the clip shortly before Twitter froze the campaign's account. Read more from Kurt Wagner and Sarah Frier.
More Headlines:
What Else to Know Today
Agency Can Enforce Public Charge Rule: The Trump Administration can, for now, enforce a rule allowing it to deny legal immigration status to noncitizens likely to receive public benefits like Medicaid, public housing assistance, or food stamps for a certain amount of time, the Fourth Circuit said. Read more from Mary Anne Pazanowski.
U.S. Sues to Block Hospital Merger: The Department of Justice sued to block Geisinger Health System's acquisition of a 30% stake in Evangelical Community Hospital over concerns the deal is likely to lead to higher costs and lower-quality services for patients. Read more from Victoria Graham.
Teva Prepared to Fight in Generics Probe: Teva Pharmaceutical Industries is prepared to combat allegations that it engaged in criminal price-fixing if federal prosecutors decide to charge the generic-drug giant as part of an industry-wide investigation, its top executive said. Read more from Riley Griffin and David McLaughlin.
FDA Blasted for Abortion Pill Access Limits: A drug used to induce abortions should be accessible by mail while the Food and Drug Administration appeals an order lifting its in-person dispensing rule during the coronavirus pandemic, women's health-care providers told a federal appeals court. Read more from Mary Anne Pazanowski.
More Headlines:
To contact the reporter on this story: Brandon Lee in Washington at blee@bgov.com
To contact the editors responsible for this story: Giuseppe Macri at gmacri@bgov.com; Zachary Sherwood at zsherwood@bgov.com; Michaela Ross at mross@bgov.com
Stay informed with more news like this – from the largest team of reporters on Capitol Hill – subscribe to Bloomberg Government today. Learn more.