HEALTH CARE BRIEFING: Renew Covid Telehealth Waiver, Firms Say
Bloomberg Government subscribers get the stories like this first. Act now and gain unlimited access to everything you need to know. Learn more.
Employers and health-care organizations want Congress and the IRS to waive deductible requirements for telehealth services for 32 million people with some employer-sponsored plans.
An emergency Covid-19 policy expired Dec. 31 that enabled people with high-deductible plans and health savings accounts to get telehealth coverage without first having to meet annual deductibles. Some people who had been receiving care at little or no cost by computer or telephone are now receiving bills.
"They're unhappy, and they're expressing that to their company and to their insurers," said James Gelfand, executive vice president of public affairs for the ERISA Industry Committee that represents big companies with employer-sponsored health plans. "They don't understand that it was the federal government that did this to them."
The now expired provision in CARES Act of 2020 (Public Law 116-136) waived a requirement that people who have high-deductible plans coupled with tax-friendly health savings accounts must meet their minimum out-of-pocket payment threshold before their health insurance can cover virtual services. In addition to tax savings and lower premiums, these types of plans can prompt enrollees to shop for more efficient health-care services since they are responsible for their initial health care costs.
The expiration of the benefit comes as the spread of the omicron variant peaks in the U.S. Employers and telehealth providers are calling for extended or permanent enactment of telehealth coverage policies to make it easier for people to use "virtual" care. If patients have to pay for telehealth visits until they meet their deductibles, as required by tax law, they might delay care and incur greater costs later if illnesses are not treated. Read more from Sara Hansard.
Happening on the Hill
House Panel Plans User Fee Reauthorization Hearing: The House Energy and Commerce Health Subcommittee plans a legislative hearing Thursday on reauthorization of the Prescription Drug User Fee Act (PDUFA), the Generic Drug User Fee Act (GDUFA), and the Biosimilar User Fee Act (BsUFA). "As we continue to face the COVID-19 pandemic, adequate funding and staffing levels at FDA are more important than ever," full panel Chair Frank Pallone (D-N.J.) and Subcommittee Chair Anna Eshoo (D-Calif.) said in a statement.
Jayapal Prods Senate to Act on Biden Plan by State of Union: Progressive Democrats are pressuring the Senate to break the logjam on President Joe Biden's agenda and get the legislation passed by the time he delivers his State of the Union address on March 1. "In the months since negotiations around the Build Back Better Act stalled, the case for this legislation has only become more urgent," Rep. Pramila Jayapal (D-Wash.), chair of the Congressional Progressive Caucus, said in a statement yesterday. Read more from Jarrell Dillard.
The Coronavirus Pandemic
U.S. Urges China to Alter Quarantine Rules: The Biden administration said it recommended changes to China's requirements for Covid-19 quarantine and testing among U.S. diplomats, adding to tensions ahead of the Olympics in Beijing. "We have long-standing concerns regarding the PRC's quarantine and testing policies that run counter to diplomatic privileges and immunities," a State Department spokesperson said of China, which has some of the world's harshest Covid entry rules. Bill Faries has more.
Facing Blood Shortages, Hospitals Seek Donations: U.S. hospitals face a shortage of blood supplies, adding to the pressure on the health-care system already strained by Covid-19. "The need for blood has increased while staffing shortages and high rates of Covid-19 in communities have diminished donations," a trio of groups representing health-care workers said in a joint statement. Covid-19 has led to a 10% decline in the number of donors, the American Red Cross warned this month. Madison Muller has more.
Health Workers in Danger Absent OSHA Rule, Unions Say: The Biden administration's decision to cancel its OSHA coronavirus standard protecting health-care workers violates federal law and leaves those workers exposed to a grave danger, unions said in a federal appeals court filing yesterday. "Whatever discretion OSHA may have in other contexts, it does not have the discretion to abandon healthcare workers while it formulates a final rule on a timetable of its own choosing," they said, Bruce Rolfsen reports.
Half the World Trails IMF Vaccine Targets: Nearly half the world's nations, including the vast majority of those in Africa, trail the vaccination level the International Monetary Fund set as a target for the end of last year in order to curb the pandemic. Eighty-six of 206 countries had less than 40% of their population immunized as of Dec. 31, according to IMF estimates based on "Our World in Data." Specifically, over two dozen African countries have less than 10% of people fully vaccinated. Read more from Eric Martin.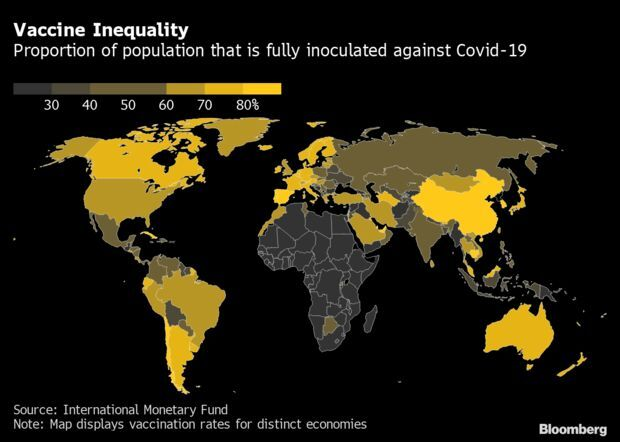 More Headlines:
What Else to Know Today
Becerra Pressed to Intervene in Alzheimer's Drug Battle: An Alzheimer's patient advocacy group is urging the White House to allow broader coverage of Biogen's Aduhelm, the latest call for action in an ongoing battle over who should be able to access the controversial drug. FDA approval of a drug usually leads to Medicare coverage. But the extraordinary circumstances surrounding Aduhelm's path through the FDA, along with its costs, spurred the U.S. to propose limiting coverage to patients enrolled in trials.
Advocacy groups argue that threatens access to minorities and other groups that are typically underrepresented in drug studies. "This is a huge unmet need in our society—causing massive social and economic consequences—both to the government and to American families, and to not have Medicare cover any of the first generation of Alzheimer's drugs is simply intolerable," George Vradenburg, chairman and a founder of UsAgainstAlzheimer's, said in an interview yesterday. Read more from Jeannie Baumann.
Menthol Tobacco Ban on Track for Spring, FDA Says: The Food and Drug Administration will act on two long-awaited proposals to ban menthol favors in cigarettes and cigars in spring, it said yesterday in an update on efforts to tackle tobacco-related health disparities. The move would prohibit menthol as a characterizing flavor in cigarettes and ban all such flavors in cigars. Advocates have long called for action on menthol flavors, which are used disproportionately by Black people. Celine Castronuovo has more.
Revived ACA Sets Record as Subsidies Drive Signups: A record 14.5 million people signed up for Affordable Care Act coverage this year using the HealthCare.gov website and state-based marketplaces, the Biden administration said yesterday. That's a 21% increase over the previous record of 12.2 million people who enrolled in federal and state marketplaces in September 2021 after the end of a special enrollment period. Another 3 million new consumers enrolled in the ACA, the U.S. said. Tony Pugh has more.
Health Care Is Getting Worse in America's Poorest Places: Hospitals in the Mississippi Delta have always been close to the brink and omicron has only pushed them further. From 2010 to 2020, more than 130 of the 1,800 rural hospitals in America went out of business. At the start of 2020, almost half of the rest were at "high risk" of closure, according to the nonprofit Center for Healthcare Quality and Payment Reform. The situation grew even worse as the pandemic diminished the frequency of money-making elective surgeries and a growing demand for health-care workers caused hospital payrolls to soar. Many hospitals were kept open only by infusions of federal money. Read more from Monte Reel.
Abortion Provider's Standing Top Question in Six-Week Ban Suit: The Fourth Circuit yesterday heard oral arguments in an atypical case where South Carolina, instead of defending the constitutionality of a law banning abortions at about six weeks, argued that a provider lacked the ability to sue. Three judges of the U.S. Court of Appeals for the Fourth Circuit signaled that they're unlikely to kick Planned Parenthood South Atlantic out of court based on a lack of standing, but they seemed open to the possibility of saving some provisions of the multi-part law.
The oral arguments before the federal appeals court came just six months before the U.S. Supreme Court is expected to rule on whether there is, in fact, a right to abortion under the U.S. Constitution. Read more from Mary Anne Pazanowski.
Four-Visit Rule for Abortion Pills in South Dakota Halted: A South Dakota rule requiring people seeking pill-induced abortions to make four separate in-person visits to a clinic has been temporarily blocked because it's likely unconstitutional, a federal court said. The administrative requirement modifies a prior rule requiring two in-person visits to a clinic to obtain an abortion through consuming drugs that essentially cause a miscarriage, the District of South Dakota said. Read more from Mary Anne Pazanowski.
More Headlines:
To contact the reporter on this story: Brandon Lee in Washington at blee@bgov.com
To contact the editors responsible for this story: Zachary Sherwood at zsherwood@bgov.com; Giuseppe Macri at gmacri@bgov.com; Michaela Ross at mross@bgov.com
Stay informed with more news like this – from the largest team of reporters on Capitol Hill – subscribe to Bloomberg Government today. Learn more.