HEALTH CARE BRIEFING: 'Random' Virus Test Costs Spur Expenses
Bloomberg Government subscribers get the stories like this first. Act now and gain unlimited access to everything you need to know. Learn more.
The cost of Covid-19 tests vary widely, from roughly $50 to more than $500 in many cases, causing some Americans to avoid getting tested out of fear they'll face a high bill in a time of economic pain.
Covid-19 tests are supposed to be free for anyone who has insurance, but unexpected bills from doctors' offices and hospitals remain a big concern, researchers say. Employers who want to prevent outbreaks among their employees are increasingly paying for tests, and some say those expenses are only growing.
How much the test costs depends on who offers it, as hospitals, laboratories, and doctors' offices all set their own prices. The same test one clinic charges $50 to perform could cost $5,000 at a hospital, researchers who study billing practices say.
"It seems to us to be totally and completely random what they charge," said Gerard Anderson, a professor of health policy at Johns Hopkins University who is studying hundreds of hospital charges for Covid-19 tests.
Increasing the number of Covid-19 tests is key to containing the spread of the coronavirus and keeping businesses open until a vaccine for virus is developed and distributed widely, public health officials have said. Almost 1.2 Americans applied for unemployment benefits last week as a large portion of the U.S. economy still struggles with the virus. Read more from Alex Ruoff.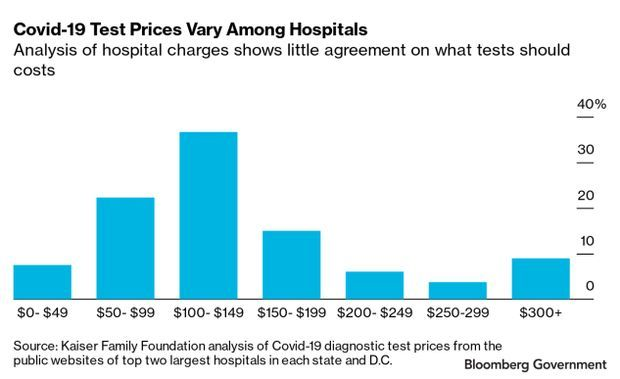 Trump Weighs Returning Drug Making to U.S.
President Donald Trump signed an executive order yesterday to encourage the production of certain drugs and medical supplies in the U.S. following shortages during the Covid-19 pandemic.
Trump's order calls on purchasers to buy American-made products and loosens federal drug-safety and environmental regulations that the administration says disadvantage domestic producers, among other measures.
The drugs and devices covered by the order are expected to include medicines used to respond to a public-health emergency or biohazard attack, among others. White House trade adviser Peter Navarro said on a call with reporters that the Food and Drug Administration will come up with the list of essential medicines covered by the order, but he didn't say by when.
"We're dangerously overdependent on foreign nations for our essential medicines, for medical supplies like masks, gloves, goggles and the like, and medical equipment like ventilators," Navarro said. Read more from Shira Stein and Anna Edney.
Happening on the Hill
Democrats Say Medicaid Funds Held Hostage: House Democrats yesterday rejected the idea that Congress could pass standalone extensions for expiring programs like added unemployment insurance, saying it would result in GOP members rejecting other items like funding for state Medicaid programs. "We can't deal with this pandemic in silos," Majority Whip Jim Clyburn (D-S.C.) told reporters, Alex Ruoff reports.
His remarks show how far apart Democrats and Republicans are on the details of the next aid measure. Senate Republicans have proposed giving more funds for Covid-19 testing programs and offering states resources to setup their own stockpile of supplies and testing resources, but haven't proposed another expansion of federal Medicaid funding.
Panel Launches Probe of Health Insurers: The House Energy and Commerce Committee will investigate whether insurers are following laws that make Covid-19 testing free for their customers, Chairman Frank Pallone Jr. (D-N.J.) said yesterday, not naming any companies subject to the investigation. He said the panel will send oversight letters to health and dental insurers in the coming days. Anthem, Humana, and UnitedHealth Group all reported significantly higher profits in the second quarter of 2020 than in the second quarter of 2019. Read more from Alex Ruoff and Chelsea Mes.
Wyden Says Hospitals Should Be Allowed to Fix Ventilators: Hospitals should be able to fix the breathing machines needed for Covid-19 patients even if those repairs violate manufacturer contracts, Sen. Ron Wyden (D-Ore.) said. Wyden unveiled legislation that would cut barriers that manufacturers levy on hospitals seeking to quickly repair machines in-house or via third-party repair firms. "It's a racket," Wyden told reporters. Charlie McGee has more.
Tens of Billions Sought for States' Testing Efforts: Sens. Bill Cassidy (R-La.) and Tina Smith (D-Minn.) yesterday unveiled a bipartisan bill to provide states resources to increase testing and allow them to "enter interstate compacts to maximize efforts to eliminate the spread of Covid-19." The bill sets aside $25 billion to buy tests and supplies, and it "authorizes states to enter into interstate compacts" to assist them to overcome supply chain challenges. Read text of the bill here.
Senate Passes Alzheimer's-Related Bill: The Senate yesterday passed by unanimous consent S. 3703, which would amend the Elder Abuse Prevention and Prosecution Act to aim to prevent the abuse of elders and individuals with certain dementias, such as Alzheimer's disease.
Research & Treatment Efforts
Single-Use Virus Masks Get Faster FDA Eyes: A blanket authorization system will help get more surgical masks to health-care providers treating coronavirus patients as shortages of required protective equipment continue, the FDA said. Disposable, single-use surgical face masks that check off certain fluid-resistance requirements and other safety milestones don't have to go through the typically arduous device approval process before hitting the market due to a rule change that the Food and Drug Administration implemented this week. Read more from Jacquie Lee.
Spy Agency Seeks Data on Virus Behavior: The same U.S. intelligence agency that helped pinpoint Osama bin Laden's Pakistan hideout is seeking to develop new tools to examine the use of mask mandates, travel restrictions, and other efforts to prevent Covid-19 infections. Researchers at the National Geospatial-Intelligence Agency are now preparing contracts to vacuum up pandemic data around the world and build software to model the effectiveness of restrictions and preventative measures. Read more from Travis J. Tritten and Roxana Tiron.
More Headlines:
What Else to Know Today
Patients in AIDS Program Call for Testing Funds: Patients need government- subsidized HIV testing and doctor's visits if they participate in a free prevention program, the Presidential Advisory Council on HIV/AIDS said yesterday. The HIV/ AIDS program launched in December to give 200,000 uninsured patients access to Gilead's Truvada, a daily pill that can help reduce the risk of contracting HIV. The free distribution of the drug is a cornerstone of the Trump administration's initiative to reduce HIV infections. Read more from Shira Stein.
Medicare Urged to Improve Nursing Home Oversight: The Medicare agency should improve its oversight of nursing homes' compliance with daily staffing requirements, a government watchdog agency said after it found hundreds of facilities didn't meet mandatory levels of manpower for several weeks in 2018. "This raises concerns that some nursing homes may not have fully met their residents' needs in 2018," the HHS Office of Inspector General said in a report released yesterday. Read more from Tony Pugh.
More Headlines:
To contact the reporters on this story: Brandon Lee in Washington at blee@bgov.com; Alex Ruoff in Washington at aruoff@bgov.com
To contact the editors responsible for this story: Giuseppe Macri at gmacri@bgov.com; Zachary Sherwood at zsherwood@bgov.com; Michaela Ross at mross@bgov.com
Stay informed with more news like this – from the largest team of reporters on Capitol Hill – subscribe to Bloomberg Government today. Learn more.