HEALTH CARE BRIEFING: Purdue to Plead Guilty Over Opioid Crisis
Bloomberg Government subscribers get the stories like this first. Act now and gain unlimited access to everything you need to know. Learn more.
Purdue Pharma will plead guilty to three felonies and pay $8.3 billion to settle federal probes of how it marketed OxyContin, the highly addictive painkiller blamed for helping spark the U.S. opioid epidemic.
The agreement calls for Purdue's owners, members of the billionaire Sackler family, to make an immediate $225 million payment to the government and for the company to pay $250 million after its bankruptcy is concluded, the Department of Justice said yesterday. The remaining amount owed by Purdue will be counted toward the company's payout to its creditors, court records show.
The deal is likely to boost Purdue's effort to move past claims it helped spark a public-health crisis over opioids with its marketing of OxyContin. Yet the company still faces thousands of civil claims by local and state officials, for which Purdue has previously proposed a $10 billion settlement in bankruptcy court. Governments are seeking reimbursement from Purdue and others for tax dollars spent coping with the crisis, which has led to more than 200,000 U.S. overdose deaths and chronic addiction.
"Purdue deeply regrets and accepts responsibility for the misconduct," Purdue Chairman Stephen Miller said in a statement. "Resolving the DOJ investigations is an essential step in our bankruptcy process. The settlement agreement will pave the way for Purdue to submit a plan of reorganization to the bankruptcy court that will transfer all of Purdue's assets" to a new company owned by the public, he said.
To cope with the tidal wave of claims, Purdue last year filed for Chapter 11 protection in bankruptcy court in New York. U.S. Bankruptcy Judge Robert Drain in White Plains, N.Y., must approve the settlement with the Department of Justice for it to become final.
Sackler family members who served on Purdue's board "acted ethically and lawfully" in overseeing the company's operations, and they reached the government deal "to facilitate a global resolution that directs substantial funding to communities in need, rather than to years of legal proceedings," a family representative said in an emailed statement.
As for the criminal charges, "no member of the Sackler family was involved in that conduct or served in a management role at Purdue" during the period under federal investigation, according to the statement. Deputy Attorney General Jeffrey Rosen said the settlement with members of the Sackler family resolved their individual civil liability for OxyContin's wrongful market, but doesn't bar future criminal prosecution. Jef Feeley and Chris Strohm have more.
Purdue's settlement with the government was the critical domino that needed to fall before nearly 3,000 cities and counties that are claimants in the bankruptcy could get their slice of the pie, Harry Nelson, co-founder of Nelson Hardiman, a Los Angeles-based health-care law firm, said. Valerie Bauman has more on what's next.
Happening on the Hill
Stimulus Talks Continue: Speaker Nancy Pelosi (D-Calif.) and Treasury Secretary Steven Mnuchin made further progress on a coronavirus stimulus package yesterday and will speak again today, according to a Pelosi aide. "Today's conversation brings us closer to being able to put pen to paper to write legislation," Pelosi spokesman Drew Hammill tweeted after the two negotiators held a 48 minute call yesterday. "With the exchange of legislative language, we are better prepared to reach compromise on several priorities."
Pelosi said earlier that a deal may not come together in time to pass both chambers before the Nov. 3 election. White House Chief of Staff Mark Meadows said yesterday on Fox Business the administration is aiming for an agreement within the next 48 hours. Read more from Erik Wasson and Billy House.
Democrats Plan to Boycott Barrett Vote: Democrats on the Senate Judiciary Committee will boycott today's vote to advance Amy Coney Barrett's Supreme Court nomination to the full Senate, according to a Democratic aide. Still, the move won't prevent Republicans, who have a 12-10 majority on the panel, from moving ahead. The confirmation is proceeding over Democratic objections to what they say is a rushed process and their concerns about her potential impact on rulings including those related to the Affordable Care Act, abortion and other issues. Read more from Laura Litvan.
Democrats Probe Trump on Russian Ventilators: Four leading House Democrats yesterday sent a letter to State Department acting Inspector General Matthew Klimow and Department of Homeland Security Inspector General Joseph Cuffari seeking a probe into the shipment of ventilators from Russia, which may have violated U.S. sanctions, during the early stages of the pandemic in the U.S., according to a statement. The lawmakers include Oversight and Reform Chairwoman Carolyn Maloney (D-N.Y.) and Foreign Affairs Chairman Eliot Engel (D-N.Y.). Read the letter here.
The Coronavirus Pandemic
Hospitals Crammed With More Covid Patients: U.S. hospitalizations for Covid-19 have hit the highest point since Aug. 22, with New York doubling its count from early September and at least 10 other states seeing record highs. The Centers for Disease Control and Prevention, meanwhile, cited four national studies that predicted a probable in-patient increase of up to 6,200 daily over the next four weeks.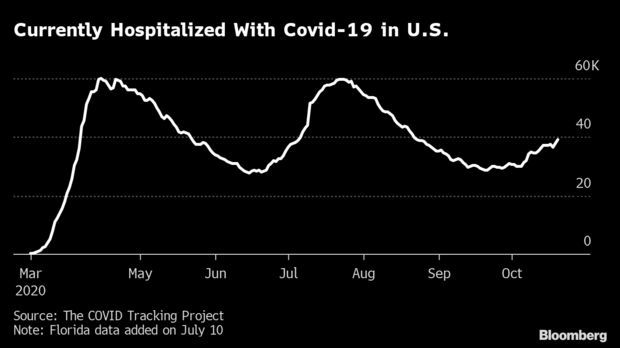 The U.S. on Tuesday had 39,230 people in hospitals, according to the Covid Tracking Project. Of those, 8,178 were in intensive-care units; it's been two months since the country had more under such care. The number on ventilators, 1,889, reached its highest since Sept. 10. Across the country, 37 states are reporting increased hospitalizations, including 21 states that have recently reported new records or are approaching previous highs, according to Johns Hopkins University data. The hardest-hit region is the Midwest.
New York's hospitalization count exceeded 900 for the first time since May and New Jersey's hit 844, the highest since July. States reporting record highs Tuesday included Wisconsin, Iowa, Nebraska and Ohio, which had 1,221 patients. Ohio had 142 deaths for two weeks ending Oct. 17. It's predicted to have 220 deaths for the two weeks ending Oct. 31. That's a difference of 78 fatalities, the most in the country, for a total of 5,287, according to the Covid-19 Forecast Hub, which compiles data from more than 50 global research groups. Elise Young has more.
Related: N.Y.'s New Covid Cases Surpass 2,000 for First Time Since May
More Headlines:
Doctors Fight 'Infodemic' With Americans Seeing Virus as Hoax
Warp Speed Chief Sees Astrazeneca, J&J Trials Restarting Soon
Deceased AstraZeneca Trial Volunteer Said Didn't Take Vaccine
Covid Plus Decades of Pollution Are a Nasty Combo for Detroit
Bolsonaro Slams Chinese Vaccine His Government Agreed to Buy
What Else to Know
Pharmacy Benefit Managers Lobbying Heavily: The industry group representing pharmacy benefit managers is spending heavily on its lobbying presence as many of the major health care players put fewer dollars into K Street, according to federal disclosures. The Pharmaceutical Care Management Association spend more than $2.6 million in the third quarter of 2020, triple what it spent in the same quarter of 2019 and more than the group has spent in any quarter in the past three years, disclosures from the group show.
It's been an up-and-down year for pharmacy benefit managers. The Trump administration this year proposed, before killing, a plan to eliminate safe harbors for drug rebates. Senate Health, Education, Labor and Pensions Chairman Lamar Alexander (R-Tenn.) has been pushing a package of health overhauls that include a ban on "spread pricing," where pharmacy benefit managers charge an insurer more for a drug than the price they paid a pharmacy for that drug.
The ramp-up in spending comes as individual pharmaceutical industry middlemen such as Cigna and CVS Health are spending less. Cigna spent nearly $1.7 million in the third quarter of 2020, down from $2.3 million from the same timespan in 2019, and CVS similarly spent $2.2 million, down from $2.6 million.
Drugmakers likewise dedicated fewer lobbying dollars through the end of the summer, when Congress was largely just debating the scope of a pandemic aid package. The Pharmaceutical Research and Manufacturers of America spent $5.9 million in the third quarter of 2020, down from $6.2 million in the third quarter of 2019, Alex Ruoff reports.
White House Backs Off Pre-Election Drug Card Plan: The White House is backing away from a plan to send $200 prescription drug discount cards to American seniors before Election Day after widespread criticisms that the effort could violate election laws. "I don't anticipate that anything gets there before Election Day," Chief of Staff Mark Meadows said, citing a "concern that there might have been a look that this was done for a political motivation," but adding that it wasn't true. Read more from Josh Wingrove.
More Headlines:
Medicare Delays Cancer Therapy Payment Model by 6 Months
HHS Loses Bid for Second Shot at Defending Medicare Pay Change
Medicaid Claw-Back Dispute Denied Rehearing by Appeals Court
Patient Loses Fight Over Medicare Payment for Growth Hormone
To contact the reporters on this story: Brandon Lee in Washington at blee@bgov.com; Alex Ruoff in Washington at aruoff@bgov.com
To contact the editors responsible for this story: Zachary Sherwood at zsherwood@bgov.com; Giuseppe Macri at gmacri@bgov.com; Michaela Ross at mross@bgov.com
Stay informed with more news like this – from the largest team of reporters on Capitol Hill – subscribe to Bloomberg Government today. Learn more.