HEALTH CARE BRIEFING: Progressives Press for Medicare Benefits
Bloomberg Government subscribers get the stories like this first. Act now and gain unlimited access to everything you need to know. Learn more.
New vision, dental, and hearing benefits under Medicare must be included in Democrats' social spending package if it's going to win support from progressives, lawmakers said yesterday.
"This to me is not negotiable," Bernie Sanders (I-Vt.) told reporters when asked if cutting the added benefits is a red line for progressives. Progressive Caucus Chair Pramila Jayapal (D-Wash.), said her coalition shares this sentiment.
Factions of the Democratic party are jockeying to maintain what they consider to be core elements of the evolving social spending bill, which contains the bulk of President Joe Biden's economic agenda. Congressional leaders are aiming to cut or reduce areas of the once-$3.5 trillion spending package to win the support of key moderates. One of those moderates, Sen. Joe Manchin (D-W.Va.) has said he doesn't support adding new benefits to Medicare without first addressing the program's long-term solvency.
The policy also faces stiff opposition from the insurance industry. The proposed new benefits under Medicare come with a $358 billion price tag. Alex Ruoff has more.
Jayapal also said that instead of cutting provisions, progressives would be open to making them effective for a shorter length of time. "What the progressive caucus, would like to have is not some false choice of just doing a couple of things and pitting communities against each other and leaving people behind, but actually reducing the number of years slightly if we need to," Jayapal said.
The progressives said that Manchin and Sen.

Kyrsten Sinema

(D-Ariz.) have yet to come forward with a formal counter-proposal, making it difficult to move forward in negotiations. Sanders said the time is "long overdue" for Manchin and Sinema to let Democrats know what they want to cut from the bill. Read more from Jarrell Dillard.
Democrats Divided Over How Best to Slice Biden's Economic Agenda: Democrats are coalescing around a tax and spending plan totaling about $2 trillion, but the party's progressives and moderates remain divided over which pieces of Biden's agenda to pay for — and how long to pay for them.
Speaker Nancy Pelosi (D-Calif.) and Senate Majority Leader Chuck Schumer (D-N.Y.) must pick and choose from a Democratic wish list that includes free community college, subsidized child care, expanded Medicare benefits and a large investment in climate programs as they attempt to draft a bill that can pass both chambers. Read more from Laura Davison and Billy House.
Medicare managed-care plans say they'll have to increase premiums and reduce benefit offerings if Democrats cut their program reimbursements to help pay for new dental, vision, and hearing benefits in traditional Medicare. As Democrats work to trim their $3.5 trillion reconciliation package, recent research suggests that tweaking some of the Medicare Advantage payment formulas could save billions of dollars in overpayments that could help pay for the proposed benefit expansion. Read more from Tony Pugh.
Happening on the Hill
Nominations: Biden yesterday announced his intent to nominate Lily Griego to be regional director of Region 8 at the Department of Health and Human Services, according to a press release.
Veterans' Health Legislative Hearing: The House Veteran Affairs Health Subcommittee scheduled a legislative hearing today to examine 13 measures related to veterans health.
Physicians Press Lawmakers to Halt Medicare Cuts: Physician groups yesterday called for congressional action by year's end to stop a series of potential Medicare payment cuts from taking effect in 2022. Members of the American Medical Group Association told reporters that if proposed cuts of up to 9.75% are implemented, some physician groups would have to eliminate services or reject new Medicare patients. Others said they would be unable to hire new staff or make technology and infrastructure investments to improve care and treatment. Read more from Tony Pugh.
Poll Shows Drug Pricing Negotiation Support: A new poll from the Kaiser Family Foundation shows Americans of all party affiliations want government to negotiate for better drug prices—an effort being debated in Congress—even after hearing common arguments about it, Alex Ruoff reports. Eighty three percent of the public in the survey said they favored allowing government to negotiate to lower drug prices, including 76% of Republicans. After hearing key arguments being made for and against that plan, "little" change was seen overall, with Republican support overall dipping to 71%, Alex Ruoff reports.
Pharmaceutical lobbying group PhRMA has for months cited an earlier KFF poll that showed support for drug pricing negotiation dropped if people are told about the arguments against it. Although the new poll seemed to rebut this point, the trade group hit back, saying the survey was "misleading" and "contradicts years of its own nonpartisan research."
The Coronavirus Pandemic
Moderna, J&J Make Case for Covid-19 Boosters: Moderna and Johnson & Johnson said that data they've gathered supports the need for booster shots for their Covid-19 vaccines, ahead of a key regulatory meeting later this week. A panel of scientific experts who advise the U.S. Food and Drug Administration on vaccines is scheduled to meet tomorrow and Friday to weigh the evidence for booster doses for each of the two vaccines. In documents prepared for the meeting, both companies said the supplemental doses would be advisable after six months. Read more from Robert Langreth and Riley Griffin.
White House Slams Texas Vaccine Mandate Ban: The White House criticized Texas Gov. Greg Abbott's (R) order banning businesses and other entities from enforcing Covid-19 vaccine mandates even as the Biden administration encourages employers to adopt them. The move fits "a familiar pattern that we've seen of putting politics ahead of health," White House Press Secretary Jen Psaki said yesterday. Read more from Jennifer Epstein.
Meanwhile, Florida Gov. Ron DeSantis (R) proposed a law to shield all workers from being fired for not getting Covid-19 vaccines, a day after Texas's ban. Speaking yesterday in St. Pete Beach, Florida, DeSantis said he would contest the federal government's plan to mandate vaccines for large private-sector businesses. Read more from Jonathan Levin.
Related:
Vaccines Could've Spared 22,000 Lives in Texas, Florida: More than 22,000 lives could have been spared in Texas and Florida if they had vaccinated three-quarters of their adult populations, according to a new study. If 74% of Texans and Floridians had been vaccinated by the end of August, they could have collectively had 95,000 fewer hospitalizations and 22,000 fewer deaths, a study published Oct. 8 in the scientific journal Lancet found. Read more from Augusta Saraiva.
Meanwhile, federal judges issued three different decisions on New York state and city vaccination requirements, upholding the status quo as the contentious issue winds it way through the court system. New York City's program requiring proof of vaccination to enter restaurants, gyms and clubs can continue, a judge in Brooklyn ruled yesterday. A judge in Manhattan again rejected the argument by some teachers seeking exemptions on religious or medical grounds. A third judge reiterated that state authorities can't enforce a mandate on health care workers without a religious exception. Bob Van Voris has more.
FDA's Outlook Dims for New Regenerative Therapies: The regenerative medicine surge anticipated in the next few years will likely be on the lower end as the FDA reels from the Covid-19 pandemic. Regulators and industry expected 10 to 25 new cell and gene therapy products to come online starting in 2025 as scientific advances have led to a booming industry of cutting-edge products that can repair or replace genetic material that causes disease. But the FDA's biologics center is facing staffing challenges as it struggles to find the scientific expertise to meet this growing demand while at the same time working around the clock to respond to the Covid-19 crisis. Read more from Jeannie Baumann.
Why Some Nations Have Worse Outbreaks With Same Vaccines: It's one of the great puzzles of the pandemic. Most developed economies are now highly vaccinated with some of the most effective shots on offer, so why are the latest Covid-19 outbreaks more deadly in some places than in others? While it's clear vaccines led to a drop in fatalities during the most recent delta variant-driven waves compared with earlier bouts with the virus, some countries saw deaths fall to a greater degree than others, an outcome scientists still don't have answers for.
Countries like Germany, Denmark and the U.K. have seen Covid deaths fall to roughly a tenth of previous peaks, according to Bloomberg calculations using data compiled by Johns Hopkins University. In Israel, Greece and the U.S., fatalities fell but remained more than half of the previous peaks. Read more from Jinshan Hong, Lisa Du, and Yasufumi Saito.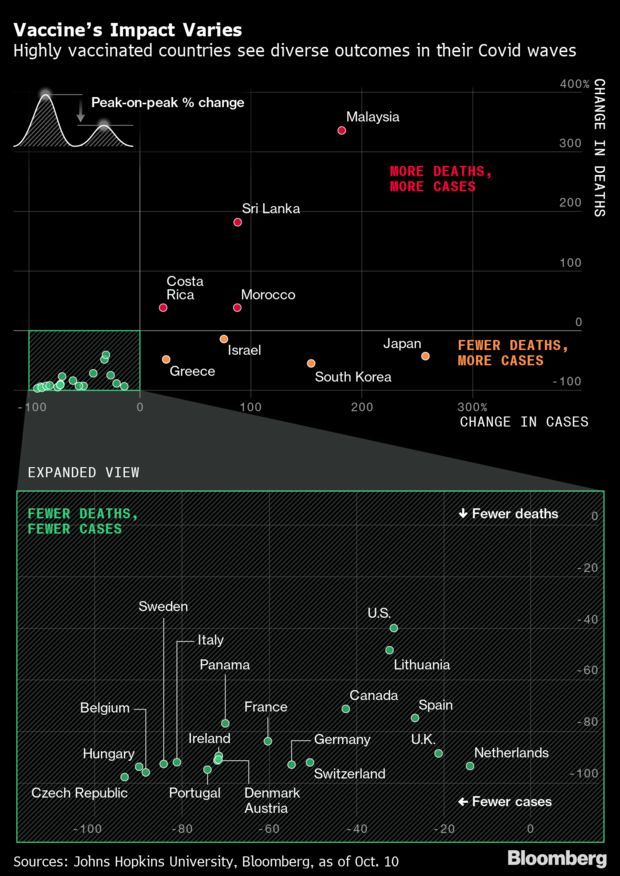 More Headlines:
From the High Court
Top Court Signals Kentucky Official Can Defend Abortion Curb: U.S. Supreme Court justices yesterday signaled they are inclined to let Kentucky's Republican attorney general take over the defense of a law that would sharply restrict abortion after the 15th week of pregnancy.
Hearing arguments in what will be a prelude to a bigger abortion fight later this year, the justices suggested skepticism toward a federal appeals court's conclusion that Kentucky Attorney General Daniel Cameron waited too long to try to get involved. The appeals court struck down the law and then barred Cameron from intervening in order to seek reconsideration from a larger panel of judges. Justices from across the court's ideological spectrum voiced concern that, unless Cameron can take part, no state official will have authority to keep defending the law. Read more from Greg Stohr.
The Supreme Court declined to hear an appeal over a proposed Philadelphia overdose-prevention site, leaving in place a ruling against the program that 80 current and former prosecutors and law enforcement leaders said would help fight the opioid epidemic. Read more from Jordan Rubin.
Separately, the court invited the U.S. government to share its thoughts on electronic health records developer Epic Systems's bid to restore a $420 million trade secrets award. Read more from Kyle Jahner.
More Legal Headlines:
What Else to Know
First Major E-Cigarette Gets FDA Nod: The U.S. Food and Drug Administration authorized British American Tobacco's e-cigarette Vuse and its tobacco-flavored pods, the first major e-cigarette products cleared in a sweeping review of whether millions of cigarette alternatives have a public-health benefit. Vuse is the first vape-type product from a major company to win FDA backing to continue U.S. sales, with the agency saying it can help users reduce exposure to harmful chemicals. The FDA is working through millions of applications—including some from BAT competitors such as Juul. Read more from Tiffany Kary.
The decision was met with opposition from Rep.

Raja Krishnamoorthi

(D-Ill) , the chairman of the House Oversight and Reform Subcommittee on Economic and Consumer Policy. "FDA has turned its back on the public health by approving a high-nicotine e-cigarette," he said in a statement. "I've been pushing to lower nicotine levels in the United States for years. FDA has ignored the data and missed another opportunity to address the youth vaping epidemic."
DOD's 'Forever Chemicals' Reached More Than 2,100 Farms: The Defense Department has notified 2,143 farms near its facilities that "forever chemicals" reached their water supplies, according to a report that offers a glimpse into the extent that PFAS can pervade the nation's food supply. The department's report comes as the Environmental Protection Agency is expected to soon issue its multiyear plans to research and regulate per- and polyfluoroalkyl substances, or PFAS. Read more from Pat Rizzuto.
More Headlines:
With assistance from Alex Ruoff
To contact the reporter on this story: Michaela Ross in Washington at mross@bgov.com
To contact the editors responsible for this story: Zachary Sherwood at zsherwood@bgov.com; Giuseppe Macri at gmacri@bgov.com; Brandon Lee at blee@bgov.com
Stay informed with more news like this – from the largest team of reporters on Capitol Hill – subscribe to Bloomberg Government today. Learn more.