HEALTH CARE BRIEFING: Policymakers Make Deal on Virus Stimulus
Bloomberg Government subscribers get the stories like this first. Act now and gain unlimited access to everything you need to know. Learn more.
The Trump administration struck a deal with Senate Democrats and Republicans on an historic rescue package that tees up more than $2 trillion in spending and tax breaks to bolster the hobbled U.S. economy and fund a nationwide effort to stem the coronavirus.
"At last we have a deal," Senate Majority Leader Mitch McConnell (R-Ky.) said early this morning on the chamber's floor. "I'm thrilled that we're finally going to deliver to the country."
Senate Minority Leader Chuck Schumer (D-N.Y.) called it an "outstanding agreement."
The legislation was still being drafted but McConnell said the Senate would vote on it later today, Josh Wingrove, Laura Litvan and Steven T. Dennis report.
Hospitals and other health-care providers will get $130 billion to help respond to the coronavirus outbreak under the agreement, Alex Ruoff reports. The legislation will also give state and local governments access to a $150 billion fund that can be used to purchase need medical supplies.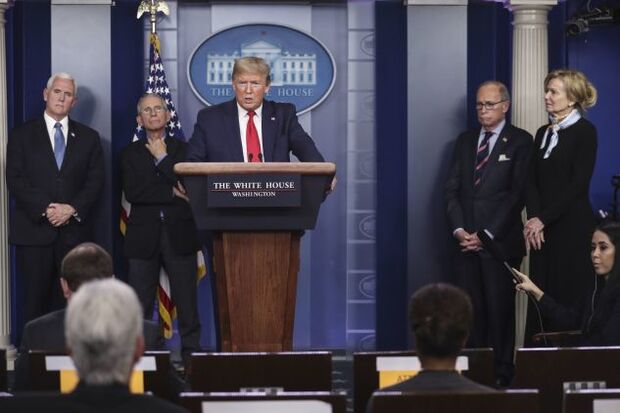 Vaccine Research & Treatment Efforts
Preparations for Vaccine Production: Biotech companies should prepare now to ramp up production for Covid-19 vaccines and treatments to prevent delays in manufacturing that could hinder patient access, a senior HHS official said yesterday. Federal authorities are hoping to ensure "that when we have a vaccine or drug available, there are multiple facilities able to scale up and manufacture and produce and fill and finish and deliver those vaccines and drugs and reagents as quickly as possible," Biomedical Advanced Research and Development Authority Director Rick Bright said during a virtual summit. Read more from Jeannie Baumann.
Gilead Drug Gets Tax Break: Gilead Sciences' experimental treatment drug for Covid-19 secured a coveted regulatory designation that usually comes with tax breaks and a seven-year market monopoly. The FDA announced that remdesivir would get the agency's orphan drug designation, a program usually reserved for rare illnesses affecting less than a quarter million people in the U.S. But consumer advocacy group Public Citizen railed against the designation, saying it's given Gilead an "entirely undeserved" monopoly. Read more from Cristin Flanagan.
Blood From Recovered Patients: The FDA is making it easier for critically sick patients to access a potential treatment: antibodies from the blood of people who survived. The FDA will allow doctors treating the sickest Covid-19 patients to use an experimental therapy called "convalescent plasma." The effort is part of the FDA's unprecedented loosening of rules for medication, diagnostic tests and more in an effort curtail the outbreak. Read more from Bloomberg News.
Training Amid Pandemic: American health-care systems will get $100 million in federal funds to provide training and resources to hospitals, emergency medical services, and 911 call centers, the HHS announced yesterday. HHS's Office of the Assistant Secretary for Preparedness and Response will direct the funds to three health facilities that previously cared for Ebola patients, 10 regional pathogen treatment centers and 62 hospital preparedness partners, among other groups. The funds were part of the supplemental appropriations bill signed into law this month. Read more from Shira Stein.
Guidelines for Infected Health Workers: Health care workers that test positive for Covid-19 must receive two subsequent negative tests before they can return to work, the CDC is advising. If health cad workers present symptoms and are unable to get tested, the CDC says they can't return to work until they are fever-free without fever-reducing medications for at least three days, their other symptoms improve, and it's been at least one week since the symptoms first appeared. Read more from Shira Stein.
More Headlines:
Combating Equipment Shortages
Lawmakers Prod Trump for Supply Action: More lawmakers are introducing bills and sending letters critical of Trump's use of federal powers to spur more domestic product of medical supplies partly in hopes of convincing the Trump administration to take more action. Reps. Tim Ryan (D-Ohio), John Katko (R-N.Y.), and Elissa Slotkin (D-Mich.) were the latest group to unveil legislation forcing the president to federalize the manufacturing and distribution of health-care equipment, such as respirators and ventilators, that have fallen into short supply due to the outbreak of the coronavirus.
The bill mirrors one being proposed by Sen. Chris Murphy (D-Conn.) in the Senate. This comes after weeks where lawmakers, including Trump ally Sen. Ted Cruz (R-Texas), have called on the president to use his authority under the Defense Production Act to ramp up some domestic factories to make such equipment, something Trump has resisted. Ryan told reporters yesterday that even if the legislation doesn't become law, it could make Trump rethink his delicate touch with the Defense Production Law. "Sometimes legislation passes and sometimes it nudges things along," he said, Alex Ruoff reports.
Cuomo Demands Ventilators From Trump: As New York reported more than 5,000 new coronavirus cases and an infection rate doubling roughly every three days, Gov. Andrew Cuomo (D) lashed out at Trump for relying on corporations to fast-track the manufacture of life-saving ventilators. "You can't do this on a voluntary basis," Cuomo said yesterday during a news conference at the Jacob K. Javits Convention Center in Manhattan, which was converted to a temporary hospital. He warned many Covid-19 victims will die in vain without ventilation.
On their own, companies need capital and time to shift production to entirely new products, Cuomo said. And time is running short for New York state, said Cuomo, with confirmed cases now exceeding 25,000 as of yesterday and peak infection rates expected as soon as 14 days from now. He called on Trump to use his powers under the Defense Production Act to force manufacturers to make ventilators and provide seed money to retrofit factories. Read more from Keshia Clukey.
Medical Masks Auctioned for Huge Markup: At a time when shortages of protective gear are putting health-care workers at risk, more than 750,000 medical-grade masks went up for online auction in Texas. Bottles of Purell sold for over $40. A box of 16 masks went for $170. They could be had retail for $3 each before the coronavirus. The week-long bidding that ended yesterday was hosted by the website Auctions Unlimited. The health-related products pulled in $154,000 in sales, according to Houston-based website owner Tim Worstell. He estimated that he personally made as much as $40,000 on the sales. Read more from Polly Mosendz and William Turton.
Ventilator Makers Face Parts Shortage: Runaway demand for ventilators has laid bare a grim reality for doctors who need them to treat critically ill patients: The U.S. doesn't just have a shortage of ventilators; it doesn't have enough parts to make more. That could make it difficult for automakers to fulfill Trump's wish that they switch over to manufacture the life-saving devices. It's also starting to limit companies that already specialize in making ventilators, who say their own factories can ramp up production but need suppliers across the globe to send more circuit boards, tubes and other parts. Read more from Joe Light, Zachary R. Mider and Ellen Proper.
Meanwhile, Medical device companies need clarity on which local governments and health-care providers should get priority access to life-saving devices like ventilators during the coronavirus pandemic, a leading trade group said. Concern about ventilator shortages pushed local governments and health-care providers across the U.S. to buy the devices, and companies are ramping up production to meet the demand. But some groups "should have a higher priority than others based on the acuity of patient needs in their areas," the Advanced Medical Technology Association wrote in a letter to the Federal Emergency Management Agency yesterday. Companies don't want to make those decisions themselves, though. Read more from Jacquie Lee.
Global Rush for Trump-Backed Virus Drug Sparks India Export Ban: India banned exports of a malaria drug backed by U.S. President Donald Trump amid a run on supplies globally, even as scientists continue to search for conclusive evidence of the medicine's effectiveness against the novel coronavirus. Exports of hydroxychloroquine will be limited to fulfilling fully paid existing contracts, while certain shipments on humanitarian grounds may also be allowed on a case-by-case basis, according to a statement issued Wednesday by the Directorate General of Foreign Trade. The ban also does not apply to factories in its special economic zones. Read more from Bloomberg News.
More Headlines:
Prevention Efforts & Wider Effects
Trump Envisions 'Packed' Easter Services: Trump said he envisions "packed" U.S. churches on Easter Sunday, April 12, as he described his hope to abandon stringent public-health measures to combat the outbreak and re-open the U.S. economy in mid-April. His vision appears increasingly out-of-step with both the warnings of public health professionals and governors, who've ordered entire states and cities shut down in a desperate effort to slow the spread of the virus.
"Easter's a very special day for me," Trump said yesterday in an interview with Fox News. The holiday is "just about the time-line I think is right" for balancing public health concerns with efforts to help the economy. "I think Easter Sunday, you'll have packed churches all over our country," Trump said, but he said the timing could shift. Trump has said he'd re-evaluate whether to call for people to return to work after his 15-day strategy to limit social contact lapses next week. Read more from Saleha Mohsin.
Fauci Returns to White House Briefings: Anthony Fauci, the infectious disease expert who is the most credible U.S. spokesperson on the coronavirus outbreak, returned to the White House podium yesterday following a two-day absence after contradicting Trump. Fauci said it is important to obtain more data about the virus through testing to determine the next steps in the federal government's response efforts. "We have to act, policy-wise, on data," he said. Read more from Jordan Fabian.
Quarantine Urged for All Leaving NYC: The White House advised anyone who has been in New York City to self-quarantine for 14 days to stop the spread of the coronavirus, which has become widespread in the city. "You may have been exposed before you left New York," Deborah Birx, the State Department doctor who has been advising Vice President Mike Pence, said at a White House press conference. "Everybody who was in New York should be self-quarantining for the next 14 days," Birx said, Saleha Mohsin and Josh Wingrove report.
Obamacare Payments Extended: Obamacare plans can extend payment deadlines during the Covid-19 national emergency, HHS said yesterday. "CMS will exercise enforcement discretion" if a health insurer on the Affordable Care Act exchanges extends premium payment deadlines and delays cancellations of coverage for non-payment, with the permission of state regulators, HHS' Center for Consumer Information & Insurance Oversight (CCIIO) said in new guidance. Read more from Sara Hansard.
More Headlines:
What Else to Know
Medical Device Applications: Teleconferences will replace in-person meetings that the FDA has scheduled with medical device companies through April 30, the agency said. The FDA medical device office issued a letter to the device industry on how the agency plans to maneuver its day-to-day operations, as the federal government continues to respond to the pandemic. The Center for Devices and Radiological Health is taking "steps described in this letter to prioritize work that advances the nation's response during this national emergency," William Maisel, director of the office of product evaluation and quality, said yesterday.
As a result, the FDA will extend by 60 days the approval process for marketing applications that were on hold as of March 16. The extension covers responses that were due on or before April 30 to 510(k) applications, premarket approval applications, Humanitarian Device Exemption applications, and De Novo classification requests. The latter are designated for items that don't have a previously approved similar version but can be labeled as a lower-risk Class I or Class II devices. Read more from Ayanna Alexander.
Health-Care Spending to Outpace Economic Growth: Health-care spending is expected to grow more rapidly than the rest of the economy over the next decade and to consume an increasingly larger share of gross domestic product, according to government actuaries. National health expenditures are projected to grow at an average annual rate of 5.4% from 2019-2028, at which time they would grow to 19.7% of the gross domestic product, even with a modest projected decline in the insured share of the population, the Centers for Medicare & Medicaid Services Office of the Actuary said in a report released yesterday. Read more from Sara Hansard.
More Headlines:
To contact the reporters on this story: Brandon Lee in Washington at blee@bgov.com; Alex Ruoff in Washington at aruoff@bgov.com
To contact the editors responsible for this story: Giuseppe Macri at gmacri@bgov.com; Zachary Sherwood at zsherwood@bgov.com; Michaela Ross at mross@bgov.com
Stay informed with more news like this – from the largest team of reporters on Capitol Hill – subscribe to Bloomberg Government today. Learn more.