HEALTH CARE BRIEFING: Permanent Fentanyl Ban Gains Steam on Hill
Bloomberg Government subscribers get the stories like this first. Act now and gain unlimited access to everything you need to know. Learn more.
A bipartisan group in the House is pushing to permanently ban a wide set of synthetic opioids, fulfilling a Biden administration request to crack down on fentanyl traffickers.
Reps. Chris Pappas (D-N.H.), Dan Newhouse (R-Wash.), and Ted Budd (R-N.C.) will introduce a bill today to label fentanyl-related substances—copies of the powerful opioid often found in other illicit drugs—as among the most controlled drugs, Schedule 1. The measure would allow researchers to put some versions of fentanyl into less-controlled classes.
"This is one piece of a much bigger puzzle we have to solve in this country," Pappas said, "in making sure that we are providing every resource possible to law enforcement and to those who are struggling with addiction."
The legislation would also end mandatory minimum sentencing rules for any person convicted of possessing or trafficking these substances based solely on the quantity of drugs they have. It would leave sentencing up to federal guidelines and the courts, a Pappas aide said.
Biden administration drug control officials asked Congress last year to make permanent the federal government's authority to automatically ban fentanyl-like substances, an authority that expires March 11. Congressional leaders are considering pushing that deadline as far as September, as part of a bill to fund the government, a Democratic aide familiar with the discussions said. White House officials have warned that illicit drugmakers can make thousands of different kinds of synthetic opioids, some that aren't technically illegal because they are a related substance, not fentanyl.
An estimated 104,288 people died in the U.S. of drug overdoses in the year up to September 2021, the highest ever recorded, Centers for Disease Control and Prevention data show. U.S. Customs and Border Protection say in 2021 they seized a record amount of fentanyl coming into the U.S. Read more from Alex Ruoff.
The Coronavirus Pandemic
White House Sees No Treatments if Funding Dries: The U.S. will run out of Covid-19 treatments in the coming months without new funding from Congress, the White House warned on Friday. White House Press Secretary Jen Psaki's comments comes after Biden's administration requested $22.5 billion in emergency money for the coronavirus response. Without it, the U.S. will run out of monoclonal antibody treatments by May and out of antiviral pills by September, she said, and testing capacity would also soon slow. "This is an urgent request, and this is what is at stake in our fight against Covid." Read more from Josh Wingrove.
Easing Telehealth High Deductible Rule Needs Congress: The IRS needs clearance from lawmakers in order to give employers and health plans leeway to allow telehealth plans to cover treatment before patients meet annual deductibles, two officials said Friday. An emergency Covid-19 policy expired Dec. 31 that enabled people with high-deductible plans and health savings accounts to get telehealth coverage without first having to meet annual deductibles. Employers say the policy should be extended. Read more from Sara Hansard.
CDC Guidance Said Endangers Health Workers: Covid prevention guidelines should be strengthened for hospitals and clinics, where workers remain at high infection risk even as the omicron surge dissipates, a prominent House Democrat said in a letter to top U.S. public-health official Rochelle Walensky. Isolation and quarantine requirements for exposed workers and the public should be lengthened, Rep. Ro Khanna (D-Calif.) said in the letter to the Centers for Disease Control and Prevention's director. Guidelines for reusing single-use masks are outdated and should be pulled, he said. Fiona Rutherford has more.
More Headlines:
What Else to Know Today
Surprise Billing Law Offers CFPB Chance to Tackle Debt: A new U.S. ban on surprise medical bills gives the Consumer Financial Protection Bureau a path to cap how much medical debt is posted to consumer credit reports. The CFPB recently announced that it was looking into whether uncollected medical bills should be included on credit reports at all. Such debts are often not accurate or always indicative of a person's creditworthiness, the consumer watchdog said. Still, forcing consumer credit reporting bureaus like Equifax, Experian, and TransUnion to drop medical debt may be difficult for the CFPB. Evan Weinberger has more.
Meanwhile, a recent survey found over half of Americans have medical debt—whether they have health insurance or not. The poll of 1,250 U.S. adults found that 56% owed health-related debt and almost one in six people with medical bills aren't currently paying it off. A large chunk of the debt came from Covid treatment and testing, the survey from Affordable Health Insurance. Almost one-quarter of Americans with medical debt owed more than $10,000, an amount that's unheard of in other developed countries. Read more from Alex Tanzi.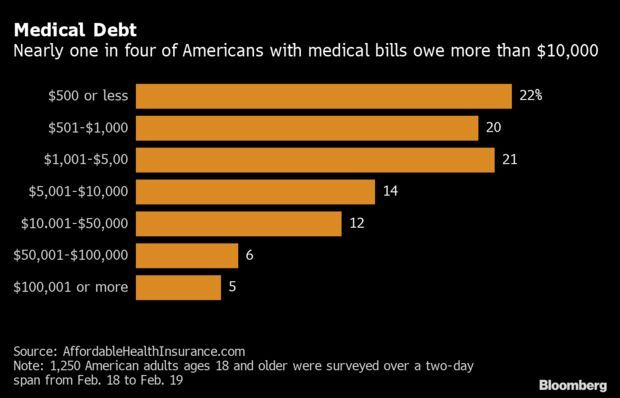 States Get Time to Check Medicaid Eligibility: State Medicaid officials will get 14 months after the end of the U.S. public health emergency to re-establish the eligibility of beneficiaries for the program, the federal Medicaid agency said on Thursday. Previous Centers for Medicare & Medicaid Services guidance had indicated the states had 12 months to carry out eligibility and enrollment work after the end of the emergency, but the March 3 letter to state health officials specified that the states must begin—but not necessarily complete—the process of re-establishing eligibility within the 12-month window, Christopher Brown reports.
Pharmacy Benefit Managers Study Could Show 'Dysfunction': The Federal Trade Commission could help shed some light on the complex practices of pharmacy liaisons that have long faced criticism for allegedly driving up consumer prices for drug. FTC Commissioner Noah Phillips has said a probe into pharmacy benefit managers may still happen, even though it deadlocked with a 2-2 vote on a proposed study last month. The agency will have to sort out details of a new proposal, but policy analysts say any review would offer insight into how PBMs interact with the drug distribution chain. Celine Castronuovo has more.
More Headlines:
To contact the reporter on this story: Brandon Lee in Washington at blee@bgov.com
To contact the editors responsible for this story: Giuseppe Macri at gmacri@bgov.com; Michaela Ross at mross@bgov.com; Loren Duggan at lduggan@bgov.com
Stay informed with more news like this – from the largest team of reporters on Capitol Hill – subscribe to Bloomberg Government today. Learn more.