HEALTH CARE BRIEFING: Pence Touts Vaccine; States Fear Shortfall
Bloomberg Government subscribers get the stories like this first. Act now and gain unlimited access to everything you need to know. Learn more.
Many states fear they won't have the supplies they need to administer Covid-19 vaccines and are still grappling with a deficit of coronavirus testing materials, according to a report from a top federal watchdog that calls for "urgent actions" to fight the pandemic.
Thirty-eight states told the Government Accountability Office that they were concerned about having enough supplies to distribute and administer vaccines, according to the report by the nonpartisan agency published yesterday. Between a third and half of states had shortages of some testing supplies in October, including rapid point-of-care tests, the GAO found.
States were mostly able to fulfill requests for personal protective equipment but relied upon federal stockpiles because they couldn't get the gear on the open market, GAO's report said. The agency recommended steps to ensure adequate supplies of testing and protective gear, improve safety in nursing homes, make scientific decisions around vaccines and make public-health guidance more transparent.
The preparedness of states to distribute and administer vaccines is becoming more pressing, as regulators consider whether to grant emergency authorization to experimental shots. Clearances could be granted within weeks. Read more from John Tozzi.
Pence Pegs Mid-December for Vaccine Distribution: Vice President Mike Pence told governors yesterday that distribution of a coronavirus vaccine could begin the week of December 14, signaling that U.S. regulators will swiftly approve an emergency authorization for the first shots. Vaccines will be largely administered by pharmacies such as those owned by CVS Health and Walgreens, HHS Secretary Alex Azar, who was also on the call, said.
Some governors on the call expressed surprise to learn that vaccines would be distributed to states at first based on a per-capita formula, counting only those aged 18 and older. Pence told governors they will have the final say on vaccine distribution as the "ultimate arbiters" in their states, according to the summary. Read more from Josh Wingrove and Dina Bass.
FDA Head Hahn Summoned to White House for Meeting: White House Chief of Staff Mark Meadows summoned FDA commissioner Stephen Hahn for a 9:30 a.m. meeting to get an explanation on why he hasn't moved more quickly to approve Pfizer's coronavirus vaccine, Axios reports, citing two unidentified senior administration officials.
"Let me be clear — our career scientists have to make the decision and they will take the time that's needed to make the right call on this important decision," Hahn told Axios in a preemptive statement, Max Zimmerman reports.
CDC Advisers Move Up Vaccine Meeting: A meeting to weigh who should get vaccinated first for Covid-19 was moved up to today because states need to lock in by Friday where they'll send the initial doses they get from the federal government.
The Advisory Committee on Immunization Practices, or ACIP, is a group of medical and public health experts that advise the Centers for Disease Control and Prevention on the use of vaccines. The advisers were initially set to meet after the first Covid-19 vaccine is authorized for emergency use to make recommendations on who should get the shots first. But that's a move that won't occur until after Dec. 10.
The advisers decided to meet earlier to "make sure that we offered guidance to the states and other entities so they could make an informed decision about where to make that ask for an allocation," said Jose Romero, chairman of the advisory panel and the Arkansas Health Secretary.
The CDC's advisory committee doesn't have the final say on who should get the vaccine first. Eventually, the decision on who gets the first inoculations will sit with the individual states, who will get a set number of doses from the federal government to distribute as they choose. Read more from Anna Edney.
The Coronavirus Pandemic
Atlas Resigns as Top Trump Virus Adviser: White House coronavirus adviser Scott Atlas, who won President Donald Trump's favor by advocating the loosening of social distancing restrictions during the pandemic, resigned his post yesterday, according to a White House official.
Atlas's approach drew widespread controversy, with longtime public health officials within the Trump administration questioning the scientific justification for his claims. In a resignation letter obtained by Fox News, Atlas said he was leaving the administration because his federal employment status was expiring. Read more from Justin Sink and Josh Wingrove.
Mnuchin to Testify About Virus Stimulus: Treasury Secretary Steven Mnuchin and Federal Reserve Chairman Jerome Powell plan to testify about the CARES Act to the Senate Banking, Housing, and Urban Affairs Committee later today. Mnuchin is also scheduled to testify to the House Financial Services Committee on his department's response to the pandemic tomorrow, Megan Howard reports.
Record Hospitalizations as Holiday Obscures Data: The number of Americans hospitalized with Covid-19 climbed to a record high on Sunday, a sign that the virus is still raging, even as the Thanksgiving holiday distorted case and mortality data. An all-time high of 93,238 people are hospitalized with Covid-19 in the U.S., up 9,368 from a week earlier, Covid Tracking Project data show. Yet the seven-day average of new cases has fallen from Wednesday's record high, likely deceptively, after reduced laboratory staffing led to an initial period of under-reporting. Read more from Jonathan Levin.
U.S. Covid Cases Found as Early as December 2019, Says Study: Testing has found Covid-19 infections in the U.S. in December 2019, according to a study, providing further evidence indicating the coronavirus was spreading globally weeks before the first cases were reported in China. The study published Monday identified 106 infections from 7,389 blood samples collected from donors in nine U.S. states between Dec. 13 and Jan. 17. The samples, collected by the American Red Cross, were sent to the U.S. Centers for Disease Control and Prevention for testing to detect if there were antibodies against the virus. Read more from Bloomberg News.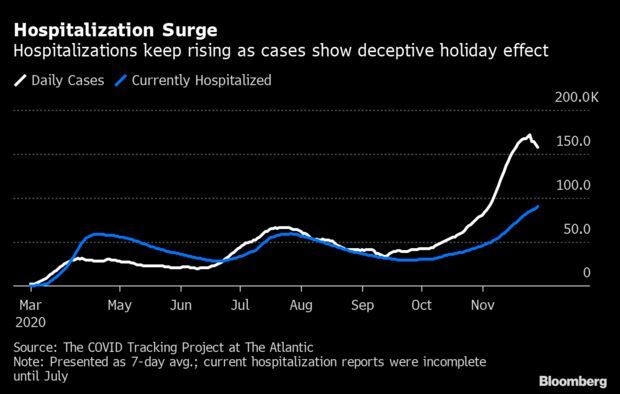 More Headlines:
What Else to Know
Biden's Tools to Bolster ACA Include Enrollment: Reopening enrollment in the Obamacare marketplace is one of the first steps President-elect Joe Biden may take to fulfill his pledge to shore up the landmark health-care law, policy experts say. "He can just say, 'It's an emergency' and he can just do it" without going through a lengthy regulatory process, Karen Pollitz, a senior fellow with the Kaiser Family Foundation, said. Broadly reopening enrollment in the Affordable Care Act marketplace would make it easier for millions to obtain vital health care during the pandemic. Read more from Sara Hansard.
GAO Report Highlights A.I.'s Benefit to Health Care: The Government Accountability Office released a report finding that artificial intelligence tools used in predicting health trajectories of patients, recommending treatments, guidance on surgical care and monitoring patients show promise. Also, A.I. tools used in the administrative side of health care are beneficial in automating laborious tasks. However, the agency pointed to challenges around bias, scaling, lack of transparency, and privacy when it comes to A.I. tools.
More Headlines:
To contact the reporter on this story: Brandon Lee in Washington at blee@bgov.com
To contact the editors responsible for this story: Zachary Sherwood at zsherwood@bgov.com; Giuseppe Macri at gmacri@bgov.com; Michaela Ross at mross@bgov.com
Stay informed with more news like this – from the largest team of reporters on Capitol Hill – subscribe to Bloomberg Government today. Learn more.