HEALTH CARE BRIEFING: Pelosi Seeks New Health Worker Protections
Bloomberg Government subscribers get the stories like this first. Act now and gain unlimited access to everything you need to know. Learn more.
House Democratic leaders said the next coronavirus-relief measure will carry provisions to bolster the Occupational Safety and Health Administration's ability to protect health-care workers, after the chamber on Friday cleared the largest stimulus plan in the nation's history.
"Workers are risking their lives on the front line of this fight and need stronger OSHA protections to keep them safe," said Speaker Nancy Pelosi (D-Calif.) on the House floor Friday. "We have to make sure they know that help is not only on the way, but it is a priority for all of us."
The $2 trillion stimulus package (Public Law 116-136) the House passed by voice vote on Friday, which President Donald Trump later signed into law, splits $15 million among OSHA and other agencies under the Department of Labor through fiscal 2022. But leading Democrats argue that more measures are needed to improve worker safety during the outbreak.
Though OSHA has requirements for medical personnel to follow to prevent the spread of bloodborne illnesses, it does not have similar standards for airborne viruses like the new coronavirus. House leaders have already indicated the kind of OSHA provisions they'll be looking to include when they introduced the Take Responsibility for Workers and Families Act (H.R. 6379) on March 23.
The bill carries a provision requiring that OSHA issue an emergency temporary rule within one week of the legislation becoming law that would require health-care providers, fire departments, and other emergency responders to institute infection-prevention programs.
It wasn't clear on Friday when either chamber would be able to start to consider what would amount to a fourth coronavirus-response package. Both chambers are set for Easter recesses continuing to April 20. And backing for OSHA-related provisions also could face some Republican resistance. Bruce Rolfsen has more.
Meanwhile, House Minority Leader Kevin McCarthy (R-Calif.) told Fox News on Sunday he wasn't sure a fourth coronavirus economic relief bill would be necessary.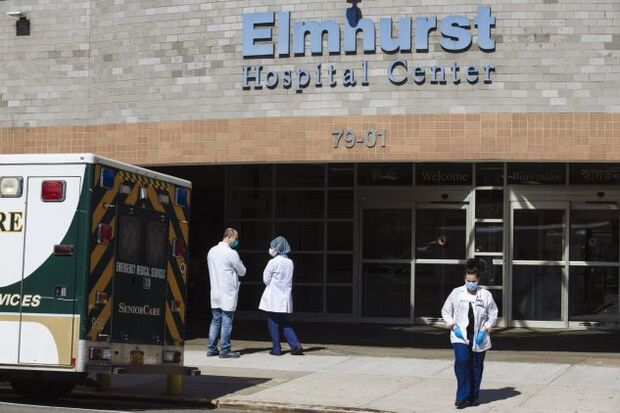 Combating an Equipment Shortage
Trump Says GM 'Doing a Fantastic Job' After Threat: President DonaldTrump complimented General Motors for its work on hospital ventilators, two days after threatening to use federal law to force the company to produce the devices faster and cheaper. "General Motors is doing a fantastic job," Trump said at a White House news conference yesterday. "I don't think we have to worry about General Motors now."
GM has been working with medical device maker Ventech Medical to retool some of its factories to make ventilators, which are in high demand due to the coronavirus outbreak — not a simple task given the need to source dozens of parts and set up production lines.
But Trump and his aides had complained Friday that the automaker was moving too slowly and asking too high a price for the machines. He issued a memo Friday invoking the Defense Production Act to force GM to make ventilators, but suggested hours later at a news conference he might withdraw the order. Read more from Josh Wingrove and Mario Parker.
Democrats Slam Trump's Response to Shortages: The top Senate Democrats on the Health, Education, Labor, and Pensions; Finance; Homeland Security; and Banking committees wrote in a letter to Vice President Mike Pence "demanding increased transparency and answers" regarding the administration's "failure to assist states as they face dire shortages of medical supplies needed to combat coronavirus." The Senate Democrats, including Patty Murray (Wash.), Ron Wyden (Ore.) and Sherrod Brown (Ohio), argued Trump should "empower the recently formed Supply Chain Stabilization Task Force to activate every avenue available to get essential supplies to communities." Read the letter here.
3-D Printed Face Masks: Face masks created through 3-D printing might not be as effective in blocking fluids or filtering air as typical masks the FDA authorized for health workers, the agency warned. Machines can create three-dimensional solid objects by using a digital file and gradually adding layers of materials via a process commonly known as 3-D printing. It could help stem shortages, the FDA hopes, but it has limitations. Read more from Jacquie Lee.
More Headlines:
Social Distancing & Quarantine Efforts
Trump Abandons Easter Virus Goal and Steels Americans for Deaths: Trump abruptly abandoned his ambition to return American life to normal by Easter, heeding advice from the government's top doctors that re-opening the U.S. economy in two weeks risks greater death as the coronavirus outbreak accelerates.
In a stark shift from two weeks of measured optimism, the president said his guidelines for Americans to practice "social distancing" would remain in place until at least April 30, and he warned that 100,000 or more people may die.
He said in a Rose Garden news conference that he hoped the country would reach "the bottom of the hill" by June 1 — "could even be sooner, could be a little bit later." Read more from Josh Wingrove and Mario Parker.
Trump, in a tweet, said he'll do an interview with Fox and Friends at 7:55 a.m.
Trump Stops Short of N.Y. Quarantine: Trump backed away from imposing a quarantine for New York as well as parts of New Jersey and Connecticut to stop the spread of the coronavirus, after floating the idea on isolating those hard-hit areas earlier in the day. In an announcement on Twitter, Trump followed up on a suggestion that he first floated Saturday at the White House, but avoided the harshest outcome. "A quarantine will not be necessary," Trump said.
The U.S. Centers for Disease Control and Prevention released a statement only an hour later urging residents in the Tri-State Area to refrain from nonessential travel for 14 days, effective immediately. Earlier, Trump had told reporters that "some people" would like him to impose a quarantine on the greater New York area, which accounts for more than half the U.S. infections. "It will be for a short period of time, if we do it at all," Trump said then. Ros Krasny and Mario Parker have more.
Gottlieb Urges Sustained Social Distancing: Aggressive social distancing must continue until there's "sustained reduction" in the amount of coronavirus cases for 14 days, former FDA Commissioner Scott Gottlieb told CBS's Face the Nation yesterday. "That's the point at which you can contemplate lifting some of these measures that we have in place right now, some of these very aggressive social distancing measures," he said. "But you need to do it very gradually." Gottlieb, a physician, co-wrote a report released by the conservative American Enterprise Institute spelling out a four-phase plan for navigating the pandemic.
Gottlieb served as head of the FDA under Trump until last April. Another author of the report, Mark McClellan, is a former commissioner of the FDA and former administrator for the Centers for Medicare and Medicaid Services. "You need to have the ability to test the population widely so you can determine who has the infection, who doesn't, and use case-based interventions" which entails isolating individual people, Gottlieb said. Read more from Cheryl Saenz.
More Headlines:
Research Efforts, Testing & Treatment
U.S. Allows Emergency Use of Drug Trump Backed Against Virus: A drug President Donald Trump backed as a possible "game changer" in the fight against the coronavirus pandemic received an emergency-use designation from U.S. regulators. The Health and Human Services Department accepted 30 million doses of the drug, hydroxychloroquine, from Novartis AG's Sandoz unit, Secretary Alex Azar said in a statement late Sunday.
Normally used to treat malaria, hydroxychloroquine yielded promising yet inconclusive results in a small coronavirus trial. While Trump has said the drug is safe, it does carry significant side effects. Some people have been sickened, with one reported death, after taking various versions to try to ward off the new illness. Trump said 1,100 patients in New York City are getting treatment using hydroxychloroquine. As global cases surged past 700,000, the city has emerged as one of the pandemic's hot spots. Read more from John Lauerman.
Cigna, Humana Waive Patient Costs: Two of America's largest health insurers, Cigna and Humana., said they will waive out-of-pocket costs for patients who need treatment for Covid-19. Leaders of both companies called it the right thing to do to help alleviate financial stress for their members and to remove barriers that could keep people from getting needed medical care. Read more from John Tozzi.
HHS Seeks Hospital Data: Vice President Pence asked hospitals Sunday to report to HHS their data on testing for the Covid-19 disease as well as their bed capacity. The White House Coronavirus Task Force is already collecting data from public health labs and private laboratory companies, but it doesn't have data from hospital labs that conduct laboratory testing in their hospital. Read more from Fawn Johnson.
Gilead Head Says Drug Will Be Affordable: A potential Covid-19 treatment will be affordable to the patients who need it, Gilead's chief executive said Saturday. Gilead Sciences expects to have the initial data in the coming weeks on whether remdesivir can effectively treat Covid-19 patients. There are about a half-dozen clinical trials currently studying the antiviral therapy, which hasn't won approval for any uses so far. It's one of several antivirals being tested, but it's the furthest along in the development process. If Gilead's drug is approved, "we will work to ensure affordability and access, so that remdesivir is available to patients with the greatest need," CEO Daniel O'Day said Saturday, Jeannie Baumann reports.
Abbott Launches 5-Minute Virus Test: Abbott Laboratories is unveiling a coronavirus test that can tell if someone is infected in as little as five minutes, and is so small and portable it can be used in almost any health-care setting. The medical-device maker plans to supply 50,000 tests a day starting April 1, said John Frels, vice president of research and development at Abbott Diagnostics. The molecular test looks for fragments of the coronavirus genome, which can quickly be detected when present at high levels. A thorough search to definitively rule out an infection can take up to 13 minutes, he said. Abbott has received emergency use authorization from the FDA "for use by authorized laboratories and patient care settings," the company said on Friday. Read more from Michelle Fay Cortez.
Denial of Free Coronavirus Testing: Millions of immigrants will be denied free Covid-19 tests in the middle of a public health crisis because Medicaid excludes some green-card holders, young immigrants brought to this country as minors, and others. Legislation that Trump signed into law March 18 carries a Medicaid state option to cover testing for the uninsured. But because the program is tied to Medicaid's immigration standards, some green-card holders, Deferred Action for Childhood Arrival (DACA) recipients and many other people lawfully residing in the U.S. are left out. Read more from Shaun Courtney.
Thousands of Foreign Nurses Barred: As the coronavirus outbreak threatens to strain nursing staffs at hospitals across the U.S., Melanie N. Beckham knows where to find reinforcements. But the Trump administration first needs to give its approval. Beckham, president of Vintage Health Resources in Germantown, Tenn., specializes in helping hospitals across the southeastern U.S. hire nurses from the Philippines, a country with a large population of English speakers and a long history of sending health-care workers abroad.
Of the several hundred Philippine recruits now in Vintage's application process, more than 100 nurses have cleared their licensing and language exams. They've completed background checks and are prepared to head to the U.S. Yet, they're stuck because they can't get their visas processed. "They could come tomorrow," Beckham said. "The demand is overwhelming right now." Read more from Bruce Einhorn, Claire Jiao, and James Paton.
Vaping Could Compound Risks: Vaping may leave users with underlying health conditions at higher risk of serious complications if they contract the respiratory illness caused by the new coronavirus strain, according to the FDA. "People with underlying health issues—such as heart or lung problems—may have increased risk for serious complications from Covid-19," said Michael Felberbaum, an FDA spokesman. "This includes people who smoke and/or vape tobacco or nicotine-containing products." Read more from Anna Edney and Angelica LaVito.
ACA Exchanges Surge: States that operate their own health-care exchanges are leading the way in helping uninsured people find coverage amid the outbreak. A dozen states and the District of Columbia run their own Obamacare exchanges, and 11 of them have opened up special enrollment periods to allow uninsured people to buy health coverage during the pandemic. A surge of new applicants, particularly among people in their 20s, suggests that those who'd once chosen to go without coverage are now welcoming the chance to protect themselves as the fear of contagion spreads. Read more from Christopher Brown.
Biased Care During Crisis: Health-care providers must ensure that they don't discriminate on the basis of disability as they make treatment decisions during the Covid-19 pandemic, the HHS warned this weekend. People with disabilities shouldn't be denied care based on stereotypes or judgments about a person's quality of life, the department's Office for Civil Rights said in a bulletin. Instead, health providers should make decisions about treatment on an "individualized assessment" of the coronavirus patient, "based on the best available objective medical evidence," it said.
The bulletin follows two complaints filed by disability advocates with the agency, which raised concerns that discrimination against disabled people could emerge as health-care resources dwindle due to the pandemic. Alexis Kramer and Shira Stein have more.
More Headlines:
What Else to Know
Arthrex Plans SCOTUS Appeal: Arthrex plans to appeal to the Supreme Court a controversial decision over Patent Trial and Appeal Board judges' job status that could affect dozens of patent reviews. The medical product manufacturer Friday signaled its intent with a filing to the U.S. Court of Appeals for the Federal Circuit after it declined to rehear as a full court its Arthrex v. Smith & Nephew decision that PTAB judges were unconstitutionally appointed.
Arthrex filed in response to a U.S. Patent and Trademark Office motion for the Federal Circuit to stay its mandate in its Arthrex ruling. Executing the mandate would mean that the Federal Circuit would send the dispute back to the PTAB. The agency said it believed other disputes that cited Arthrex also could be sent back to PTAB if the Federal Circuit issued the mandate. Ian Lopez has more.
More Headlines:
To contact the reporter on this story: Brandon Lee in Washington at blee@bgov.com
To contact the editors responsible for this story: Giuseppe Macri at gmacri@bgov.com; Zachary Sherwood at zsherwood@bgov.com; Michaela Ross at mross@bgov.com
Stay informed with more news like this – from the largest team of reporters on Capitol Hill – subscribe to Bloomberg Government today. Learn more.