HEALTH CARE BRIEFING: Mutations Muddle Hope as New Vaccines Near
Bloomberg Government subscribers get the stories like this first. Act now and gain unlimited access to everything you need to know. Learn more.
The world could be on the verge of having two more vaccines to fight the pandemic, but virus variants popping up worldwide are forcing vaccine-makers to develop boosters for a disease that's constantly changing and could remain active for years.
The vaccines developed by Moderna and Pfizer-BioNTech are already in use. Meanwhile, new studies show that two others—from Johnson & Johnson and Novavax—pack potent punches against the virus, potentially paving a way for quick authorizations in the U.S. for J&J's vaccine and in the U.K. for Novavax's shot.
Read more:
Now comes the bad news: Virus mutations that likely confer partial resistance to vaccines and antibody treatments are now prevalent in both South Africa and Brazil, and are threatening to spread worldwide. The South African variant has already spread quickly across the African continent and has been seen in at least 24 countries outside of Africa. It was reported in South Carolina on Jan. 28 and in Maryland two days later. If that looks like just a beachhead, note that a U.K. mutation first seen in Colorado on Dec. 29 has been detected in 29 U.S. states in less than a month. Both variants are considered more contagious than the original strain, Robert Langreth reports.
J&J's shot was found in a late-stage trial to be 72% effective in the U.S., but that fell to 57% in studies conducted in South Africa. Novavax's shot, 89% effective in the U.K., was only 49% effective in South Africa.
Even before these results, laboratory tests on other vaccines suggested the shots would likely be less potent against the new South Africa variant. But what that meant in terms of illness in the real world was not clear. The new results offer a clear indication that vaccines won't work as strongly against at least one of the emerging strains. "Now we have the real world clinical consequences, and we can see that we are going to be challenged," Fauci said Friday.
The first step is to know when mutations are around. In another Friday briefing, Centers for Disease Control and Prevention Director Rochelle Walensky said the U.S. is now asking each state to send at least 750 samples each week to be sequenced to determine what mutations may be spreading. She warned that the existing U.S. system to detect different mutations is too slow for public health interventions to contain them.
"We should be treating every case as if it's a variant during this pandemic right now," she said. "By the time someone has symptoms, gets a test, has a positive result and we get the sequence, our opportunity for doing real case control and contact tracing is largely gone." Read more from Robert Langreth.
More on the Pandemic
Tech Glitches, Swamped Websites Impede Rollout: Across the U.S., a vaccination campaign that was meant to reverse the tide of the pandemic and spur the country's economic recovery is getting bogged down by technical glitches and software woes. Cash-strapped public health departments are trying to keep their websites from crashing while booking millions of vaccine appointments, tracking unpredictable inventory, and logging how many shots they give. Read more from Angelica LaVito and John Tozzi.
Tech-Shy Elderly Feel Behind in Vaccine Race: As more people compete for tight supplies of the life-saving Covid-19 vaccine, some of the oldest and most infirm Americans are struggling just to enter the contest. Elders have been locked out due to a lack of access to and familiarity with smartphones, computers and internet-based appointment signups, and the problem has worsened as states open up shots to people 65 and up, putting the most elderly Americans in competition for ephemeral slots with more tech-savvy seniors. Dina Bass, Angelica LaVito, and Stacie Sherman have more.
Clinical Trial Sites Competing for Patients: Competition over patients and staffers for Covid-19 clinical trials is slowing down large-scale research to figure out the best treatment options for the disease. A surplus of smaller trials in the U.S. are gobbling up the resources needed for studies that have a better chance of yielding meaningful results, according to health officials and some researchers. Read more from Jeannie Baumann.
Surge Appears to Flame Out: Even in the most devastated U.S. counties, the latest Covid-19 surge is receding, buying authorities new time as they attempt to vaccinate about 330 million people. Recent major hot spots including Webb County, Texas; Maricopa County, Arizona; and Greenville and Spartanburg counties in South Carolina have seen cases trend downward over the last week, according to USAFacts, an aggregator used by the CDC, Jonathan Levin reports.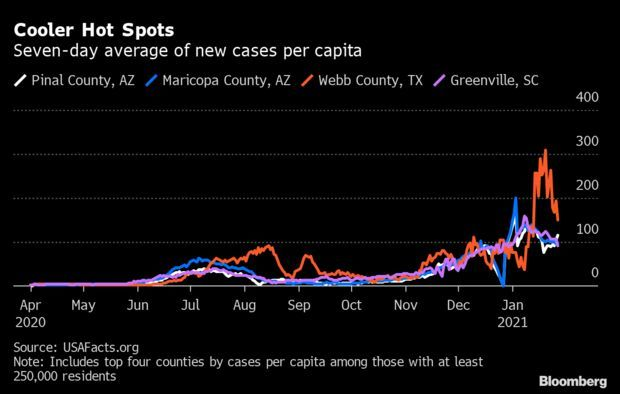 More Headlines:
Global Headlines:
Happening on the Hill
Slower Pace of HHS Confirmation: Some of President Joe Biden's supporters are growing nervous his pick to lead the Health and Human Services Department isn't expected to be confirmed for weeks to come. The HHS plays a major role in Biden's Covid-19 response and his plans for reversing many Trump administration health policies, former HHS officials argue. Much of the work can't start until HHS has a permanent leadership structure in place.
"It's absolutely critical to have a permanent head at HHS," said former Rep. Donna Shalala (D-Fla.), who also served as HHS secretary. "It should've been put on the top burner by the Senate." The Senate got off to a slow start this year waiting for the results of a Georgia runoff election early in January that gave Democrats the slimmest majority. That meant most of Biden's picks weren't granted early confirmation hearings.
Becerra is unlikely to be confirmed until at least the second week of February, maybe longer if the impeachment trial for former President Donald Trump keeps the chamber from acting on other business. For now, the Senate Finance Committee is reviewing the necessary paperwork, from tax returns to ethics documents, needed to hold a hearing for former California Attorney General Xavier Becerra, Biden's pick to lead HHS, a committee aide said. No hearing has been scheduled yet, Alex Ruoff reports.
GOP Senators Offer Stimulus Compromise: Biden and Democratic congressional leaders must decide whether to break the administration's $1.9 trillion Covid-19 relief proposal into pieces after a scaled-down Republican plan emerged.
The $600 billion GOP proposal offered to the president by 10 Republican senators on Sunday provides the potential to move a bipartisan bill that includes components from the Biden proposal, including funding for coronavirus vaccines and testing, and unemployment assistance.
Democrats could still aim to enact the president's other items, such as state and local government aid and a minimum-wage increase, separately — although they could lose the leverage that attachment to more direct Covid-19 aid funding would provide.
Biden will meet with the Republican senators at the White House this afternoon to discuss their alternative proposal. The president extended the invitation on Sunday during a conversation with Sen. Susan Collins (R-Maine) one of the letter's authors, and asked the group "for a full exchange of views," White House Press Secretary Jen Psaki said in a statement.
The president has hoped for a bipartisan stimulus deal since before taking office. At the same time, the GOP plan is far short of what Biden wants, and Democrats could pursue the rest of the Biden proposal using a partisan budget tool. Democratic leaders have prepared the ground for legislative action this week that uses that special procedure, called reconciliation.
Despite the overture from the Republicans, House Budget Chair John Yarmuth (D-Ky.) said yesterday he plans to move forward today with introducing a fiscal 2021 budget resolution, the first step toward producing a reconciliation bill embodying the Biden stimulus.
The budget is to be voted on by the House later this week and will contain instructions to other committees to assemble the stimulus bill.
Senate Majority Leader Chuck Schumer (D-N.Y.) is threatening as soon as tomorrow to move the Senate toward the budget process, which would allow 50 Democrats to pass some parts of the Biden plan without any Republican cooperation. Read more from Erik Wasson.
House Panel Plans Vaccine Oversight Hearing: The House Energy and Commerce Oversight and Investigations Subcommittee plans a hearing tomorrow with state health officials to talk about the challenges of Covid-19 vaccine distribution and administration, and what Congress can do to help the effort, according to a press release.
Burr Eyes Head GOP Spot on Senate Health Panel: Sen. Richard Burr (R-N.C.) said he plans to become the top Republican on the Senate Health, Education, Labor, and Pensions Committee, ending months of uncertainty over who would take the post. Sen. Lamar Alexander (Tenn.), who retired at the end of the last Congress, preferred Burr to replace him as the top Republican. An FBI probe into Burr's pre-pandemic stock trades, plus gridlock over how to organize the Senate, have delayed an announcement. Andrew Kreighbaum has more.
Lynch Infected After Two Doses: Rep. Stephen Lynch (D-Mass.) tested positive for Covid-19 after receiving his second dose of the Pfizer vaccine before Biden's Jan. 20 inauguration, at least the second lawmaker to contract the virus after getting both shots. Lynch "received a positive test result for COVID-19 after a staff member in the Congressman's Boston office had tested positive earlier," Lynch's spokeswoman said in a statement. Studies show the vaccines made by Pfizer and Moderna, the only two approved by the U.S. so far, are fully effective at one to two weeks after the second dose, depending on the vaccine. Read more from Vivek Shankar and Catherine Larkin.
What Else to Know Today
Biden Delays Drug Rebate Rule GAO Flagged: The Health and Human Services Department on Friday hit pause on a rule that alters payments from drugmakers to pharmacy middlemen, delaying the Trump administration policy until March 22. The final rule would replace current rebates, which fluctuate based on a drug's list price, with fixed-fee arrangements. Read more from Jacquie Lee.
Medicare Electronic Prescription Rule Caught Up in Mass Freeze: HHS also delayed a policy on Friday meant to streamline the process for certain medications to get insurance coverage via Medicare plans. The rule, (RIN 0938-AT94), published in the Federal Register on Dec. 31, 2020, was slated to go into effect Jan. 30, though the Centers for Medicare & Medicaid Services wouldn't enforce the rule until January 2022. The rule is delayed until March 30. Read more from Jacquie Lee.
Biden Delays Trump-Era Organ Procurement Rule: The effective date for a Trump-era rule designed to make more human organs available for transplants was also postponed by the Biden administration. The final rule by the Centers for Medicare & Medicaid Services was set to take effect Feb. 1. It's now been delayed to March 30 to offer agency officials "the opportunity for further review of the issues of fact, law, and policy raised by this rule." Tony Pugh has more.
Lack of Agency Action 'Dooms' Walmart Opioid Suit, DOJ Says: Walmart can't sue the government to fend off claims it added fuel to the opioid epidemic because it hasn't faced an enforcement action, the Justice Department argued in a last-minute bid to toss a lawsuit brought by the world's largest retailer. Read more from Ian Lopez.
More Headlines:
To contact the reporters on this story: Brandon Lee in Washington at blee@bgov.com; Alex Ruoff in Washington at aruoff@bgov.com
To contact the editors responsible for this story: Zachary Sherwood at zsherwood@bgov.com; Giuseppe Macri at gmacri@bgov.com; Michaela Ross at mross@bgov.com
Stay informed with more news like this – from the largest team of reporters on Capitol Hill – subscribe to Bloomberg Government today. Learn more.