HEALTH CARE BRIEFING: More Time Needed on FDA Pick, Becerra Says
Bloomberg Government subscribers get the stories like this first. Act now and gain unlimited access to everything you need to know. Learn more.
Manufacturers of prescription drugs and medical devices are on pins and needles as they await news of who will lead the Food and Drug Administration, and HHS Secretary Xavier Becerra said the decision will come once a busy President Joe Biden finds time to make that crucial decision.
"This is one of those positions where obviously the president is very interested because FDA is just not another agency, it's a critical agency. They've done some tremendous things during Covid. So I think what you're going to do is find that as soon as the president has a chance to think a little bit closer, we'll be able to work with him to see if we can get a nominee," Becerra said yesterday in an interview with Bloomberg Law.
The agency was key in authorizing the Covid-19 vaccines and is now being tasked with permanent approval of them. The FDA also will need to consider how it can update the regulatory structure for other drugs and medical devices in light of some of the challenges through the pandemic. Many of the key HHS nominees tasked with responding to the pandemic have been confirmed or are on the path to being so.
Without a permanent FDA head, the agency can't take on any new initiatives or change direction. And acting Commissioner Janet Woodcock can only serve in an acting role until sometime in August.
"I know everybody's anxious because FDA is such an important position. So stay tuned," Becerra said. He wouldn't directly address rumors that Biden wants Woodcock to take the job permanently, but he did say the agency has been fortunate to have her at the helm. "She's obviously not a stranger to the FDA, and she's done a lot of the tough work, and it's great that she's been there," he said.
"FDA is an important position and it should not be taken lightly, and it won't go to just anybody. And I think you're gonna find that whoever gets to step in as the full-time is gonna be credentialed and ready to lead," Becerra said. Read more from Shira Stein.
HHS Readiness, Substance Abuse Picks Advance: Biden's picks for top HHS posts to prepare for the next public health crisis and address the opioid crisis will be considered by the full Senate after a committee advanced their nominations. The Senate Health, Education, Labor and Pensions Committee gave bipartisan backing to the nominations of Dawn O'Connell as assistant HHS secretary of preparedness and Miriam Delphin-Rittmon as assistant HHS secretary of mental health and substance use. Shira Stein has more.
Happening on the Hill
Hearings on the Hill:
Care Workers: The Senate Special Committee on Aging holds a hearing on care workers, family caregivers, seniors and people with disabilities.
Virus & Student Safety: The Senate Health, Education, Labor and Pensions Committee holds a hearing on Covid-19 and college students returning to campus safely.
Committee Approves Biden OSHA Pick: The Senate Health, Education, Labor and Pensions Committee voted 13-9 for Doug Parker to lead the Occupational Safety and Health Administration, advancing his nomination to the full chamber. It wasn't immediately clear when Senate Majority Leader Chuck Schumer (D-N.Y.) may tee up votes to limit floor debate on the nominee, the next procedural step before he can receive a confirmation vote. Read more from Ben Penn.
Sanders Preps for Drug Provision in Reconciliation: Democrats on the Senate Budget Committee said they're unified in support of broad reconciliation instructions that would allow members to pass major legislation without Republican support, even as bipartisan infrastructure talks continue.
Senate Majority Leader Chuck Schumer (D-N.Y.) met with the 11 Democrats on the panel yesterday, and the group agreed to move ahead with reconciliation instructions for a wide array of legislative priorities, Sen. Tim Kaine (D-Va.) told reporters afterward. A measure on prescription drug pricing "certainly is going to be in this," Budget Chairman Bernie Sanders (I-Vt.) told reporters after the meeting, Jack Fitzpatrick reports.
Lawmakers Press for Better Use of Antibiotics: Reps. Drew Ferguson (R-Ga.) and Mike Doyle (D-Pa.), and Sens. Michael Bennet (D-Colo.) and Todd Young (R-Ind.), reintroduced a bill that would establish a subscription model to "encourage innovative antimicrobial drug development aimed at treating drug-resistant infections," according to a statement. Antimicrobial resistance "may one day be our next pandemic if left unaddressed," Ferguson said. Find text of the bill here.
The Coronavirus Pandemic
Unvaccinated Pockets Threaten to Prolong Pandemic: As much of the U.S. emerges from masking and social distancing, undervaccinated pockets across the country still threaten to bring the virus roaring back. Less than 25% of the population is fully vaccinated in at least 482 counties, an analysis of Centers for Disease Control and Prevention data show. Many of these counties are more rural and less economically advantaged than the rest of the U.S., and a majority of their voters in the last election chose Donald Trump, according to the analysis of 2,700 U.S. counties.
Though more than 174 million Americans have received at least one dose of a vaccine, accounting for about 64.6% of the adult population, such averages belie stark gaps in vaccination rates at a local level. With more contagious versions of the virus like the delta variant taking hold, this creates opportunities for further spread. Read more from Kristen V. Brown.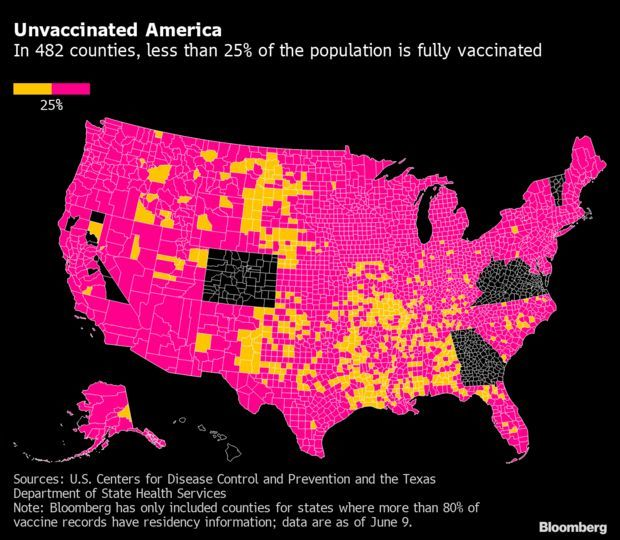 Half of All Unvaccinated Would Get Jab from Doctor: More than half of unvaccinated Americans say they would prefer to get a Covid-19 shot from their local doctor's office as opposed to from a pharmacy or large vaccination site, according to a survey released yesterday. The nationwide poll, by the African American Research Collaborative and the Commonwealth Fund, highlights how vaccine hesitancy is still a critical issue, especially among communities of color. Read more from Lesley Torres.
NIH Chief Mulls 'Precision' Booster Shots: Advances in precision medicine may help transform Covid-19 booster shots from a community-wide effort to one that's tailored to individual immune responses. A key element Pfizer and Moderna need to pinpoint in their trials is the specific measurable marker in the immune system, called correlates of protections, that determines if a vaccine is still working. "It's going to be really interesting, because we're all different people," said Francis S. Collins, head of the National Institutes of Health, at the biotechnology conference. Jeannie Baumann has more.
Public-Private Route to Covid-19 Drugs Said Holds Promise: Putting industry and academic eyes together to spot the most promising Covid-19 treatments offered a fresh approach to tackling disease that the NIH director wants to stick around once the pandemic subsides. The National Institutes of Health created a public-private partnership called ACTIV to coordinate the development of Covid-19 treatments and vaccines in April 2020. The partnership whittled around 600 potential treatments down to 40, Collins said. Read more from Baumann.
More Headlines:
What Else to Know Today
Pentagon to Consider Hundreds of Malpractice Claims: The Pentagon will be able to begin considering hundreds of medical malpractice claims next month, after military victims of botched procedures and misdiagnoses have waited for over a year. The Biden administration yesterday was set to unveil its interim final rule to process at least $2 billion in claims that have already been filed, a Federal Register notice yesterday said. The Defense Department can start processing claims 30 days after the rule is published. Read more from Roxana Tiron.
HHS Drug Discount Push 'Flawed,' Court Says: A federal court denied the Health and Human Services Department's request to toss a lawsuit with AstraZeneca over a drug discount program, taking issue with a divisive policy push on how drugmakers should participate and asking the parties to weigh in before deciding whether to strike it down. The HHS in 2020 issued an advisory opinion stating drugmakers in the 340B program must offer discounts through pharmacies contracting with health centers that treat low-income patients. Read more from Ian Lopez.
Justices Weigh Taking AbbVie Fight Over 'Sham' Patent Lawsuit: A Supreme Court case over whether AbbVie levied a sham patent lawsuit to stifle competition could complicate drugmakers' ability to defend their protected inventions. A U.S. Court of Appeals for the Third Circuit ruling last year, if allowed to stand, "sets a dangerous precedent" for patent rights and a decades-old law known as the Hatch Waxman Act that enables companies to sue generic producers for infringement, according to AbbVie. Read more from Ian Lopez.
New York Push to Rein In Drug Plans Tests High Court Ruling: New York is poised to become one of the first states to impose more stringent rules on pharmacy-benefit managers since the Supreme Court late last year swept away a longstanding federal legal barrier. States including Texas and Tennessee have enacted fresh restrictions on PBMs. In New York, lawmakers this month revived a bill that would bring the industry under closer state oversight. Gov. Andrew Cuomo (D) vetoed the measure two years ago, saying at the time it would be pre-empted by federal law. Pharmacists support it, while drug plans say it would raise costs for consumers. Read more from John Tozzi.
More Headlines:
Pharmaceutical Headlines:
With assistance from Jack Fitzpatrick
To contact the reporter on this story: Brandon Lee in Washington at blee@bgov.com
To contact the editors responsible for this story: Zachary Sherwood at zsherwood@bgov.com; Giuseppe Macri at gmacri@bgov.com; Michaela Ross at mross@bgov.com
Stay informed with more news like this – from the largest team of reporters on Capitol Hill – subscribe to Bloomberg Government today. Learn more.