HEALTH CARE BRIEFING: Medicare Pay Change for Ambulances Eyed
Bloomberg Government subscribers get the stories like this first. Act now and gain unlimited access to everything you need to know. Learn more.
Ambulance companies are seeking a major victory as Senate Democrats consider whether to allow Medicare to pay them as emergency responders in the field.
The proposed change, which may be added to the Covid-19 relief package the Senate is expected to take up later this week, would empower the Department of Health and Human Services to temporarily pay ambulance providers for services they deliver to Medicare beneficiaries outside a hospital. Ambulances are generally paid by Medicare only to deliver patients to an emergency room currently.
If a patient refuses to go to a hospital, which ambulance companies say is increasingly common as people are wary of health-care facilities during the pandemic, ambulances responding to a call often recoup no reimbursement from Medicare.
The proposed change is included in drafts of the relief package circulating among industry groups, according to two people familiar with the discussion among Democrats. The change is likely to be included in the final version and would be limited to the duration of the Covid-19 pandemic, they said. Read more from Alex Ruoff.
Senate Rule-Keeper Approves Health-Care Provisions for Aid Bill: The Senate parliamentarian approved provisions in the Biden administration's $1.9 trillion pandemic-relief bill aiding multi-employer pensions and providing laid-off workers with health-care premium subsidies for COBRA coverage. Those rulings come after the parliamentarian said last week that a proposed minimum-wage increase didn't qualify for inclusion under the fast-track legislative process Democrats are using to proceed without Republican support. Read more.
Vaccine Task Shifts From Supply to Demand
With three approved vaccines for Covid-19, the U.S. will be able to boost supply in the coming weeks but still has work to do in persuading the American public to take the shots, said David Kessler, the new chief science officer for the federal government's coronavirus response.
"We're going to go from a supply problem to a demand problem," Kessler said yesterday in a conversation with the PBS NewsHour's Judy Woodruff at the CityLab 2021 conference, hosted by Bloomberg Philanthropies and the Aspen Institute. "We need to make sure that all people can trust the safety of the vaccine."
In January, the U.S. was shipping about 5 million to 7 million vaccine doses a week; by the end of February, that figure had doubled, Kessler said. He predicted the number will triple by early April. The U.S. has administered 76.9 million doses and eighty percent of the federal supply has been used, according to the Bloomberg Vaccine Tracker.
White and Asian populations have received more vaccinations than Black and Hispanic people, according to the Bloomberg Vaccine Demographics tracker. Sharing the collected information will help build public trust, Kessler said. Read more from Marie Patino.
More on the Pandemic
New York Virus Strain Expands Reach in U.S.: About 735 cases of a coronavirus variant that emerged in New York City in November have now been identified in the U.S., a federal health official said. The mutation has traveled extensively across the metropolitan New York area, and individual cases have also been found in 14 other states, including Texas, Wyoming and Maryland, said Gregory Armstrong, director of the Centers for Disease Control and Prevention's Advanced Molecular Detection Program.
Recent research suggests B.1.526 needs to be closely watched "for its ability to evade both monoclonal antibody and, to a certain extent, the vaccine-induced antibody," said Anthony Fauci, head of the National Institute of Allergy and Infectious Diseases. Emma Court, Josh Wingrove, and Jordan Fabian have more.
Trump Privately Got Vaccinated in Office: Former President Donald Trump privately got at least one dose of a vaccine while still in office in January, aides familiar with the matter say, at a time when other top public officials took shots on-camera to boost public confidence in the vaccines. Trump and his wife, Melania, have now received both doses of vaccine, said one of the aides, who spoke on condition of anonymity. The vaccinations were first reported by The New York Times. Read more from Josh Wingrove.
J&J Looks for Partners to Ramp Up Supply: Johnson & Johnson is looking for manufacturing partnerships to increase supply of its vaccine that was cleared Saturday by federal regulators, CEO Alex Gorsky said. J&J will deliver 3.9 million doses of its one-dose vaccine within the next 24 to 48 hours, Gorsky said yesterday in a telephone interview. The company wants to speed up its timeline of supplying enough vaccines to immunize 20 million Americans by the end of the month and a total of 100 million by the end of June, he said. Riley Griffin has more.
Teacher Vaccine Eligibility Expands Across U.S.: Within weeks, teachers in most U.S. states will be eligible for vaccines. It's unclear whether school reopenings will follow as promised or whether supplies can keep up with demand. As of Sunday, teachers were eligible in 34 states. Nine more states are expected to follow in March and two soon after, bringing the total to 45, Bloomberg data shows. That adds pressure to reopen school systems that have resisted until educators are protected. Read more from Anastasia Bergeron.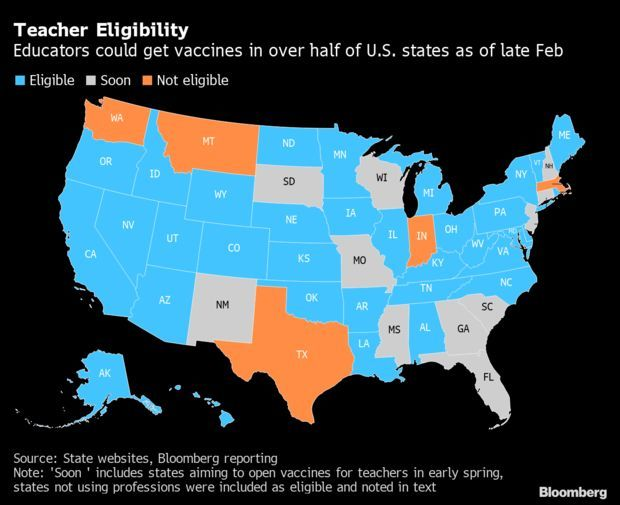 Mexico Wants US Vaccine Help, But Outcome Unclear: Mexican President Andres Manuel Lopez Obrador said he'd ask President Joe Biden for help getting vaccines against Covid-19, as one of the nations hardest hit by the coronavirus struggles to inoculate its population. "We want a response to a petition we have already made," Lopez Obrador said at his daily press conference yesterday ahead of a call between the two presidents set for later in the day. Read more from Max de Haldevang and Jordan Fabian.
A joint statement released after the meeting, however, did not say whether the leaders discussed the desire. The White House indicated before the meeting such a shipment would not occur in the near future. Read more from Jordan Fabian and Nancy Cook.
House Panel Chairs Seek N95 Mask Rule: Key Democratic House Committee chairs, including Appropriations Chair Rosa DeLauro (D-Conn.) and Select Subcommittee on the Coronavirus Crisis Chair Jim Clyburn (D-S.C.), asked the Biden administration to require N95 air filtration masks to protect against the spread of Covid-19 at meatpacking plants, prisons and other risky workplaces. The letter sent yesterday cited research finding the virus is more transmissible through the air than originally thought and can be spread by tiny aerosol particles. N95 masks filter out about 95% of small particles. Read more from Mike Dorning.
Nursing Home Headlines:
More Headlines:
Happening on the Hill
Finance Panel Sets Becerra Vote Tomorrow: Senate Finance Chair Ron Wyden (D-Ore.) said his committee will vote tomorrow on the nomination of California Attorney General Xavier Becerra to lead the Health and Human Services Department under the Biden administration. Becerra faced Wyden's panel and the Health, Education, Labor, and Pensions Committee last week, where Republicans grilled him over his positions on abortion and a lack of background in health-care administration.
Warren Says Wealth Tax Bill Could Help Pay for Health: Sen. Elizabeth Warren (D-Mass.) said her proposed wealth tax on households worth over $50 million could help pay for investments in childcare and health reforms as part of Biden's priorities to "Build Back Better" after the coronavirus pandemic that's disproportionately hurt low-income families. "We need to turn to infrastructure, childcare, pre-K, college," Warren said. "A wealth tax is the best way to pay for it." Read more from Erik Wasson.
Former Trump HHS Aide Runs for Texas Seat: A top-ranking health official from the Trump administration yesterday said he is running for the House seat of the late Rep. Ron Wright (R-Texas). Brian Harrison, who served as chief of staff for Health and Human Services Secretary Alex Azar, joins the race for Texas's 6th congressional district vacated by Wright's death last month. Harrison's campaign website touts his involvement on Operation Warp Speed, Alex Ruoff reports.
Virtual Health: The House Energy and Commerce Health Subcommittee scheduled a hearing today to discuss how Covid-19 is creating a pathway to virtual health.
More Headlines:
What Else to Know Today
Biden Team Offers $2.3 Million for ACA Enrollment Aid: The Biden administration is making available about $2.3 million in funding for people who assist Obamacare enrollees. The money for outreach, education, and enrollment efforts was given to 30 organizations in 28 states that help patients use federal Affordable Care Act exchanges that got funding in 2020, the Centers for Medicare and Medicaid Services said. Read more from Sara Hansard.
High Nursing Home Staff Turnover Stirs Poor Care: Nearly all direct-care staff at the typical U.S. nursing home left their jobs in 2017 and in 2018, according to a report released yesterday in Health Affairs journal that reviewed data from over 15,600 facilities. An "astoundingly high" 94% turnover rate, which is much larger than previous research has shown, has also probably worsened during the pandemic and appears to be a major predictor of poor quality care, said UCLA professor Ashvin Gandhi, the study's lead author. Read more from Tony Pugh.
More Headlines:
With assistance from Alex Ruoff and Fatima Hussein
To contact the reporter on this story: Brandon Lee in Washington at blee@bgov.com
To contact the editors responsible for this story: Zachary Sherwood at zsherwood@bgov.com; Giuseppe Macri at gmacri@bgov.com; Michaela Ross at mross@bgov.com
Stay informed with more news like this – from the largest team of reporters on Capitol Hill – subscribe to Bloomberg Government today. Learn more.