HEALTH CARE BRIEFING: Medicare Bill Returns to Democratic Senate
Bloomberg Government subscribers get the stories like this first. Act now and gain unlimited access to everything you need to know. Learn more.
The Senate debate over prescription drug pricing will pick up where it left off last year as the chamber undergoes a change in control, a key Democrat said.
Ron Wyden (D-Ore.), in line to lead the Senate Finance Committee in this Congress, said he plans to build off a package of drug pricing measures he and the outgoing chairman, Chuck Grassley (R-Iowa), created. That package would cap drug costs for Medicare beneficiaries and force drug manufacturers to provide Medicare inflation rebates, paying back the government for price increases.
"We've got to take bold action on prescription drug prices," Wyden told reporters yesterday. "People feel like they're getting mugged" at the pharmacy counter. He said he still wants to empower the government to negotiate for better drug prices, something Grassley and other Republicans have long opposed. Wyden said he will work with House Democrats, who in the last Congress passed their own Medicare negotiation bill and signaled they'll take it up again.
The incoming Senate Finance chairman said Democrats are considering using the fast-track budget reconciliation process to pass a drug-pricing measure with only a simple majority of votes. This would allow them to avoid having to compromise with Republicans. "We're going to be looking at all the tools to get this done," he said.
Wyden said he also plans to reintroduce a measure meant to stop drugmakers from raising the price of Covid-19 vaccines. His bill from last year would have created an inflation rebate for Medicare and Medicaid based on the negotiated cost between the federal government and pharmaceutical companies—including AstraZeneca, Johnson & Johnson, Moderna, and Pfizer.
The Grassley-Wyden bill would have created rebates in Medicare Part B and Part D beginning in 2022 for brand-name drugs and other biological products with prices that grew faster than inflation. Conservative groups and some Senate Republicans have opposed the rebate system for Part D but not for Part B. Read more from Alex Ruoff.
Also on Lawmakers' Radars
Biden to Unveil Economic Plan: President-elect Joe Biden this evening will unveil a Covid-19 relief package rivaled in size only by last year's $2 trillion Cares Act, in his first legislative test in the face of a split U.S. Senate and a deteriorating economy. Transition officials developed a proposal with Democratic lawmakers and their staff in recent days that's anticipated at at least the $900 billion of December's bill, with incoming Senate Majority Leader Chuck Schumer (D-N.Y.) pressing for more than $1.3 trillion.
Biden last week put the "entire package" at "trillions of dollars," and many Democrats believe it will be as much as $2 trillion, while others expect the coronavirus-only portion will fall closer to $900 billion. That means that other spending could take the package to the higher end of the various estimates. Key elements of the pandemic relief plan include — according to transition and congressional officials — money for state and local governments; funding for vaccine distribution; and tax credits for families with children. Read more from Nancy Cook and Jennifer Epstein.
Drug Lobby Freezes Donations to Election Deniers: The powerful pharmaceutical industry joined the growing ranks of corporate America in suspending political donations to members of Congress who voted against certifying the 2020 presidential election results in favor of Joe Biden. But PhRMA's decision may go against its self-interests; it strongly opposes a Democratic effort to allow Medicare to negotiate drug prices.
In total, 147 Republicans voted against certifying the election. PhRMA in 2020 directly donated to 12 of those 147. The donations ranged from $500 to $5,000, according to a Bloomberg Law analysis of public campaign finance records. They are:
Indianapolis-based drug company Eli Lilly also said it's also withholding campaign contributions from lawmakers who voted against the presidential election certification. And Gilead Sciences, UnitedHealth Group and Biotechnology Innovation Organization have suspended all political contributions as they review their policies. Sara Hansard and Jacquie Lee have more.
Democrats 'Condemn' Last-Minute HHS Exemption Rule: A group of top House Democrats including Oversight and Reform Chairwoman Carolyn Maloney (N.Y.) and Energy and Commerce Chairman Frank Pallone (N.J.) yesterday condemned a proposal from the Health and Human Services Department one week before Donald Trump leaves office that seeks to boost health-care providers' ability on religious grounds to deny services to LGBT people, women or some other minority groups. Read a statement from the Democrats here.
New GOP House E&C Members Selected: The Republican Steering Committee met yesterday to recommend new members for certain committees for the 117th Congress, and eight were selected to join the House Energy and Commerce Committee, according to a Republican aide, Rebecca Kern reports. They include: Reps. Kelly Armstrong (R-N.D.), Dan Crenshaw (R-Texas), John Curtis (R-Utah), Neal Dunn (R-Fla.), John Joyce (R-Pa.), Debbie Lesko (R-Ariz.), Gary Palmer (R-Ala.), and Greg Pence (R-Ind.). The full House Republican Conference still has to approve these appointments.
The Coronavirus Pandemic
Vaccine Frenzy Leads to Frustration: Americans rushing to get vaccinated against Covid-19 are encountering limited supplies, balky technology and communication failures, highlighting the challenges states face as they try to scale up and deliver shots to millions more people. In the U.S., 10.8 million doses have been given, according to Bloomberg's vaccine tracker. Many states are moving into the next phase of the campaign, offering shots to those 65 and older and people with compromised health as infections soar and the federal government pushes for a speedier process. With expanded eligibility announced this week, another 128 million Americans can potentially get shots, and many are dialing their doctors and searching the web to answer the question: Where and when can I get a vaccine? Read more from Angelica LaVito and Margaret Newkirk.
CDC Mulling International Travel Measures: The Centers for Disease Control and Prevention is weighing new measures that could allow for expanded travel after unveiling Covid-19 testing requirements for people flying into the U.S., said Martin Cetron, director of the agency's division of global migration and quarantine. Lifting travel restrictions on countries such as Brazil and European Union nations is part of ongoing discussions, Cetron said in an interview yesterday. Whether to make allowances in the future for people who have been vaccinated is also under debate, he said. The agency's discussions are taking place as it works to implement the new rules, which take effect Jan. 26—after Biden takes office. Read more from Emma Court and Alan Levin.
Hospitalizations on Cusp of First Decline in Months: The number of hospitalized Covid-19 patients was roughly flat in the U.S. this week, and likely will begin declining for the first time since September. The numbers are now dropping compared with a week earlier in both the Northeast and Midwest, according to Covid Tracking Project data. In the West, they were up 0.8%, the least since Oct. 1 on a percentage basis. The South has the worst momentum, with an increase of 4.2% from one week earlier. Read more from Nic Querolo and Jonathan Levin.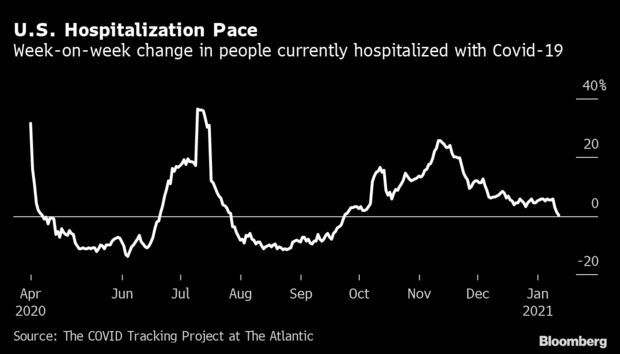 J&J Sees Decision on Vaccine by March: Johnson & Johnson's highly anticipated single-dose vaccine may not be authorized for use until March, weeks later than U.S. officials have floated. Operation Warp Speed officials have said they believed that the shot could receive emergency clearance from U.S. regulators as soon as the middle of next month. But that timeline may be aggressive, based on the drugmaker's expectations for when it will have reliable data in hand demonstrating the single-dose vaccine's efficacy. Read more from Riley Griffin and John Tozzi.
More Headlines:
What Else to Know Today
Sanofi, Eli Lilly Pile on Challenges to HHS's Drug Discount: Drugmaker lawsuits are piling up against an HHS advisory opinion that drugmakers must provide steep discounts to pharmacies in contract with low-income health providers. Eli Lilly, Sanofi, and AstraZeneca are asking federal courts to strike down an opinion that calls on drug manufacturers to give contract pharmacies the same discounts they provide to health institutions under the 340B drug pricing program. Read more from Ian Lopez.
ACA Signups Steady as White House Touts Exchange: The Trump administration touted its success in getting Americans enrolled in Affordable Care Act plans for 2021, highlighting how improvements to the marketplace facilitated the signups. Roughly 8.3 million people selected individual market plans via healthcare.gov, according a report by the federal Medicare office. The Centers for Medicare and Medicaid Services said 7% more people selected plans in the 36 states that use the marketplace than in 2020, despite a decline in new consumers. Read more from Sara Hansard.
Drug Therapy Offers Promise Against Meth Use: A combination of anti-addiction drugs for opioids and smoking could offer the first pharmaceutical therapy to treat methamphetamine use disorder, an understudied condition that's linked to increasing overdose deaths. A clinical trial testing such therapy found participants in the treatment group had a significantly better response than those in the placebo arm, according to findings published in the New England Journal of Medicine. Read more from Jeannie Baumann.
More Headlines:
To contact the reporter on this story: Brandon Lee in Washington at blee@bgov.com
To contact the editors responsible for this story: Zachary Sherwood at zsherwood@bgov.com; Giuseppe Macri at gmacri@bgov.com; Michaela Ross at mross@bgov.com
Stay informed with more news like this – from the largest team of reporters on Capitol Hill – subscribe to Bloomberg Government today. Learn more.