HEALTH CARE BRIEFING: Medicare Age Change Pushed in Budget Bill
Bloomberg Government subscribers get the stories like this first. Act now and gain unlimited access to everything you need to know. Learn more.
Progressive Democrats in the Senate say lowering the age at which Americans can join Medicare remains a top priority, even as their colleagues signal the issue is likely to fall off the party's agenda this year.
Sens. Elizabeth Warren (D-Mass.) and Bernie Sanders (I-Vt.) both told Bloomberg Government they're pushing to include a provision lowering the age to join Medicare to 60 or lower. Warren has sought to lower the age to 55.
"I'll be fighting to reduce the Medicare age—the eligibility age—because it saves money and saves lives," Warren said yesterday. Sanders also said lowering the age will be important. Supporters of change say up to 20 million Americans could join Medicare by lowering the age to join to 60.
A senior Democratic aide, however, said it's unlikely that Democrats include it in their reconciliation measure, a budget procedure that allows a simply majority to pass legislation. Party leaders unveiled $1 trillion in health-care provisions for the budget package that will compete with the age change, including additional new benefits for Medicare and extending an expansion of Obamacare.
Unlike the expansion of Obamacare, hospitals and insurers oppose lowering the age to join Medicare. By taking it on Democrats risk the ire of much of the health care industry, Alex Ruoff reports.
Senate Adopts Budget Resolution: Senate Democrats took a major step toward the biggest expansion in decades of federal efforts to reduce poverty, care for the elderly and protect the environment, adopting a $3.5 trillion budget framework. The party-line 50-49 vote provides early this morning a path for enactment of a long list of cherished Democratic priorities — if the party's fractious progressives and moderates can agree among themselves in the coming months, Mike Dorning, Laura Davison and Steven T. Dennis report.
Before they can pass a bill, the House and Senate will have to adopt the same exact budget resolution. And Senate Republicans, with the help of Sen. Joe Manchin (D-W.Va.), succeeded in adding a couple of amendments to the budget resolution on hot-button political issues. The inclusion of some conservative measures, added with Manchin's support, could complicate the reconciliation process because the House and Senate need to adopt the same budget resolution in order to set the stage for their $3.5 trillion bill.
Manchin joined Republicans in supporting amendments on politically charged topics, including a measure supporting the Hyde amendment, a longstanding appropriations rider banning federal funding for abortion, except in the case of rape, incest, or to save the life of the woman. The Senate adopted the non-binding amendment in 50-49 votes, with Manchin as the sole aisle-crosser.
BGOV Bill Summary: S. Con. Res. 14, FY22 Budget Resolution
The House plans to return on Aug. 23 now that the Senate completed its work on the budget resolution, earlier than scheduled, according to a letter from House Majority Leader Steny Hoyer (D-Md.). "For your scheduling purposes, assuming that the Senate does, in fact, complete work on a budget resolution, the House will return to session on the evening of August 23 to consider that budget resolution and will remain in session until our business for the week is concluded," Hoyer said, Megan Howard reports.
Also on Lawmakers' Radars
Democratic Bill Updates Nursing Home Oversight: Senate Finance Chairman Ron Wyden (D-Ore.) and Senate Aging Chairman Bob Casey (D-Pa.) introduced a bill that seeks to "update federal nursing home policy" to improve quality of care and oversight following crises the institutions suffered early in the Covid-19 pandemic. The measure would require nursing homes to meet minimum staffing standards and provide Medicaid resources to support improvements. Read text of the bill here.
Bill Shields Medicaid Access for Foster Children: Children in foster care won't lose their Medicaid benefits for staying in certain treatment centers to help them with behavioral or substance abuse issues under a bill from Sens. Richard Burr (R-N.C.) and Dianne Feinstein (D-Calif.). Current law blocks Medicaid payments to these centers if they have more than 16 beds primarily providing care for those with behavioral health conditions, Jeannie Baumann reports. Read a statement from Burr here.
The Coronavirus Pandemic
Biden Doubtful on Overruling States on Masks: Biden said he doesn't think he has the power to overrule governors who nullify requirements imposed by school systems calling on kids and staff to wear masks to protect themselves and others against Covid-19. "I don't believe that I do thus far. We're checking that," he told reporters at the White House. Biden's remarks came as school leaders face a dilemma as millions of students prepare to return in person to classes. Josh Wingrove and Mario Parker have more.
Delta Forces Hospitals to Ration ICU Beds: Hospitals across the U.S. are parceling out beds for coronavirus patients, hunting for doctors and nurses as the delta strain sweeps coast to coast. The disease is outstripping any mitigation measures. In some states, the unvaccinated are entering intensive care at rates matching the winter wave. The vaccinated are coming to realize that a sweet summer of release may have been a fantasy. Angelica LaVito, Jonathan Levin, and Francesca Maglione have more.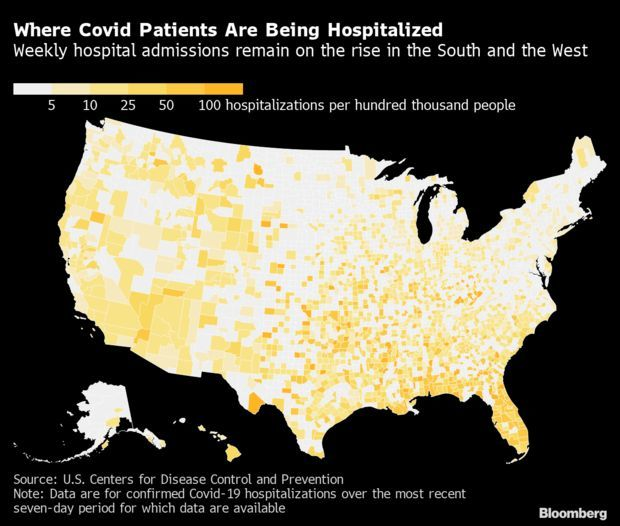 Shots' Benefits Outweigh Side-Effect Risk, CDC Says: Benefits of Covid-19 vaccines in the U.S. far outweigh any risks of serious adverse events seen in a relatively small number of Americans, U.S. health officials said. The impact of a few cases of a rare nerve disorder, blood vessel clots and heart infections following the vaccines was surpassed by thousands of Covid-19 cases prevented, many that would have had consequences, according to a study released yesterday by the CDC. Read more from Fiona Rutherford.
More Headlines:
What Else to Know Today
Door Opened to Expanded Medicaid Enrollment: The state of Missouri must begin allowing lower-income adults to enroll in its Medicaid program, a state court said yesterday. The state can no longer prohibit adults earning up to 138% of the federal poverty level, or about $30,305 for a family of three, from enrolling in the program. It also can't levy more stringent enrollment standards on them than on current Medicaid enrollees, the court said in a two-page order. Christopher Brown has more.
22 States Back Down Syndrome Abortion Law: A Missouri law banning a doctor from performing an abortion when the reason for it is a prenatal diagnosis of Down syndrome should be upheld because there is no constitutional right to end a pregnancy for this reason, 22 states told the Eighth Circuit yesterday. The states called on the Eighth Circuit to reverse a lower court verdict that prohibited Missouri from enforcing the law. Read more from Mary Anne Pazanowski.
More Headlines:
More Pharma Headlines:
With assistance from Jeannie Baumann
To contact the reporters on this story: Brandon Lee in Washington at blee@bgov.com; Alex Ruoff in Washington at aruoff@bgov.com
To contact the editors responsible for this story: Zachary Sherwood at zsherwood@bgov.com; Giuseppe Macri at gmacri@bgov.com; Michaela Ross at mross@bgov.com
Stay informed with more news like this – from the largest team of reporters on Capitol Hill – subscribe to Bloomberg Government today. Learn more.