HEALTH CARE BRIEFING: Medicaid Changes in House Virus Proposal
Bloomberg Government subscribers get the stories like this first. Act now and gain unlimited access to everything you need to know. Learn more.
House Democrats last night unveiled a plan to overhaul Medicaid, offering states more money to expand their public health insurance programs for the poor and the ability to clawback money from price increases of certain drugs, Alex Ruoff reports.
The changes, expected to be part of a roughly $1.9 trillion relief bill Democrats want to pass in coming weeks, are meant to extend Medicaid to more Americans and give states more tools to cut costs. The House Energy and Commerce Committee plans to mark up the legislation tomorrow at 11 a.m.
The proposal released by the panel would end Medicaid drug rebate caps, which are current set at 100% of a drug's average manufacturer price. Once that cap is reached, drugmakers can raise their prices without increasing the net rebates that must be paid.
A congressional advisory committee warned in 2019 that ending the Medicaid rebate cap would likely prompt drugmakers to threaten to leave the Medicaid program or "reduce research on drugs that disproportionately benefit Medicaid enrollees, such as treatments for cystic fibrosis." The group said ending the cap would save the government as much as $20 billion over 10 years.
The stimulus proposal would also permit states to restart Medicaid benefits for people in prison 30 days before their release, making it easier to extend them addiction treatment and services, and to extend the program to women for a year after they've given birth. To encourage the remaining states to expand Medicaid, the plan would also increase federal spending on the program for two years in newly expanded states.
The plan also includes $7.5 billion to prepare, promote, administer, monitor, and track Covid-19 vaccines, $1 billion to strengthen vaccine confidence, and $5.2 billion for the Department of Health and Human Services to support advanced research, development, manufacturing, production and purchase of vaccines and other drugs. Read the panel's press release, which includes bill texts, here.
State and Local Aid: House Democrats are backing President Joe Biden's proposal for $350 billion in funding for state and local governments, according to separate draft stimulus measure released last night. House Oversight and Reform Committee Chair Carolyn Maloney's (D-N.Y.) bill, slated for committee action on Friday, sets up a new dedicated state and local fund in order to bypass the traditional appropriations process which is not eligible for budget reconciliation, Erik Wasson reports.
Also Happening on the Hill
Financial Services Stimulus Markup: Chair Maxine Waters (D-Calif.) will convene the House Financial Services Committee today to vote on its portion of coronavirus stimulus legislation. The panel was charged, under terms of the 2021 budget adopted last week by Congress, with writing up legislation totaling $75 billion in deficit increases. According the committee's draft relief legislation, that will include $10 billion to use the Defense Production Act to produce masks and other Covid-19 equipment.
Biden Urged to Increase Drug Abuse Treatment Access: A bipartisan group of lawmakers including Sens. Maggie Hassan (D-N.H.) and Lisa Murkowski (R-Alaska) and Reps. Paul Tonko (D-N.Y.) and Anthony Gonzalez (R-Ohio) wrote to Biden this week asking he "work with Congress to increase access to medication-assisted treatment for substance use disorder" by prioritizing the removal of Medicare's "x-waiver." Read their letter to Biden here.
FDA Told to Lift Mail-Abortion Drug Ban: Maloney and Rep. Ayanna Pressley (D-Mass.), Chair of the Pro-Choice Caucus's task force on abortion access, said that the Food and Drug Administration must "lift the medically unnecessary in-person dispensing requirement for mifepristone," a drug that has been used to "safely end early pregnancies in the United States for more than two decades," according to a statement. Read their letter to the FDA here.
More on the Pandemic
Schools Bid Pits CDC Science Against Union Clout: Biden's push to reopen U.S. schools is running headlong into his pledge to support teachers, who are demanding more coronavirus testing, vaccinations and other safety measures before returning to classrooms. The president has pledged to follow the science as he nudges schools toward welcoming more students back to class, while also enjoying broad support from teachers and their unions. Yet that loyalty may be tested as soon as this week, when the U.S. Centers for Disease Control and Prevention is expected to release new, detailed guidance for schools seeking to reopen. School administrators around the country have sought to put teachers back in classrooms before more, or even all of them, are vaccinated, citing scientific studies — including work by the CDC — that shows the risk of transmission on campuses is low. Read more from Josh Wingrove.
White House Press Secretary Jen Psaki said today that the Biden administration is targeting a return to in-person teaching in schools at least once per week. The administration aims to have most elementary and middle school campuses open for in-person classes within its first 100 days, but it hasn't offered details on what would count as meeting that goal. "That means some teaching in classrooms, so at least one day a week," Psaki said. "Hopefully, it's more," Andrew Kreighbaum reports.
White House Announces Boost in Vaccines, Sites: Biden's administration will boost weekly vaccine shipments to states to 11 million from 10.5 million and launch a vaccination program through community health centers in every state and territory, White House coronavirus czar Jeff Zients said yesterday. The administration will begin shipping doses to the centers as soon as next week. That will include a total of 1 million doses, enough for 500,000 full vaccinations, as the program ramps up in coming weeks, Zients said at a briefing.
The community centers are a crucial way to get doses to hard-to-reach communities. "Equity is our north star here," said Marcella Nunez-Smith, who serves as chair of the White House's Covid-19 health equity task force. "This effort that focuses on direct allocation to community health centers really is about connecting with those hard-to-reach populations." Read more from Josh Wingrove and Angelica LaVito.
CDC Plans Vaccine Forum This Month: The Centers for Disease Control and Prevention is planning town halls aimed at building trust and confidence in the coronavirus vaccine, NBC reports, citing a Biden administration official. The goal of the forum is to ensure "equitable vaccine access and uptake to all populations," the official told NBC. It will be led by Director Rochelle Walensky, as well as White House health advisers and FEMA officials, NBC reports.
Only about half of U.S. adults surveyed late last year said they were certain or very likely to get a Covid-19 vaccine, according to a new report from the CDC. The study, published yesterday in the CDC's Morbidity and Mortality Weekly Report, surveyed 5,500 people in the U.S. between September and December. A greater amount of people indicated they will get a vaccine in December than in September, Riley Griffin and Emma Court report.
Speedy Vaccine Making Requires Delicate Dance by Drugmakers: Boosting supply of Covid-19 vaccines isn't as easy as flipping a manufacturing switch—it's a delicate dance of raw materials and business contracts, pharmaceutical lawyers and consultants say. Since the beginning of the pandemic, drugmakers vowed to work together to make Covid-19 vaccines, even promising to share equipment or manpower if necessary. Few of those business arrangements have publicly materialized despite the outsourcing process being common in the drug industry. Read more from Jacquie Lee.
Cases Fall but Deaths Climb in Hispanic Counties: Covid-19 deaths are climbing in Hispanic communities even as cases across the U.S. are on the decline. The two-week rolling death rate was 1.49 per 100,000 in largely Hispanic counties last Tuesday, a record high and roughly 55% higher than the broader U.S. figure. The deaths persist even as fewer people fall ill: Case rates in such counties, where Hispanics account for half of residents or more, have fallen since mid-January. Read more from Nic Querolo.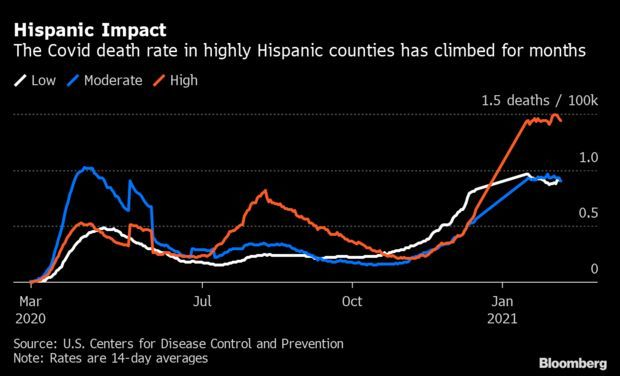 WHO Rejects Virus Lab Origin Theory: A World Health Organization investigation in China found that the coronavirus most likely jumped to humans through an animal host or frozen wildlife products, saying it is "extremely unlikely" it came from a laboratory leak. No further research is needed to look into the theory about any leaks, WHO official Peter Ben Embarek, told reporters at a joint briefing with China in Wuhan, the city where Covid-19 mushroomed over a year ago. Read more from Bloomberg News.
More Headlines:
What Else to Know
Late Trump-Era Health Rules Subject to Review: Several health regulations that went into effect late in the Trump administration are subject to review—and could change—under the Biden administration. They include controversial actions like an international drug price rule, which is already halted by litigation, as well as straightforward and time-sensitive rules about how doctors get paid under Medicare. Read more from Fawn Johnson and Jeannie Baumann.
$2 Billion in Unresolved DOD Medical Malpractice Claims: Troops have filed $2.16 billion in medical malpractice claims under a 2019 law requiring a system of compensation for victims, according to military services. The total represents 227 cases yet to be adjudicated. The Army, which is the largest branch of the military, reported $845 million in malpractice claims. The Air Force reported $530 million, while the Navy and Marine Corps reported a total of $781 million. Read more from Travis J. Tritten.
Risk-Averse Pharma Gets Creative to Invest in New Drugs: The pharmaceutical industry is poised to see a record number of deals in 2021 thanks in part to innovative agreements that aim to facilitate the development of new products, industry watchers say. Companies like AstraZeneca plc and Bayer AG are engaging in transactions in which they make up-front payments to smaller players, followed by milestone payments upon the smaller company reaching certain goals. Read more from Ian Lopez.
More Headlines:
With assistance from Andrew Kreighbaum and Alex Ruoff
To contact the reporter on this story: Brandon Lee in Washington at blee@bgov.com
To contact the editors responsible for this story: Zachary Sherwood at zsherwood@bgov.com; Giuseppe Macri at gmacri@bgov.com; Michaela Ross at mross@bgov.com
Stay informed with more news like this – from the largest team of reporters on Capitol Hill – subscribe to Bloomberg Government today. Learn more.