HEALTH CARE BRIEFING: Manchin's Covid May Affect Drug, ACA Vote
Bloomberg Government subscribers get the stories like this first. Act now and gain unlimited access to everything you need to know. Learn more.
Sen. Joe Manchin (D-W.Va.) said Monday he has Covid-19, the latest in a string of Senate Democrats to be absent from the Capitol due to the coronavirus.
Manchin's diagnosis highlights the challenge Democrats will face in mustering the 50 votes they'll need to pass a drug price and Obamacare subsidy bill before the start of August recess. Any further Covid cases among Democrats could throw their plan for the drug bill into doubt, Erik Wasson reports.
Still, Schumer yesterday signaled Democrats will vote before they leave for the summer break on the legislation (H.R. 5376).
Senate Democrats were also waiting on Monday for a ruling from the Senate parliamentarian on whether the drug bill—which allows Medicare to negotiate prices it pays for drugs for the first time and limits out of pocket costs for seniors—will be allowed in the fast-track budget process.
SEC Enriches Fraudsters, Lawyers as Secrecy Shrouds Tips Program
An SEC whistleblower program—written into the Dodd-Frank reform law of 2010 and championed by Sens. Elizabeth Warren (D-Mass) and Chuck Grassley (R-Iowa)—often ignores its own rules, shields much of its work from the public, and has been a financial boon for law firms that hired former agency officials, a Bloomberg Law investigation has found.
One lawsuit from 2018 filed by a claimant in the case of Teva Pharmaceutical Industries contended that the agency began redacting more information from public disclosures to hide the slow pace of its investigations, rather than to protect whistleblowers, after The Wall Street Journal used the agency's public notices to show long delays in paying informants. Teva paid a fine of over $500 million, but the whistleblower waited years without hearing anything from the SEC, according to the complaint.
"There is no public interest check on this program, and the secrecy makes it impossible to measure its success or to provide a check on what it's doing," said Reuben Guttman, a Washington attorney who has represented whistleblowers in medical, pension and pharmaceutical fraud cases. "The program calls out for massive congressional oversight."
Bloomberg Law's John Holland offers a deep dive of the SEC's practices in this exclusive investigative report .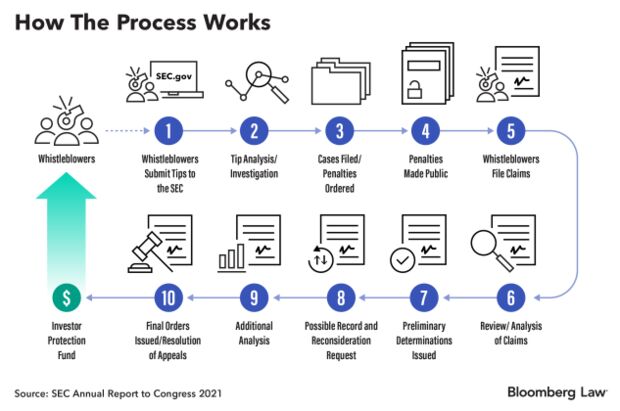 Happening on the Hill
Tuesday's Hill Hearings:
Burr Wants Audit of Biden's Covid PSAs: Republicans want an audit of the White House's public education campaign for the coronavirus, as the administration seeks more pandemic aid funds. "It is incredible that HHS and the Biden administration would partner with partisan political organizations and Democrat-affiliated campaign consultants on a $10 billion taxpayer funded vaccine confidence public education campaign, ostensibly intended to appeal to all Americans," the letter says.
The top Republican on the Senate Health, Education, Labor, and Pensions Committee—Sen. Richard Burr (R_N.C.)—is leading the effort, which also includes senior Republicans on House Energy and Commerce Committee. Read their letter here.
Ways & Means Announces Medicare Advantage Markup: The House Ways and Means panel announced a markup Wednesday of a bill (H.R. 3173) with more than 300 cosponsors that aims to streamline prior authorization rules for Medicare Advantage plans.
What Else to Know Today
Many Parents Reluctant to Vaccinate Kids: A large number of parents said they definitely won't vaccinate their children under 5 against Covid, in the latest findings that indicate parents are less swayed by the highly contagious BA.5 variant and more by their own children's experiences with the disease. The findings released Tuesday from the Kaiser Family Foundation found 43% of parents with children in that age group said they will "definitely not" take their kids to get Covid shots. Read more from Jeannie Baumann.
MORE ON THE CORONAVIRUS
Medicare Proposal Could Boost Coordinated Care: A proposal from the Biden administration could boost cost-cutting efforts to help steer traditional Medicare beneficiaries—and their doctors—away from the program's fee-for-service payment model roots. The proposed 2023 Medicare physician fee schedule rule, if finalized, would provide new financial and programmatic incentives for health-care providers to form or join accountable care organizations, or ACOs. Read more from Tony Pugh.
MORE REGULATION & LEGAL NEWS
More Headlines:
With assistance from Jeannie Baumann and Alex Ruoff
To contact the reporter on this story: Brandon Lee in Washington at blee@bgov.com
To contact the editors responsible for this story: Giuseppe Macri at gmacri@bgov.com; Michaela Ross at mross@bgov.com
Stay informed with more news like this – from the largest team of reporters on Capitol Hill – subscribe to Bloomberg Government today. Learn more.