HEALTH CARE BRIEFING: Manchin Sees Drug Price Path to Skirt GOP
Bloomberg Government subscribers get the stories like this first. Act now and gain unlimited access to everything you need to know. Learn more.
Key holdout Sen. Joe Manchin (D-W.Va.) said on Tuesday he discussed a tax increase and deficit reduction bill with Senate Majority Leader Chuck Schumer (D-N.Y.) as a way to fight soaring inflation, and said it would make sense to include cuts to prescription drug prices in the measure.
Manchin said he's open to using the fast-track budget process to circumvent Republicans and ram corporate and individual tax increases through the Senate, given that the GOP wants to "keep things the way they are" in the tax code. Schumer described the talks as "preliminary and good," adding: "We're going to keep talking."
The House-passed Build Back Better measure (H.R. 5376) that included drug pricing provisions was effectively killed by opposition from Manchin. Manchin said he does not favor more social spending when asked about child care and paid family leave proposals. He said there are no formal talks with the White House and would not say what the next steps are. Erik Wasson has more.
The Manchin-Schumer meeting also comes as more than 70 organizations, including the AARP and the Center for American Progress, launched an advocacy campaign Tuesday demanding Democrats pass legislation to permit the government to negotiate with drugmakers for lower drug prices. The campaign's message: Time is running out for Democrats to fulfill this long-time policy objective. The groups want the Senate to clear the House-passed slate of drug pricing provisions that were tucked into a larger domestic spending package by Memorial Day.
Sen. Amy Klobuchar (D-Minn.) said Democrats are "getting so close" to an agreement, although didn't offer details. Sen. Ron Wyden (D-Ore.), chairman of the Finance Committee and a key negotiator on drug pricing, told reporters that he's discussing a path forward on such a package but didn't have a timetable for passage. "We're talking," he said. Read more from Alex Ruoff.
Also on Lawmakers' Radars
House Panel to Target McKinsey for Opioids Crisis: McKinsey & Co. takes center stage in a hearing by the House Oversight Committee on the firm's alleged role in fueling America's opioid epidemic. The hearing follows an April committee report that chronicles McKinsey's "overlapping and conflicting work for FDA and opioid manufacturers." McKinsey paid $573 million last year to settle claims its work for companies such as Purdue Pharma worsened America's addiction crisis.
Wednesday's hearing comes a day after Patrizia Cavazzoni, director of the FDA's Center for Drug Evaluation and Research, told the Senate Committee on Health, Education, Labor, and Pensions that the agency won't contract with McKinsey while members investigate the consultancy's work with opioid makers.
The House Oversight Committee in April released preliminary findings from its active investigation into the company, saying Purdue "explicitly tasked McKinsey with providing advice on how to influence the regulatory decisions" of the FDA, which was also a McKinsey client. The committee said in a release April 22 that McKinsey has yet to provide basic information.
Sen. Maggie Hassan (D-N.H.) and other lawmakers have called on the Department of Health and Human Services to scrutinize the FDA's work with McKinsey. "It strains credulity to think that nobody at the FDA involved with McKinsey between 2019 and 2021 had any idea that the company had major potential conflicts of interest based on news reports in major publications," she said. Read more from Ian Lopez.
More Hearings Today:
Senate Floor: Senators today are expected to consider S. J. Res. 41, a Republican-backed joint resolution to overturn the Health and Human Services Department's reversal of abortion-related rules for Title X family planning grants.
Republicans Want Separate Bill on Covid Aid: Key Republicans say they'll support whatever funding is necessary to aid Ukraine, but they want to keep that bill separate from one providing more Covid resources, Jack Fitzpatrick reports. Democrats want to combine the Ukraine funds with a stalled $10 billion Covid spending bill, Sen. Tim Kaine (D-Va.) said yesterday. But Sen. Mitt Romney (R-Utah), who led GOP negotiations on the details of the Covid funding bill, said he doesn't want to combine the Ukraine and Covid supplemental spending bill.
Alzheimer's Drug Pipeline 'Robust' Amid Medicare Policy: Medicare's move to limit coverage for Biogen's Alzheimer's drug won't necessarily hinder the development of several similar treatments currently in clinical trials, Cavazzoni also told senators Tuesday. Cavazzoni said the current pipeline for Alzheimer's drug research is "very robust," with "a lot of drugs in the pipeline for Alzheimer's disease, including drugs in the same class" as Biogen's Aduhelm. Celine Castronuovo has more.
Durbin Eyes Linking Dietary Supplement Bill to FDA Package: A top senator is looking to add language requiring dietary supplement reporting to must-pass legislation governing FDA user fees. The Dietary Supplement Listing Act, introduced by Senate Majority Whip Dick Durbin (D-Ill.) Tuesday, would boost Food and Drug Administration oversight of dietary supplements to better identify potentially harmful ingredients or health claims. Durbin's office said he would like to see the legislation added onto the FDA user fee bill to give it a clearer path. Read more from Celine Castronuovo.
Three Democrats Positive for Covid, Delaying Bedoya: A trio of Covid-19 cases among Democrats delayed Senate plans to confirm Alvaro M. Bedoya to the Federal Trade Commission Tuesday. Vice President Kamala Harris, the Senate's tie-breaking vote, as well as Sens. Ron Wyden (Ore.) and Chris Murphy (Conn.) announced Tuesday they have tested positive for Covid, meaning the Democrats don't have the ability to confirm nominees if every Republican votes against a candidate.
Health-Care Measures on Tap: The House is scheduled to consider two health care-related measures on Wednesday under suspension of the rules:
H.R. 4693, which would direct the U.S. Agency for International Development to coordinate federal agencies' work to address malnutrition around the world. For more, read the BGOV Bill Summary by Adam M. Taylor.
S. 812, which would require the State Department to report on changes in U.S. strategy to restore Taiwan's observer status at the World Health Organization. The Senate passed the bill by unanimous consent on Aug. 6. For more, read the BGOV Bill Summary by Naoreen Chowdhury.
The Coronavirus Pandemic
Over Half of Americans Show Signs of a Prior Covid Infection: Well over half the U.S. population has been infected with the coronavirus at some point, according to a nationwide study of blood samples, the latest evidence of Covid's vast impact. As of February, 57.7% of Americans had antibodies to SARS-CoV-2 in their blood, health officials said, up from 33.5% last December, when the omicron wave began sweeping across the country.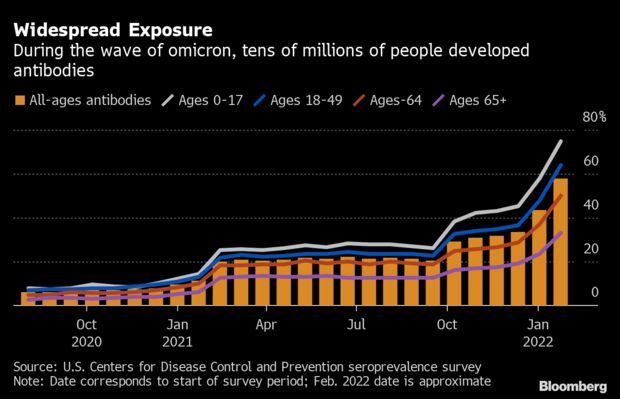 With increased access to at-home testing and many people experiencing mild or asymptomatic cases, official case counts have become increasingly unreliable. The blood survey is the strongest evidence available of the disease's far reach, suggesting that since the omicron wave began late last year, almost a quarter of the country was newly infected with the virus. Rates were even higher among children and teens, with around 75% of those up to age 17 now showing signs of infection, an increase of about 30 percentage points since December. A separate CDC analysis at both kinds of antibodies has found that over 90% of Americans have either been vaccinated or previously infected. Read more from Drew Armstrong.
Pfizer Seeks FDA Authorization for Kids' Booster: Pfizer has asked federal regulators for emergency-use authorization of a booster shot of its Covid vaccine in children ages 5-11, setting in motion a push to provide extra protection to kids. Pfizer and partner BioNTech submitted data to the Food and Drug Administration from a late-stage trial showing a third-dose at about 6 months after the second dose provided a strong immune response. Read more from Riley Griffin.
Musk's Twitter Approach Spurs WHO Warning: As billionaire Elon Musk nears a potential deal to buy Twitter, a World Health Organization official warned of the perils of health misinformation on social media. Misinformation costs lives, said Mike Ryan, the director of health emergencies for the WHO, in response to a question about the Twitter offer from Musk, a self-described free-speech absolutist. Andy Hoffman and Clara Hernanz Lizarraga have more.
Industry & Regulation
Agencies to Unveil Mental Health Parity Resources: The Biden administration is set to put out additional resources to aid in compliance with a mental health and substance use disorder parity law, a senior HHS official said Tuesday. The departments of Health and Human Services, Labor, and Treasury, and the Centers for Medicare & Medicaid Services have worked to create new parity tools, Miriam Delphin-Rittmon, HHS assistant secretary for mental health and substance use, said. Read more from Shira Stein.
O'Rourke Hires Ex-Planned Parenthood Chief for Campaign: Beto O'Rourke hired the former president of Planned Parenthood to lead national fundraising for his campaign for Texas governor as he angles to narrow the financial gap with the incumbent. Cecile Richards, the daughter of the last Democratic governor of Texas, Ann Richards, will join O'Rourke's campaign as national finance chair. Read more from Shelley Hagan.
Low-Dose Aspirin May Cause More Harm Than Benefit: New recommendations on the use of low-dose aspirin to prevent a first heart attack or stroke say the blood thinner's risks may outweigh its benefits, breaking from more than 30 years of widely accepted medical guidance. Current evidence highlighting the risks of internal bleeding associated with aspirin use prompted the U.S. Preventive Services Task Force to revise their guidelines from 2016. Madison Muller has more.
Employers Face Liability Over Hospital Prices in Coverage: Employer-run health plans must use newly available hospital price data to determine fair prices or they could face legal action from plan members. That was the message delivered in a webinar Tuesday sponsored by the National Alliance of Healthcare Purchaser Coalitions. A spending bill from 2020 requires employer-sponsored health plans, acting as fiduciaries, to pay a fair price for services provided, and requires hospitals and health plans to make the prices paid public. Read more from Sara Hansard.
More Headlines:
From the Federal Courts
Kentucky Abortion Provider Asks to Join Second Suit: The only provider in Kentucky that performs abortions after the 14th week of pregnancy asked a federal judge to permit it to join a Planned Parenthood affiliate's suit to have a new state abortion law that bans abortions after 15 weeks declared invalid. Read more from Mary Anne Pazanowski.
Meanwhile, Planned Parenthood is spending $16 million on ads hoping to make abortion access a bigger issue in the 2022 elections, Alex Ruoff reports. The media campaign comes as states across the U.S. enact stricter abortion laws in the runup to a Supreme Court decision likely this summer on Mississippi's 15-week abortion ban that could rollback Roe v. Wade.
Nurse's ACA Suit Over Transgender Care Exclusion Proceeds: A St. Louis hospital is facing suit over a nurse's claim that her employee insurance plan's blanket exclusion of coverage for transgender care violates the Affordable Care Act, after a verdict from a federal court in Missouri. Read more from Pazanowski.
More Headlines:
With assistance from Alex Ruoff and Jack Fitzpatrick
To contact the reporter on this story: Brandon Lee in Washington at blee@bgov.com
To contact the editors responsible for this story: Giuseppe Macri at gmacri@bgov.com; Michaela Ross at mross@bgov.com
Stay informed with more news like this – from the largest team of reporters on Capitol Hill – subscribe to Bloomberg Government today. Learn more.