HEALTH CARE BRIEFING: Lobbying Hits High Amid Drug Pricing Fight
Bloomberg Government subscribers get the stories like this first. Act now and gain unlimited access to everything you need to know. Learn more.
The main influence firm for drugmakers spent a record amount on lobbying last year as Democrats attempted to pass legislation to allow the government to negotiate for better prices on medicines.
The Pharmaceutical Research and Manufacturers of America spent almost $29.6 million on lobbying in 2021, the most the group has ever spent, according to federal disclosures filed yesterday. PhRMA wasn't alone: the Biotechnology Innovation Organization, which represents biotechnology companies, spent nearly $13.3 million in 2021, also a record for the group. The most PhRMA had spent on lobbying previously was $28.9 million in 2019, according to federal disclosures. BIO spent $12.5 million in 2020.
Some individual drugmakers also stepped up their lobbying spending in 2021. Eli Lilly's $7 million and Merck's $8 million were record amounts for both companies.
After months of debate, House Democrats last year passed a sweeping climate, tax and social spending bill (H.R. 5376) that proposed some of the biggest-ever changes for the U.S. pharmaceutical industry. The Build Back Better Act—which has stalled in the Senate in part due to opposition from Sen. Joe Manchin (D-W.Va.)—would direct the U.S. government to seek lower prices on a range of medicines. Read more from Alex Ruoff.
Meanwhile, Biden's attempt to salvage the core of Build Back Better has revived some of the same battles within his party over the same tax and spending proposals that have bedeviled the plan for months. Manchin said he wants talks to start from scratch—and specifically mentioned pharmaceuticals among his priorities. "Take care of the pharmaceuticals," he said. "You're gouging the people with high prices, we can fix that," he said. Erik Wasson and Emily Wilkins have more.
White House National Economic Council Director Brian Deese said that proposals on clean energy, childcare and health care in Biden's economic agenda are "doable" amid a stalemate over the bill in the Senate. Deese, speaking in an interview with Bloomberg, was asked about which aspects of Build Back Better could pass and help to ease historically high inflation. "The health care provisions will improve health for our families, but also lower costs," Deese said. Jennifer Jacobs has more.
Scaled Down Spending Bill to Leave Leftovers: Biden's acknowledgment that Democrats' massive tax and spending package will have to be pared back leaves an array of provisions that were expected to move with the legislation in limbo.
Some left-out pieces could be tackled by the administration—albeit in a lesser capacity—while others could find their way into bipartisan measures still on the agenda in Congress this year. Bloomberg Government takes a look at what's still in play, what needs other vehicles, and what Biden's options are.
Happening on the Hill
Spending Deal Hard to Reach by Mid-February, Shelby Says: Senate Appropriations ranking member Richard Shelby (R-Ala.) said it'll be difficult to get an omnibus spending measure done in time to meet a mid-February funding deadline. Shelby told reporters that staff will work over the upcoming recess, adding that they are making progress but "it would be hard to get it by the 18th," Megan Howard and Erik Wasson report. A stopgap funding bill is keeping government programs funded at current levels through Feb. 18. House leaders also want to tack on supplemental pandemic relief into the spending plan.
The American Hospital Association urged lawmakers to include key priorities to support health-care providers in the must-pass government funding measure. "The priorities include quickly dispersing remaining funding from the Provider Relief Fund and adding $25 billion to the fund; extending Medicare sequester relief; giving hospitals more time to repay accelerated and advance Medicare payments; and providing relief to certain 340B hospitals." Read their letter here.
Republicans Push to 'Protect' Toddlers From Masking: Rep. Steve Scalise (R-La.) said yesterday he wants to hold a congressional hearing on what impact mask wearing might be having on the development of young children. "Why is America masking kids without evidence and what impact is it having on their emotion and social development?" Scalise said yesterday. His remark came as Sen. John Thune (R-S.D.) sent a letter to HHS Secretary Xavier Becerra to pull an interim final rule that includes a "masking requirement" for individuals in a federal Head Start facility above the age of two. Read the letter here.
Fund to Aid 'Black Lung' Miners Would Get Boost in Bill: Democrats on the House labor panel unveiled legislation to shore up a trust fund that helps miners suffering from black lung disease, a major issue in coal-rich states in Appalachia. The federal Black Lung Disability Trust Fund is primarily financed by an excise tax levied against coal companies, but the tax rate dropped by more than half on Dec. 31, 2021, jeopardizing the fund's long-term sustainability. The fund is already about $5 billion in debt, Education and Labor Chair Bobby Scott (D-Va.) and Rep. Alma Adams (D-N.C.) said. Read more from Paige Smith.
The Coronavirus Pandemic
Hospital Staffing Improves Even as Rural States Get Hit: The U.S. hospital-staffing shortage exacerbated by the latest Covid-19 wave is showing signs of easing, but many West Coast and rural states are still seeing the worst of it. Over the past week, roughly 16.7% of U.S. hospitals have reported critical shortages in staffing, down from a recent peak of 18.7% on Jan. 9, according to data from the Department of Health and Human Services. Fewer facilities are reporting shortages in New York, Florida and Illinois. The numbers are still concerning to state leaders, but are returning to pre-omicron levels. Jonathan Levin has more.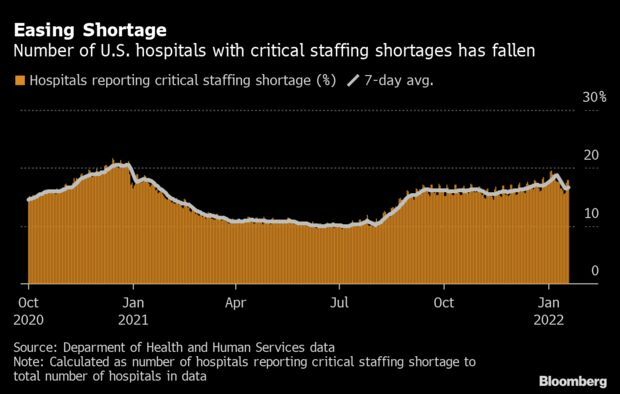 Omicron's Spread in Cities Shown in Wastewater Study: Signs of the omicron variant were present in the U.S. a week or more before it first appeared in California, and spread widely in the weeks afterwards, according to a new study showing the power of wastewater analysis for tracking outbreaks. Evidence of omicron was seen in sewage samples collected as early as Nov. 21, state and local health officials in California, Colorado, Houston and New York City said in a report released by the CDC. The first case in a U.S. patient was confirmed on Dec. 1 in California. Read more from Angel Adegbesan.
Vaccines Have No Impact on Fertility, Study Finds: Covid-19 vaccinations won't affect a couple's chances of conceiving a child, but an infection of SARS-Cov-2 can temporarily diminish male fertility, an NIH-funded study found. The study, published this week in the American Journal of Epidemiology, marks the latest effort to show that the vaccines can help avert the risks Covid-19 poses on pregnancy or the baby. People hoping to become pregnant in the next six months were less likely to get vaccinated, according to a survey from January 2021, but their concerns about the Covid-19 vaccines aren't backed by data. Jeannie Baumann has more.
Tired Health-Care Workers Get $103 Million Boost: A $103 million investment from the White House will support health-care workers facing burnout as they enter their third pandemic year. Job openings in health care are skyrocketing as burnout drives older workers to retire and younger workers to leave the field. The pandemic has pushed the industry beyond a breaking point, overwhelming hospitals and leaving many patients without access to much-needed care. The funds, from the American Rescue Plan, will be awarded to 45 organizations in underserved communities. Allie Reed has more.
Disinfectant Craze Rages On for Covid-Skittish: You don't need to deep-clean surfaces to stay safe from the coronavirus, but many U.S. consumers still aren't taking any chances. Shoppers bought 15% more home-cleaning items such as liquid and spray disinfectants last year compared to in 2019, according to data from market researcher IRI. While sales slipped from 2020's huge figures in both dollar terms and by volume, the trends suggest sanitizing has become ingrained in everyday routines, benefiting companies like Clorox, Reckitt Benckiser and Procter & Gamble. Read more from Daniela Sirtori-Cortina.
Pharmacies Scrambling for Rapid Tests, Survey Shows: Nearly every pharmacy in a new survey said it's having a difficult time keeping up with the rampant demand for at-home Covid-19 tests. A survey by the National Community Pharmacists Association found that 92.7% of roughly 8,000 pharmacy owners and managers say they are having a tough time sourcing enough at-home tests to meet high demand. In addition, the survey found that around one-quarter of pharmacies that administer Covid-19 tests said they're having difficulty getting supplies needed to perform them, according to a statement from NCPA.
What Else to Know Today
High Court Rejects Abortion Providers Again in Texas Lawsuit: The U.S. Supreme Court dealt a fresh rebuff to Texas abortion providers by refusing for a second time to return their suit challenging the state's sweeping ban to the trial judge who had once blocked the law. The justices without explanation dismissed the providers' request for an order directing a federal appeals court to return the case to U.S. District Judge Robert Pitman. The suit centers on the Texas ban on most abortions after about six weeks of pregnancy. The court's three liberal justices dissented.
Justice Sonia Sotomayor said the majority was countenancing delaying tactics by the state and a federal appeals court to keep an unconstitutional statute in force. "This case is a disaster for the rule of law and a grave disservice to women in Texas, who have a right to control their own bodies," Sotomayor wrote for herself and Justices Stephen Breyer and Elena Kagan. "I will not stand by silently as a state continues to nullify this constitutional guarantee." Read more from Greg Stohr.
Market Power of Doctors, Hospitals Seen in High Coverage Costs: Market power among doctors and hospitals leads to higher prices for commercial insurers than what Medicare pays, the Congressional Budget Office said yesterday. "Greater market power among providers consistently leads to prices for commercial insurers that are higher than Medicare FFS's [fee-for-services] prices and that vary more widely," the CBO said in a report. Higher prices paid by commercial insurers are a sore subject for employers, some of whom say providers are taking advantage of a lack of competition. Read more from Sara Hansard.
Quarter of Adults Too Sedentary, CDC Says: Two years into a pandemic that's normalized work-from-home and moved many social gatherings online, new data from the Centers for Disease Control and Prevention show that many Americans were couch potatoes long before Covid-19. A quarter of U.S. adults aren't active enough to protect their health, according to a CDC analysis conducted from 2017 to 2020. The agency released a map yesterday showing the South had the highest prevalence of inactivity, followed by the Midwest, Northeast and West. Read more from Madison Muller.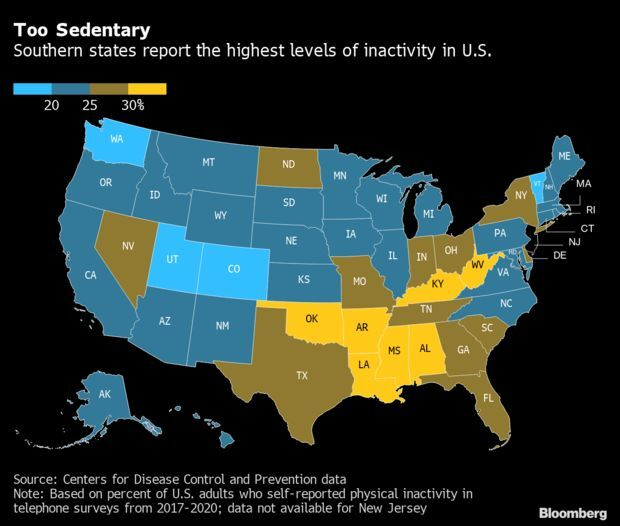 More Headlines:
Editor's Note: Friday's BGOV Health Briefing corrected the description of the Biotechnology Innovation Organization in second paragraph.
To contact the reporter on this story: Brandon Lee in Washington at blee@bgov.com
To contact the editors responsible for this story: Zachary Sherwood at zsherwood@bgov.com; Giuseppe Macri at gmacri@bgov.com; Michaela Ross at mross@bgov.com
Stay informed with more news like this – from the largest team of reporters on Capitol Hill – subscribe to Bloomberg Government today. Learn more.