HEALTH CARE BRIEFING: Lawmakers Push Off Medicare Spending Cuts
Bloomberg Government subscribers get the stories like this first. Act now and gain unlimited access to everything you need to know. Learn more.
The Senate passed legislation 59-34 yesterday that cancels automatic cuts to Medicare, farm subsidies and other programs triggered by deficit spending earlier this year under the PAYGO law.
The measure (S. 610) would push into 2023 the balances on statutory "pay-as-you-go" scorecards that would have triggered funding cuts next year. It also would hit pause for three months, through March 31, on a 2% automatic cut to Medicare payments required under the Budget Control Act of 2011 (Public Law 112-25). Those cuts were most recently suspended through Dec. 31 under Public Law 117-7 (see BGOV Bill Summary). It also delay changes to Medicare payments for physicians and some other services for a year. Find more on the legislation in a BGOV Bill Summary of S. 610.
This week should be the last time Congress extends the moratorium on the Medicare sequester and bonus payments for physicians, Marc Goldwein, director of policy at the Committee for a Responsible Federal Budget, said.
Both policies were aimed at buoying the health-care industry during the worst of the coronavirus pandemic, but aren't needed any more, Goldwein told Bloomberg Government. "If there's a need for more relief for hospitals then Congress should do that, but this is a really blunt tool for that," he said, Alex Ruoff reports.
Happening on the Hill
Drug Prices: The House Oversight and Reform Committee scheduled a hearing for today to discuss the findings of a committee investigation into drug pricing and potential changes.
Democrats Fight to Save Paid Leave Proposal: Senate Majority Leader Chuck Schumer (D-N.Y.) said yesterday that he's fighting "tooth and nail" for a paid family and medical leave program to remain in Democrats' roughly $2 trillion tax and spending package. The paid leave proposal, estimated to cost $205 billion over 10 years, would create four weeks of paid time off for almost all U.S. workers to care for an infant, or their own or a family member's serious medical issue. The House passed the measure last month as part of the package known as the Build Back Better Act. Paige Smith has more.
A proposal to federally tax e-cigarettes and other vaping products on par with traditional nicotine has been dropped from the tax-and-social spending bill Senate Democrats are negotiating, according to Senate Finance Chairman

Ron Wyden

(D-Ore.). The vape tax, part of the House-passed reconciliation package, was projected by the nonpartisan Joint Committee on Taxation to raise roughly $8.6 billion over 10 years. Wyden told reporters yesterday that the proposal had been dropped from discussions, shortly after the Wall Street Journal reported it was out, Colin Wilhelm reports.
Amtrak to Cut Service as Staff Shrinks on Shot Refusals: Amtrak expects it won't have enough workers to operate all its trains next month when it plans to enforce federal Covid-19 vaccine mandates. Amtrak will likely need to temporarily reduce frequency, particularly on its long-distance services, Amtrak President Stephen Gardner said in written testimony for a House Transportation and Infrastructure Committee hearing. About 94% of the rail company's workers have been fully vaccinated as of this week. Read more from Lillianna Byington.
Still, vaccination requirements could be one way companies can attract in-demand workers, according to survey released yesterday by the American Staffing Association. The poll found 61% of the adults surveyed said they would prefer to work for a company that required employees to be vaccinated against Covid-19, Bruce Rolfsen reports.
The Biden administration won't take action against existing federal contractors subject to a Covid-19 vaccine mandate as courts grapple with a nationwide block to the executive order, the Office of Management and Budget advised in updated guidance yesterday. The initial mandate was set to take effect Jan. 4, Erin Mulvaney reports.
The Coronavirus Pandemic
Pfizer Booster Gets FDA's Green Light for Older Teens: Older teens who previously got the Pfizer-BioNTech vaccine can receive a booster dose, the Food and Drug Administration said, making millions of more Americans eligible for extra protection as scientists race to study the rapidly spreading omicron variant. The emergency use authorization allows 16- and 17-year-olds to get a booster at least six months after their second Pfizer shot, the FDA said. The Centers for Disease Control and Prevention quickly followed up with a recommendation for the booster in the same age group. Read more from Fiona Rutherford.
Covid-19 hospitalizations are rising fast in many parts of the eastern U.S., two weeks after Americans gathered for the Thanksgiving holiday. In 12 states and the nation's capital, the seven-day average of admissions with Covid-19 has risen at least 50% from two weeks earlier, Health and Human Services Department data say. The areas with the largest percentage upticks in the period were Connecticut, New Jersey, Washington, D.C., Vermont and Rhode Island. Jonathan Levin has more.
New Hampshire is conducting a groundbreaking experiment in offering free at-home rapid Covid tests to all residents, and one outcome is already clear: Demand is sky-high. Within a day of the blanket offer on Nov. 29 to send eight tests via Amazon trucks to the home of any resident, all 800,000 had been snapped up. As the state leads the country in per-capita infections and hospitals overflow, officials are pledging another round. Read more from Carey Goldberg and Emma Court.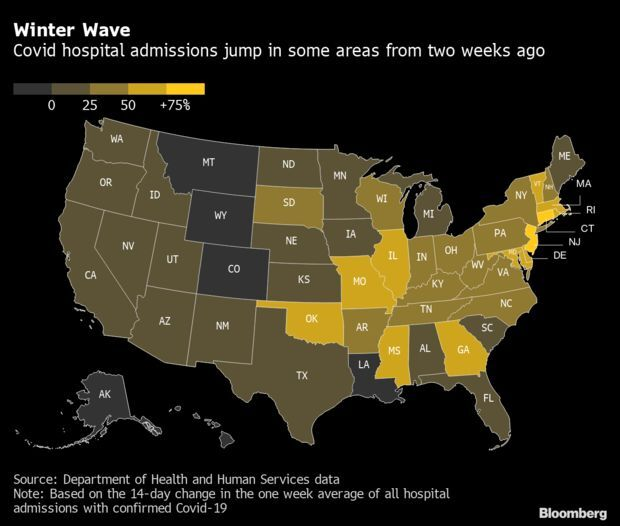 CMS Told Nursing Home Aides' Training Waiver Must End: Advocates for nursing home residents say it's past time for the Biden administration to reinstate mandatory federal training requirements for nursing aides who handle the bulk of direct patient care at the facilities. To ensure staffing at the onset of the pandemic, the Trump administration waived a rule that limited employment for temporary nursing aides to four months at Medicare- and Medicaid-certified facilities unless they finished state-approved training of at least 75 hours. Read more from Tony Pugh.
More Headlines:
What Else to Know Today
Longtime No. 2 at NIH Tapped to Serve as Acting Director: An NIH veteran and longtime second-in-command will take over as acting director of the agency on Dec. 20 as Francis S. Collins ends his lengthy tenure at the lead of the agency. Health and Human Services Secretary Xavier Becerra announced Lawrence A. Tabak's appointment as acting NIH director yesterday. It was largely expected as Tabak has served as principal deputy director—essentially second-in-command—at the National Institutes of Health since August 2010. Read more from Jeannie Baumann.
Researchers Eye HIV Vaccine With mRNA Tech: Scientists are applying the same messenger RNA technology used in Pfizer's and Moderna's Covid-19 vaccines to develop an experimental HIV vaccine—a goal that's eluded researchers for many decades. A paper published yesterday in the journal Nature Medicine indicated an experimental HIV vaccine showed promise in animal trials. Rhesus monkeys who received the shot and multiple boosters had a 79% lower risk of HIV infections compared with unvaccinated animals, the National Institute of Allergy and Infectious Diseases said in a statement. Jeannie Baumann has more.
'Forever Chemicals' Ban Targets Cookware, Carpet, Couches: The White House's ban on federal purchases of PFAS-containing products will focus on cookware, carpets and couches, according to the Office of Management and Budget's memo implementing Biden's sustainability executive order. At least one environmental group opposed to broad uses of PFAS, or per- or polyfluoroalkyl substances, said it found the administration's move encouraging. Some PFAS have been linked to cancer, liver damage, and other health effects. Read more from Bobby Magill.
But a senior Pentagon official told senators yesterday it'll take decades for the Department of Defense to remediate sites contaminated with PFAS due to limits on existing technology. "Based on what we know today, it will take years to fully define our nationwide cleanup challenges and probably decades before cleanup is complete," according to Richard G. Kidd, deputy assistant secretary for Environment & Energy Resilience. Read more from Pat Rizzuto.
Hospitals, Insurers Split Over Surprise Billing Restrictions: Health insurers and medical providers are sharply split over a Biden administration rule that lays out how they should resolve disputes over surprise bills. Hospitals and doctors say they will be hurt by the rule implementing legislation to crack down on surprise billing, but health insurers and employers argue it will prevent health-care price inflation. "It's really put a finger on the scale in favor of plans," said Amanda Hayes-Kibreab, a partner with law firm King & Spalding who represents major hospitals and providers. Read more from Sara Hansard.
Fraudulent Research to See 'Aggressive' DOJ Enforcement: Clinical trial fraud remains a high priority area for law enforcement, with more action expected in the coming months, a top Justice Department official said yesterday. "Our enforcement effort in this space has been aggressive," Arun G. Rao, who oversees the Department of Justice's Consumer Protection Branch, said at the Food and Drug Law Institute's enforcement, litigation and compliance conference. Rao named clinical trial fraud as one of four areas of focus for his branch, along with opioids, trial fraud, and FDA litigation. Jeannie Baumann has more.
FDA Clarifies Real-World Data Requirements: Manufacturers that file new drug applications must consider the reliability of data sources and consult with privacy experts when gathering evidence outside of traditional clinical trial settings, the FDA said in draft guidance. The document, which hasn't yet been finalized by the agency, includes the latest in a series of recommendations issued by the FDA as it works to help drug and biologic sponsors incorporate real-world data in drug applications seeking approval. Real-world data includes a patient's health status. Celine Castronuovo has more.
More Headlines:
To contact the reporter on this story: Brandon Lee in Washington at blee@bgov.com
To contact the editors responsible for this story: Zachary Sherwood at zsherwood@bgov.com; Giuseppe Macri at gmacri@bgov.com; Michaela Ross at mross@bgov.com
Stay informed with more news like this – from the largest team of reporters on Capitol Hill – subscribe to Bloomberg Government today. Learn more.