HEALTH CARE BRIEFING: Justices Signal Major Pullback on Abortion
Bloomberg Government subscribers get the stories like this first. Act now and gain unlimited access to everything you need to know. Learn more.
The U.S. Supreme Court's conservatives suggested they are poised to curb abortion rights and uphold Mississippi's ban on the procedure after 15 weeks of pregnancy, as the court tackled its most consequential reproductive-rights case in a generation.
In arguments yesterday, all six of the court's conservatives indicated they would let states start banning abortion far earlier than the court's precedents have previously permitted. Under a 1992 ruling, U.S. states can't impose significant obstacles before fetal viability, which the court signaled was around 23 or 24 weeks at the time.
"If it really is an issue about choice, why is 15 weeks not enough time?" Chief Justice John Roberts asked the lawyer challenging the Mississippi law on behalf of the state's lone abortion clinic. Two other key justices, Brett Kavanaugh and Amy Coney Barrett, suggested they might go further and overturn the landmark Roe v. Wade decision, which legalized abortion nationwide in 1973. Kavanaugh listed a series of famous cases, including decisions that outlawed school segregation and legalized gay marriage, in which the court overturned precedents.
"If we think that the prior precedents are seriously wrong," Kavanaugh floated yesterday, "why then doesn't the history of this court's practice with respect to those cases tell us that the right answer is actually a return to the position of neutrality and not stick with those precedents in the same way that all those others didn't?"
Even if the court doesn't explicitly undo Roe and the 1992 Planned Parenthood v. Casey ruling, a decision upholding Mississippi's law would have a far-reaching impact. It would give states new license to curb abortion access, guaranteeing tighter restrictions in much of the country, and invite a stream of follow-up cases over bans that apply earlier in pregnancy. Over 20 states have laws banning at least some pre-viability abortions, many of them currently being litigated in lower courts.
Should the Supreme Court explicitly overrule Roe, a dozen states—including Mississippi—have laws designed to automatically take effect and outlaw almost all abortions.
Liberal justices suggested a ruling gutting Roe and Casey would undermine the court's legitimacy. Justice Sonia Sotomayor said Mississippi lawmakers said they were motivated to pass tighter abortion restrictions, including a six-week ban in their state that isn't directly at issue in the case, thanks to Trump-era changes in the Supreme Court's membership. "Will this institution survive the stench that this creates in the public perception that the Constitution and its reading are just political acts?" Sotomayor said. "I don't see how it is possible." Read more from Greg Stohr.
Related: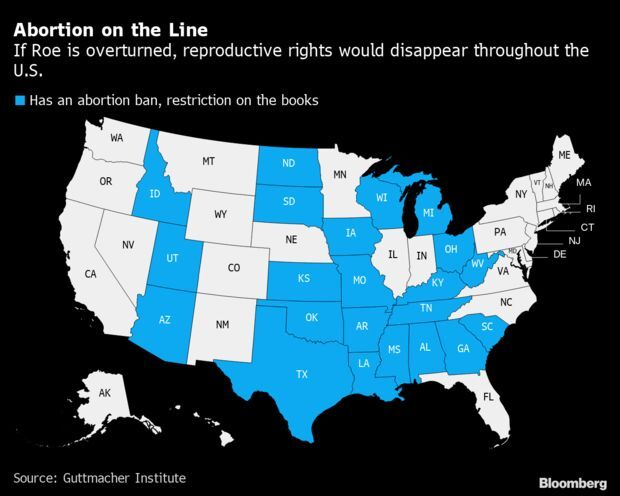 Happening on the Hill
Drug Official to Talk Overdose Deaths: The historic surge in drug overdose deaths in the U.S. happened as federal authorities were seizing record amounts of synthetic opioids, a White House drug control official will tell lawmakers today. Kemp L. Chester, a senior advisor in the Office of National Drug Control Policy, will make the case that Congress should permanently deem fentanyl-related substances, copies of the powerful opioid often found in other illicit drugs, among the most controlled drugs, Schedule I.
The move would help law enforcement more quickly prosecute drug traffickers, according to his testimony released ahead of a hearing on drug overdoses to be held by the House Energy and Commerce Committee. "Time is of the essence," Chester said in his prepared testimony. "Deliberative action must be taken, and although scheduling is not a panacea, it is absolutely necessary to control substances yet to be made and yet to be available in our communities."
Over 100,000 people died of drug overdoses between April 2020 and April 2021, the highest ever recorded, according to CDC data. In fiscal 2021, U.S. Customs and Border Protection seized more than twice the amount of illicit fentanyl (11,021 pounds) compared to fiscal year 2020 (4,791 pounds), Chester said in his testimony. U.S. Border Patrol is seeing hundreds of different kinds of synthetic fentanyl and using a temporary authority to deem them as illegal.
The White House wants lawmakers to flip that power: place all fentanyl-related substances on Schedule I and create a system to remove substances that are used for medical research or other lawful purposes, he said. The government's current authority to ban fentanyl-like substances expires Jan. 22, 2022. Some drug policy groups have called on lawmakers to permit this authority to expire and focus on decriminalization of drugs over law enforcement efforts, Alex Ruoff reports.
Research Groups Back Califf for FDA: More than 50 disease advocacy, research and provider organizations threw their support behind Robert Califf, Biden's choice to lead the Food and Drug Administration. The U.S. "is at a pivotal moment in terms of public health. The FDA and patients need the leadership that Dr. Califf will bring as soon as possible," their letter said, which Friends of Cancer Research posted yesterday, Jeannie Baumann reports.
The Senate Health, Education, Labor and Pensions Committee hasn't yet scheduled a nomination hearing for Califf. Chairwoman Patty Murray (D-Wash.) said she spoke with him earlier this week, while ranking Republican Richard Burr (R-N.C.) said he's meeting with Califf next week. Burr said he wants Califf to assure him that the FDA won't "go backwards," saying the pandemic has proven the agency can approve new drugs faster than it's done in previous years, Alex Ruoff reports.
If confirmed, Califf would take on his second stint leading the agency at a time that it's facing immense public scrutiny of over its decisions on coronavirus vaccines, treatments and tests, along with its controversial decision to approve Biogen's Alzheimer's disease drug Aduhelm. Despite his background as a prolific researcher, clinical trialist, Duke University cardiologist and the FDA's leader during the Obama administration, his ties to the drug industry already have led several Democrats to oppose his nomination.
Congress's Rifts Heighten Shutdown Risk as Money Runs Out: Lawmakers risk a shutdown after midnight Friday night as Senate conservatives threaten to stall consideration of a stopgap funding bill over objections to vaccine mandates, among other hang-ups. Negotiators struggled to agree on the length of a continuing resolution and on whether to attach a measure waiving automatic spending cuts to Medicare and other mandatory programs. House Democrats have yet to introduce a funding bill, with only a day and a half left before the government is set to shut down. Read more from Erik Wasson and Jack Fitzpatrick.
The Coronavirus Pandemic
Biden Grapples With Case Surge as Omicron Threat Rises: Five months after President Joe Biden declared the U.S. to be on the verge of defeating Covid-19, the virus threatens a winter resurgence across the country. Biden today will sketch out his latest plan to quell the pandemic that's dogged his presidency, a day after the first U.S. case of the omicron variant was identified in California. His latest measures include stricter testing requirements for air travelers arriving from abroad, extending a mask mandate and requiring private insurers to reimburse the cost of at-home tests.
Cases are already building in cold-weather states where Americans have begun to retreat indoors, where schools have been linked to outbreaks and where public health officials say they face widespread exhaustion with measures intended to prevent infections. Biden's response is further complicated by omicron, which features mutations scientists believe could make it more transmissible and virulent.
"There's a lot of pandemic fatigue. People are tired of thinking about Covid, they're tired of taking precautions," said Natasha Bagdasarian, Michigan's chief medical executive. "Having an even more transmissible variant potentially come on top of an existing surge is our worst-case scenario." The first confirmed U.S. case of the variant was detected in California, after a person who returned from South Africa Nov. 22 tested positive, the Centers for Disease Control and Prevention announced yesterday. Read more from Josh Wingrove.
More Omicron Headlines:
Biden Team Appeals Nationwide Halt to Health Worker Vaccine Rule: The Biden administration is appealing a federal court's decision to block its health-care worker vaccine mandate nationwide, except for in 10 states where the rule has already been halted. The U.S. District Court for the Western District of Louisiana granted the preliminary injunction on Tuesday, finding that the Medicare agency lacked the statutory authority to issue the rule. Read more from Allie Reed.
White House Offers Contractors Some Leeway on Shot Rule: Federal contractors won't lose the U.S. government's business if their workers are moving toward full vaccination, even if they've only received one dose of a Covid-19 vaccine by Biden's previous Jan. 4 deadline, a White House coronavirus official told Bloomberg Government. Agencies won't cut ties with contractors that are making a "good-faith effort" to push their employees toward full vaccination, the official said, adding that contractors should not immediately fire workers who have only received one shot by Jan. 4, 2022. Read more from Courtney Rozen.
More Headlines:
What Else to Know
Organ Transplant Feedback Sought by HHS: The Biden administration wants the public to weigh in with specific ideas to help advance and improve equity in the organ transplant and donation system. The Request for Information issued Monday by the Department of Health and Human Services through the Centers for Medicare & Medicaid Services seeks "feedback from those on organ transplant waitlists, transplant recipients, their families, living donors and those who sign up to be posthumous donors," a department statement said. Read more from Tony Pugh.
With assistance from Alex Ruoff and Jeannie Baumann
To contact the reporter on this story: Brandon Lee in Washington at blee@bgov.com
To contact the editors responsible for this story: Zachary Sherwood at zsherwood@bgov.com; Giuseppe Macri at gmacri@bgov.com; Michaela Ross at mross@bgov.com
Stay informed with more news like this – from the largest team of reporters on Capitol Hill – subscribe to Bloomberg Government today. Learn more.