HEALTH CARE BRIEFING: Insurers Urge Limits on 'Free' Covid Tests
Bloomberg Government subscribers get the stories like this first. Act now and gain unlimited access to everything you need to know. Learn more.
The Biden administration's plan to make rapid at-home Covid-19 tests effectively free for millions of Americans could skyrocket the cost of those tests, insurers and employers are warning the government.
Federal health officials are expected to release guidance this month outlining how private health plans need to reimburse their beneficiaries for the cost of at-home Covid tests. The policy is key to the administration's effort to tamp down the spread of the virus, now occurring at historic levels.
Health insurers and employer groups are asking the Department of Health and Human Services to place limits on what private health plans must pay for at-home Covid tests or limit where Americans can buy them.
The concern for consumer advocates is that some retailers or even diagnostic companies will raise the cost of the tests once they know insurers are footing the bill. "If insurers have to reimburse for at-home tests from anywhere at any price, they will be at the mercy of price gouging by unscrupulous sellers," says Larry Levitt, executive vice president for health policy at the Kaiser Family Foundation. "If insurers are left holding the bag, consumers will be shielded in part from price gouging, but they still face risks."
The White House in December said it wants the more than 150 million Americans with private health insurance to get reimbursed for at-home tests through the public health emergency. The departments of Health and Human Services, Labor, and Treasury are to issue guidance on the requirement by Jan. 15. Public insurance programs like Medicare weren't included in the plans, although diagnostic companies are now lobbying to include them.
Kristine Grow, spokeswoman for America's Health Insurance Plans, said her group warned HHS officials of its concerns around potential price gouging on rapid tests.
Two major retailers—Walmart and Kroger—recently raised the price of a popular at-home Covid-19 test after a deal with the White House to sell the kits at cost expired. The price of Abbott Laboratories' BinaxNOW tests at Walmart rose to $19.88 this week from $14. CVS Health and Walgreens have been charging $24 for the Binax tests. Read more from Alex Ruoff.
Illinois Gov. J.B. Pritzker (D) has asked the Biden administration for Covid-19 tests to help resolve the latest dispute between Chicago Public Schools and its teachers union, a disagreement that's led to the cancellation of classes for three straight days. "I spoke in the last couple of days with the White House to ask them for help for Chicago Public Schools," Pritzker said in an interview yesterday. "There is a challenge all over the nation in need of testing but I think there is an urgent need in Chicago because we want to get those kids back in school."
The Chicago Teachers Union on Tuesday voted to shift back to remote learning starting the following day amid demands that the city's schools boost measures to mitigate a Covid-19 surge driven by the omicron variant. Its requests include an expansion of testing amid a citywide positivity rate that has climbed to 23%. The union is asking Chicago Public Schools to expand testing because of low vaccination rates and the number of students who are signed up for weekly surveillance testing. Read more from Shruti Date Singh.
The Coronavirus Pandemic
Biden's Contractor Vaccine Mandate Remains Blocked: A federal appeals court in Cincinnati rejected Biden's request to lift a judge's order blocking enforcement of a Covid-19 vaccine mandate for federal contractors in three states while it weighs a legal challenge to the executive order. The U.S. Sixth Circuit rejected the administration's request for an emergency stay pausing the preliminary injunction issued by a federal judge in Kentucky, while it pursues an appeal. That lower court verdict applies only to businesses with federal contracts in Kentucky, Ohio, and Tennessee. Read more from Erin Mulvaney.
WHO Underscores Risk of Omicron: The omicron variant of the Covid-19 virus appears less serious than previous strains but it shouldn't be considered mild, the director-general of the World Health Organization said. Early studies have suggested that the new variant causes less severe disease and fewer hospitalizations, but it is so highly transmissable that infections worldwide are soaring to record levels putting intense strain on many health systems. The WHO said global cases rose a record 71% during the week to Jan. 2, from the week before, while the number of new deaths rose 10%. Andy Hoffman has more.
One-Third N.Y.C. Small Businesses Have Vaccination Requirements: The share of U.S. small businesses requiring employees to vaccinate has jumped in most big cities in recent weeks as the omicron variant spread across the country. In New York City, which put in place one of the strictest private-sector mandates of the country at the end of last month, a third of small firms are asking their workers to get the shots in the latest weekly U.S. Census Bureau Small Business Pulse Survey. That's up from 28% the week of Christmas and less than a quarter three months ago. Read more from Alex Tanzi.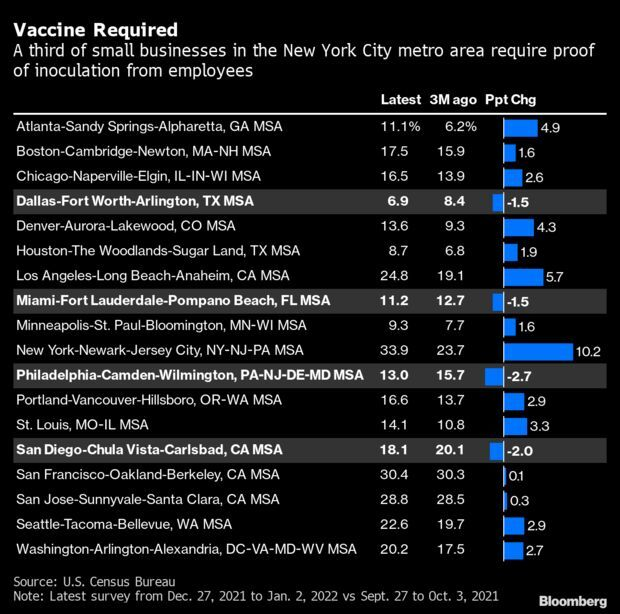 More Headlines:
What Else to Know Today
Lawsuits, Injunctions Await LGBTQ Health Protections: A Biden administration proposal to stop qualified health insurance plans from discriminating against gay and transgender people is the latest regulatory step in an ongoing battle over enacting broader health-care protections for LGBTQ people. A batch of legal challenges is already in play, including two court decisions that could block the Department of Health and Human Services from enforcing a more sweeping rule against certain medical providers before it's even been formally proposed. Read more from Lydia Wheeler.
Medicare Drug Plans Must Pass Savings to Consumers: Medicare beneficiaries would pay lower out-of-pocket costs for prescription drugs under a proposed rule by the Biden administration that would require Medicare prescription drug plans to pass on savings to consumers. More Medicare "Part D" drug plans are entering into "price concession" arrangements in which they pay reduced costs to some pharmacies for certain dispensed drugs. But these arrangements aren't publicly disclosed, and the drug plans don't pass the savings along to Medicare beneficiaries who purchase the drugs.
In late 2018, the Centers for Medicare & Medicaid Services sought comment on a policy to require Part D plans to "apply all price concessions they receive from network pharmacies at the point of sale, which would reduce beneficiary cost-sharing," according to a press release yesterday from the agency. "Having considered the comments, CMS is now proposing this policy, which would take effect January 1, 2023, to reduce beneficiaries' Medicare Part D out-of-pocket costs and improve price transparency and market competition in the Part D program." Read more from Tony Pugh.
More Headlines:
To contact the reporter on this story: Brandon Lee in Washington at blee@bgov.com
To contact the editors responsible for this story: Zachary Sherwood at zsherwood@bgov.com; Giuseppe Macri at gmacri@bgov.com; Michaela Ross at mross@bgov.com
Stay informed with more news like this – from the largest team of reporters on Capitol Hill – subscribe to Bloomberg Government today. Learn more.