HEALTH CARE BRIEFING: Infrastructure Gang Wants Pharma to Pay Up
Bloomberg Government subscribers get the stories like this first. Act now and gain unlimited access to everything you need to know. Learn more.
Senators negotiating a bipartisan infrastructure deal are looking to pay for some of their package by curbing unpopular practices by pharmaceutical middlemen and drugmakers, putting industry groups on high alert. A bipartisan group of senators is finalizing details of a $579 billion package that would upgrade highways, bridges, and water systems, among other provisions.
To offset some of the cost, the lawmakers are considering proposals to raise money from drug corporations and pharmacy benefit managers, which are third-party administrators that help employers and states oversee their pharmacy benefits, according to two health-care lobbyists and a Republican congressional aide familiar with the discussions.
The bipartisan group has also floated rescinding some unspent Covid-19 relief funds, including funding meant to help struggling hospitals and health-care providers. That proposal upset Sen. Ron Wyden (D-Ore.), chairman of the Finance Committee, who demanded the group better explain which offsets they want to use. "At a time when the virus in some places is coming back very hard, I don't think that's sound policy," Wyden said of using the provider relief funds.
The focus on health policy shows how drug pricing changes have become a go-to source of offsets for Congress's major domestic policy goals. Specifically, lawmakers want to demand refunds from drugmakers for some kinds of physician-administered single-use medicines, which the Congressional Budget Office has estimated could lower Medicare spending by $9 billion over a decade.
They also want to bar spread pricing, in which a pharmaceutical benefit manager charges an employer or Medicaid program more for a drug than they reimburse pharmacies for administering it. PBMs say that practice helps them avoid fluctuations in pharmacy costs. It wasn't immediately clear how much money such a ban would save. Read more from Alex Ruoff.
Latest on Negotiations: Lawmakers Narrow Infrastructure Gaps Without Reaching Deal
Happening on the Hill
Pandemic Lessons: The Senate Health, Education, Labor and Pensions Committee convenes for a hearing today to discuss the Covid-19 pandemic.
Veterans' Affairs Markups: The House Veterans' Affairs Committee plans to mark up several health-related bills today, while the Senate Veterans' Affairs Committee meets to mark up its own set of bills.
House Works to Wrap Minibus Consideration: House members will continue voting on amendments in an effort to complete consideration today of Democrats' seven-bill spending package (H.R. 4502), Jack Fitzpatrick reports. House members yesterday adopted by voice vote a group of amendments including:
Meanwhile, an $11 billion research and development spending plan proposed by the House would give non-defense research and development the largest increase since the Space Race, according to a new report by the American Association for the Advancement of Science analyzing the House's fiscal 2022 spending minibus. Matt Hourihan, the director of R&D's budget and policy program for AAAS, ran the new analysis ahead of this week's floor votes.
The scientific society estimates total R&D funding, including defense, amounts to $169.3 billion, an increase of $11.1 billion or 7% above fiscal 2021 estimated levels. Most of that hike would go toward research—$8.4 billion or 9.5%—compared to development at $2.3 billion or 3.5%. Research and development on health would get the largest increase, driven primarily by the $7 billion that House appropriators have pitched for the National Institutes of Health, Jeannie Baumann reports. Read AAAS's full analysis here.
HHS Program Would Prepare for 'Disease X' Under Bill: The U.S. could have vaccines and other medical countermeasures in place for future, unknown outbreaks under legislation expected to be introduced next week. Sen. Tammy Baldwin (D-Wis.) said yesterday that she plans to unveil the Disease X Act to stand up a program in the Biomedical Advanced Research and Development Authority that seeks to ensure the U.S. responds faster to the next pandemic. Read more from Jeannie Baumann.
Eviction Ban Lapse, Delta Surge Spur Calls for Action: Advocates said Congress should pass legislation to help millions of U.S. households that face eviction this weekend—or risk exacerbating a surge in Covid-19 cases nationwide. The CDC's pandemic-era moratorium on evictions is set to expire at the end of this month. Housing groups say 6.5 million households face getting kicked out of their homes Read more from Nicole Sadek.
Group Urges HHS to Allow Canadian Drug Imports: A bipartisan group of senators including Chuck Grassley (R-Iowa) and Amy Klobuchar (D-Minn.) called on HHS to support policies that will permit Americans to import some prescription drugs from Canada. "Expanding access to safe and affordable drugs in Canada can make a difference by providing direct relief" to millions of Americans, they said in their letter to HHS Secretary Xavier Becerra.
Scalise Talks Up Vaccines as GOP Remains Divided: House Minority Whip Steve Scalise (R-La.) promoted the Covid-19 vaccines at a hearing yesterday, praising former President Donald Trump for Operation Warp Speed, just a day after several GOP lawmakers offered measures prohibiting federal funding for schools with vaccination mandates. Together, the amendments and statements contribute to a Republican trend of mixed messaging on the issue of vaccinations, Nicole Sadek reports.
The Coronavirus Pandemic
Biden's 'Summer of Joy' Turns Grim: President Joe Biden promised a "summer of joy" on July 4 as he declared America's independence from Covid-19. Three weeks later that sense of victory is evaporating in the face of a resurgent pandemic. The U.S. now faces a surge in cases fueled by vaccine holdouts and the highly transmissible delta variant, prompting the federal government and companies yesterday to weigh mandatory vaccinations of workers and a return to widespread mask wearing. That reversal of fortune could bring back restrictions many Americans had hoped were gone for good — a bitter setback for Biden, who has counted on defeating the pandemic as a cornerstone of the nation's economic recovery. Read more from Jordan Fabian and Jennifer Epstein.
CDC Tells Some Vaccinated People to Mask Up: Faced with a surge in Covid-19 cases driven by the fast-spreading delta variant, U.S. health officials said fully vaccinated people should go back to wearing masks indoors in places where infections are soaring. CDC Director Rochelle Walensky told reporters yesterday the decision to re-adopt masking in areas with large outbreaks had not been taken lightly, and acknowledged that it wouldn't be "a welcome piece of news" for vaccinated people.
The CDC also recommends that teachers, staff, students and visitors to K-12 schools wear masks indoors regardless of vaccination status. Walensky said that recent data gathered by the agency suggests that some vaccinated people infected with the delta variant can transmit the virus to others. Fiona Rutherford has more.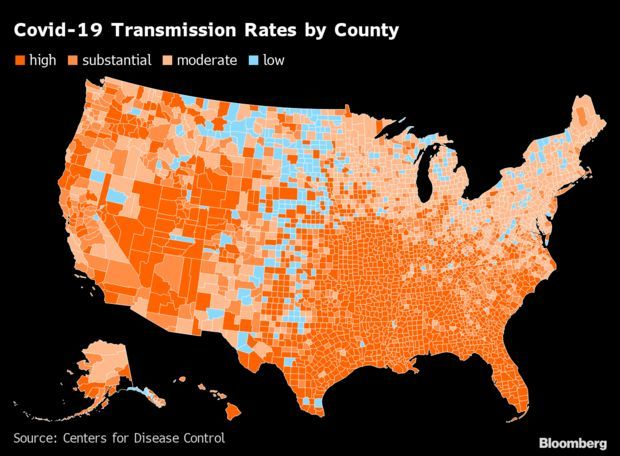 House's Top Doctor Tells Lawmakers They Must Again Don Masks: Congress' doctor last night reimposed a mask-wearing requirement for lawmakers and all others while they are on the House floor, and in hallways and offices. Attending Physician Brian Monahan's memo, which did refer not to the Senate, says members will not be required to wear masks when they are alone, or when they are recognized to speak on the House floor. But failure to wear a mask in the Hall of the House in other circumstances will be subject to fines, he writes, as was the case under the previous rule. Read more from Billy House.
Calls for Covid-19 Jab Mandates in Health Jobs Add to Staffing Woes: Staffing concerns are thwarting nursing homes—the hub of Covid-19 spread—from mandating vaccines, illustrating the difficulty of ensuring widespread jabs everywhere.
Questions are mounting daily about the legality and practicality of requiring people to get vaccinated—whether it's to get on an airplane, attend a packed indoor concert, go to college, or remain employed. The careful messaging from representatives across the health industry, with a few notable holdouts, shows that mandates are problematic in sectors with staffing woes but may be the only answer if people don't get the shot voluntarily. Read more from Tony Pugh, Allie Reed, and Lesley Torres.
U.S. Mask Supply Chain Still Vulnerable: Even as the delta variant fuels a new wave of the pandemic in the U.S., some domestic manufacturers of N95s and surgical masks are struggling to stay in business. Several companies have stopped the production of masks amid declining sales as people got vaccinated and the flow of cheaper foreign-made masks resumed. The American Mask Manufacturers Association, which represents smaller manufacturers, estimates 5,000 of its members' workers have been laid off.
The mask makers' plight is part of a larger problem the U.S. government faces: ensuring a reliable, domestic supply of protective gear for the next crisis. At the beginning of the pandemic, imports of personal protective equipment from overseas—which made up almost all of the PPE supply in the U.S.—were disrupted, and doctors and nurses often had to wear the same masks for weeks. Production is keeping up with domestic demand so far. But factory closures could tip the scales back. Read more from Shira Stein.
More Headlines:
What Else to Know Today
Biden Sway in Arkansas Medicaid Plan: An Arkansas plan to revamp its Medicaid program without strict work requirements and to address enrollees' social needs signals that the Biden administration's health-care policy priorities are making an impact in red states. Arkansas was the first state to implement work requirements as a condition of Medicaid coverage and has been their most vigorous advocate, taking the legal battle over the rules all the way to the Supreme Court. Christopher Brown has more.
LGBT Advocates Ask Court to Reopen ACA Bias Suit: A lawsuit challenging the Trump administration's rewrite of an Obamacare regulation clarifying that the law's anti-discrimination provision applies to LGBTQ people must proceed, health-care providers told a federal court. Whitman-Walker Clinic and other providers asked the U.S. District Court for the District of Columbia to lift a stay of proceedings the court entered in February to give Biden's White House time to review the rule. Mary Anne Pazanowski has more.
More Headlines:
With assistance from Nicole Sadek and Jeannie Baumann
To contact the reporter on this story: Brandon Lee in Washington at blee@bgov.com
To contact the editors responsible for this story: Zachary Sherwood at zsherwood@bgov.com; Giuseppe Macri at gmacri@bgov.com; Michaela Ross at mross@bgov.com
Stay informed with more news like this – from the largest team of reporters on Capitol Hill – subscribe to Bloomberg Government today. Learn more.