HEALTH CARE BRIEFING: House to Vote on Obamacare Subsidy Boost
Bloomberg Government subscribers get the stories like this first. Act now and gain unlimited access to everything you need to know. Learn more.
The House will vote today on legislation to boost Obamacare's subsidies, push more states to expand their Medicaid programs and direct the government to demand lower prices on certain drugs.
The bill (H.R. 1425) is largely meant to indicate to voters where Democrats stand on health-care issues, focusing the attention on supporting the Affordable Care Act, while the country combats the ongoing spread of the coronavirus and as the Obama administration's signature health law is attacked in the courts by Republican attorneys general.
"In the same way the Trump administration failed in its response to the coronavirus, Republicans continue to undermine the country's health and well-being by seeking to strip lifesaving pre-existing condition protections from millions," Senate Minority Leader Chuck Schumer (D-N.Y.) said Friday.
With no significant public outcry against the legislation among Democrats, the bill is expected to pass largely along party lines. Two Republicans, Reps. Brian Fitzpatrick (R-Pa) and Jaime Herrera Beutler (R-Wash.), however, both voted for passage of the two previous ACA-expanding-and-drug-pricing bills that came to the House floor (H.R. 987; H.R. 3) this Congress.
Republican leaders in the Senate have largely ignored previous ACA-bolstering bills and aren't expected to take up this legislation either.
The legislation would expand the ACA's tax credits, pressure states to expand Medicaid programs with the promise of more federal funds, and cap what any person may pay for coverage premiums at 8.5% of their income. It would also let immigrants living in the U.S. under the Deferred Action for Childhood Arrivals program get access to subsidized insurance plans, Alex Ruoff reports.
Trump Tweets at Odds With Anti-ACA Efforts: Meanwhile, President Donald Trump has again tied himself and congressional Republicans to getting rid of Obamacare just months before the election and as voters are receiving daily reminders about their own health care vulnerabilities to Covid-19. A legal brief his administration filed in support of voiding the Affordable Care Act last week—and its protections for patients with pre-existing conditions—underscores how big a vow his campaign is making on energizing his enthusiastic base instead of reaching out to wavering voters who may decide the presidential election.
Trump on Saturday took to Twitter with an diametrically opposite message, saying he would "ALWAYS, ALWAYS, ALWAYS" protect people with pre-existing health conditions. Trump also argued the ACA could be replaced with a better alternative, though the White House and Republicans have no detailed plan. Read more from Mike Dorning and Steven T. Dennis.
More Headlines:
Congressional Virus Efforts
Cancellation of NIH Grant Gets Scrutiny: The termination of an NIH research grant that directed some of its dollars toward coronavirus research in Wuhan, China has raised questions from leaders on the House Energy and Commerce and Science, Space, and Technology panels. Given the research's ability to inform the public about coronavirus transmission, "it is deeply concerning that it may have been canceled for political reasons in the midst of the current pandemic," Reps. Eddie Bernice Johnson (D-Texas), Frank Pallone Jr. (D-N.J.), Diana DeGette (D-Colo.), and Bill Foster (D-Ill.) told Azar on Friday in a letter provided to Bloomberg Law.
The letter follows the confirmation by Anthony Fauci that the NIH canceled a grant to the EcoHealth Alliance because "the NIH was told to cancel it" during an Energy and Commerce hearing on Covid-19. Fauci, the director of the National Institute of Allergy and Infectious Diseases, later confirmed that direction came from the White House to Politico. Trump vowed in April that "we will end that grant very quickly," two weeks before EcoHealth Alliance announced the termination.
The announcement raised flags from groups like the American Association for the Advancement of Science, Research!America, and the American Society for Biochemistry and Molecular Biology, Jeannie Baumann reports.
Lawmakers Offer Telehealth Expansion: Reps. Mikie Sherrill (D-N.J.) and Kevin Hern (R-Okla.) introduced a bipartisan measure on Friday that would "build on telehealth's proven success during the COVID-19 pandemic by codifying Medicare reimbursements for telehealth services," according to a statement. The bill, titled the "Protect Telehealth Access Act," would eliminate a requirement that someone receiving telehealth services must be located in a rural area or health professional shortage area, and that the person may only get telehealth services at home in limited circumstances.
NIH, CDC Leaders to Testify: The directors of the National Institutes of Health and the Centers for Disease Control and Prevention will testify before a Senate Appropriations subcommittee Thursday on the progress of a coronavirus vaccine, according to a committee announcement. NIH Director Francis Collins and CDC Director Robert Redfield will appear, along with Gary Disbrow, acting head of the Biomedical Advanced Research and Development Authority at HHS, Teaganne Finn reports.
Mental Health During Pandemic: The House Energy and Commerce Health Subcommittee will discuss anxiety, stress, and legislation to improve mental health during the Covid-19 pandemic tomorrow.
International Pandemic Response: The Senate Foreign Relations Committee will examine Covid-19 and the country's international pandemic response and prevention tomorrow.
Virus Response Supplies: The House Select Subcommittee on the Coronavirus Crisis plans a hearing on Thursday on White House efforts to produce, stockpile, and distribute critical supplies.
Virus in U.S. Territories: The Senate Energy and Natural Resources Committee holds a hearing tomorrow on the effects of Covid-19 on U.S. territories.
Native Communities' Virus Response: The Senate Indian Affairs Committee holds an oversight hearing on Wednesday on native communities' Covid-19 response and to discuss S. 3650, to deem employees of urban Indian organizations as part of the Public Health Service.
Testing & Treatment
Fatality Picture Obscured by Lagging Indicator: The Trump administration is highlighting an apparent disconnect between surging Covid-19 cases and falling mortality as proof that the pandemic is under control. "Fatalities are declining all across the country," Vice President Mike Pence said at a Coronavirus Task Force briefing Friday. He called the rise in cases in people under 35 "very encouraging news," saying they aren't as likely to die from Covid-19. However, the mismatch seems to be more an anomaly caused by quirks in how deaths data is collected and reported than a sign that the virus is becoming less lethal or easier to treat.
Nationally, the death toll is rising by around 600 to 700 a day, even as record numbers of new cases were diagnosed this week. That's far below the height of the crisis when more than 2,500 deaths were reported some days. Medical experts say it is too soon to know for sure that deaths are still declining.
That disparity has health experts and the public asking questions: Is it because those getting sick now are younger than those who got sick in March and April? Are we getting smarter about the use of ventilators? Are new drugs like Gilead's remdesivir helping? Are cases milder due to warm weather? "The uncertainty right now is as high as it has ever been since the very scary early days in mid-March," said James Scott, a professor of data science at the University of Texas in Austin who's a part of a modeling team that predicts deaths will tick up in July. Read more from Robert Langreth, Emma Court and Michelle Cortez.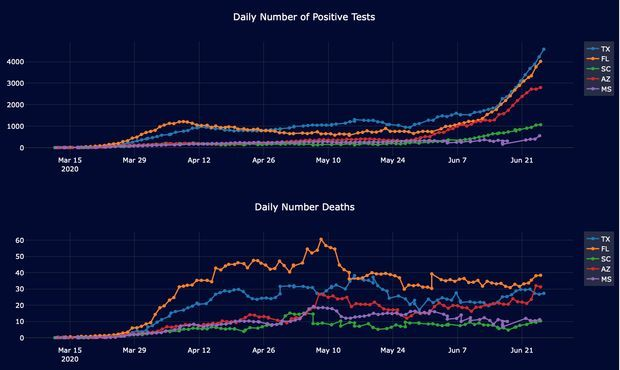 Virus Surge Said Likely to Continue for Weeks: A surge in cases in recent days is likely to continue for weeks after states moved too soon to reopen their economies, two of the leading U.S. public health experts said yesterday. The warnings by Tom Frieden, director of the CDC from 2009 to 2017, and Scott Gottlieb, former commissioner of the FDA, came as a poll showed confidence in how the U.S. is dealing with Covid-19 has fallen. Read more from Shawn Donnan.
Texas Governor Hobbled Houston Leaders, Losing Control of Virus: The second-most-populous state faces the prospect of mortality like that seen in New York three months ago. On Friday, the top official in Harris County, which includes Houston, declared an emergency, and thousands of cell phones buzzed with warnings to shelter in place. "Today, we find ourselves careening toward a catastrophic and unsustainable situation," Lina Hidalgo said during a media briefing. "There is a severe and uncontrolled outbreak of Covid-19. Our hospitals are using 100% of their base capacity now, and are having to start relying on surge capacity." Read more from Bloomberg News.
Related: Houston Official Leading Covid-19 Fight Is in Self-Quarantine
More Headlines:
What Else to Know
Americans Catching Up on Medical Appointments: Americans are beginning to catch up on missed medical and dental appointments as states ease up their social distancing restrictions, according to a new Kaiser Family Foundation poll. Nearly 80% of those polled say they either already made up or will soon make a missed appointment canceled as a result of the spread of the novel coronavirus, according to the poll, Alex Ruoff reports.
Hospitals and doctors offices around the country are trying to reopen and make up the lost revenue for shutting their practices for months, even as coronavirus cases rise in about half of all states. Read the survey results here.
More Headlines:
To contact the reporters on this story: Alex Ruoff in Washington at aruoff@bgov.com; Jeannie Baumann in Washington at jbaumann@bloomberglaw.com; Brandon Lee in Washington at blee@bgov.com
To contact the editors responsible for this story: Giuseppe Macri at gmacri@bgov.com; Zachary Sherwood at zsherwood@bgov.com; Michaela Ross at mross@bgov.com
Stay informed with more news like this – from the largest team of reporters on Capitol Hill – subscribe to Bloomberg Government today. Learn more.