HEALTH CARE BRIEFING: House Targets Mental Health Coverage Gaps
Bloomberg Government subscribers get the stories like this first. Act now and gain unlimited access to everything you need to know. Learn more.
The House is set to vote on two measures in coming weeks that would require health insurers to report more data on how they cover mental health and drug addiction treatment services.
The provisions, one of which was tucked into a fiscal 2021 spending bill, would force health insurance companies to publish reports on their compliance with federal mental health parity rules and on how they limit certain mental health benefits.
Together, the measures seek to align coverage of mental health and substance abuse treatment services with those of other health services, a longtime goal of mental health advocates. "Mental health is just as important as physical health," Rep. Fred Upton (R-Mich.) said yesterday.
Insurers must cover mental health services to the same extent they cover other services under the 2008 "Mental Health Parity and Addiction Equity Act" (Public Law 110–343). However, behavioral health providers were more than five times as likely as other providers to be outside their patient's insurance network and were paid about half as much as their peers for comparable services, according to a 2019 Milliman study.
"We all know the mental health system is like a stepchild in our overall health care system," Rep. Anna Eshoo (D-Calif.), chairwoman of the health panel of the Energy and Commerce Committee, said. By publishing more data on insurers' compliance with federal laws, members say they're hoping states can more easily force insurers to fix these issues.
The House Energy and Commerce Committee marked up a bill (H.R. 7539) by Joe Kennedy (D-Mass.) and Gus Bilirakis (R-Fla.) to force health plans to make available studies of how they're applying non-quantitative treatment limits to mental health and substance use disorder services.
These analyses would help federal and state regulators enforce existing parity laws, Kennedy said. The bill would also "name and shame" insurers that aren't fully covering mental health services for their beneficiaries, Kennedy said.
Similar provisions are included in the fiscal 2021 Labor-HHS-Education spending measure that the House Appropriations Committee approved on Monday. That bill would require health insurers to release compliance reports related to parity requirements. Read more from Alex Ruoff.
Happening on the Hill
E&C Marks Up Stockpile Bill: The Energy and Commerce Committee yesterday also considered more than a dozen other health bills, including one (H.R. 7574) to overhaul the Strategic National Stockpile. The bill, backed by Reps. Elissa Slotkin (D-Mich.) and Susan Brooks (R-Ind.), was approved by the panel and would require the government to report monthly to Congress on requests for supplies from the stockpile and let the government sell expiring products. It would also increase authorized annual spending on the stockpile to $705 million, from $610 million, for the next three years, Ruoff reports.
U.S. Contracts for Covid-19 Supplies Probed: House Select Subcommittee on the Coronavirus Crisis Democrats are launching an investigation into contracts entered into by the White House to obtain personal protective equipment and testing supplies, according to a statement yesterday. Democrats sent letters to companies they say were given questionable contracts: including Zach Fuentes, AvMEDICAL, and Phlow Corporation. Several reports appear to suggest "federal agencies awarded contracts to businesses that had political connections to the Trump administration," they said. Read more from Kasia Klimasinska.
Trump Officials Assailed Over Deaths of Migrant Children: House Homeland Security Committee Democrats yesterday seized on the deaths of three children detained at the U.S.-Mexico border in accusing Trump administration officials of failing to protect the health of migrants in custody. Committee members cited a U.S. Government Accountability Office report released ahead of the hearing that they said shows Customs and Border Protection officials misspent emergency funds requested for the care of migrants, using some of the money to instead buy all-terrain vehicles, motorcycles and dog food. Read more from Skylar Woodhouse.
Meanwhile, House Homeland Security Chairman Bennie Thompson (D-Miss.) and Rep. Kathleen Rice (D-N.Y.), chairwoman of the Border Security, Facilitation, and Operations Subcommittee, yesterday urged Department of Homeland Security officials to reverse plans to deploy hundreds of personnel to the southwest border during the pandemic. Covid-19 has killed at least seven Customs and Border Protection personnel and sickened 1,355, the lawmakers said. The move would "unnecessarily put the lives of federal employees at risk," they said, noting some hospitals in Texas along the border are nearing capacity, Shaun Courtney reports.
OSHA Virus Safety Standards Sought: A group of 10 House Republicans led by Rep. David McKinley (R-W.Va.) wants Minority Leader Kevin McCarthy (R-Calif.) to press for language in the next pandemic aid legislation to direct the Occupational Safety and Health Administration to issue an emergency temporary standard covering virus transmission in the workplace. OHSA leaders have resisted calls from congressional Democrats and labor unions to take such a step. Read more from Jaclyn Diaz and Fatima Hussein.
Medical Care for Firefighters' PFAS Exposure Pushed: Any firefighter exposed to "forever chemicals" in the foam used to extinguish fires on military bases who becomes ill would get government-paid medical care under a bill to be unveiled in Congress. The ''Protecting Firefighters from PFAS Act" that Rep. Dan Kildee (D-Mich.) will introduce would fill a gap that may leave civilian firefighters without health care, Kildee said to Bloomberg Law. Read more from Pat Rizzuto.
More on the Pandemic
Hospitals to Send Covid Data to HHS, Not CDC: Hospitals will redirect their Covid 19-related data to the Health and Human Services Department, rather than submitting it to the Centers for Disease Control and Prevention, a move the agencies said was aimed to improve information gathering and resource allocation. "It became clear we needed a central way to make data available," said HHS Chief Information Officer Jose Arrieta. The goal is to better "allocate resources in real time," he said.
The change was announced in new guidance posted on HHS's website last week but not widely noticed until The New York Times reported on it the day before it took effect. The change raised questions from skeptics about whether it's meant to obscure bad news about how the U.S. is tackling the pandemic or to undercut the CDC, which has faced frequent criticism from President Donald Trump. Read more from Olivia Raimonde.
Fewer Covid ICU Deaths Suggest Care Is Improving: Fewer Covid-19 patients are dying in intensive-care units, researchers found, indicating that hospitals are getting better at treating severe forms of the pandemic disease. Overall mortality of Covid-19 patients treated in ICUs had fallen to just under 42% at the end of May from almost 60% in March. That's according to the first systematic analysis of two dozen studies involving more than 10,000 patients in Asia, Europe and North America. Read more from Jason Gale.
Overdoses Deaths Hit Record Before Covid-19: The U.S. experienced a record number of drug overdose deaths last year, according to new data, and addiction specialists say the coronavirus pandemic will only worsen the crisis. There were 70,980 deaths from overdoses reported in 2019, which tops the previous yearly record of 70,699 deaths in 2017 in the U.S., according to data from the Centers for Disease Control and Prevention published yesterday. Alex Ruoff has more.
Mandatory Mask Use Could Have Saved 40,000 Lives, Study Says: It's clear by now that face masks save lives by hindering the spread of Covid-19. But some people continue to argue that mask mandates are intrusive and unnecessary because most people can be counted on to do the right thing for their own and their families' safety. In fact, mandates are essential, a new study finds. Using statistical analysis, it concludes that 40,000 lives would have been saved in two months if a national mask mandate for employees of public-facing businesses had gone into effect on April 1 and had been strictly obeyed. The analysis was for the months of April and May; presumably even more lives would have been saved if a mandate had been in place up to the present. Read more from Peter Coy.
Masks, Gowns in Short Supply: American health-care workers still face dangerous shortages of personal protective equipment as the uncontrolled spread of Covid-19 fills hospitals across the nation and threatens patients and workers in long-term care facilities.
Dayna James, an emergency department nurse in Miami, said some days she's had to clean patient rooms with hand sanitizer because no disinfectant wipes were available. Other days she was rationed to three Clorox wipes per room. Like many colleagues around the U.S., she gets a single N95 mask per shift, which means she may bring a potentially contaminated mask into a new patient's room, ignoring longtime standard practice. Read more from John Tozzi.
More Headlines:
What Else to Know Today
Labeling Racism Health Crisis Sparks Accountability Calls: Patient advocates say that a wave of local government resolutions declaring racism a public health crisis could be a breakthrough moment in nationwide efforts to improve health outcomes for communities of color. Over 60 cities and localities—including Los Angeles, Denver, Boston, Pittsburgh, and Cleveland—have passed declarations since last year, according to the American Public Health Association. The efforts picked up steam following the disparate impact of Covid-19 on communities of color and the police killing of George Floyd.
Advocates say the growing focus on race and health also validates the work of a handful of local governments that tried to address health inequities and racial disparities years ago. "It's a way of saying to the public, 'Hold us accountable,'" said Camara Jones, an epidemiologist in Atlanta and a former APHA president. Read more from Tony Pugh.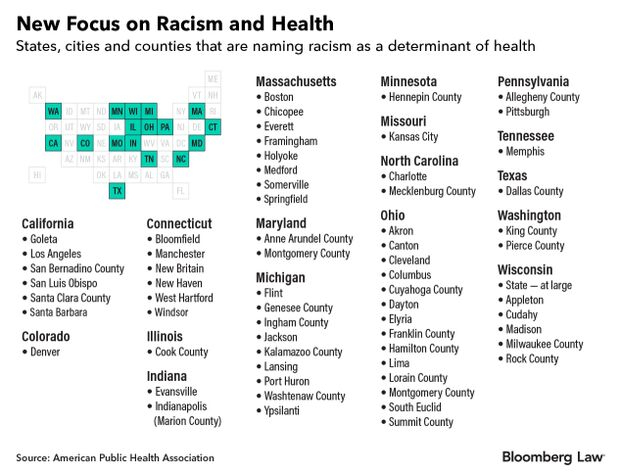 Cut Back on Alcohol, Sugar, Group Warns: Most Americans have at least one chronic diet-related health condition, from obesity to heart disease and certain cancers, an advisory panel told U.S. agencies in a report. The Dietary Guidelines Advisory Committee proposed federal agencies endorse cutbacks on alcohol to just one drink on the days when alcohol is consumed. Other recommendations included cutting consumption of added sugar from 10% of caloric intake to less than 6%. Read more from Megan U. Boyanton.
More Headlines:
To contact the reporter on this story: Brandon Lee in Washington at blee@bgov.com
To contact the editors responsible for this story: Giuseppe Macri at gmacri@bgov.com; Zachary Sherwood at zsherwood@bgov.com; Michaela Ross at mross@bgov.com
Stay informed with more news like this – from the largest team of reporters on Capitol Hill – subscribe to Bloomberg Government today. Learn more.