HEALTH CARE BRIEFING: House Spending Bill Targets Public Health
Bloomberg Government subscribers get the stories like this first. Act now and gain unlimited access to everything you need to know. Learn more.
The federal health agencies tasked with fighting Covid-19 would get $96.4 billion for the upcoming year under a House bill released yesterday—a $1.5 billion bump from the fiscal 2020 enacted level.
The House Appropriations Labor-HHS-Education Subcommittee is scheduled to mark up the bill later today.
The proposal marks the beginning of Congress's deliberations over how to fund the agency most directly responsible for responding to the pandemic. The HHS has already been tasked with delivering billions of dollars in aid to hospitals and clinics, while the Food and Drug Administration has combed through thousands of applications for vaccines, treatments, and tests.
About $9 billion would go toward public health and emergency response initiatives like creating a campaign to boost flu vaccinations and offer more resources for states to respond to health emergencies. Initiatives to boost U.S.-based drug manufacturing and vaccine development would get $4.5 billion. The HHS's Biomedical Advanced Research and Development Authority would be directed to use $500 million of that money for antibacterial research and development and another $500 million for "next generation vaccine manufacturing facility enhancements."
The funding bill highlights where the Democratic-led House appropriators see public health initiatives needing improvement. About $400 million would go toward modernizing public health data collection, which the Covid-19 pandemic has shown is patchy and can miss important demographic details.
The pandemic also shined a spotlight on the dearth of supplies in the Strategic National Stockpile. The spending bill would require the HHS to give weekly reports to lawmakers about emergency equipment in the stockpile and how it's distributed until the Covid-19 public health emergency declaration lifts. So far Congress has struggled to get details about supplies.
House lawmakers advanced the FDA's funding bill yesterday. The agency would get $3.2 billion in discretionary funding, a $40.8 million bump from the 2020 budget. Total funding for the FDA, including the fees it collects from the companies it regulates, is about $6 billion.
Read more from Jacquie Lee and Shira Stein.
NIH Wants $9 Billion to Research Lasting Impact: The NIH is asking for about $8.8 billion to fund new Covid-19 projects that look beyond vaccines and other treatments and into the broader societal impacts of the disease. "We have been fortunate in a couple of previous supplements to receive some funds," National Institutes of Health chief Francis Collins said. "But there are a lot of other things that we at NIH have been trying to see if we can stand up and work on" that will be difficult "without additional support."
The agency has mostly focused on therapies and vaccines in responding to the illness. But Collins and other agency directors want additional funding to take a broader look at the longer-term effects of the worst pandemic in a century. The $8.8 billion would represent an extra 20% of the NIH's annual $41 billion budget and could be meted out in annual allotments or in supplemental spending bills.
Collins told Bloomberg Law that specific research efforts include the behavioral and economic consequences of Americans sheltering at home. "That clearly is a major consequence of Covid-19. There has not been a systematic effort to try to collect that kind of information in order to inform us about this in the future or even as this process is going forward," he said. Jeannie Baumann has more.
Vaccine Research & Treatment Efforts
McConnell Sees More Aid This Month: Senate Majority Leader Mitch McConnell (R-Ky.) yesterday predicted Congress will pass one final coronavirus rescue package this month while appealing to everyone to urge people in public to wear masks to control the spread of Covid-19. "This is not over. We are seeing a resurgence in a lot of states," McConnell said in Kentucky. "I think the country needs one last boost."
McConnell said he's "pretty sure" that a bill will come together in the next couple of weeks. He said it will be crafted in his office with consultation from the Trump administration and then negotiated with Democrats, who backed a $3.5 trillion package (H.R. 6800) approved by the House in May. Senate Republicans have dismissed the plan and are discussing a package of up to $1 trillion in total spending.
Whatever the final number, McConnell said it'll be harder to get the unanimous Senate support that came with the last stimulus bill, the $2.2 trillion CARES Act (Public Law 116-136). "The atmosphere has become a bit more political than it was in March," he said.
McConnell reiterated his insistence that the bill must include liability protections for businesses, schools and others that reopen. He said more broadly that he's focused on measures to help open up schools, and boost jobs and health care. That may include additional payments to individuals, McConnell said. He added that Americans hit the hardest make about $40,000 or less, with many working in the hospitality industry.
He said Congress will be looking at additional state and local aid, but cautioned that the soaring federal debt is a reason the next bill must be the last one. Read more from Steven T. Dennis.
Vaccine May Offer Only 'Finite' Protection: Any vaccine developed to ward off the novel coronavirus would likely be limited in how long it would shield against infection, top U.S. infectious disease expert Anthony Fauci said yesterday. "You can assume that we'll get protection at least to take us through this cycle," Fauci, director of the National Institute of Allergy and Infectious Diseases, said during a video event hosted by the National Institutes of Health. A shot to protect against Covid-19 won't work like the measles vaccine, which lasts throughout a person's lifetime, Fauci said. Read more from Riley Griffin.
Doctors Cashing Telehealth Checks Run Fraud Risk: Doctors who have gotten used to virtual patient checkups should be wary of dynamic telehealth rules that could open the door for fraud when the Covid-19 pandemic subsides, attorneys warn. While federal regulators have waived some telehealth rules to streamline doctors' ability to treat patients without the threat of spreading Covid-19, those tweaks are only temporary. Doctors billing Medicare and Medicaid for telehealth visits could violate fraud laws if they continue to rely on those waivers when the crisis is over. Read more from Ayanna Alexander.
U.S. Data Confirm Racial Disparities, Times Reports: Black and Latino people are being harmed by the coronavirus at higher rates than Whites in the U.S., the New York Times reports, citing federal data made available after the newspaper sued the Centers for Disease Control and Prevention for the information. Latino and Black Americans have been three times as likely to be infected and twice as likely to die of the illness based on the data, which offer detailed characteristics of 640,000 infections detected in nearly 1,000 U.S. counties, the Times reported.
Trump Supporters Likelier to Feel Safe in Malls: When it comes to shopping, supporters of President Donald Trump are least worried about heading back to malls. According to a survey of 2,200 American adults, half of the respondents who claimed they strongly approve of Trump also said they feel safe or somewhat safe going to a shopping mall—twice the rate of those who strongly disapprove of Trump's job. Read more from Drew Hutchinson.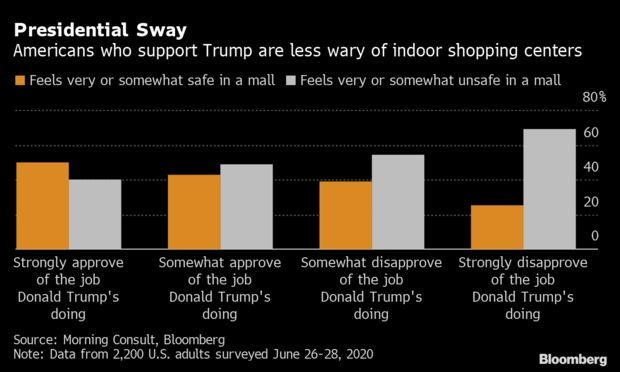 More Headlines:
What Else to Know
More Self-Testing for HIV Sought: The Trump administration plans to expand HIV self-testing as part of its push to lower new infections by more than 90% in the next decade, top public health officials said. The Centers for Disease Control and Prevention will increase self-testing and self-collection of specimens, which could allow for broader access to preventive drugs even after the coronavirus is contained, Eugene McCray, director of the CDC Division of HIV/AIDS Prevention, said at the AIDS 2020 conference yesterday. Read more from Shira Stein.
More Headlines:
To contact the reporter on this story: Brandon Lee in Washington at blee@bgov.com
To contact the editors responsible for this story: Giuseppe Macri at gmacri@bgov.com; Zachary Sherwood at zsherwood@bgov.com; Michaela Ross at mross@bgov.com
Stay informed with more news like this – from the largest team of reporters on Capitol Hill – subscribe to Bloomberg Government today. Learn more.