HEALTH CARE BRIEFING: House Passes Biden's Economic Plan
Bloomberg Government subscribers get the stories like this first. Act now and gain unlimited access to everything you need to know. Learn more.
President Joe Biden's signature plan to expand the social safety net, address climate change and rewrite tax policies passed the House Friday morning as Speaker Nancy Pelosi (D-Calif.) united fractious Democrats to send the legislation to the Senate, where its fate remains uncertain.
The 220-213 vote followed months of intra-party squabbling. It came only after the nonpartisan Congressional Budget Office delivered a cost estimate for the bill, which moderates had demanded before casting their votes. The CBO finding that it would increase the deficit by $367 billion over a decade proved acceptable to enough holdouts for the bill to pass. Rep. Jared Golden (D-Maine) was the only Democrat to vote no, along with all Republicans.
The House action is a political victory for Biden, but his agenda is still far from the finish line. Democratic senators are expected to make extensive changes before voting on it, potentially in December. Passage in that chamber will require unanimous support from the Democratic caucus, and two pivotal members, Joe Manchin (D-W.Va.) and Kyrsten Sinema (D-Ariz.), have yet to give their full public support. Republicans are united in opposition.
"Ninety percent of this bill was written together" Pelosi said of the Senate during a news conference after the vote. "Whatever comes out of the Senate, we'll be working together with them."
Biden called Pelosi to congratulate her and in a statement urged the Senate to act quickly. Read more from Erik Wasson and Billy House.
The sweeping bill looks to address some of the major challenges that have pushed the female labor force participation rate to lows not seen in decades. Should some of the tentpoles of the bill make it through the Senate—including child care relief, help with elder care, and an extended child tax credit— it would represent a major shift for the economic reality of women. The package would provide four weeks of paid leave to all new parents, down from the 12 first proposed, but still a historic for the U.S. Read more from Kelsey Butler.
More Coverage:
Happening on the Hill
Measure Seeks to Delay Cuts in Medicare Reimbursement: Reps. Ami Bera (D-Calif.) and Larry Bucshon (R-Ind.) introduced legislation that would "provide critical relief to physicians responding to the COVID-19 pandemic who are currently scheduled to receive Medicare payment cuts next year," according to a statement. H.R. 6020 would extend the Medicare physician payment adjustment of 3.75% for an additional year. Read text of the bill here.
Trump Says Navarro Must Defy House Probe: Former President Donald Trump told his former White House trade adviser to defy a House committee that subpoenaed him in a probe into the Trump administration's response to the Covid-19 pandemic. Peter Navarro, who was director of the Office of Trade and Manufacturing Policy and assistant to the president, was subpoenaed Thursday by the House Select Coronavirus Subcommittee. Navarro appeared to dismiss the committee's request on Friday in a Twitter post. Read more from Billy House.
The Coronavirus Pandemic
Vaccine Mandate Opponents Aim for Right Court: The second and third challenges from GOP-led states to the Biden administration's vaccine mandate for health-care workers are strategic plays to maximize the chances that a federal appeals court blocks the rule, legal observers said. Republican-led states are pushing back against Biden's sweeping vaccine mandates, with an Occupational Safety and Health Administration vaccine-or-test rule for large employers being the main target.
The Fifth Circuit blocked that rule, making the Centers for Medicare & Medicaid Services' health-care worker rule the next priority. The two latest lawsuits against the health-worker mandate make similar claims to the first that the vaccine rule will worsen health-care staffing shortages. If enough workers leave their jobs rather than get the jab, the states claim, the mandate could jeopardize access to care, particularly in rural communities. Read more from Allie Reed.
U.S. Backs Boosters for All Amid Virus Surge: Millions more Americans can now receive Covid-19 booster vaccines from Pfizer and Moderna, after U.S. officials broadened what many state and local leaders and health-care providers had argued were confusing initial eligibility guidelines. Centers for Disease Control and Prevention Director Rochelle Walensky on Friday approved guidance that makes boosters available to all adults 18 and up who received a second dose of one of the messenger RNA vaccines at least six months earlier. Read more from Fiona Rutherford.
Biden Vaccinations Coordinator Choucair Departing White House: White House Vaccinations Coordinator Bechara Choucair is leaving the administration to return to the private sector, he said in a message Sunday to Bloomberg News. Choucair's last day will be Monday. He joined Biden's team during the transition last year and was charged with accelerating the nascent Covid-19 vaccination effort Biden inherited upon taking office in January. Read more from John Tozzi.
More Headlines:
What Else to Know Today
SCOTUS Abortion Opinion May Come Today: The U.S. Supreme Court scheduled today as the first opinion day of its term, opening the possibility of an imminent decision on challenges to Texas' ban on abortion after six weeks. The court said the justices won't take the bench and instead will release any opinions online starting at 10 a.m. Washington time, as has been their practice since the Covid-19 pandemic began last year. The court doesn't say which opinions will be issued on particular days. Read more from Greg Stohr.
N.J. Top Court Invalidates Medicaid Expansion Rule: A New Jersey regulation governing expanded Medicaid eligibility for aged, blind, and disabled people is invalid because it doesn't follow the law's requirement to adjust for family size when determining their income eligibility, the state's top court said. New Jersey's Medicaid agency improperly denied benefits to two people arguably eligible under the expansion because their monthly incomes exceeded the state's $1,005 cap for individuals, the New Jersey Supreme Court said. Read more from Mary Anne Pazanowski.
More Americans Say They Don't Expect to Have a Child: A growing share of U.S. adults who aren't already parents say they probably won't have children, citing reasons such as apathy, medical issues, and financial instability. A new survey from the Pew Research Center found that 44% of non-parents ages 18 to 49 say it's not too likely, or not at all likely, that they will have kids someday, an increase of 7 percentage points from the 37% who said the same in 2018. Other reasons given include medical at 19% and financial at 17%. Read more from Alex Tanzi.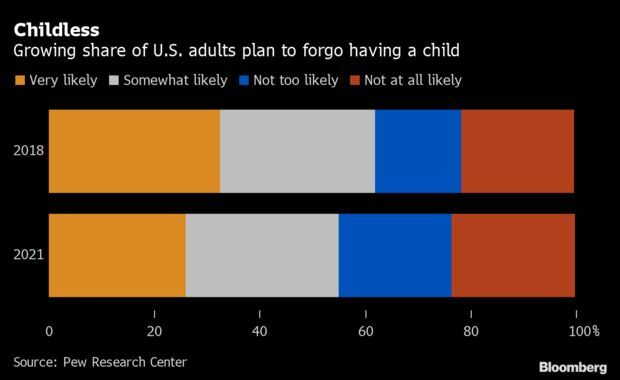 More Headlines:
To contact the reporter on this story: Brandon Lee in Washington at blee@bgov.com
To contact the editors responsible for this story: Zachary Sherwood at zsherwood@bgov.com; Giuseppe Macri at gmacri@bgov.com; Michaela Ross at mross@bgov.com
Stay informed with more news like this – from the largest team of reporters on Capitol Hill – subscribe to Bloomberg Government today. Learn more.