HEALTH CARE BRIEFING: House Panel to Consider HHS Spending Bill
Bloomberg Government subscribers get the stories like this first. Act now and gain unlimited access to everything you need to know. Learn more.
House Democrats are looking to send $24.4 billion to state and local health departments as part of a fiscal year 2021 Labor-HHS-Education appropriations package.
The appropriations legislation released yesterday and scheduled for a markup today looks to inject billions of dollars into federal health agencies currently grappling with the spread of the coronavirus across the U.S., as well as fund programs health experts say are suffering due to the pandemic.
The House panel responsible for health and education funding unveiled a $196.5 billion proposal to fund federal health and education programs, a $2.4 billion increase from fiscal 2020. The Department of Health and Human Services would see a $1.5 billion overall increase in funding under the legislation, with the National Institutes of Health getting a $5.5 billion boost largely from an "emergency" appropriation for the federal research agency.
"This legislation builds upon our previous emergency and supplemental response packages and represents our critical work to defeat the coronavirus, not surrender to it," Rep. Rosa DeLauro (D-Conn.), chairwoman of the House Appropriations Labor-HHS Subcommittee, said in a statement.
There's $9 billion in emergency funds in the legislation that would go to helping states improve their public health response and to enhance health prevention efforts such as expanding the current influenza vaccine campaign ahead of the fall in hopes of reducing flu-related hospitalizations around the same time Covid-19 cases might increase. Health experts have said local departments are putting all their resources toward combating the spread of Covid-19 and may be unprepared for the coming flu season.
The bill would also send $25 million to the NIH and $12.5 million to the Centers for Disease Control and Prevention to study gun violence, lower than the $50 million previously approved for such work. Congress last year appropriated funds to study gun violence for the first time in nearly 20 years.
A summary of the Labor-HHS bill is here. The text of the bill is here. The bill report is here.
Congressional Virus Efforts
Testing Strategy Sought for Minorities: The federal government must deploy a targeted strategy to ensure minority communities who are most susceptible to the coronavirus have free and easy access to testing, health-care advocates told a House subcommittee. Friday's hearing by the House Homeland Security Committee's Subcommittee on Emergency Preparedness, Response & Recovery came as racial inequities continue to take the spotlight due to disproportionate Covid-19 infection and death rates among minorities.
Lawmakers acknowledged the problem was real, and Rep. Pete King (R-N.Y.) said that it became apparent in April that people of color in his district were more hard hit by the virus, particularly Latino communities that can be distrustful of public institutions if they or family members are undocumented. Read more from Valerie Bauman.
Democrats Seek Probe Into PPE Supply Chains: House Oversight and Reform Chairwoman Carolyn Maloney (D-N.Y.) and House Select Coronavirus Crisis Subcommittee Chairman James Clyburn (D-S.C.) on Friday called on the Government Accountability Office "to examine methods to promote the supply chain of personal protective equipment," such as "strategies to harness and promote America's own domestic manufacturing capabilities," according to a statement. Read their letter here.
Virus & Cooperation: The House Foreign Affairs Europe, Eurasia, Energy, and the Environment Subcommittee will hold a hearing tomorrow on transatlantic cooperation and managing Covid-19.
Reopening Efforts & Reversals
Fauci Accused of Not Weighing 'Whole National Interest': One of President Donald Trump's coronavirus task force members said yesterday that infectious disease specialist Anthony Fauci doesn't necessarily "have the whole national interest in mind" in suggesting responses to the pandemic. Fauci, who's also on the task force, "looks at it from a very narrow public health point of view," Admiral Brett Giroir, assistant secretary at the Health and Human Services Department, said on NBC's "Meet the Press." "He admits that."
The comments reflected tension in the administration between the goal of tamping down transmission of Covid-19 as much as possible and Trump's desire to boost the economy, now in recession, before the November election. Giroir spoke as the U.S. continues to post record daily cases, especially in Sun Belt states. Florida on Sunday reported more than 15,000 new cases, the highest for any state — including New York when it was the epicenter of the pandemic in the spring. Read more from Ros Krasny.
Florida Sees All-Time U.S. Record Case Hike: Florida posted a record increase in coronavirus cases and a top official expressed concern about ICU capacity at Miami-area hospitals. While daily reported deaths in Florida declined to 44 from 95 a day prior, the hike in infections is keeping attention focused on the nation's third-most populous state as cases surge across the southern and western U.S. Reported cases rose by 15,300, a 6% jump compared with a 4.8% average over the last week, Tony Czuczka reports.
Texas reported 8,196 new cases yesterday afternoon, bringing the state's total to 258,658. The increase of 3.3% was below the seven-day average of 3.9%. The number of deaths rose by 80 to 3,192, the Department of State Health Services said on its website.
Overall U.S. coronavirus yesterday cases rose by 55,688 compared with the same time Saturday to 3.27 million, according to data collected by Johns Hopkins University and Bloomberg News. The 1.7% gain was smaller than the national average daily increase of 1.9% over the past week. Deaths rose 0.4% from Saturday to 134,904. Read the latest.
Covid-19 Reinvades U.S. States That Already Beat It Back Once: The first states to endure the coronavirus this spring hoped the worst would be behind them. Instead, the virus is coming back. Many places that suffered most in the first wave of infections, including California, Louisiana, Michigan and Washington state, are seeing case counts climb again after months of declines. It's not just a matter of more testing. Hospitalizations and, in some places, deaths are rising, too. Read more from David R. Baker, Gabrielle Coppola and Michael Tobin.
More State Efforts & Virus Situations:
Aversion to Masks Holding Back Economy: The aversion of many Americans to wearing a thin piece of cloth on their faces is holding back an already-shaky economic rebound. In Texas, the second most-populous state, Gov. Greg Abbott (R) on July 2 ordered mask-wearing in a reversal of his earlier opposition to enforcement. He said on local television that face coverings will prevent "having our economy shut down again."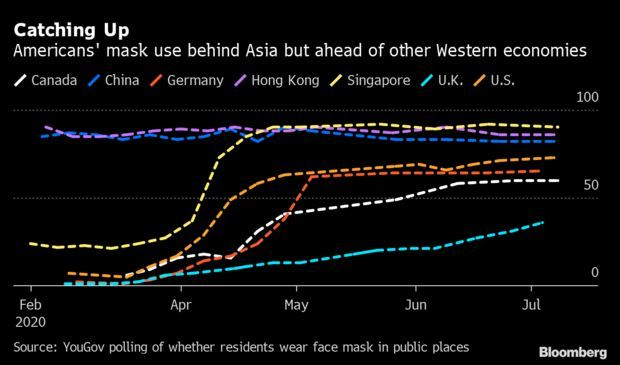 Federal Reserve Bank of Dallas President Robert Kaplan said on Friday that U.S. growth would be faster if all Americans wore masks. Goldman Sachs estimated a national mask mandate could prevent the nation from losing almost 5% of its gross domestic product. Yet millions of Americans, especially Republicans, have been reluctant to embrace masks. A Gallup poll last month showed that 98% of Democrats said they wore a mask outside home over the past week, compared with 66% of Republicans. Read more from Maeve Sheehey.
More on Reopening Efforts:
Testing, Treatment & Research
States' Test Plans Highlight Supply Problems: Testing plans released by HHS on Friday provide a window into efforts by states now seeing surging Covid-19 numbers to build up their infrastructure, and show shortcomings that may well be playing out now as test-takers complain of long queues and delayed results. The state plans, which were due May 30 and underwent federal review in June, spotlight ongoing supply-chain challenges labs face in procuring supplies, such as chemicals, rapid diagnostics, and protective equipment for personnel. They also show the $11 billion in funding distributed in May might not be enough to solve these persistent problems. Read more from Emma Court.
Remdesivir Tied to 62% Reduction in Death Risk: Gilead Sciences's remdesivir reduced mortality risk for Covid-19 patients by 62% compared to standard care, according to a analysis of trial data released Friday by the drug company. The analysis compared late-stage trial results with real-world treatment. The report showed the death rate for patients treated with remdesivir was 7.6% at Day 14, compared to 12.5% among patients not taking remdesivir. Read more from Riley Griffin.
More on Vaccine & Treatment Efforts:
What Else to Know Today
LGBTQ Health Providers Target Discrimination Rule: A new HHS rule strips gay and transgender people of protections from discrimination in health care and should be blocked, health-care providers in Washington and Los Angeles and others told the U.S. District Court for the District of Columbia. Providers, community groups, professional associations, and individuals sued HHS over the rule that would allow health-care workers, facilities, and health insurance companies that receive federal funds refuse to treat or cover services for gay, bisexual or transgender people or for termination of pregnancies. Read more from Mary Anne Pazanowski.
More Headlines:
To contact the reporter on this story: Brandon Lee in Washington at blee@bgov.com
To contact the editors responsible for this story: Giuseppe Macri at gmacri@bgov.com; Zachary Sherwood at zsherwood@bgov.com; Michaela Ross at mross@bgov.com
Stay informed with more news like this – from the largest team of reporters on Capitol Hill – subscribe to Bloomberg Government today. Learn more.