HEALTH CARE BRIEFING: House Heads to Vote on Biden Plan Today
Bloomberg Government subscribers get the stories like this first. Act now and gain unlimited access to everything you need to know. Learn more.
House Democrats pushed expected passage of President Joe Biden's $1.64 trillion economic agenda to today as Minority Leader Kevin McCarthy (R-Calif.) delayed a vote with a lengthy floor speech that lasted into the early morning hours.
McCarthy used his privilege as minority leader to camp out on the House floor just after 8:30 p.m. yesterday in a speech criticizing the tax and spending bill in particular — and Democrats in general — that stretched past midnight.
Flanked by his GOP allies and heckled by Democrats, the California Republican called the bill the "single most reckless and irresponsible spending bill in our nation's history."
As he continued speaking past midnight, House Democratic leaders announced there would be no votes until the House reconvenes at 8 a.m. today to continue working on the bill.
Debate in the House opened Thursday as the nonpartisan Congressional Budget Office released its estimate that Biden's signature economic package doesn't contain enough tax increases to pay for itself.
The determination countered the Biden administration's analysis, but moderate Democrats who had been holding out to see the CBO score said they were ready to back the bill, clearing the path to passage. Read more from Erik Wasson and Billy House.
Less Savings in Drug Deal Than Prior Plans: Democrats' plan to negotiate drug prices—included in the House bill—would save the federal government $78.8 billion over a decade, the CBO said. The two major pillars of Democrats' drug pricing legislation—empowering the government to seek lower drug prices and requiring drugmakers to pay back profits from raising the cost of medicines above inflation—would reduce U.S. government spending by about $128.2 billion over 10 years, the Congressional Budget Office has found.
The proposal, which Republicans have warned would stifle innovation, would cause one fewer drug to come onto the market in the next decade and nine fewer drugs to enter the market in the subsequent two decades, the CBO estimated. In total, the budget office projects 1,300 drugs would enter the market over those 30 years.
The $79 billion in drug price negotiation savings is far less than the $456 billion than could have been reaped under an earlier iteration of Democrats' plan, which had fewer exemptions for medicines subject to negotiation. The drop in savings showcases the compromises Democratic leaders struck to achieve party unity around their $1.75 trillion spending package.
Most of the drug pricing-related savings in Democrats' spending package would come from repealing a Trump-era regulation on drug rebates that was never implemented. Those savings result from blocking future spending that would've occurred had the regulation been enacted. Read more Alex Ruoff.
Related:
Happening on the Hill
DeLauro Planning Stopgap Funding Bill: Congress will need to rely on a second stopgap bill to keep government programs running beyond Dec. 3, but a leading negotiator said she wants a bipartisan deal next month rather than delaying further talks until the next calendar year. "I'm looking at December" for the next funding deadline, House Appropriations Chair Rosa DeLauro (D-Conn.) said yesterday, declining to provide a specific date. She said she's aiming for at least a top-line agreement on funding levels, if not a fully formed omnibus.
Republicans have said Democrats will need to agree to maintain legacy policy riders and not include new "poison pill" measures before the two sides can discuss funding levels. Senate Appropriations Chairman Richard Shelby (R-Ala.) has noted that in previous years, an agreement among senators to avoid any possible contentious policy measures has helped move bills through the Senate Appropriations Committee on the floor. DeLauro called the position "extreme" and said Republicans have refused to negotiate since an unsuccessful Nov. 2 meeting.
Republicans have emphasized the Hyde amendment and Weldon amendment are among the measures they want to maintain. The Hyde amendment bars federal funding for abortion, except in cases of rape, incest, or to save the life of the woman. The Weldon amendment bars funding for state and local governments if those entities refuse to work with health insurance plans or professionals that don't provide, pay for, cover, or refer abortions. Read more from Jack Fitzpatrick.
Democrats Subpoena Ex-Trump Aide Over Covid-19 Supplies: The Select Subcommittee on the Coronavirus Crisis issues a subpoena to Peter Navarro, former director of the White House Office of Trade and Manufacturing Policy and an aide to former President Donald Trump. Chair Jim Clyburn (D-S.C.) says Navarro was involved in Trump's administration's "haphazard" approach to procurement and may have exercised inappropriate influence over the award of lucrative contracts. Navarro "pushed responsibility to the states and pursued a haphazard and ineffective approach to procurement," Clyburn said, Megan Howard reports.
The Coronavirus Pandemic
Foreign Health Workers Sidelined as Staffing Crisis Surges: An interview is the only thing standing in the way of 10,000 qualified and vetted foreign nurses coming into the U.S. to palliate the crumbling health-care system. These nurses seeking permanent residency have passed a licensure exam, submitted paperwork, and accepted jobs in the U.S., but they're stuck in a holding pattern because of a bottleneck at that last stage of visa processing that requires an interview at the U.S. consulate in an applicant's country of origin. Allie Reed and Andrew Kreighbaum have more.
Current Boosters—Not Delta-Targeted Ones—Called Best Bet: Tailoring Covid-19 booster shots to work against variants such as delta would offer less overall protection from the virus than using an additional shot of the original shot, an NIH immunologist whose work was key to the vaccine developed by Moderna, said. Studies have indicated that boosting with the original vaccine increases the response and neutralizing activity against all the variants, said Barney S. Graham, a top immunologist at the National Institute of Allergy and Infectious Diseases, at the American Society of Tropical Medicine and Hygiene's annual meeting. Read more from Jeannie Baumann.
Cases Jump in the U.S. Midwest: The U.S. outbreak, on the rise again, is shifting to the Midwest, according to the latest data from the CDC. Indiana recorded the largest increase of infections in the week ending Nov. 16, with Michigan, Minnesota, Illinois and Wisconsin among the U.S. states with the worst weekly jumps, the data show. Parts of the Northeast, the most vaccinated region of the country, are also recording a spike, with infections in New York state up 27%. Read more from Bloomberg News.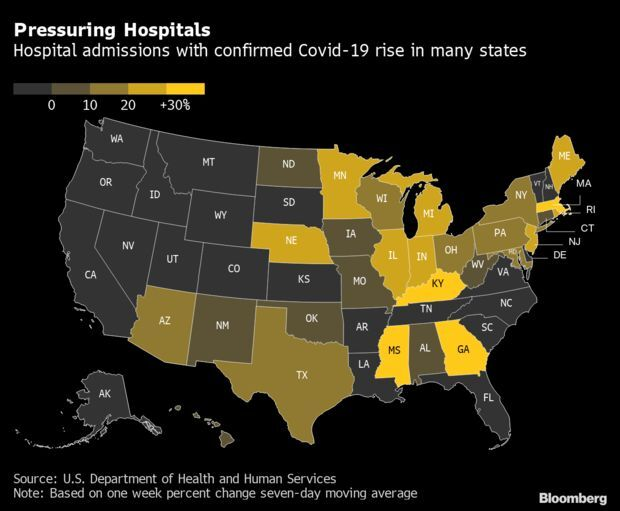 AstraZeneca Antibody Data Show Long-Lasting Protection: AstraZeneca's Covid-19 antibody cocktail was over 80% successful at both preventing symptomatic disease for six months and stopping it worsening, demonstrating its ability to provide both strong and long-lasting protection. The medicine cut the risk of developing symptomatic Covid-19 in high-risk people by 83% in one of the trials after a six-month follow-up, the drugmaker said yesterday. The other one involving participants with mild to moderate illness found the cocktail cut the risk of severe disease or death by 88% if given within three days. Read more from Suzi Ring.
Hospitals' Day of Reckoning Nears as U.S. Aid Dwindles: More than a year after Saint John's Episcopal Hospital in Queens admitted the borough's first Covid-19 positive patient in March of 2020, life is returning to some semblance of normalcy. But with the retreat of the worst of the pandemic comes the reality that for many facilities the finances never worked. The billions of dollars of aid the U.S. government distributed to hospitals amid the pandemic, such as advances in Medicare payments, kept struggling facilities across the country afloat, but papered over longstanding problems. Read more from Lauren Coleman-Lochner.
More Headlines:
What Else to Know Today
Clinical Trials Could Get Revamp Under Califf: Biden's pick to lead the FDA could jolt the clinical trials enterprise toward long-sought changes aimed at easing research participation and improving the quality of evidence used to offer better patient care. Robert Califf, if confirmed by the Senate, would return to lead the agency during a public health crisis that has exacerbated the nation's shortcomings, including those in a fragmented clinical trials system where just a handful of studies have yielded actionable results. Califf has been a staunch advocate of modernizing that system. Read more from Jeannie Baumann.
Consent Waiver for Low-Risk Studies Moves Foward: The FDA is moving ahead with finalizing a long-awaited rule that would let drug and device companies for the first time relax consent requirements for some lower-risk studies, officials said. The proposed rule would allow ethics boards known as institutional review boards (IRBs) to waive the requirement for researchers to obtain informed consent from participants. IRBs can currently only waive informed consent in life-threatening situations or for emergency research, when a patient population can't consent. Jeannie Baumann has more.
Biden HHS Moves to Stifle Bias in Foster Care: The Biden administration took back Trump-era waivers that allowed child welfare agencies in South Carolina, Texas, and Michigan to override nondiscrimination requirements based on religious grounds. Faith-based groups in those states could previously choose a child's foster home based on religious beliefs. The waivers were "inconsistent with the Department's critical goal of combating discrimination based on religion, sexual orientation, and gender identity," the agency said yesterday in a statement. Read more from Allie Reed.
Alzheimer's Drug Stalls as Insurers Balk at Paying for It: U.S. health insurers say they want more proof before paying for Biogen's Aduhelm, stalling sales of the costly new Alzheimer's therapy that the drugmaker hailed as a breakthrough for patients. None of the 25 large insurers that responded to a Bloomberg News survey judged the $56,000-a-year medicatoin "medically necessary," a term used to describe treatments that are needed for specific ailments and meet medical standards. Most deemed Aduhelm experimental, and others they're still evaluating it. Read more from John Tozzi, Angelica LaVito, and Anushree Dave.
More Headlines:
To contact the reporter on this story: Brandon Lee in Washington at blee@bgov.com
To contact the editors responsible for this story: Zachary Sherwood at zsherwood@bgov.com; Giuseppe Macri at gmacri@bgov.com; Michaela Ross at mross@bgov.com
Stay informed with more news like this – from the largest team of reporters on Capitol Hill – subscribe to Bloomberg Government today. Learn more.