HEALTH CARE BRIEFING: House Eyes Drug Cost Cap in Employer Plans
Bloomberg Government subscribers get the stories like this first. Act now and gain unlimited access to everything you need to know. Learn more.
House Democrats agree with employer, labor and consumer groups that commercial health plans should be included in sweeping health-care legislation designed to curb drug prices, according to sources.
Whether plans sponsored by employers or insurers can be covered under H.R. 3's proposed cap on drug price inflation will depend on whether the addition is allowed under a budget reconciliation procedure that Congress will use to advance expanded Medicare benefits in the fall.
"We're trying to see if we can make that work this year," said a House Democratic aide who spoke on condition of anonymity. "We haven't resolved it completely, but we're trying."
The House drug pricing bill is designed to offset the cost of the expanded benefits by cutting what Medicare pays for prescription drugs. The bill's chief driver of the lower prices is a provision that permits the federal government to negotiate directly with drug manufacturers on how much it pays for high-priced products. Commercial plans—run by employers, insurers, and labor unions—would pay the same amount for those drugs.
The bill also would require pharmaceutical companies to rebate to the Treasury Department the amount that they raise prices for certain drugs above inflation. Employers and labor unions want such rebates in commercial plans as well. Without them, they say, they would be susceptible to large price spikes in prescriptions. They've been discussing the issue with House leaders for months, according to a source involved in the talks.
Republicans don't support the legislation, so the only path to passage is a budget process called reconciliation that bypasses the need for 60 votes in the Senate. Only policies that change spending or revenues can be included in budget reconciliation bills, so lawmakers would need to write the commercial insurance provision such that it affects the budget.
If the Senate's parliamentarian doesn't rule that the provision is primarily budgetary, "that provision which applies the inflation rebate to the commercial sector would have to be dropped," the House aide said. "We haven't made a final determination of the language," the aide said. "I think we're going to put it in there." Read more from Sara Hansard.
Also on Lawmakers' Radars
HELP Markup: The Senate Health, Education, Labor and Pensions Committee is scheduled to mark up four bills including:
Infections a Hurdle to Infrastructure Bill: Senate Majority Leader Chuck Schumer's (D-N.Y.) plan to pass a $550 billion infrastructure bill this week hit a potential obstacle when Sen. Lindsey Graham (R-S.C.) announced he tested positive for Covid-19 and will self-quarantine for 10 days. One of 10 Republicans who helped negotiate the infrastructure deal, Graham said he was tested yesterday after experiencing flu-like symptoms on Saturday. He said he was vaccinated.
The Senate doesn't allow proxy voting like the House, so the quarantine would mean Graham would miss votes on the legislation, which Schumer wants passed before the end of the week. Graham's vote alone wouldn't necessarily hold up the deal. There were 67 votes last week to advance it, including 17 Republicans. Sixty votes will be needed finish the legislation. But the potential for a slew of more positive tests among senators in the chamber could upset that schedule. Laura Litvan and Steven Dennis have more.
Democrats Push HHS on Drug Prices: Sens. Elizabeth Warren (D-Mass.) and Amy Klobuchar (D-Minn.) and Rep. Lloyd Doggett (D-Texas) asked HHS Secretary Xavier Becerra to update the lawmakers on the department's use of tools like "Section 1498 compulsory licensing" and "Bayh-Dole march-in rights" to address drug prices, they said yesterday, referring to two laws dealing with government patent use including for patented drugs. Read the statement here.
The Coronavirus Pandemic
Biden Asks CDC to Weigh New Evictions Moratorium: Biden asked the Centers for Disease Control and Prevention to look into another extension of an evictions moratorium, but the agency's leaders haven't been able to legally justify it, Press Secretary Jen Psaki said. Biden made the request on Sunday, after a ban on evictions the CDC imposed expired a day prior. He was criticized by some in his own party for waiting until days before the ban's expiration to ask lawmakers for an extension.
Treasury Secretary Janet Yellen will talk today to House Democrats about getting rental assistance out to more tenants. Congress has approved $46.5 billion in rent assistance since December, but most of that has not been sent out to Americans. Billy House has more.
U.S. Hits Biden's Vaccination Goal, a Month Late: Seventy percent of U.S. adults have received at least one dose of a Covid-19 vaccine, a key milestone in the fight against the pandemic that the country hit nearly a month later than Biden had hoped. After falling considerably since April, the pace of vaccinations has recently accelerated due to the rapidly spreading delta variant. The country was averaging more than 72,000 new infections per day as of last Friday, the CDC said. Read more from Jennifer Epstein.
'Very Real Fourth Wave' Presses FDA to Approve Shots: A surge in Covid-19 cases across the U.S. is increasing pressure on U.S. drug regulators to fully approve Pfizer's vaccine, the first one to apply for full licensure in the U.S. Full approval could help Biden's administration ramp back up its immunization drive and reassure vaccine skeptics that the vaccines are safe. It could also make it easier for more schools and workplaces to mandate the shots. Bloomberg News spoke with Peter Marks, head of the FDA division reviewing Pfizer's application.
Hospital Staffing Shortages Grow Sharply in Florida: The number of hospitals reporting critical staffing shortages is climbing swiftly in Florida, where the delta variant is filling beds fast. The Sunshine State faces 13% of its facilities reporting a shortage of medical personnel, up from 4% a week earlier, according to Health and Human Services Department data. That one-week surge was the most in the U.S., the data show. Florida accounted for nearly 20% of U.S. cases last week. Read more from Jonathan Levin.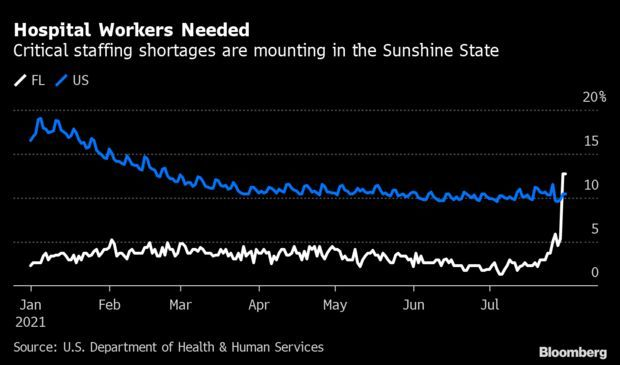 Nursing Home Staff Said Size Fueled Covid-19 Spread: Nursing homes with larger staffs had about twice the rate of Covid-19 infections and deaths last year as those with fewer employees, new research has found. Facilities "in the lowest quartile of staff size had 6.2 resident cases" and nearly one death per 100 beds, compared with 11.9 cases and 2.1 deaths for facilities in the highest quartile, according to the study of more than 7,000 nursing homes published Monday in Health Affairs journal. Read more from Tony Pugh.
More U.S. Headlines:
More Global Headlines:
What Else to Know Today
Indiana's Abortion Complications Reporting Law Upheld: An Indiana law requiring abortion providers to report complications to state authorities is constitutionally valid, because a reasonable person would understand what has to be reported, the Seventh Circuit said. The law doesn't offend the "void-for-vagueness" doctrine, which mandates that criminal laws define an offense with enough clarity that most would be able to understand what's prohibited, the Seventh Circuit said, Mary Anne Pazanowski reports.
Hospitals to Get $2.3 Billion Pay Hike From Medicare in 2022: Medicare will pay hospitals $2.3 billion more, a 2.5% hike, for inpatient stays in 2022, under a new rule issued yesterday by the Biden administration. Read more from Tony Pugh.
More Headlines:
To contact the reporter on this story: Brandon Lee in Washington at blee@bgov.com
To contact the editors responsible for this story: Zachary Sherwood at zsherwood@bgov.com; Giuseppe Macri at gmacri@bgov.com; Michaela Ross at mross@bgov.com
Stay informed with more news like this – from the largest team of reporters on Capitol Hill – subscribe to Bloomberg Government today. Learn more.