HEALTH CARE BRIEFING: House Democrats Eye COBRA, PPE in Aid Push
Bloomberg Government subscribers get the stories like this first. Act now and gain unlimited access to everything you need to know. Learn more.
House Democrats yesterday laid out their proposal to subsidize health insurance premiums for coverage as part of President Joe Biden's broader stimulus push to help people who lost their jobs keep their health insurance coverage, Alex Ruoff reports.
The moves would only be temporary, offering subsidies until October to help Americans keep their employer-sponsored insurance and bolstering Obamacare's tax credits for the next two years.
The proposal, unveiled by the leaders of the House Education and Labor Committee and the Ways and Means Committee, would subsidize 85% of insurance premiums for workers who are eligible for COBRA after they lost their job or had their hours reduced. It also would give employers a payroll tax credit to help cover costs of extending COBRA coverage to workers.
The move represents a major win for health-care companies, who typically make more money treating people with employer-sponsored insurance plans. Employer groups have pushed for COBRA subsidies amid the coronavirus pandemic to assist people who lost their jobs and employer-sponsor health insurance extend their coverage.
Health-care coverage "is a vital component of our economic recovery," said Tara Bradshaw, a spokeswoman for a coalition of employers, consumer groups, insurers, and hospitals called the Alliance to Fight for Health Care. "Losing a job to this pandemic should not mean losing health coverage."
The Ways and Means proposal would also boost the Affordable Care Act's tax credits for 2021 and 2022, aiming to cap what Americans pay for coverage on the individual marketplace. Under the proposal, people with incomes up to 150% of the federal poverty level would have their premiums fully covered and people with incomes above 400% of poverty would be eligible for ACA subsidies for the first time.
The draft text for the stimulus package offered by the Education and Labor Committee also carries $130 billion for kindergarten through 12th grade school reopening and $40 billion for higher-education institutions, as well as provisions to tighten Covid-19 workplace safety standards. Senior-care services would receive $1.4 billion. Read more about education provisions from Andrew Kreighbaum here.
The draft text offered by the House Financial Services Committee separately includes $10 billion to use the Defense Production Act to manufacture Covid-19 vaccines, as well as masks and other personal protective equipment. Find more details here from Erik Wasson and Laura Davison.
Meanwhile, the top Republican on the Energy and Commerce Committee asked Democrats yesterday to tap the breaks on their push for a stimulus bill. Rep. Cathy McMorris Rodgers (R-Wash.) asked for a one-week delay to marking up a reconciliation bill, planned Thursday. She said moving forward with the markup this week would mean abandoning a bipartisan deal, Alex Ruoff reports.
Below is the current schedule for House panel consideration, according to a senior Democratic aide:
Education and Labor: Feb. 9, 3 p.m.;
Transportation and Infrastructure: Feb. 10, 11 a.m.;
Financial Services: Feb. 10, 12 p.m.;
Agriculture: Feb. 10, 2 p.m.;
Small Business: Feb. 11;
Veterans' Affairs: Feb. 11;
Energy and Commerce: Feb. 11;
Oversight and Reform: Feb. 12; and
Ways and Means: Feb. 10, 11 and 12.
Biden Warms to Fast-Track Stimulus: Biden and White House officials are siding with liberal Democrats stung by past efforts to reach compromise with Republicans and refusing to heed GOP appeals to scale back the administration's $1.9 trillion stimulus.
Biden entered talks last week with a group of Republican senators who proposed a bill just one-third the size of his pandemic-relief package. They were the first lawmakers he invited to the White House as president, raising concern on the left he might seriously entertain their counter-proposal. But yesterday, following a lobbying effort by Democratic lawmakers and activists who sought to keep Biden committed to his own plan, White House Press Secretary Jen Psaki said the stimulus will probably advance under the reconciliation procedure that requires only simple majority support in the Senate. Mario Parker and Nancy Cook have the latest from the White House.
Happening on the Hill
House Panel Continues Political-Influence Probes: House Select Subcommittee on the Coronavirus Crisis Chair James Clyburn (D-S.C.) sent letters to White House Chief of Staff Ron Klain and acting Health and Human Services Secretary Norris Cochran to announce it will renew a probe into political meddling that "crippled" the Trump administration's handling of the coronavirus pandemic, it said in a statement. Read the letter to Klain here and the one to Cochran here.
After the statement, Republicans on the panel argued that Democrats should also probe Biden's conflicting signals with his CDC chief over school openings. "Now that there is a Democrat Administration, the Select Subcommittee should not start trying to cover up for missteps they are making," top Republican

Steve Scalise

(R-La.) said in the letter.
House Panel Invites Vaccine Makers: House Energy and Commerce Chair Frank Pallone (D-N.J.) and Oversight Subcommittee Chair Diana DeGette (D-Colo.) said the subcommittee has asked officials from five Covid-19 vaccine manufacturers to testify on Feb. 23 for a remote hearing. The five vaccine makers are AstraZeneca, Johnson & Johnson, Moderna, Novavax, and Pfizer. Read a statement here.
Senators Unveil Bipartisan Diaper Aid Measure: Sens. Tammy Duckworth (D-Ill.), Kevin Cramer (R-N.D.) and Bob Casey (D-Pa.) introduced a bipartisan bill they argue "would provide resources to assist low-income and middle-class families address their diaper needs," and help ensure the health and well-being of those who rely on diapers, including infants and adults with disabilities. Read text of the legislation here.
First Covid-19-Positive Lawmaker Dies: Rep. Ron Wright (R-Texas) died on Sunday after battling cancer and Covid-19, becoming the first sitting U.S. lawmaker to pass away after testing positive for the coronavirus. Wright, 67, represented a district that stretched south and southeast of the Dallas-Fort Worth metropolitan region, and sat on the House Foreign Affairs and Education and Labor panels. Read more from Daniel Flatley and Billy House.
More on the Pandemic
U.K. Strain Circulates Most in Super Bowl State: The fast-spreading Covid-19 variant first found in the U.K. is gaining a Florida foothold, prompting concerns about fans who flooded the streets of Tampa on Sunday after Super Bowl LV. Florida leads the country in confirmed cases of the variant, known as B.1.1.7, with 201 infections identified total, according to data from the Centers for Disease Control and Prevention. Jonathan Levin has more.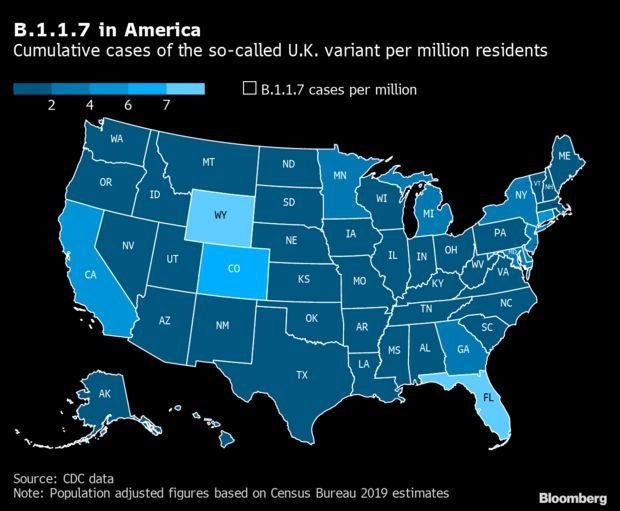 CDC Chief Touts Tests Prior to Domestic Flights: Centers for Disease Control and Prevention Director Rochelle Walensky suggested that testing people for Covid-19 before domestic flights could help reduce transmission, as she urged state and local leaders to maintain steps to limit the virus's spread. Requiring travelers to receive a negative test before boarding flights could be "another mitigation measure," Walensky added. Angelica LaVito and Josh Wingrove report.
Cutting Doses Risks More Variants: Sticking to the two-dose regimen Pfizer and Moderna's vaccines may help shield against the creation of new strains by offering the fullest protection against the virus, Anthony Fauci said yesterday. Biden's chief medical adviser was responding to questions over whether the U.S. should focus its distribution efforts on getting out the first dose and put less emphasis on the second one. Read more from Jeannie Baumann.
Doctors, Left Out of Vaccine Push, Cry Foul: Physicians are feeling left out of the Covid-19 vaccination campaign as the Biden administration moves to offer shots in retail pharmacies, while doing nothing to boost vaccine opportunities at doctors' offices and medical practices. Beginning Feb. 11, the White House will launch a national program that will eventually allow 40,000 retail pharmacies to provide Covid-19 vaccines. Read more from Tony Pugh.
More on Vaccines:
More Headlines:
What Else to Know
Murthy Made $2 Million in Consulting: Biden's nominee to become the next U.S. Surgeon General made nearly $2 million in consulting and speaking fees in recent years, according to newly released disclosure documents. Vivek Murthy, who served in the same position in the Obama administration, raked in consulting fees for prominent companies like Netflix, Airbnb, and Carnival Cruise Lines for more than $1 million in total. Airbnb also gave Murthy as much as $1 million in stock in the company, according to his financial disclosure documents.
Murthy commanded fees as high as $75,000 for speaking engagements from health-care and social service companies like Optum, Cigna and Jewish Family & Children's Service. Murthy as part of his ethics agreement will divest from most of his investments in private firms such as Airbnb if confirmed as the next surgeon general, Alex Ruoff reports. Read the disclosure here.
NARAL President to Step Down: Ilyse Hogue will step down as president of the pro-abortion group, NARAL Pro-Choice America in May. Hogue led NARAL for the past eight years, tripling its membership and budget during that time and expanding its opposition research arm, the group said in a statement. It said it will conduct a search for its next president, Ruoff reports.
More Headlines:
To contact the reporters on this story: Alex Ruoff in Washington at aruoff@bgov.com; Brandon Lee in Washington at blee@bgov.com
To contact the editors responsible for this story: Zachary Sherwood at zsherwood@bgov.com; Giuseppe Macri at gmacri@bgov.com; Michaela Ross at mross@bgov.com
Stay informed with more news like this – from the largest team of reporters on Capitol Hill – subscribe to Bloomberg Government today. Learn more.