HEALTH CARE BRIEFING: House Action on Abortion Set for This Week
Bloomberg Government subscribers get the stories like this first. Act now and gain unlimited access to everything you need to know. Learn more.
Efforts by President Joe Biden and Congress to protect abortion access are intensifying more than two weeks after the Supreme Court's decision to overturn Roe v. Wade. The House plans to vote this week on two abortion-rights bills, and several House and Senate committees are holding hearings on the legal and medical landscape of post-Roe America.
At the White House, Biden signed an executive order Friday to safeguard womens' medical data. The president also said declaring a public health emergency to facilitate abortion access to women in restrictive states isn't off the table. But fault lines are emerging within Biden's own party on whether those efforts are too little, too late.
House Action on Abortion Set for This Week: The House returns from its July 4 recess tomorrow with plans to vote on updated legislation to codify Roe v. Wade (H.R. 8296) and a measure that would ensure women can cross state lines to obtain legal abortions (H.R. 8297), according to a letter that House Majority Leader Steny Hoyer (D-Md.) sent to colleagues on Friday. The House Rules Committee is scheduled to consider both bills on Tuesday.
The House last year passed similar legislation (H.R.3755) aimed at limiting governmental restrictions on access to abortion services. But the latest version cites the Dobbs decision and subsequent action by states. It also clarifies that the bill's provisions couldn't be interpreted "to diminish a person's ability to obtain or provide abortion services." Read more from Zach C. Cohen.
Biden Summons FTC Push to Safeguard Abortion Data: Biden's move to protect abortion access includes an effort to enlist the Federal Trade Commission to help the Health and Human Services Department guard reproductive health care privacy. Biden, in his July 8 executive order, urged the FTC to use its authority over corporate fraud and other practices deemed unfair to consumers. He called on the agency to help combat "digital surveillance" of reproductive care based on data like fertility app usage.
Earlier: Biden Laments Post-Roe 'Horror' in US, Signs Order on Access
"There's an increasing concern that extremist governors and others will try to get that data off of your phone, which is out there in the ether, to find what you're seeking, where you're going, and what you're doing with regard to your healthcare," Biden said. Read more from Andrea Vittorio and Allie Reed.
Biden Says Emergency to Defend Abortion Still on Table: Biden said he's asked his team to explore the possibility of declaring a public health emergency to protect abortion rights. "I've asked the folks on the medical, people in the administration to look at whether I have the authority to do that and what impact it would have," Biden told reporters Sunday. He pressed abortion-rights supporters to "keep protesting."
Senior officials at HHS and the White House discussed the emergency option before a June 28 news conference the agency, but set aside the idea due to concern that the impacts wouldn't justify the inevitable legal battle, according to people familiar with the matter. Jennifer Klein, head of the White House Gender Policy Council, said an emergency declaration is "not off the table," but questioned whether it would help. Read more from Nancy Cook.
MORE ON ROE'S FALL:
Also Happening on the Hill
Hill Hearings This Week:
House Aims to Tackle Spending Bills This Month: The House plans to vote on a package of six appropriations bills the week of July 18, including the Agriculture-FDA and Military Construction-Veterans Affairs spending bills, according to a release. Find text of the bills here.
Biden's Economic Agenda Heads Into Pivotal Month: Crunch time has finally arrived for Biden's economic agenda as congressional Democrats scramble for a deal on a slimmed-down version of what was once a multi-trillion-dollar overhaul of domestic policy. The Senate aims to pass the revised package before its summer recess begins Aug. 8, a move that would line up a win for Democrats defending their slim congressional control ahead of November's midterm elections. Erik Wasson has the latest.
Congress' July Agenda: Two packages — bipartisan legislation to boost US competitiveness with China (H.R. 4521) and the budget reconciliation bill covering several Democratic priorities — are likely to dominate the discussion. For more on those and the full list of Congress' summer priorities, download the BGOV OnPoint.
What Else to Know Today
HHS Has Most Civilian Contract Money Out of $209 Billion Pool: A projected $15.2 billion out of the Department of Health and Human Services leads civilian agencies in the Bloomberg Government forecast of procurement obligations going to contractors before Sept. 30. The fourth quarter of fiscal 2022 overall is estimated to result in $209 billion in contracts, as agencies engage in the annual rush to spend authorized procurement funds before the end of the fiscal year. Read more from Paul Murphy.
Formula Shortages Persist in Several States: Despite efforts to restart the baby formula plant at the epicenter of the US crisis, and millions of bottles of the product being flown in from aboard by the government, shortages are still raging in several states. Nationwide, the latest in-stock figure for formula was at 70% for the week ending July 3, down from 77% the week ending June 5, IRI Worldwide data show. Read more from Martine Paris.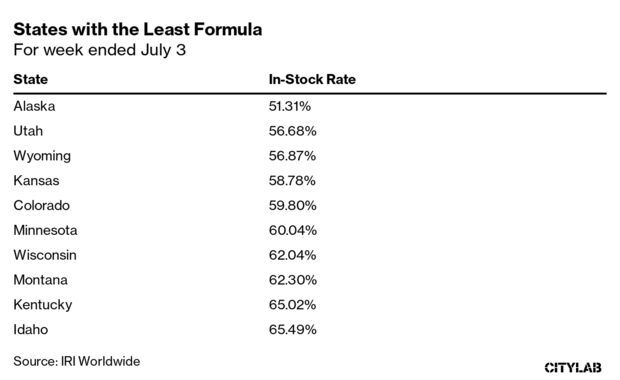 Hospitals' Face Cash, Staff Challenges for Next Crisis: Emergency preparedness experts say many of the more than 1 million US deaths due to Covid-19 could have been avoided if hospitals had better planned how to communicate with one another and share resources like ventilators, beds, and staff. Despite near-universal agreement the US should never again be so unprepared, there's growing concern the sense of urgency is waning. Read more from Allie Reed.
Pfizer Gets FDA Approval for Vaccine for Teens: Pfizer-BioNTech gained full US regulatory approval for their Covid vaccine for teens 12 to 15, a milestone that will allow the partners to continue to market it to adolescents after the pandemic. Their vaccine earlier got formal approval for teens 16 and older. Read more from Riley Griffin.
Texas Judge Extends Ban on Trans Children Care Probes: A state judge extended a ban on Texas authorities investigating some members of an LGBTQ group who arrange gender-affirming care for children, as the issue makes its way through the courts. The temporary injunction blocks the state for now from investigating two families with trans children. Shira Stein and Laurel Brubaker Calkins have more.
More Headlines:
To contact the reporter on this story: Brandon Lee in Washington at blee@bgov.com
To contact the editors responsible for this story: Giuseppe Macri at gmacri@bgov.com; Michaela Ross at mross@bgov.com
Stay informed with more news like this – from the largest team of reporters on Capitol Hill – subscribe to Bloomberg Government today. Learn more.