HEALTH CARE BRIEFING: Hospitals Worry as Stopgap Snubs Medicare
Bloomberg Government subscribers get the stories like this first. Act now and gain unlimited access to everything you need to know. Learn more.
Hospital and provider groups are growing fearful that Congress won't act to prevent billions in cuts to Medicare payments scheduled to start next year after lawmakers failed to deal with them in a government spending bill that lawmakers cleared yesterday.
The legislation (H.R. 6119) is slated to fund federal agencies through Feb. 18, 2022. It doesn't address looming cuts to Medicare, something hospital groups were pushing lawmakers to postpone.
"It would be an outrage to not protect the very caregivers who are fighting this relentless virus every day," wrote American Hospital Association CEO Rick Pollack. Lawmakers and the administration "must now act quickly to remove the uncertainty these cuts are creating in order to stop this potential threat to the patients and communities we serve." Meanwhile, Gerald Harmon, head of the American Medical Association, said "it is clear that Congress is not prioritizing support for the nation's health care providers who have been on the front lines of the Covid-19 pandemic."
Medicare fee-for-service payments could be reduced by $14.1 billion in 2022 unless there's action by the end of the year, according to the AHA, because of mandatory spending sequestration under the Budget Control Act and statutory pay-as-you-go (PAYGO) requirements—two mechanisms meant to limit federal spending.
Democrats are "exploring all options to protect these vital programs from senseless cuts," House Budget Committee Chair John Yarmuth (D-Ky.) said in a statement. "Since the inception of SPAYGO, Congress has come together repeatedly on a bipartisan basis to protect vital programs Americans rely on from painful sequestration cuts—and this time should be no different," he said. Read more from Alex Ruoff.
GOP Resists Vaccine Mandate: The 69-28 vote on the stopgap funding measure followed a day of negotiations between Senate leaders and a group of conservative Republicans who demanded a vote on an amendment blocking President Joe Biden's Covid-19 vaccine mandates in exchange for speeding past procedural hurdles that threatened a government-wide closure early Saturday. Prior to the vote, Democrats agreed to demands by a cluster of Republicans led by Sen. Roger Marshall (R-Kan.) to vote on an amendment to block the Biden administration's Covid-19 testing and vaccination mandate for large employers. That amendment was rejected, 48-50, on the Senate floor. Read more from Erik Wasson and Laura Litvan.
Last night following the vote, Sen. Joe Manchin (D-W.Va.) announced in a statement he supports a disapproval resolution under the Congressional Review Act to overturn Biden's vaccine-or-test mandate for large employers. The measure's sponsor, Sen. Mike Braun (D-N.D.), later in a statement said he expects the Senate to pass the resolution (S.J. Res. 29) next week with the support of all 50 Republican lawmakers in the chamber.
The Coronavirus Pandemic
Biden Calls on U.S. to Expand Shots, Boosters to Combat Surge: President Biden called on health providers to expand the availability of coronavirus vaccines and booster shots, aiming to combat a winter surge of infections—and hold off the new omicron variant. Biden outlined a new strategy to curb the pandemic in a speech at the National Institutes of Health yesterday, with cases rising in several states. He said his administration would also make free at-home coronavirus tests more available by requiring insurers to pay for them and "accelerate efforts to vaccinate the rest of the world."
Other parts of the strategy include requiring vaccinated air travelers to obtain a negative test closer to their departures and extending a mask mandate for domestic travel. It's in large part a continuation of what the administration is already doing. The plan includes a push for all adults to get booster doses and for vaccine holdouts to get shots. Biden said he believes the emergence of omicron is persuading some holdouts to reconsider shots. The administration, however, is shying away from other more strict measures, including requiring a PCR test instead of a less-accurate antigen test to fly to the U.S. Read more from Josh Wingrove.
Related: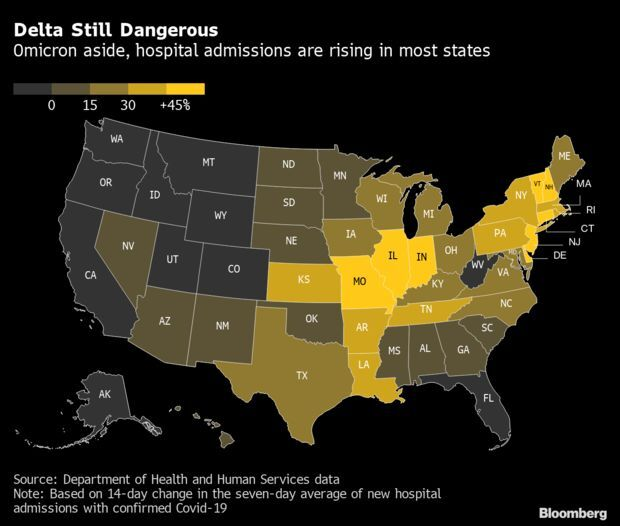 Court Pause Against Health Worker Vaccine Rule Persists: A federal court in Louisiana refused to lift a halt on the Biden administration's vaccine mandate for health-care workers in 40 states while an appeal moves forward. The Western District of Louisiana on Wednesday denied the administration's request for a stay on the preliminary injunction pending an appeal to the Fifth Circuit. A federal judge in Missouri also denied a similar request, so the White House still can't enforce that rule across the U.S. Read more from Allie Reed.
Merck Pill Access Imperiled by Prescribing Rules: The potential for Merck's Covid-19 pill to stave off severe disease could be thwarted by prescription requirements that will make access more difficult for some of the hardest-hit Americans, health researchers say. The drug gained a key recommendation from the Food and Drug Administration's advisory committee in a 13-10 vote. Merck's molnupiravir—if authorized—would offer for the first time in the U.S. an at-home treatment for patients with mild to moderate Covid-19 at risk of severe disease. Celine Castronuovo and Jeannie Baumann have more.
Pfizer Vaccine Lawsuit Spotlights Trade Secret Protection Tactics: Pfizer's lawsuit alleging an employee stole trade secrets about its Covid-19 vaccine highlights the critical nature of trade secrets as pharmaceutical companies try to protect them, and the importance of the controls companies use. Pfizer said in its complaint that it put in place technology for monitoring employee uploads to cloud-based platforms in October, the same month it flagged activity by defendant Chun Xiao (Sherry) Li. Failing to protect trade secrets can erase competitive advantages that took investments of billions of dollars over many years to develop, intellectual property policy analyst Jaci McDole of the Information Technology & Innovation Fund said. Read more from Kyle Jahner.
What Else to Know Today
Abortion Decision to Fuel New Era of Legal Fights: The Supreme Court could see more abortion cases if it erodes the line limiting when states can ban the procedure and state court dockets may swell if the justices reverse the constitutional right altogether. Mississippi wants the court to uphold its law banning abortions after 15 weeks of pregnancy. The court in Roe v. Wade, however, said states can only ban abortion once the fetus can survive outside the womb. If the court allows that law to stand, scholars say it'll entice states to pass more restrictive 12-week, 8-week, and 6-week bans. Lydia Wheeler has more.
Drug Rebate Fight to Proceed in D.C. Federal Court: A trade association representing drugmakers can move forward with a case challenging a new rule for determining drug rebates they must pay to state Medicaid agencies, a federal court in the District of Columbia said. Materials incorporated into the Pharmaceutical Research & Manufacturers of America's complaint named several drugmakers and demonstrated how they'll be harmed by the new rule, the U.S. District Court for the District of Columbia said. Read more from Mary Anne Pazanowski.
Medicaid Funding for Soon-to-Be-Freed Prisoners Eyed in States: Vermont and several other states are asking federal regulators to approve the use of Medicaid funds for health-care services to prisoners shortly before their release, setting up a debate over how much flexibility the states should have in running their Medicaid programs. Approval by CMS would mark the first break in the firewall that has kept Medicaid out of prisons, and would address the problem of interrupted care faced by newly released prisoners suffering from chronic illnesses, mental health problems, or substance use disorder as they transition to life beyond bars, some advocates say. Read more from Christopher Brown.
More Headlines:
To contact the reporter on this story: Brandon Lee in Washington at blee@bgov.com
To contact the editors responsible for this story: Zachary Sherwood at zsherwood@bgov.com; Giuseppe Macri at gmacri@bgov.com; Michaela Ross at mross@bgov.com
Stay informed with more news like this – from the largest team of reporters on Capitol Hill – subscribe to Bloomberg Government today. Learn more.