HEALTH CARE BRIEFING: Hospitals Weigh How to Prioritize Vaccines
Bloomberg Government subscribers get the stories like this first. Act now and gain unlimited access to everything you need to know. Learn more.
Large hospital systems are grappling with how best to decide which health-care workers will be vaccinated first for Covid-19, a daunting task when it's unclear which shots they'll receive, how many they'll have, and when they'll arrive.
The first vaccine may be cleared for U.S. use in a matter of weeks, with Pfizer and BioNTech's candidate already under review and Moderna's vaccine not far behind. Federal officials have, meanwhile, signaled health-care workers and older people at high risk should be vaccinated as the first step in what could set off months of fraught decisions involving other key groups.
But following those initial guidelines could prove difficult. With 21 million health-care workers in the U.S., there almost certainly won't be enough shots to reach them at once. That's forcing hospitals to categorize their workers based on best-guess distribution estimates, a task made even more complex for some systems by a patchwork state-by-state approach.
Minnesota's Allina Health system, which employs 15,600 workers who have direct contact with patients in Minnesota and Wisconsin, is estimating it may get 3,000 to 4,000 doses initially. The plan is to prioritize those that interact directly with coronavirus patients. "We are looking at all employees—where they work, what their roles are and what their exposure risk is," said Ryan Else, a doctor who is overseeing the coronavirus response in Allina Health's hospitals.
Health systems that operate across state lines face an even bigger challenge. While states are taking cues from federal guidelines, they're also developing their own priority lists, creating a situation where some workers in one state might get vaccinated before their peers in another. "How fair does that feel to people in the same system?" said Amy Compton-Phillips, a doctor and chief clinical officer at Providence, which operates 51 hospitals.
Like Allina, Providence also intends to vaccinate workers based on their roles in an attempt at fairness. The health system will notify workers when it's their turn to get vaccinated. It is also creating an appeal process if people think groups get misclassified. "When things are in short supply, you make really hard decisions," Compton-Phillips said. "They don't feel good." Read more from Angelica LaVito.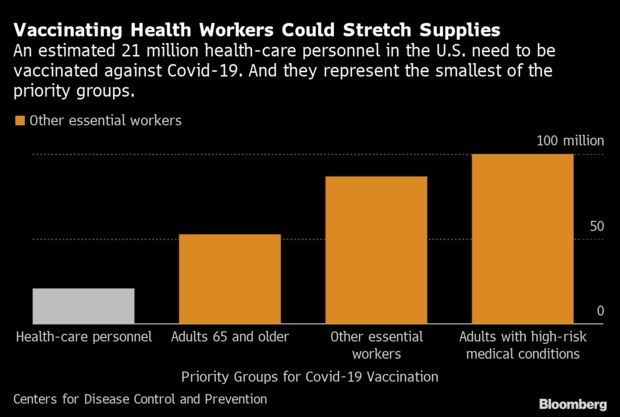 Task Force Promises Fast December Rollout of Vaccines: Members of Trump's coronavirus task force fanned out across Sunday talk shows to promise a fast rollout of Covid-19 vaccines to millions of Americans by year-end. U.S. Surgeon General Jerome Adams said yesterday the federal government hopes to quickly review and approve requests from two drugmakers for emergency approval of their Covid-19 vaccines.
Pfizer is scheduled to submit an Emergency Use Authorization request Dec. 10 for the vaccine it developed with Germany's BioNTech, followed by Moderna eight days later, Adams said on Fox News yesterday. He said he expects 40 million vaccine doses to be produced by the end of the year and for the general public to have access by early in the second quarter of 2021. And on NBC's "Meet the Press," top U.S. infectious-diseases specialist Anthony Fauci said the U.S. "almost certainly" will be vaccinating portions in the first priority of the population by the end of December. Read more from Christopher Condon and Yueqi Yang.
More on the Vaccine Race:
Virus Treatments Raise Access Concerns: Accompanying challenges of prioritizing vaccines, powerful drugs recently authorized by the U.S. that could prevent those at the earliest stages of Covid-19 from suffering severe disease also present thorny new challenges, including who will get them and where they'll be administered. Antibody treatments, like Regeneron's, are often administered to patients at their peak contagiousness. But access issues loom. Though the U.S. has spent hundreds of millions of dollars to snap up the treatments, they have to be rationed amid limited supplies. Emma Court and Riley Griffin have more.
Thanksgiving Testing Crunch Foreshadows a Strain: Americans flocked to Covid-19 testing sites in the week leading up to Thanksgiving in search of a clean bill of health for travel, which drove up wait times and strained capacity. Nationally, Saturday saw a record with 1.98 million tests performed, according to Covid Tracking Project data. Cases have climbed through all of November, and gatherings over the holiday could expedite the spread, pushing cases to new heights and requiring thousands of added tests. The constraints also foreshadow yet another round of difficulties in December, when Americans will travel again for the holidays.
Brett Giroir, the HHS official who leads the administration's Covid-19 diagnostic testing efforts, said he expects testing to return to prior levels after Thanksgiving. "People are going to get a test just to see if they're negative before going on travel," he said in a briefing last week. "I do believe we will be back to a baseline area for those type of tests." Read more from Nic Querolo.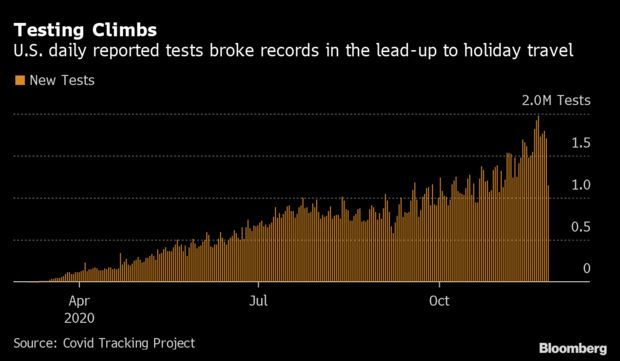 Hospitals Cancel Surgeries to Preserve Workers: A growing number of hospitals around the U.S. have canceled or delayed some planned medical procedures to preserve health-care staff and beds for a surging number of Americans sick with Covid-19. Conditions remain especially acute in the Midwest and West. From Illinois to Idaho, systems are restricting non-emergency surgeries as the pandemic's strain on personnel grows. Postponing planned procedures that patients can defer safely is one of the few levers hospitals have to adjust their capacity as the virus spreads unchecked. Read more from John Tozzi.
Three Added to Biden's Covid-19 Transition Team: Joe Biden's transition team named three more experts to its Covid-19 Advisory Board, which is helping guide the president-elect to help fulfill the key campaign promise of a robust, national strategy against the resurgent virus. The new adds are Jane Hopkins, a nurse specializing in mental health who worked most recently in Washington state; Jill Jim, executive director of the Navajo Nation's Department of Health; and David Michaels, an epidemiologist at George Washington University who served in the Clinton and Obama administrations. Read the statement here.
More on the Pandemic:
Happening on the Hill
Panel Asks Purdue CEO to Testify: House Oversight Chairwoman Carolyn Maloney (D-N.Y.) requested Purdue Pharma CEO Craig Landau, as well as members of the Sackler family, testify at a hearing on their role in the U.S.'s opioid epidemic. Even after entering into a settlement with the Department of Justice, "Purdue continued to aggressively market OxyContin and other opioids, with close involvement by" members of the Sackler family, Maloney said in a letter to Landau. Read more from Max Reyes.
Hearings on the Hill:
What Else to Know
Barrett Fortifies Court on Religious Rights: The U.S. Supreme Court's sharply-divided ruling blocking New York's Covid-19 restrictions on in-person worship has bolstered the prospects of already-successful religious legal advocates while making their opponents fear for their future at the high court. In its most significant public action since Justice Amy Coney Barrett replaced Ruth Bader Ginsburg, the court late last Wednesday signaled it will side with religious claims—not only in a coronavirus-context but in other religious fronts, too. Read more from Jordan Rubin.
More Headlines:
To contact the reporter on this story: Brandon Lee in Washington at blee@bgov.com
To contact the editors responsible for this story: Zachary Sherwood at zsherwood@bgov.com; Giuseppe Macri at gmacri@bgov.com; Michaela Ross at mross@bgov.com
Stay informed with more news like this – from the largest team of reporters on Capitol Hill – subscribe to Bloomberg Government today. Learn more.