HEALTH CARE BRIEFING: Hospital Bankruptcy, Hacking Threats Loom
Bloomberg Government subscribers get the stories like this first. Act now and gain unlimited access to everything you need to know. Learn more.
Hospitals and other health-care providers are bracing for a bankruptcy wave as the federal government's stimulus that gave a lifeline to the industry dries up.
Even before the pandemic, providers were pushed to their breaking points, especially those in rural areas. At least 30 hospitals entered bankruptcy in 2019, with another three dozen doing so this year, according to data compiled by Bloomberg.
Chapter 11 filings had been poised to go even higher with the coronavirus inflating costs for protective equipment and impeding revenue-generating elective procedures. The CARES Act (Public Law 116-136) and accelerated Medicare advance payments helped to forestall the anticipated increase.
The stopgap assistance allowed struggling hospitals to stay out of bankruptcy and remain open for patients, according to health-care transactions lawyer Bobby Guy of Polsinelli. But Congress and President Donald Trump's administration have been unable to agree on further coronavirus relief, and health-care bankruptcies and out-of-court restructurings could accelerate early next year, attorneys say.
"If there's not more stimulus, we're going to see a lot of cash crunches," Guy said. "The bill will come due."
Healthcare sectors have been in upheaval for years as reimbursement rates have fallen, the cost of care has increased, and rural populations have fallen. Polsinelli's quarterly "distress index" that tracks health-care bankruptcy filings has exceeded its 2010 benchmark in every quarter since the latter half of 2015. The firm's most recent report shows that distress in the industry is more than five times what it was in 2010 when Polsinelli began tracking, Guy said.
The American Hospital Association estimates that the nation's hospital and health systems will report $323 billion in net losses this year, due in large part to lower non-Covid patient volumes. Read more from Alex Wolf.
FBI, DHS Warn Hospitals of 'Credible Threat' from Hackers
The FBI, the Department of Health and Human Services and the Department of Homeland Security's Cybersecurity and Infrastructure Security Agency last night said hackers were targeting the health-care provider sector for possible financial gain, "often leading to ransomware attacks, data theft and the disruption of health-care services," according to an advisory.
The warning comes as Covid-19 cases and hospitalizations surge across the country. The cybersecurity company FireEye said multiple U.S hospitals have been hit by a "coordinated" ransomware attack. St Lawrence Health System in New York, Sonoma Valley Hospital in California, and Sky Lakes Medical Center in Oregon on Tuesday all publicly stated they were affected by ransomware attacks, according to local news reports.
"We are experiencing the most significant cybersecurity threat we've ever seen in the United States," Charles Carmakal, FireEye's strategic services chief technology officer, said. Ransomware is a type of computer virus that locks up computers until a ransom is paid for a decryption key.
The attack was carried out by an Eastern European financially motivated cybercrime group dubbed UNC1878 by computer security researchers, according to Carmakal. The group is "deliberately targeting and disrupting U.S. hospitals, forcing them to divert patients to other health-care providers," he said. Read more from William Turton, Kartikay Mehrotra and John Tozzi.
The Coronavirus Pandemic
HHS Ad Campaign Raises Democrats' Eyebrows: The top spokesman for the Department of Health and Human Services sought to create a $250 million ad campaign including the theme of "Helping the President will Help the Country," raising questions over whether public health funds were being directed to benefit Trump politically, according to new documents released by the House Oversight and Reform Committee yesterday.
Michael Caputo, who's currently on a leave of absence from the department, personally steered early planning for a public information campaign toward messages beneficial to Trump's re-election bid and excluding any celebrities who publicly spoke against Trump, Chairwoman Carolyn Maloney (D-N.Y.), Select Subcommittee on the Coronavirus Crisis Chairman James Clyburn (D-S.C.), and Rep. Raja Krishnamoorthi (D-Ill.), said in a letter to the HHS.
"Of course, it is completely inappropriate to frame a taxpayer-funded ad campaign around 'helping' President Trump in the weeks and days before the election," the letter said. "This theme also ignores the reality that more than 220,000 Americans have died from coronavirus—a fact that should not be whitewashed in a legitimate public health message."
The department and the contractors hired to launch the ad campaign, the lawmakers said in their letter, even attempted to prepare for negative news coverage of the Trump campaign or a "chaotic rollout of vaccine," according to documents released by the oversight panel. Contractors also closely tracked the political ideologies and statements about Trump of 274 celebrities, according to the documents. Only 10 celebrities were eventually approved for the campaign, including singer Enrique Iglesias, NBA star Dwayne Wade, and actor Dennis Quiad.
"The Trump administration basically took $250 million from the CDC and used it as a slush fund for the president's reelection campaign," Krishnamoorthi said in an interview.
HHS said the contract—ostensibly to "defeat despair and inspire hope" about the pandemic, according to a document reviewed by the lawmakers—is on hold pending a review. The director of the Centers for Disease Control and Prevention told lawmakers last month the planned $250 million campaign was supposed to use CDC funding, Alex Ruoff reports.
A spokeswoman from HHS told Bloomberg Government the department maintains open communication with lawmakers. The spokewoman pointed to comments from Secretary Alex Azar to Clyburn's panel, stating he had "ordered a strategic review of this public health education campaign that will be led by top public health and communications experts to determine whether the campaign serves important public health purposes." The review is ongoing, the spokeswoman said.
Northeast Drives Record U.S. Testing: The Northeast is running America's biggest Covid-19 surveillance operation as a coronavirus resurgence sweeps the country, sending U.S. testing overall to a record. The seven-day average of U.S. tests rose to 1.2 million Tuesday, part of an upswing that started about a month ago and has continued unabated, according to the Covid Tracking Project. The Northeast states account for 26% of average daily tests, even as they're reporting just 10% of the country's positive cases and have 17% of the country's population. Read more from Jonathan Levin.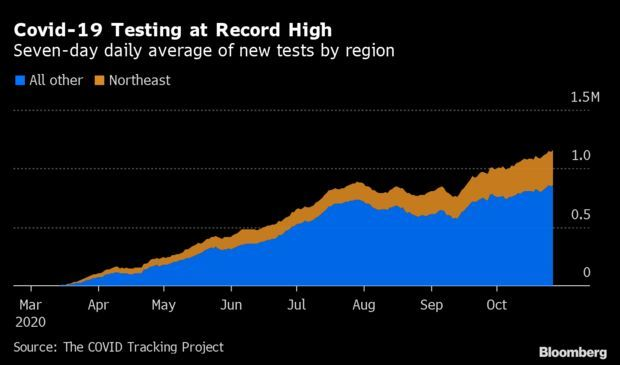 Covid-19 Hospitalizations in the U.S.: Hospitalizations due to Covid-19 are rising in 47 states or territories in the U.S., including 19 going through the largest increases since the beginning of the pandemic. Texas leads all states with at least 5,650 patients now hospitalized, but 14 states still have a higher rate per capita. Read more from Cedric Sam.
Warren Seeks Tracking of Covid in Schools: Sens. Elizabeth Warren (D-Mass.) and Tina Smith (D-Minn.) called on several federal agencies to publish detailed plans for collecting and reporting information on virus cases tied to elementary and secondary schools. The administration has not formulated a national method for reporting and tracking Covid-19 cases in schools, resulting in "inconsistent, unreliable, and unavailable data," the two senators said in a letter to the Health and Human Services Department, Education Department, and the CDC. Read more from Maria Monteros.
Eli Lilly to Supply Covid Antibody to U.S.: The U.S. government agreed to pay Eli Lilly $375 million for 300,000 doses of its experimental Covid antibody as it undergoes regulatory review for emergency-use authorization. The funding from Operation Warp Speed, the White House's campaign to quickly secure Covid vaccines and therapeutic treatments, hinges on Lilly's antibody therapy getting a green light from the Food and Drug Administration. Riley Griffin has more.
More From the U.S.:
Europe Status Worsens:
What Else to Know Today
Grassley Furthers Probe on Organ Transplants: Senate Finance Chairman Chuck Grassley (R-Iowa) and ranking member Ron Wyden (D-Ore.) sent a letter to Health and Human Services Secretary Alex Azar concerning the "oversight procedures for the organ procurement and transplantation system in the United States," part the Finance Committee's probe "into the conduct of the nation's organ donation and procurement system." The letter cites several inspector general audits and news reports "about the adequacy of patient safety standards." Read the letter here.
More Headlines:
To contact the reporters on this story: Brandon Lee in Washington at blee@bgov.com; Alex Ruoff in Washington at aruoff@bgov.com
To contact the editors responsible for this story: Zachary Sherwood at zsherwood@bgov.com; Giuseppe Macri at gmacri@bgov.com; Michaela Ross at mross@bgov.com
Stay informed with more news like this – from the largest team of reporters on Capitol Hill – subscribe to Bloomberg Government today. Learn more.