HEALTH CARE BRIEFING: Home Health Care Agenda Hinges on States
Bloomberg Government subscribers get the stories like this first. Act now and gain unlimited access to everything you need to know. Learn more.
Democrats' proposed home health care program has shrank to $150 billion, sparking concern it may not be enough to meet its supporters' lofty goals.
The plan to expand Medicaid's home and community-base care services, which help people with disabilities and the elderly remain in their homes and avoid long-term care facilities, once stood at $400 billion. Backers as recently as last week were hoping for $250 billion over the next 10 years.
The trimmed-down proposed investment means the federal government will be able to offer less money to states to entice officials to embark on long-term plans to boost pay for home health workers and cut down their waiting lists for people seeking these services.
"It's not where we wanted to land," Sen. Bob Casey (D-Pa.), one of the main sponsors of the home health legislation, said Thursday. "But, it's a number we can work with."
The lower price tag was included in the latest version of Democrats' tax and social spending package (H.R. 5367), released last week. Democrats are still negotiating over some elements of the bill.
Backers of the package in labor unions, who've spent months rallying support for it, called a framework released by the White House last week a first-of-its-kind investment in home care.
"This is a commitment to working people, with an historic investment in home care workers and care services," Mary Kay Henry, international president of the Service Employees International Union, said in a statement. Read more from Alex Ruoff.
Pelosi Leading Talks to Include Drug Price Cuts: Speaker Nancy Pelosi (D-Calif.) is leading an effort to add a plan to cut prescription drug prices to Biden's $1.75 trillion economic plan, and lawmakers are optimistic a deal can be reached. The emerging plan could allow Medicare to negotiate drug prices for the first time, and talks continue on what categories of drugs would be subject to the cost-cutting negotiation power.
To do that and not lose votes, Democrats will likely have to drop or modify a proposed 95% excise tax on drug companies that was originally proposed to force them to lower prices for younger patients not part of Medicare. The changes to drug prices appear to have a better shot than another liberal priority, paid family leave. But already, leading proponents of that policy are signaling they will not be able to convince Sen. Joe Manchin (D-W.Va.) to go along with it. Read more from Erik Wasson, Laura Litvan and Laura Davison.
Happening on the Hill
Groups Pushing Covid-19 Misinformation Targeted: A House panel will probe online entities spreading Covid-19 misinformation and pitching "disproven and potentially hazardous" treatments such as hydroxychloroquine and ivermectin, Rep. James Clyburn (D-S.C.) said in statement. Clyburn, chairman of the Select Subcommittee on the Coronavirus Crisis, sent a letter to FTC Chair Lina Khan requesting an investigation into whether these groups violated federal law, Daniela Sirtori-Cortina reports.
Virus Response: The Senate Health, Education, Labor and Pensions Committee holds a hearing Thursday on Covid-19 response. National Institute of Allergy and Infectious Diseases Director Anthony Fauci, Centers for Disease Control and Prevention Director Rochelle Walensky, Acting Food and Drug Administration Commissioner Janet Woodcock, and Health and Human Services Assistant Secretary for Preparedness and Response Dawn O'Connell are scheduled to testify.
The Coronavirus Pandemic
FDA Clears Pfizer Vaccine for Children 5-11: Pfizer and BioNTech's Covid-19 vaccine was cleared Friday by U.S. regulators for children ages 5 to 11, a long-awaited pandemic milestone that opens a new phase of the immunization campaign. The emergency authorization, announced Friday in a statement by the Food and Drug Administration, brings the U.S. a step closer to shots being administered at schools, pediatricians' offices and pharmacies around the country. The formulation for young kids is one-third the dose of the adult shot.
Before youngsters can begin to receive the vaccine, the Centers for Disease Control and Prevention's immunization advisory committee will also meet to make more specific recommendations about who should get it and how to administer it. The panel is currently scheduled to convene tomorrow and Wednesday. CDC director Rochelle Walensky will then need to sign off on the advisers' guidance. Read more from Josh Wingrove, Fiona Rutherford, and Anna Edney.
Covid-19 Vaccines Protect Better Than Earlier Infection: A new study offers more evidence that Covid-19 vaccines provide stronger protection against hospitalization than immunity from an earlier infection, the CDC said Friday. Hospitalized patients who weren't vaccinated but had been previously infected with Covid-19 were about five times more likely to test positive for the infection than people who had been vaccinated, according to the CDC study. Read more from John Tozzi.
U.S. Spies Say Covid-19 Origins Unclear Without China's Help: Covid-19 was probably not a biological weapon and most U.S. analysts believe it wasn't genetically engineered at all, but a final conclusion on the virus's origins is impossible without cooperation from China, a declassified U.S. report says. The Office of the Director of National Intelligence released its long-awaited public findings on the virus's origins on Friday, a declassified version of the secret report submitted to Biden this summer. Read more from Josh Wingrove.
States Sue to Halt Biden's Vaccine Requirement: More than a dozen states sued Biden over his vaccine mandate for federal contractors, arguing the initiative forces Americans to choose between their jobs and their constitutional rights. The U.S. constitution doesn't give the federal government the right to dictate "any and every facet of its citizens' lives," Texas Attorney General Ken Paxton said in one of the complaints, filed Friday night in federal court in Galveston, Texas. More than a dozen other Republican-led states joined in two other lawsuits filed in federal courts on Friday in Missouri and Georgia. Read more from Erik Larson.
Related:
SCOTUS Allows Mandate Without Religious Opt-Out: A divided U.S. Supreme Court refused to order Maine to allow religious exemptions to its new requirement that health-care workers be inoculated against Covid-19. Over dissents by three conservative justices, the high court rejected a group of workers and one employer who said their religious views put them at risk of losing their jobs and health-care practice. Read more from Greg Stohr.
Related:
Hospitals Put Off Jab Requirement for Staff as Rule Draws Near: The number of hospitals mandating the Covid-19 vaccine for their workers has leveled off since the Biden administration announced all health-care workers at facilities paid by Medicare and Medicaid would need to get the jab. Hospitals have been trailblazers for mandating vaccines in the workplace, requiring the shot for their staff well in advance of state and federal orders. Health-care workers are at higher risk of getting and transmitting the coronavirus, and vaccine mandates have been one of several tools some hospitals have implemented to keep their staff safe. Read more from Allie Reed.
Covid-19 Deaths Top 5 Million: More than 5 million people worldwide have died from Covid-19 less than two years after the novel pathogen was first documented, despite the arrival of vaccines that have slashed fatality rates across the globe. The latest 1 million recorded deaths came slower than the previous two. It took more than 110 days to go from 4 million deaths to 5 million, compared to less than 90 days each to reach the 3- and 4-million marks. The rate has returned to what was seen during the first year of the pandemic, when the virus was still taking hold. Read more from Jinshan Hong.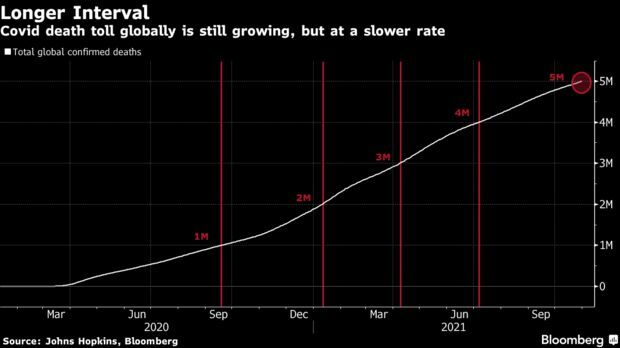 More Headlines:
What Else to Know
Texas Abortion Law Focus of Supreme Court Today: The Texas abortion clash goes before the U.S. Supreme Court today, with providers and the Biden administration trying to cut through a procedural haze to block a law that has largely shut down the practice in the country's second-largest state. The fast-tracked showdown promises to combine dizzying complexities with straightforward ends.
Texas and its allies say a bevy of legal doctrines prevent federal judges from blocking the law, which bans most abortions after six weeks of pregnancy, or even entertaining challenges by clinics, doctors and the Justice Department. Abortion-rights advocates say the justices just need to find a way to block clearly unconstitutional law. "If ever there were a need for the federal courts to step in, this is it," argued the providers, a group led by Whole Woman's Health, which has four clinics in Texas. Greg Stohr has more.
Dialysis Centers to Get $220 Million Bump: Medicare payments to freestanding dialysis centers will increase an estimated 2.5% in 2022 while hospital-based facilities will see a 3.3% payment bump, the Centers for Medicare & Medicaid Services reported Friday. The increases announced in the final payment rule (RIN 0938-AU39) will hike Medicare payments by $220 million next year, while total program spending will increase by $290 million for dialysis patients with kidney failure, or end-stage renal disease. Read more from Tony Pugh.
More Headlines:
To contact the reporter on this story: Michaela Ross in Washington at mross@bgov.com
To contact the editors responsible for this story: Zachary Sherwood at zsherwood@bgov.com; Giuseppe Macri at gmacri@bgov.com; Brandon Lee at blee@bgov.com
Stay informed with more news like this – from the largest team of reporters on Capitol Hill – subscribe to Bloomberg Government today. Learn more.