HEALTH CARE BRIEFING: Home Care Funding a Boon for Women Workers
Bloomberg Government subscribers get the stories like this first. Act now and gain unlimited access to everything you need to know. Learn more.
Home-based health care should be seen as a jobs program for women of color and a cure for what ails the American economy, supporters of President Joe Biden's proposal for a massive infusion into the industry say.
Labor groups and key Democratic senators say spending as much as $250 billion over a decade on home health care would create more than 500,000 new jobs in the sector. It would also allow more than a million people to return to work if they previously left the workforce to care for someone with a disability or an elderly family member. The home care industry largely employs women of color, so these new jobs would bolster women's employment.
The U.S. economy is ripe for an investment in jobs for women, who have lower employment levels than men and have dropped out of the workforce at higher rates than men since the start of the Covid-19 pandemic.
"This would represent the biggest investment in creating jobs of women and women of color in the history of this country," Ai-jen Poo, co-founder and executive director of the National Domestic Workers Alliance, which advocates for domestic workers, said. "It's what is needed now." Read more from Alex Ruoff.
Democrats Move to Break Stalemate by Scaling Back Plan: Congressional Democrats made significant headway in breaking their stalemate on Biden's economic agenda yesterday by jettisoning or trimming portions of the multitrillion-dollar tax and spending package. The progress came after Biden met with representatives of both wings of the party at the White House yesterday and as Senate Majority Leader Chuck Schumer (D-N.Y.) put pressure on Democrats to sew up a deal this week.
Lawmakers are discussing keeping health care expenditures under $250 billion, according to a personal familiar with the discussion. That change and others could slice hundreds of billions of dollars from the overall cost of the plan.
An expansion of Medicare benefits, to include dental, vision and hearing, is in the bill, but the details are still being negotiated, progressive Rep. Ro Khanna (D-Calif.) said. Universal pre-kindergarten will also be in the bill, and will not be based on salary, he said. Read more from Laura Davison, Emily Wilkins and Erik Wasson.
ACA Extras Cost $553 Billion, Add Millions of Americans: Obamacare enhancements at the core of Democrats' health agenda would cost $553.2 billion and extend coverage to nearly 4 million Americans over a decade, according to a nonpartisan analysis by the Congressional Budget Office released yesterday. Enrollment in Medicaid and individual health plans subsidized by Obamacare would increase by 4 million and 3.6 million respectively, according to the report.
At the same time, enrollment in unsubsidized individual plans and employer-sponsored insurance—i.e., private-sector funded coverage—would decrease by 1 million and 2.8 million respectively. The report shows how pricey these provisions would be if implemented as proposed by House Democrats. It doesn't factor Democrats' plan to add dental, hearing and vision benefits to Medicare, which CBO has previously said would cost $358 billion over 10 years. Read more from Alex Ruoff.
Group Pushes to Close Medicaid Gap in U.S. South: A group pushing to close the Medicaid gap is trying to win support from the Congressional Progressive Caucus. Southerners for Medicaid Expansion sent a letter to CPC leaders yesterday asking them to tack the policy into their health-care priorities for Democrats' sweeping domestic spending bill, Alex Ruoff reports. Read the letter here.
"Our greatest hope is this has been an oversight and this just didn't make their public talking points," said Laura Guerra-Cardus, deputy director of the Texas office of the Children's Defense Fund, said. "We don't want to leave this to chance." The CPC earlier this month sent a letter to party leaders emphasizing the need to expand Medicare benefits, which has been the focus of House and Senate progressives in the spending package.
On Lawmakers' Radars
Democrat Warns Biden He Opposes Top FDA Choice: A top Senate Democrat is pushing back on Biden's likely choice to lead the Food and Drug Administration, potentially complicating Robert Califf's road to confirmation before he's even officially nominated. Sen. Richard Blumenthal (D-Conn.) said his staff reached out to the White House with his concerns about Califf, who ran the FDA under President Barack Obama, over his his ties to pharmaceutical companies. Alex Ruoff has more.
Bill Halts Funds for 'Risky' Virus Research: Sens. Marsha Blackburn (R-Tenn.) and Roger Marshall (R-Kan.) introduced a bill that would ban "all federal research grants to universities and other organizations conducting gain-of-function research and risky research on potential pandemic pathogens," according to a statement. They cited reports of federal agencies authorizing "research with certain foreign entities that may have contributed to the COVID-19 pandemic." Find the bill text here.
Today's Hearings on the Hill:
House Floor: The House yesterday by a 368-56 vote passed H.R. 4369, legislation that would direct the FDA to solicit applications from higher education institutions to be labeled as National Centers of Excellence in Advanced and Continuous Pharmaceutical Manufacturing. Read the BGOV Bill Summary by Christina Banoub.
The Coronavirus Pandemic
Pfizer CEO Says Mixing Vaccines Could Provide Flexibility: Pfizer CEO Albert Bourla said mixing and matching Covid-19 vaccines and boosters could work and provide more flexibility in administering the shots. Preliminary results of a U.S. National Institutes of Health study found that mixing and matching vaccines produces as much or more antibodies as using the same shot as a booster. Bourla told Bloomberg TV the study was very reliable even though it involved only a modest number of patients.
The Food and Drug Administration is poised to authorize vaccine recipients to get a booster dose from a different manufacturer. The agency is still considering how broad that authorization would be, and it's not clear when a decision could be announced. Pfizer and its partner BioNTech received FDA clearance for their booster shot last month. Read more from Robert Langreth.
U.S. Rules Bar Foreign Covid-19 Survivors With One Shot: The new U.S. travel policy will block entry to foreign nationals who have recovered from Covid-19 and then gotten one dose of two-dose vaccines—a standard that France and the European Commission consider full vaccination. The U.S. announced on Friday it would open its borders to vaccinated travelers Nov. 8, and the CDC said that would include "any combination of two doses" from two-shot vaccines. Read more from Josh Wingrove.
More Headlines:
What Else to Know Today
Earn Less, Pay Less in Health Premiums at Bigger Companies: More employers—especially larger companies—are tying their employee's health premiums and out-of-pocket expenses to the amount each worker earns as open enrollment season for 2022 health plans begins. The trend is driven, in part, by a new understanding of health equity issues amid the coronavirus pandemic. More firms are reconsidering ways to help lower-income workers benefit from the health coverage they provide, consultants say.
Under a wage-based premium model, workers at the bottom end of a company's pay scale pay less for health insurance coverage than those at the top—and could also get more help with their out-of-pocket expenses. The goal is to achieve more equitable costs overall. Read more from Sara Hansard.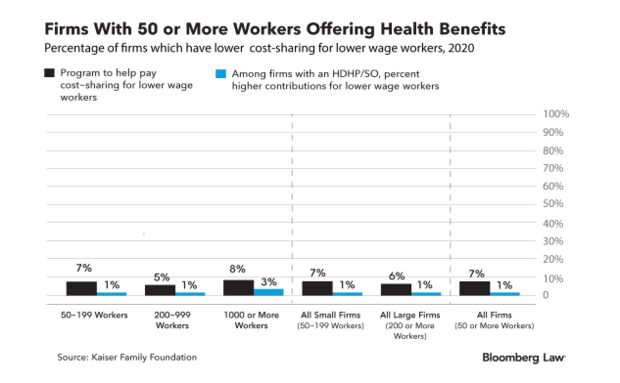 Biden Team Seeks to Ax Trump HHS Guidance Rules: The Health and Human Services Department yesterday proposed to strike two Trump-era rules that it says have slowed down the agency's ability to respond to public health threats. The proposal to repeal would nix "unnecessary hurdles" imposed by the rules "that hinder the Department's ability to issue guidance, bring enforcement actions, and take other appropriate actions," HHS said, Allie Reed and Shira Stein report.
First Openly Trans Four-Star Officer Sworn in at HHS: Health and Human Services Assistant Secretary for Health Rachel Levine was sworn in as a full admiral yesterday, making her the first openly transgender four-star officer in the U.S. uniformed services. She now becomes the highest-ranking official, and first female four-star admiral, in the U.S. Public Health Services Commissioned Corps, where Levin will work to direct 6,000 Public Health Service officers. Read more from Allie Reed.
Trans Workers Fight for Health Care: Major Fortune 500 companies, including Bank of America, the Carlyle Group, and Salesforce, have expanded coverage for gender transition-related health care, but a recent Center for American Progress report finds one in two transgender workers saying they've been denied gender-affirming health care under their employers' plan. Read more from Erin Mulvaney.
FDA Authorizes Marketing of Altria's Nicotine Chews: The Food and Drug Administration recommended that Marlboro maker Altria Group's now-discontinued Verve oral nicotine products be authorized for U.S. sales, but it's unclear if the company plans to reintroduce the line. Altria took its Verve discs and softer chews off the market in 2019, but the FDA continued its assessments of the products. The FDA said Altria would be permitted to sell the products. Tiffany Kary has more.
More Headlines:
With assistance from Alex Ruoff
To contact the reporter on this story: Brandon Lee in Washington at blee@bgov.com
To contact the editors responsible for this story: Zachary Sherwood at zsherwood@bgov.com; Giuseppe Macri at gmacri@bgov.com; Michaela Ross at mross@bgov.com
Stay informed with more news like this – from the largest team of reporters on Capitol Hill – subscribe to Bloomberg Government today. Learn more.