HEALTH CARE BRIEFING: HHS Rejects States' Plea for Vaccine Help
Bloomberg Government subscribers get the stories like this first. Act now and gain unlimited access to everything you need to know. Learn more.
States have enough money to distribute a future Covid-19 vaccine, HHS Secretary Alex Azar said yesterday, contradicting his own CDC head and state officials.
States "do not have a need for additional funding for the rollout of the vaccine program. They actually have received funding for this. They have plenty of resources to manage the vaccine distribution program," Azar said at a Milken Institute event.
State health officials stressed the need for more federal funds on a call earlier yesterday hosted by the Association of State and Territorial Health Officials.
"Without more federal funding, this is like setting up a tent without tent poles," said Nirav Shah, director of the Maine Center for Disease Control and Prevention.
The federal government needs an additional $5.5 billion to $6 billion to distribute a Covid-19 vaccine once one is approved, Centers for Disease Control and Prevention Director Robert Redfield told a Senate panel in September.
"We do not have the resources to support 64 jurisdictions to get this plan operational. To me, it's an urgency that we get that," Redfield said at the hearing. Read more from Shira Stein and Angelica LaVito.
Vaccine Doubters Could Hamper Global Effort: Governments and drugmakers have long faced skepticism, and even hostility, from a small but vocal group of anti-vaccination campaigners. The effort to overcome that sentiment will start with health care workers, as medical staff are at heightened risk of catching the virus and spreading it to others, and will likely be among the first to get immunized.
But their support shouldn't be taken for granted, said Sara Gorton, head of health at Unison, a union in the U.K. representing nurses, paramedics and others in the field. Medical workers would be careful not to damage the trust they've earned by promoting a product they don't have faith in, she said. A study in Hong Kong earlier this year found that only 63% of nurses expressed a willingness to get a potential Covid shot. Read more from James Paton and Sybilla Gross.
Happening on the Hill
Pelosi, Mnuchin Seen Narrowing Aid Gap: Speaker Nancy Pelosi (D-Calif.) and Treasury Secretary Steven Mnuchin "continued to narrow their differences" on a coronavirus stimulus package, an aide to the speaker said yesterday, as time draws short to strike a deal on a bill that can pass by Election Day. "The Speaker continues to hope that, by the end of the day Tuesday, we will have clarity on whether we will be able to pass a bill" by Nov. 3, Pelosi spokesman Drew Hammill said on Twitter. Read more from Billy House, Erik Wasson, and Laura Litvan.
Separately yesterday, Senate Minority Leader Chuck Schumer (D-N.Y.) said Senate Republicans' virus-relief package that is set to be voted on this week is full of "poison pills" and designed to fail. Republicans are moving ahead with a $500 billion plan to renew a small-business loan program and provide expanded unemployment benefits, school aid and money for testing, Megan Howard reports.
GAO to Probe Political Interference at Health Agencies: The Government Accountability Office said it will investigate the Trump administration's political influence over the Centers for Disease Control and Prevention and the Food and Drug Administration, according to a statement from Sen. Elizabeth Warren's (D-Mass.) office. She and Gary Peters (D-Mich.) requested the probe after reports of interference in the federal agencies' pandemic response, Maria Monteros reports.
Democrats Want Testing Regime on Hill: Sen. Chris Murphy (D-Conn.) and 13 other Senate Democrats called on House and Senate leadership yesterday to implement a comprehensive testing plan "for everyone who works in and around the Capitol complex." The lawmakers, in a letter to Majority Leader Mitch McConnell (R-Ky.) and Pelosi, said the testing regime should include all congressional staffers, restaurant and sanitation employees, U.S. Capitol Police, Congressional Research Service staffers and all lawmakers. Read the letter here.
More on the Pandemic
Covid Hits Key States Ahead of Election: The pandemic is disproportionately affecting some crucial voters two weeks before Election Day, costing American lives and potentially hurting President Donald Trump, who has received overwhelmingly poor grades from Democrats and independents on his virus response.
Wisconsin is the most extreme example, a swing state that Trump won in 2016 that now has America's fourth-worst outbreak by per-capita Covid cases in the past week. Florida, Arizona, Pennsylvania, North Carolina and Michigan have all seen difficult stretches, and cases have been creeping back up over the past few weeks. In North Carolina, counties with large Black communities, which helped former President Barack Obama win the state in 2008, are facing their hardest stretch of the pandemic. Jonathan Levin has more.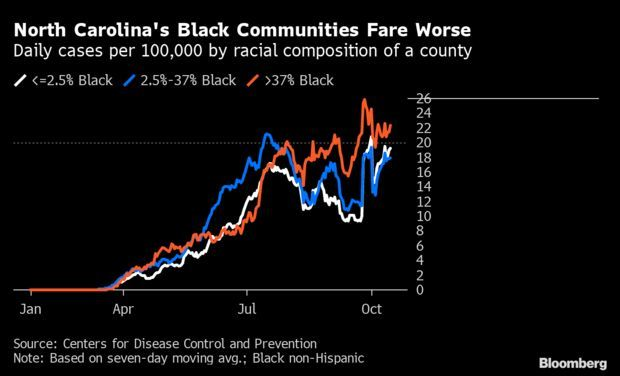 Test Result Turnaround Falls to Under Three Days: The turnaround time on Covid-19 tests has fallen to less than three days in the U.S., an improvement from earlier in the year but still not quick enough to support broad contact tracing, according to a new analysis by a collection of university researchers. Testing time has hovered around four days for most of the year, meaning that most people have waited at least that long to know if they've contracted the virus, the analysis by the 50-State Covid-19 Project said. Read the report here.
Hospitals to See Fewer Admissions Than Predicted: Hospital admissions have rebounded since the pandemic started but will likely be 10.5% lower than predicted for 2020, according to a new study by Epic Health Research Network and the Kaiser Family Foundation.
Admissions could drop further if a new Covid-19 surge once again requires facilities to halt non-emergency care—or patients start avoiding hospitals out of fear of infection. Read more from Tony Pugh.
CDC Issues 'Strong' Call for Masks on Airplanes, Trains: The U.S. Centers for Disease Control and Prevention has issued a "strong recommendation" for mask-wearing by both passengers and operators on planes, trains, buses and taxis to prevent the spread of the novel coronavirus.
Masks should cover a person's nose and mouth and be worn while traveling in and out of the U.S. as well as within the country, the agency said. Operators should require them for the entire time of travel and deny entry to anyone not wearing one. Read more from Emma Court.
Moderna Expects Covid-19 Vaccine Interim Results in Nov.: Moderna CEO Stéphane Bancel said the U.S. government could authorize emergency use of its Covid-19 vaccine in December if it gets positive interim results in November from a large clinical trial, Wall Street Journal reported.
More Headlines:
Trump Lumps Fauci Among 'Idiots' But Suggests He Won't Fire Him
Michigan's New Covid, Mask Orders Unconstitutional, School Says
Canada Extends Coronavirus Travel Ban on Americans Until Nov. 21
What Else to Know
Justices to Mull Wading Into Medicaid Work Rule: The U.S. Supreme Court has to decide whether to give the federal government another shot at greenlighting Medicaid work rules that opponents say will be disastrous for low-income people already struggling during the pandemic. A federal appeals court struck down an Arkansas law that forced people to work, volunteer, or go to school to get Medicaid a month before businesses shut down across the country. Now, the high court is being asked to step into the dispute at a time when millions are flocking to Medicaid. Read more from Lydia Wheeler.
More Headlines:
Hospitals Denied Full Court Review in Medicare Drug Pay Lawsuit
IRS Criteria for Tax-Exempt Hospitals Unclear, U.S. Watchdog Says
AbbVie Targets FDA, EMA Approval for Rinvoq in Atopic Dermatitis
Mereo Biopharma Gets FDA Nod for Phase 1b/2 Study of Etigilimab
Bristol Myers-Exelixis' Opdivo Combo to Get Priority Review by FDA
Opportunities Exist to Improve Oversight of Hospitals' Tax-Exempt Status (GAO)
To contact the reporters on this story: Brandon Lee in Washington at blee@bgov.com; Alex Ruoff in Washington at aruoff@bgov.com
To contact the editors responsible for this story: Zachary Sherwood at zsherwood@bgov.com; Giuseppe Macri at gmacri@bgov.com; Michaela Ross at mross@bgov.com
Stay informed with more news like this – from the largest team of reporters on Capitol Hill – subscribe to Bloomberg Government today. Learn more.