HEALTH CARE BRIEFING: HHS Backs Surprise Billing Fix in Stimulus
Bloomberg Government subscribers get the stories like this first. Act now and gain unlimited access to everything you need to know. Learn more.
The Trump administration signaled it wants a surprise billing fix in the upcoming coronavirus response package, but officials didn't endorse any particular plan to break the logjam that's kept Congress from acting so far this year.
The Health and Human Services Department yesterday released a report saying legislation is an "appropriate remedy" for the issue of surprise billing and calling it a "market failure that will not correct itself."
A senior official from the department told reporters the agency wanted to offer some context to the issue and to make clear the administration wants Congress to include a fix in the coronavirus relief package that's currently being debated.
It's unclear if the report will help. Senate Health, Education, Labor, and Pensions Chairman Lamar Alexander (R-Tenn.) has been spearheading a push to get his surprise billing proposal (S. 1895) signed into law this year, but faces opposition from physicians' groups and their allies in Congress, Shira Stein and Alex Ruoff report.
Following the report's release, the Democratic and Republican leaders on the Senate HELP, House Energy and Commerce, and House Education and Labor committees released joint statements endorsing action on surprise billing, citing the pandemic as a pressing factor.
"Patients have demanded protection from surprise medical bills for years," the six lawmakers—Sens. Alexander and Patty Murray (D-Wash.), House Energy and Commerce Chairman Frank Pallone (D-N.J.) and top GOP member Greg Walden (R-Ore.), House Education and Labor Chairman Bobby Scott (D-Va.) and top GOP member Virginia Foxx (R-N.C.)—said in the statement. "They need it in the middle of a global pandemic and permanently after the crisis is over."
Not on the statement was House Ways and Means Chairman Richard Neal (D-Mass.), whose committee approved its own surprise billing legislation (H.R. 5826) in February amid opposition from some progressives, who faulted its provisions on private arbitration, and praise from some Republicans over the same provisions.
Separately, another bipartisan Senate group—Sens. Maggie Hassan (D-N.H.), Bill Cassidy (R-La.), and Michael Bennet (D-Colo.)—also backed surprise billing language in the next coronavirus stimulus legislation. It's "more important than ever that we come together on a bipartisan basis to end surprise medical bills," they said in a statement yesterday.
Cassidy introduced legislation (S. 1531) last year co-sponsored by Bennet, Hassan, and 28 other Senate Democrats and Republicans to create protections for health insurance consumers from surprise billing practices.
Congressional Virus Efforts
House Advances Child-Care Bills: The nation's child-care providers would receive $60 billion in emergency funding and an additional $50 billion over five years in aid under two bills the full House passed yesterday. Democratic leaders want the bills to be incorporated into a future virus stimulus package.
The Child Care Is Essential Act (H.R. 7027) would give providers the $50 billion in funding industry leaders have said is necessary to weather the public health emergency. The Child Care for Economic Recovery Act (H.R. 7327) would provide $10 billion in emergency funding for infrastructure grants to help providers make health and safety modifications to their facilities, plus another $10 billion each year to further child-care entitlements to states through fiscal 2024. Read more from Jaclyn Diaz.
Murray Seeks Free Vaccines for Americans: The next coronavirus pandemic relief package must make sure that all Americans can get an eventual Covid-19 vaccine free-of-charge, Murray said yesterday. Murray said that the Republican relief measure unveiled this week "falls far short" of what's needed to develop and distribute a coronavirus vaccine. "Anything that doesn't guarantee anyone can get a vaccine free of charge isn't going to cut it," Murray said in a statement.
Democrats also plan to press Republicans to create a special enrollment period to let people buy plans on Obamacare's individual health insurance marketplace and to address health disparities among White, Black, and Latino populations in the U.S., a Democratic aide said on condition of anonymity, Alex Ruoff reports.
Pelosi Mandates Masks in House: Speaker Nancy Pelosi (D-Calif.) is making masks mandatory for all lawmakers while in the chamber after Rep. Louis Gohmert (R-Texas), who is frequently seen walking the halls of the Capitol without a mask, said that he tested positive for Covid-19. Several House members that were in contact with Gohmert said they would self-quarantine.
"Members and staff will be required to wear masks at all times in the hall of the House" except when members are recognized to speak, Pelosi said on the floor. "The chair wishes to further inform members and staff that they will not be permitted to enter the hall of the House without wearing a mask." Read more from Billy House.
Researcher Seeks End to Disease Vouchers: Federal vouchers to encourage development of treatments for rare pediatric diseases don't work, a researcher told lawmakers, giving ammunition to critics of the program. The priority review voucher program, which offers drugmakers the chance to speed up approval of medicines if they create treatments for rare diseases, has failed to stimulate the development of cures, Aaron Kesselheim, a professor of medicine at Harvard Medical School, told the House Energy and Commerce Committee. Read more from Alex Ruoff.
Virus Response in Africa: The House Foreign Affairs Committee's Africa, Global Health, Global Human Rights and International Organizations Subcommittee will hold a hearing on Covid-19 response in Africa.
Second Appropriations Package: House lawmakers will consider the chamber's second six-bill fiscal 2021 appropriations package (H.R. 7617) on the floor today, which includes Defense, Commerce-Justice-Science, Energy and Water, Financial Services, Labor-HHS-Education, and Transportation-HUD funding.
Stimulus Update: Negotiators haven't made progress on a stimulus measure as some Senate Republicans criticize their own conference's proposal, and a short-term measure may not be an option. Read more from Bloomberg News.
Research & Treatment Efforts
Trump to Host Roundtable on Plasma at Red Cross: Trump will visit the American Red Cross National Headquarters in Washington at 2:40 p.m. today for a roundtable on donating plasma, the White House said in its daily guidance.
U.S. Death Toll Surpasses 150,000: U.S. deaths from the novel coronavirus disease surpassed 150,000, the highest official toll in the world and another grim milestone in a pandemic that is still raging across the U.S. Three of the country's most populous states—Texas, Florida, and California— reported a record number of daily fatalities yesterday.
Coronavirus cases nationwide increased 1.9% as compared with the same time Tuesday to 4.39 million, according to data collected by Johns Hopkins University and Bloomberg News. The increase was higher than the average 1.6% daily gain over the past week. Read more.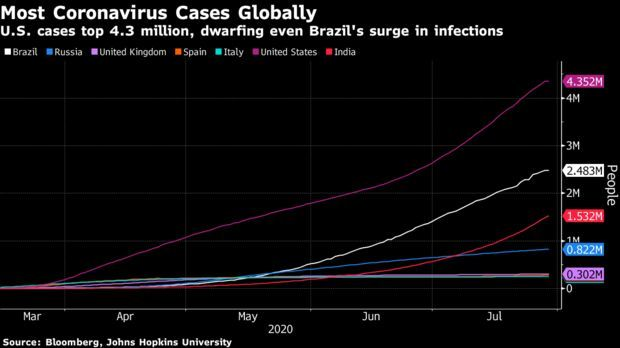 U.S. Sits on Millions of Hydroxychloroquine Pills: The Trump administration is continuing to stockpile 63 million doses of hydroxychloroquine to use against Covid-19, despite it not being seen as an effective treatment. Meanwhile, some patients with lupus, which the drug is proven to work against, can't fully fill their prescriptions. White House trade adviser Peter Navarro criticized the results of large clinical trials debunking hydroxychloroquine's effectiveness for Covid-19 during an interview with CNN, and he said he'd continue to stockpile millions of doses. Anna Edney and Jennifer Jacobs have more.
FDA Authorizes New Quest Diagnostics Method: Quest Diagnostics said the FDA granted emergency use authorization for a new laboratory technique that speeds the process of extracting viral RNA from specimens and will enable the company to expand its daily capacity of Covid-19 molecular diagnostic tests on behalf of patients in the U.S., Divya Balji reports.
Fauci Says Eye Protection Might Be Recommended: Anthony Fauci, the senior expert on infectious diseases in the U.S., told ABC News that eye protection may be recommended as part of effort to prevent spread of the disease. "If you have goggles or a face shield, you should use it to protect as many mucosal surfaces as possible," Fauci said in interview conducted on Instagram. Read more from Jeannie Baumann and Victoria Hodges.
HHS Awards $9 Billion as of June: HHS awarded nearly $9 billion in contracts as of June, most of them being awarded without competition, according to the Government Accountability Office in a report released yesterday. Government-wide contract obligations in response to the Covid-19 pandemic totaled $17.8 billion as of June 11, the GAO report said. Medical and surgical equipment and hospital clothing accounted for about $7 billion of that spending, it said, Ruoff reports. Read the GAO report here.
Trump's Green Card Wealth Test Rule Blocked During Pandemic: The Trump administration was blocked by a federal judge from screening out green card applicants who might become dependent on public benefits during the national emergency over the coronavirus. A group of states led by New York sued the administration last year over the rule, which makes immigrants considered "public charges" if they are deemed likely to receive government benefits, including the Medicaid health-care program for the poor, for more than 12 months over a three-year period. The Supreme Court had allowed the rule to go into effect in February. Read more from Chris Dolmetsch.
More from the U.S.:
Around the World:
What Else to Know:
Trump to Host Roundtable on Plasma at Red Cross HQ Today: President Donald Trump will visit American Red Cross National Headquarters in Washington at 2:40 p.m., the White House said in its daily guidance. Trump will participate in a roundtable on donating plasma at 3 p.m., Chelsea Mes reports.
Medicare Drug Coverage Premiums to Rise Slightly: Medicare beneficiaries will pay a little more for their prescription drug coverage in 2021, but monthly premiums, overall, have fallen by 12% since 2017, the Trump administration announced yesterday. Read more from Tony Pugh.
To contact the reporters on this story: Brandon Lee in Washington at blee@bgov.com; Alex Ruoff in Washington at aruoff@bgov.com; Shira Stein in Washington at sstein@bloomberglaw.com
To contact the editors responsible for this story: Giuseppe Macri at gmacri@bgov.com; Zachary Sherwood at zsherwood@bgov.com; Michaela Ross at mross@bgov.com
Stay informed with more news like this – from the largest team of reporters on Capitol Hill – subscribe to Bloomberg Government today. Learn more.