HEALTH CARE BRIEFING: Health-Care Lobbying Nears Pre-Virus Level
Bloomberg Government subscribers get the stories like this first. Act now and gain unlimited access to everything you need to know. Learn more.
Lobbying spending by major pharmaceutical companies and hospitals is coming back to pre-pandemic levels as lawmakers mull a major expansion of public insurance programs and legislation to lower drug prices, lobbying disclosures released yesterday show.
The Pharmaceutical Research and Manufacturers of America, the drug industry's main lobbying arm, spent $6.4 million in the second quarter of 2021, a $1 million increase compared to the same period in 2020. Like many major industry groups PhRMA's lobbying spending dropped in 2020, to $25.5 million from a record high of $28.8 million in 2019.
Compared with recent years, overall lobbying spending by major drug companies is still sluggish: five companies with some of the largest lobbying presence in Washington—Pfizer, Merck, Amgen, Eli Lilly, and AbbVie—spent a combined $22.3 million on lobbying in the first six months of 2021, down from $23.7 million in the first half of 2020 and $28.5 million over the same time span in 2019.
Lawmakers say they expect to feel the pharmaceutical industry's influence as they fight to clear legislation to empower the federal government to negotiate on drug prices after their August break.
"These guys don't normally lose," Sen. Bernie Sanders (I-Vt.) said of drugmakers. "This time they're going to lose this one."
Similarly, the American Medical Association and the American Hospital Association, the nation's largest lobbying arms for doctors and hospitals, respectively, increased their lobbying spending for the second quarter of 2021. The AHA spent $5 million during that time, up from $4.2 million over the same three months of 2020. The AMA spent $4.2 million during the second quarter of 2021, up from $3.8 million during the same three months of 2020.
Doctors and hospitals broadly support cracking down on drug prices but have been united with the drug lobby in the past against expanding public health insurance programs, such as Medicare. Democrats want to expand Medicare's benefits and have pushed to lower the age of Medicare eligibility to 60, something the AHA in particular has strongly opposed, Alex Ruoff reports.
Opioid Crisis Center Stage
Surge in Drug Overdose Deaths Fuels Bipartisanship: Punitive "hook 'em and book 'em" policies to combat drug addiction are ineffective at stopping substance use and overdoses, lawmakers on a House panel concurred as five bills targeting the issue sped through on unanimous votes. The federal government ought to "use science and medical response instead of just adding 100,000 more cops to the streets," Rep. Tony Cardenas (D-Calif.) said at a House Energy and Commerce Committee markup.
The bipartisanship on display in the committee shows a willingness in Congress to find niche ways to help states and cities battle opioid use. The measures approved yesterday are good candidates for quick House vote under an expedited process for non-controversial legislation, according to a committee aide. At the markup, members grappled with recent figures that deaths due to drug overdoses jumped 30% in 2020, the Centers for Disease Control and Prevention found. Allie reed and Jacquie Lee have more.
Meanwhile, the House's fiscal 2022 appropriations bill (H.R. 4502) for the Department of Health and Human Services and other agencies would give the CDC's Infectious Diseases and Opioid Epidemic Program roughly $70 million to expand access to syringes, a harm-reduction strategy that the Biden administration and drug policy advocates argue is needed to reverse the year-after-year jumps in overdose deaths in the U.S. Read more from Alex Ruoff.
J&J, Distributors Reach Settlements With States Over Opioids: Johnson & Johnson and three opioid distributors have agreed to pay $26 billion to settle thousands of government lawsuits that blame them for helping to create a nationwide public-health crisis tied to their mishandling of the painkillers. The settlement marks a major step forward in litigation over the highly addictive drugs, which have been blamed on more than 500,000 deaths over two decades.
The deal, years in the making, demands that McKesson, Cardinal Health and AmerisourceBergen pay nearly $21 billion to resolve allegations claims that they turned a blind eye to suspiciously large opioid shipments, the companies and state attorneys general said. J&J will pay $5 billion to settle claims it illegally marketed opioids, which it stopped making last year. The companies said the deal will resolve a substantial part of their liability from states' and local lawsuits. Read more from Jef Feeley and Chris Dolmetsch.
J&J and distributors' legal settlements over their role in the addiction crisis shifts the focus to major pharmacies while setting a roadmap for future settlements, attorneys say, leaving companies like Rite Aid and Walgreens—who also face litigation over opioid distribution—in the crosshairs. Read more from Ian Lopez.
Also on Lawmakers' Radars
Delay to Rebate Rule in Infrastructure Deal Stirs Ire: Republican senators blocked debate on a still unfinished infrastructure plan yesterday as negotiators of both parties struggle to complete details of the $579 billion package. As talks continue, reports signaling senators may include a delay to a Medicare rebate rule spurred criticism from PhRMA. "Lawmakers are threatening to gut a rule that would provide patients meaningful relief at the pharmacy," a top PhRMA official said in a statement.
Senate Judiciary Markup: The Senate Judiciary Committee is scheduled to mark up several pharma-related bills:
S. 1425, to enable the Federal Trade Commission to deter filing of sham citizen petitions to cover an attempt to interfere with approval of a competing generic drug or biosimilar;
S. 1428, to prohibit brand name drug companies from compensating generic drug companies to delay the entry of a generic drug into the market; and
S. 1388, to require the FTC to study the role of intermediaries in the pharmaceutical supply chain and provide Congress with appropriate policy recommendations.
The Coronavirus Pandemic
'Ridiculous': Vaccine Myths Cripple U.S. Uptake as Delta Surges: The excuses range from the merely false to the absurd. The shots don't work. They impair fertility. They'll alter your DNA. They'll magnetize you. They actually spread the virus. Unvaccinated Americans cite a litany of myths to explain their hesitance to get shots, confounding local health officials battling yet another surge of coronavirus cases fueled by the more transmissible delta variant. Read more from Josh Wingrove, Kristen V. Brown and Daniel Zuidijk.
Biden Says Vaccines for Children 'Soon', Urges Shot: President Joe Biden urged more Americans to get vaccinated, saying that the coronavirus is only raging among those who have not received their shots. The president last night during a CNN town hall in Cincinnati also said the CDC would likely recommend children under age 12 wear a mask in school. He said that vaccine approval for those children is coming "soon," but would not predict exactly when. He said he would not pressure government scientists to authorize them before they are ready. Read more from Jordan Fabian and Jennifer Epstein.
J&J Shot Raises Fewer Antibodies Against Delta Variant in Study: Johnson & Johnson's single-dose Covid vaccine produced relatively low levels of antibodies against the delta variant in a study, raising questions about how well the shot will hold up against the strain that accounts for the vast majority of U.S. cases.
The laboratory study, released on the preprint server bioRxiv, hasn't been published in a peer-reviewed journal and focuses on one key portion of the immune response, called neutralizing antibodies. New York University scientists found that J&J's vaccine produced roughly five-fold lower levels of the protective antibodies against the delta variant compared to the levels raised against an early coronavirus strain.
The study examined only one aspect of protection, J&J said in an email, and didn't consider long-lasting responses among immune cells stimulated by its vaccine. Read more from Robert Langreth.
Covid-19 Takes Huge Toll on U.S. Life Expectancy: Life expectancy in the U.S. dropped the most in more than seven decades last year as Covid-19 sent hundreds of thousands of Americans to early deaths. The pandemic's disproportionate toll on communities of color also widened existing gaps in life expectancy between White and Black Americans, according to estimates released by the CDC. Hispanics recorded the greatest losses during the pandemic, with life expectancy falling three full years. John Tozzi has more.
Lawmakers said they're alarmed at the trend of Americans living shorter lives as the federal government continues to invest billions of dollar each year in biomedical research to improve the U.S. health system. "This is not about needing more advancement in medical care," Sen. Sanders said yesterday at a Senate Health, Education, Labor and Pensions Committee hearing on the issue, Alex Ruoff reports.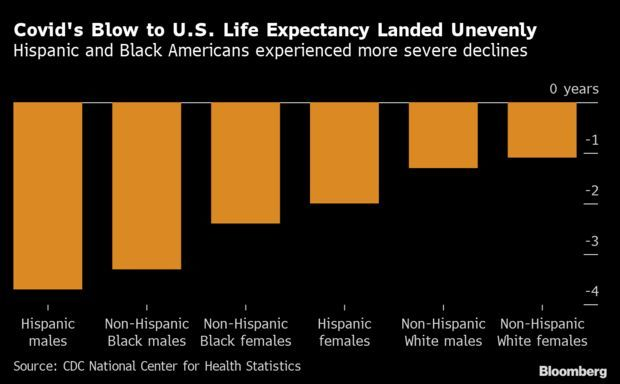 Hospital Groups Urge Mandatory Vaccine Staff Policies: The American Hospital Association and America's Essential Hospitals urged hospitals to mandate Covid-19 vaccination for health-care employees. "Health care professionals and other dedicated essential hospital staff have led the nation's response to COVID-19, and they can lead the way to recovery by making a strong and unequivocal statement on the value of vaccination," AEH President and CEO Bruce Siegel said in a statement. Read more from Allie Reed.
More on the Pandemic:
Global Headlines:
What Else to Know:
To contact the reporters on this story: Alex Ruoff in Washington at aruoff@bgov.com; Brandon Lee in Washington at blee@bgov.com
To contact the editors responsible for this story: Zachary Sherwood at zsherwood@bgov.com; Giuseppe Macri at gmacri@bgov.com; Michaela Ross at mross@bgov.com
Stay informed with more news like this – from the largest team of reporters on Capitol Hill – subscribe to Bloomberg Government today. Learn more.