HEALTH CARE BRIEFING: Gilead Virus Drug Stirs Cautious Optimism
Bloomberg Government subscribers get the stories like this first. Act now and gain unlimited access to everything you need to know. Learn more.
With competing data published on Gilead Sciences' potential coronavirus drug, the jury is still out on how well it works, and there are two big reasons why.
While Anthony Fauci, director of the National Institute of Allergy and Infectious Diseases, said that a government-run trial has met its overall target, full details haven't been published. At the same time, the only rigorous study for which full data is public, a Chinese trial published in The Lancet medical journal yesterday, is showing the opposite.
The dueling trials are the latest example of how science has taken a back seat to optimism in the rush to pave a way out of the coronavirus crisis that's paralyzed economies worldwide. Dozens of companies are studying 11 potential therapies and 137 vaccines in a push to get the virus under control. Gilead's experimental drug remdesivir—which had already been tested against other coronaviruses—is one of the most closely watched.
"It's not just a single trial that's going to hold the truth here," said John Norrie, a professor of medical statistics and methodology at the University of Edinburgh. The real implication of the U.S. government study won't be clear until it's been scrutinized by outside scientists and published in a top medical journal, he said. "The bottom line is, you can't rely on press releases," Norrie said.
Still, early glimmers from encouraging data are poised to increase pressure on U.S. regulators to clear a path for remdesivir to reach the market. Trump, who has aggressively pushed for experimental therapies to treat Covid-19, praised the findings as a major step forward and nodded toward an eventual approval of the medicine by the Food and Drug Administration.
A decision on the medication may come as soon as this week, with FDA officials saying they have been working closely with Gilead. "I want them to go as quickly as they can," Trump said. "We want everything to be safe. But we would like to see very quick approvals, especially with things that work."
Scientists will be seeking out the answers to the same major questions that are asked of any clinical trial. They'll want to know if remdesivir worked, if it's safe to take, and if there's a good biological explanation for how patients fared. They'd also want to know the results of the entire trial. Most of those questions remain open. Michelle Fay Cortez and Naomi Kresge have more.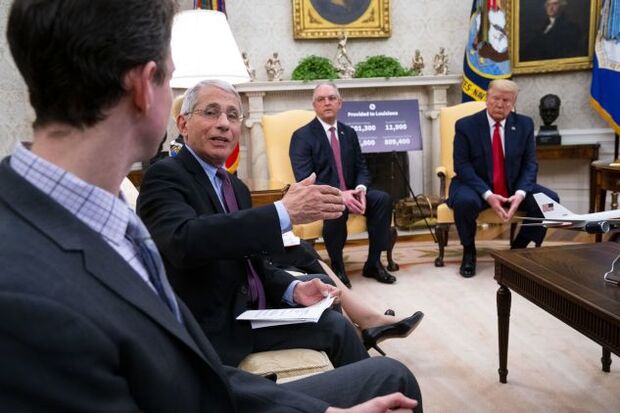 Remdesivir Courses are Ready to Ship: Gilead Sciences CEO Daniel O'Day said there are more than 50,000 courses of the company's experimental Covid-19 therapy, packed in vials and ready to ship as soon as the drug is authorized for emergency use by U.S. regulators. O'Day said the company had been in constant communication with regulators at the FDA, and these communications have picked up in intensity in the last few days as the results of big trials have started to roll in.
While a formal approval would likely take months and require far more robust results than what the company has revealed so far, during the outbreak the FDA has shown a willingness to clear medical products for emergency use with far less data than usual. Read more from Robert Langreth.
Trump's 'Operation Warp Speed' Aims to Rush a Vaccine
The Trump administration is quietly organizing a Manhattan Project-style effort to drastically slash the time needed to develop a SARS-Cov-2 vaccine, with a goal to have 100 million doses ready by year's end, according to two sources familiar with the matter.
Called "Operation Warp Speed," the program will group private pharmaceutical companies, federal agencies and the military to try to cut development time for a vaccine by up to eight months, according to one of the sources. As part of the arrangement, taxpayers will shoulder much of the financial risk that the vaccine candidates might fail, rather than drugmakers.
The project's goal is to have 300 million doses of vaccine available by January, according to one administration official. There is no precedent for such rapid development of a vaccine.
Fauci has repeatedly said that a coronavirus vaccine won't be ready for 12 to 18 months at best. Until then, White House guidelines envision some economically damaging social-distancing efforts maintained even as the U.S. starts to resume a more normal social and business life.
Trump last month directed Health and Human Services Secretary Alex Azar to speed development of a vaccine, and administration officials have been meeting on the effort for three to four weeks, one of the people said. A meeting on the project was scheduled at the White House yesterday. Jennifer Jacobs and Drew Armstrong have more.
AstraZeneca to Make Oxford Vaccine: AstraZeneca agreed to make an experimental coronavirus vaccine developed by Oxford University researchers. Astra's tie-up with Oxford shows how developers are aiming to manufacture vaccines before they've cleared human tests so they can be distributed as soon as possible. "We should know relatively soon if it does work or not," Astra CEO Pascal Soriot told BBC radio. "By June, July, we will already have a pretty good idea." Read more from Marthe Fourcade and John Lauerman.
Testing & the Path to Reopening
Contest for Covid-19 Tests Planned: The National Institutes of Health is urging scientists and investors to compete in a $500 million national challenge that will help it identify the best candidates for at-home or point-of-care tests for Covid-19. The NIH is likening that program to "Shark Tank," the reality television show in which entrepreneurs compete for financial backing. Scientists and innovators will vie for a share of a $500 million fund that will be awarded to those with the most promising tech. Finalists will also be matched with technical and business experts to help advance their products.
The NIH says the objective is to make millions of accurate and easy-to-use tests per week available to all Americans by the end of summer 2020, and even more in time for the flu season. The contest is part of a new program called the Rapid Acceleration of Diagnostics initiative, which received $1.5 billion in U.S. funding, the agency said yesterday. Read more from Riley Griffin.
FEMA to Drop Lead Role for Reopening: FEMA is trying to remove itself as the lead agency on the federal Covid-19 response and is in discussions to hand over its responsibilities to a different federal agency, according to two people familiar with the discussions. The move signals a shift in the White House's agenda, from the initial scramble to increase the supply of necessary equipment to states and health-care workers to a longer-term strategy to reopen the nation. The Federal Emergency Management Agency has been running the pandemic response since last month. Read more from Shira Stein.
Health Groups Warn Against Reopening Too Soon: More than 40 medical and public health associations, including the Infectious Diseases Society of America, are warning governments eager to reopen that easing restrictions too quickly could lead to "increased infections, illnesses and deaths, overwhelming health systems, prolonging the pandemic and extending economic hardships," according to a statement yesterday, Jeannie Baumann reports.
Trump Cites U.S. Testing for Number of Cases: Trump credited expanded U.S. testing for coronavirus for the 1 million cases the nation has reported, by far the most in the world. "That's a tremendous amount," Trump said at a White House event. "It's a number that in one way sounds bad but in another is an indication our testing is more superior," he said. U.S. testing for coronavirus infection was delayed compared to other countries, in part due to failures by the government. The country didn't exceed 100,000 Americans tested for the disease until March 19—eight weeks after the first U.S. case was reported Jan. 20, according to data compiled by the Covid Tracking Project. Read more from Justin Sink.
Apple-Google Virus Combat Plan Hinges on Testing: Apple and Google earlier this month unveiled an ambitious plan to jury-rig billions of smartphones into coronavirus-tracking beacons, hoping to help public-health authorities fight the disease and pave the way to end lockdowns that have crippled the global economy. Now, just weeks after the announcement, the program is already facing serious challenges and it's unclear whether the system will ever be used at a large scale. Persistent concerns about privacy, weak consumer adoption, and the lack of a coordinated government effort on testing could all pose obstacles to the companies' push. Some governments have already struck out on their own, building systems used by millions without needing Apple and Google's help. Read more from Gerrit De Vynck.
More Headlines:
Congressional Virus Efforts
Covid-19 Hearing Slated for May 7: The Senate Health, Education, Labor, and Pensions Committee scheduled a hearing for May 7 to examine new tests for the coronavirus.
Cooperation Urged in Serological Testing Probe: House Oversight Consumer Policy Subcommittee Chairman Raja Krishnamoorthi (D-Ill.) urged the FDA in a letter yesterday to comply with the subcommittee's investigation into the agency's policies on serological testing for coronavirus. "With many plans to reopen the economy requiring the availability of consistently reliable serological testing, we need your answers now while there's still time to fix shortfalls in FDA policy," Krishnamoorthi said. He cited "wide gaps" in the White House's handling of serological tests, which can indicate if an individual has developed antibodies after being infected. Read the letter here.
Bill Would Federalize Medical Supply Chain: Senate Democrats will press for legislation to use the Defense Production Act to bump up production of testing supplies, personal protective equipment and other medical gear, they said in a written statement yesterday. Their bill would require weekly public reports on assessments of equipment supplies, identify which manufacturers are ready to fill orders, and establish an executive officer post appointed by the secretary of Defense to oversee acquisition and logistics. Read more from Kathleen Miller.
Scientists Targeted for Next Relief Bill: Scientists forced to halt their studies due to the pandemic would receive gap funding under a proposal by the same two lawmakers behind the nation's landmark biomedical innovation law. Reps. Diana DeGette (D-Colo.) and Fred Upton (R-Mich.) propose the next coronavirus relief package to include $26 billion in funding, which they said would help out hundreds of thousands of graduate students, postdoctoral students, principal investigators, and other technical support staffers at risk of losing their employment. Read more from Jeannie Baumann.
Thompson Calls for IG Probe of Racial Disparities: House Homeland Security Chairman Bennie Thompson (D-Miss.) sent a letter to the Department of Health and Human Services Office of Inspector General regarding "healthcare disparities" with regard to HHS's response to the pandemic, requesting the OIG to explore the department's "past and present efforts to eliminate racial, ethnic, and socioeconomic health disparities" and offer ideas of lessening the effects of health disparities going forward. Read the letter here.
More Headlines:
What Else to Know
N.Y., N.J. Receive Lowest Aid Amounts: As of April 24, the federal government has spent $39.2 billion out of the $175 billion earmarked for U.S. hospitals and providers, according to a document obtained by Bloomberg Government. Most of that money, about $30 billion, went out in the second week of April through the first "tranche," while the second, $9.1 billion tranche was distributed slower, Alex Ruoff reports.
Despite having the highest number of cases, New York and New Jersey saw the lowest amount per confirmed case of the coronavirus, with $9,393 and $10,631 respectively, while West Virginia and Montana got the most per confirmed case, at $286,480 and $280,217 respectively. Bloomberg Law has previously reported on the trend in earlier funding rounds.
Pompeo Blames China for Global Outbreak: China poses a threat to the world by hiding information about the origin of the new coronavirus that it allowed to spread around the globe, Secretary of State Michael Pompeo said in a television interview yesterday. The top U.S. diplomat ramped up the accusations between the U.S. and China over the virus. White House adviser Jared Kushner, who is Trump's son-in-law, also said today that Trump has ordered a probe into the origins of the coronavirus and will hold those responsible accountable for its spread. Read more from Josh Wingrove.
Detention Facilities' Virus Rules Upheld: Challenges to policies implemented by the federal government to prevent the spread of coronavirus in immigration courts and detention centers were tossed by a U.S. district court yesterday. The polices include distancing protocols, and suggest waiving in-person hearings in favor of internet and telephone conferences. They also force visitors to provide and wear protective gear and require monitoring. The plaintiffs, five detainees and three immigration organizations, sought a temporary restraining order on grounds it violated due process. Read more from Bernie Pazanowski.
More Headlines:
To contact the reporter on this story: Brandon Lee in Washington at blee@bgov.com
To contact the editors responsible for this story: Giuseppe Macri at gmacri@bgov.com; Zachary Sherwood at zsherwood@bgov.com; Michaela Ross at mross@bgov.com
Stay informed with more news like this – from the largest team of reporters on Capitol Hill – subscribe to Bloomberg Government today. Learn more.