HEALTH CARE BRIEFING: FDA Sets Emergency Guidance for Vaccine
Bloomberg Government subscribers get the stories like this first. Act now and gain unlimited access to everything you need to know. Learn more.
The Food and Drug Administration said it's made clear to drugmakers the standards for a vaccine to be cleared for emergency use, obviating a more formal FDA guidance document that is still under review by the White House after the New York Times and Politico both reported yesterday that Trump's office had blocked the EUA guidance.
As final-stage trials of Covid-19 vaccines proceed, the FDA has worked to make clear what standards would have to be met to authorize use of the shots. One such path is an emergency-use authorization, or EUA, a fast-track procedure that relies on less safety and efficacy data than a full approval.
An FDA spokesman also said the EUA guidance was still under review, and that drugmakers working on vaccines had already been informed by the agency what the standards would be — despite the lack of publication of the document. Read more from Drew Armstrong and Angelica LaVito.
Meanwhile, the FDA will require makers of Covid-19 vaccine candidates to monitor their clinical trial participants for a median of two months after administering their last shot, a top agency official said. The agency could shorten the time frame before it will consider authorizing the vaccine depending on what the data shows, Peter Marks, director of the Food and Drug Administration's Center for Biologics and Evaluation Research, said during a JAMA Live event yesterday. Read more from Jeannie Baumann.
Trump Returns From Hospital
President Donald Trump's return from three days of hospital treatment for Covid-19 left unanswered questions about his condition and doubts about his willingness to abide by constraints needed to keep a virus outbreak at the White House from worsening. Ahead of Trump's release on Monday evening, his physician, Sean Conley, said that while the president was fit enough to go home, he "may not be entirely out of the woods" and that further care would be provided at the White House over coming days. Within hours of Trump's arrival at the White House, officials announced measures including restricting access to the president and offering protective gear to those who meet with him. The steps seek to prevent further infections following positive coronavirus tests among several key aides. Read more from Josh Wingrove, Jennifer Jacobs and Justin Sink.
Trump's aides will try to keep him confined to the White House residence after he was discharged from the hospital with Covid-19 yesterday evening, but are uncertain if they can actually restrict his movements, people familiar with the matter said before the president departed Walter Reed National Military Medical Center in Maryland yesterday night.

Read more from Josh Wingrove, Jennifer Jacobs and Justin Sink

.
More Headlines:
Congressional Virus Efforts
Stimulus Update: House Speaker Nancy Pelosi (D-Calif.) and Treasury Secretary Steven Mnuchin will resume negotiations today on another round of pandemic relief for the U.S. economy yet there's still no clear path to a deal before Election Day. Pelosi and Mnuchin have spoken regularly by phone over the past week after reviving talks with their first in-person meeting since early August on stimulus legislation. While both sides have reported progress, significant gaps remain between the Democrat's $2.2 trillion proposal and a $1.6 trillion offer backed by the White House.
Even with President Donald Trump urging the two parties during his recent hospital stay to "get it done" on a stimulus bill, Congress would have just four weeks to finalize and pass any legislation before the Nov. 3 election. And it's unclear that an agreement authored by Mnuchin and backed by the White House would have the necessary support in the Republican-led Senate. Read more from Erik Wasson and Mike Dorning.
White House Probed Over Alleged Meddling in FDA, CDC: A House Oversight and Reform subcommittee wants two federal health agencies at the fore of the coronavirus response to disclose details about the White House's involvement in health-care and scientific decisions, according to letters reviewed by Bloomberg News. The letters addressed to the chiefs of the Food and Drug Administration and Centers for Disease Control and Prevention seek documents about the agencies' actions submitted for review, including communications and documents, that show any changes made during the review process.
The letters sent yesterday were signed by Rep. Raja Krishnamoorthi (D-Ill.), chairman of the House Oversight and Reform Committee's Economic and Consumer Policy panel. The subcommittee's letters express concern about the influence of non-scientists and political appointees over public-health decisions, including how the FDA will assess experimental Covid vaccines now in trials. The letter to the CDC asks about what it calls "White House censorship" of CDC guidance. Read more from John Tozzi.
CDC Says Virus Spreads Beyond 6 Feet: Meanwhile, the CDC acknowledged yesterday the coronavirus can sometimes be spread through tiny particles that can linger in the air and infect people who are over six feet away from an infectious person. The CDC last month posted and then pulled a guideline on airborne transmission, which it later described as a draft posted in error. The reversal was the latest in a series of episodes to raise questions about the independence of health agencies. Read more from John Tozzi.
Pelosi Oversees Testing Regime at House: Pelosi yesterday stood behind a coronavirus testing regime at the Capitol, saying that the thousands of people who work for and around Congress have access to tests when needed. "You want to have the testing for those who need it," Pelosi said on MSNBC. Three lawmakers tested positive for Covid-19 in the past week, raising questions about whether the Capitol complex is prepared to contain an outbreak of the virus, Alex Ruoff reports.
Schumer Calls for Judiciary Panel to Be Tested: Every member of the Senate Judiciary Committee should be tested for Covid-19 before proceeding with panel hearings, Minority Leader Chuck Schumer (D-N.Y.) said in a statement yesterday. Moving forward with the process without mandating all members to be tested before any hearing in accordance with CDC's best practices "would be intentionally reckless," Schumer wrote, Teaganne Finn and Laura Litvan report.
GOP E&C Aide Departs for Venable: Michael Bloomquist, the top GOP aide on the House Energy and Commerce Committee, has joined law and lobbying firm Venable as a partner in its legislative and government affairs practice, Megan R. Wilson reports. This isn't Bloomquist's first time on K Street. Before returning to Capitol Hill, Bloomquist worked at lobbying firm Kountoupes Denham Carr & Reid beginning in 2014, advocating for clients including the Nuclear Energy Institute, Exelon, AdvaMed, AstraZeneca, Intel and Fuels America.
More on the Pandemic
Covid Woes Stalk Workers Back on Job: Covid-19 survivors now have another battle that will outlast the deadly virus: working for a living. Many with persisting symptoms may still be too sick to work full time or in person. They worry about being exposed again; how they'll squeeze in doctor appointments when they've exhausted their time off; how long their bosses will be understanding; if they'll be able to perform as they did before, and what happens if they can't.
Millions of people could be dealing with medical issues including heart, kidney and lung damage long after the pandemic subsides. With no clear legal or regulatory guidance yet on how accommodating employers will have to be, Covid-19 has created a parallel predicament for businesses that carries numerous risks of litigation. It's unclear whether and how key workplace protections under the Americans with Disabilities Act will apply, leaving it up to employers and employees to sort out what accommodations can or should be made. Read more from Lydia Wheeler and Paige Smith.
Neurologic Symptoms Found in Most Hospitalized Patients: About 4 out of 5 patients hospitalized with Covid-19 suffer neurologic symptoms such as muscle pain, headaches, confusion, dizziness and a loss of smell or taste, new research shows. The most severe condition listed was encephalopathy, "characterized by altered mental function ranging from mild confusion to coma," Igor Koralnik, the chief of neuro-infectious disease at Northwestern Medicine in Chicago and one of the study's authors, said. Read more from Reg Gale.
Covid-19 Making a Dangerous Comeback: Covid-19 is spreading again across most of the U.S., hammering rural America and smaller cities and raising anxiety in New York, as experts warn that school reopenings and colder weather might cause the situation to rapidly deteriorate. In 34 states, the seven-day average of new cases is higher now than it was a month ago. Although the virus has waned in populous states including California and Florida, it is wreaking unprecedented havoc in the Midwest and making an incipient return in parts of the Northeast. Read more from Jonathan Levin and Kristen V. Brown.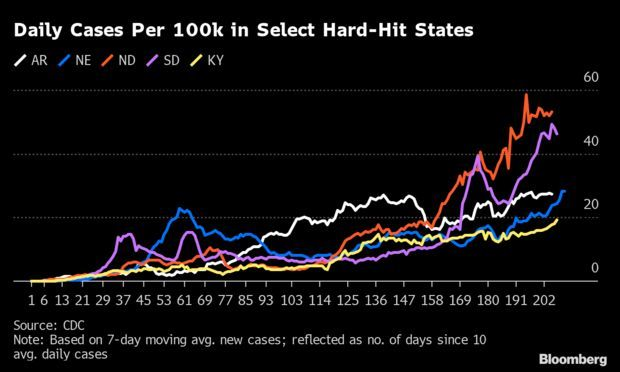 More Headlines:
What Else to Know
GOP Beefs Up Virus Measures for Barrett Hearing: Senate Republicans are taking steps to reduce the risk of coronavirus spread at hearings for Supreme Court nominee Amy Coney Barrett, seeking to keep the confirmation process on track in face of Democratic objections following the infection of two panel members. The Senate Judiciary Committee hearings, scheduled to begin Oct. 12, will be held in a spacious room in the Hart Senate Office Building used for such purposes in the past. Each senator, along with Barrett, will have their own sanitary station with sanitizer, paper towels and trash cans. Face masks and gloves will be available throughout the room, best known for its grand white-granite backdrop behind the dais. Read more from Laura Litvan.
Supreme Court Skips on Several Health Cases: The Supreme Court yesterday decided to pass on reviewing a handful of legal battles for the justices' current term, deferring to lower court rulings on issues related to Medicare, health-care fraud, and nursing home licenses. At the same time, the high court is preparing to tackle perhaps the biggest health-care issue in generations—the legality of the Affordable Care Act—with a ruling expected after the Nov. 3 election. The cases the court declined to review include:
More Headlines:
With assistance from Alex Ruoff
To contact the reporter on this story: Brandon Lee in Washington at blee@bgov.com
To contact the editors responsible for this story: Zachary Sherwood at zsherwood@bgov.com; Giuseppe Macri at gmacri@bgov.com; Michaela Ross at mross@bgov.com
Stay informed with more news like this – from the largest team of reporters on Capitol Hill – subscribe to Bloomberg Government today. Learn more.