HEALTH CARE BRIEFING: Fauci Warns of 100,000 New Cases Every Day
Bloomberg Government subscribers get the stories like this first. Act now and gain unlimited access to everything you need to know. Learn more.
The U.S. is "going in the wrong direction" in its effort to contain the coronavirus and daily case counts could more than double if public behaviors don't change, top infectious diseases expert Anthony Fauci told the Senate Health, Education, Labor, and Pensions Committee.
Pinpointing indoor gatherings, particularly bar scenes with lines out the door and patrons standing shoulder to shoulder, Fauci said new cases of Covid-19 could rise to 100,000 a day, up from the current level of about 40,000.
Several southern and western states are seeing surging new Covid-19 numbers, prompting some to put reopening plans on hold. Hospitalizations have risen in 12 states, Centers for Disease Control and Prevention Director Robert Redfield told the committee. Florida's Miami-Dade County reported its highest numbers of hospitalizations, intensive-care unit patients, and ventilator use in at least two months. In Houston, ICUs hit 97% of normal capacity yesterday.
"The numbers speak for themselves. I'm very concerned," Fauci, director of the National Institute of Allergy and Infectious Diseases, said. "Clearly we are not in total control right now." He declined to estimate the number of possible deaths from the virus, but said, "It is going to be very disturbing, I guarantee you that."
The key is for people to stop what Fauci called "an all-or-nothing phenomenon," meaning either a state is locked down or people are in bars without masks on.
Chairman Lamar Alexander (R-Tenn.) opened the panel's hearing with comments on wearing masks, arguing the issue shouldn't be as politicized as it's become and that he has asked President Donald Trump to put on a mask to set an example.
Vice President Mike Pence sought to strike a more positive tone later yesterday in remarks after meeting with the Coronavirus Task Force in Maryland. The U.S. is "in a much better place" than a few months ago. "To every American, we want to assure you that we're ready," he added. "More ready than ever before."
Pence made it clear that there are no plans to issue national requirements on masks, allowing states to manage their "unique circumstances."
Redfield and Fauci appeared before senators for a hearing on reopening U.S. businesses and returning students to school. Fauci said schools may need to consider online classes or staggered schedules to safely bring students back.
Speaking after the task force meeting, Surgeon General Jerome Adams said that masks will be essential for any return to school. Read more from Anna Edney.
Related: Trump's Surgeon General Says 'Please, Please, Please' Wear Mask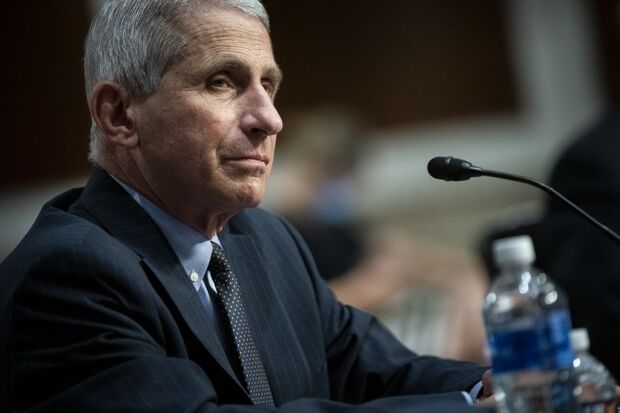 Congressional Virus Efforts
Mental Health Fallout Spurs Aid Effort: Federal mental health assistance may gain traction in the House as lawmakers consider expanding Medicare for some services and creating behavioral health grants for areas seeing a Covid-19 surge.
Mental health and substance abuse treatment advocates say they need funds to help clinics and health-care providers stay in business as the pandemic prevents many from seeking treatment.
The House Energy and Commerce Committee's Health Subcommittee reviewed 22 mental health bills yesterday and Democratic leaders signaled the legislation might come to the floor this year, possibly as part of the next coronavirus-relief measure. Chairman Frank Pallone (D-N.J.) said he expects the bills will get votes. Read more from Alex Ruoff.
GOP Urges Strengthened Flu Vaccine Supply: The federal government must protect the supply of season influenza vaccine by encouraging more domestic production, key Republican lawmakers will say in a report to be unveiled today. Reps. Greg Walden (R-Ore.) and Brett Guthrie (R-Ky.) said about 53% of the U.S. seasonal influenza vaccines are produced domestically.
They will also recommend the White House create a "comprehensive national vaccine plan," which members of both parties have been calling on the Trump administration to roll out for months now, Alex Ruoff reports.
Vaccine Sought for Food Workers Early: Food and agriculture workers should be among the first to receive the Covid-19 vaccine once it's developed, industry groups urged as lawmakers consider how to manage what's likely to be a rush for access. "It ought to be a scientific and health decision on what the priorities are," Sen. Chuck Grassley (R-Iowa) said yesterday. "But it would sure help agriculture if it brings certainty to the food supply chain." Megan Boyanton has more.
Letters, Bills & Hearings:
Vaccine Research & Treatment
Industry Urged to Better Diversify Test Pools: Covid-19 vaccine tests should include racial and ethnic minorities, people with underlying medical conditions, and pregnant women, the Food and Drug Administration said, echoing calls by patient advocates to widen the pool of participants. The FDA released guidance yesterday that laid out the criteria for companies such as Moderna, Sanofi, and Johnson & Johnson to put their Covid-19 vaccines on the market.
The guidance, while not binding, is the FDA's strongest statement to date about what it expects before it will authorize a vaccine. Industry relies heavily on these guidance documents when developing medical products. The vaccine candidate developed by the National Institutes of Health and Moderna is poised to go into phase III trials in the next several weeks. Read more from Jeannie Baumann.
Azar Sees Hundreds of Millions of Vaccines in Early 2021: Azar said the government is aiming to have"hundreds of millions of doses of a safe, effective vaccine, or multiple of them, by early next year," with "tens of millions of doses by the fall of this year." He also told Fox Business that it's "very unlikely" patients will have to bear the cost of Gilead's remdesivir treatment, Kathleen Miller and Josh Wingrove report.
Inovio, one of the frontrunners in the race to come up with a vaccine, said 94% of its subjects showed an immune response to an experimental shot based on initial data from an early test. The U.S. company's candidate was also tapped to be part of a non-human primate challenge study as part of the government's Operation Warp Speed. Read more.
Gilead Urged to Slash Remdesivir Price Should It Fail: Gilead Sciences should be prepared to dramatically slash the price of its Covid-19 drug remdesivir if the drug fails to reduce deaths, a group that analyzes the value of health treatments says. Gilead has priced remdesivir at an estimated $3,120 for commercial health insurers. But so far the drug has yet to prove it significantly reduces deaths due to Covid-19, although it does help people feel better faster, said Steven Pearson, founder and president of the Institute for Clinical and Economic Review.
If the drug doesn't prove to reduce deaths, it would only be worth about $310, he said. "It'd be like a souped-up aspirin," Pearson said. "You feel better a little bit quicker, but actually it doesn't save lives." Sara Hansard has more.
More on Virus Responses:
More on Reopening Efforts:
What Else to Know
ACA's Backers See Hope in Roberts' CFPB Opinion: Chief Justice John Roberts might have assured advocates fighting to save Obamacare that he plans to save the ACA yet another time. In striking down language in the Dodd-Frank Act that protected the director of the Consumer Financial Protection Bureau from being fired and leaving the agency intact, Roberts signaled yesterday that he could do something similar with the Affordable Care Act: toss out its requirement to buy insurance without killing the entire law, lawyers claim. Lydia Wheeler has more.
More Headlines:
To contact the reporters on this story: Brandon Lee in Washington at blee@bgov.com; Alex Ruoff in Washington at aruoff@bgov.com
To contact the editors responsible for this story: Giuseppe Macri at gmacri@bgov.com; Zachary Sherwood at zsherwood@bgov.com; Michaela Ross at mross@bgov.com
Stay informed with more news like this – from the largest team of reporters on Capitol Hill – subscribe to Bloomberg Government today. Learn more.