HEALTH CARE BRIEFING: Election Arrives as Covid Slams Key States
Bloomberg Government subscribers get the stories like this first. Act now and gain unlimited access to everything you need to know. Learn more.
As the U.S. heads into Election Day, the country's reported Covid-19 cases hit an all-time high, with hospitalizations rising in 44 states and key battlegrounds and demographics facing their worst moments of the pandemic.
The clearest examples are in the Midwest "toss-up" states that helped propel Trump to the presidency four years ago. Wisconsin posted America's third-highest cases per capita in the past week, behind only the Dakotas, according to the Covid Tracking Project. And seven-day average cases are at records in Iowa and Michigan.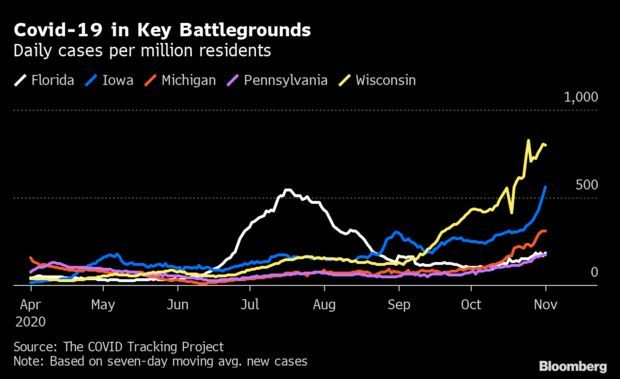 The coronavirus also is hitting especially hard among key demographics in other competitive states. In Texas, majority-Hispanic El Paso County has the highest cases per capita in the U.S. over the past week among counties with at least 100,000 residents, according to USAFacts, a non-profit aggregator of government data that's used by the U.S. Centers for Disease Control and Prevention.
Overall, Texas counties with the largest Hispanic populations are getting hit twice as badly as the ones with the smallest, CDC data show. Polls show Biden within reach of an upset victory in the traditionally Republican state. Similarly, North Carolina's African American communities are getting hit significantly harder than the rest of the state, CDC data show.
The election entered its final day today with a record-shattering 98 million ballots already cast. It's taking place amid a third deadly wave in the pandemic, warnings about renewed foreign interference and a political environment even more polarized than in 2016, with both sides warning that a vote for the other risks plunging the country into ruin. Nick Wadhams previews the state of the race on the final day.
A few states where voting concludes earlier this evening are primed to serve as harbingers of congressional majorities. Dozens of elections stretching from Maine to Alaska will determine if Democrats capture Senate control and expand their hold on the House. The first clue to what kind of night it will be for both parties may come as the initial polls close at 6 p.m. EST in eastern Kentucky and in most of Indiana, which is hosting a toss-up House race. Greg Giroux previews a half-dozen races to watch as election night begins to unfold.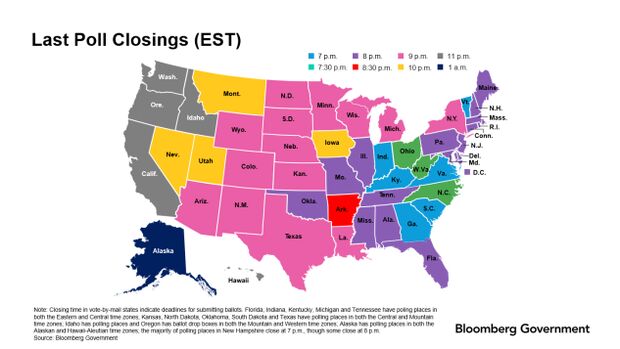 More on the Election:
BGOV PODCAST — Taking Stock of the 2020 Cycle: Bloomberg Government's Kyle Trygstad and Greg Giroux discuss the election cycle now past, and what to watch for on election night, on the final episode of Downballot Counts before the polls close. Listen to the latest episode of Downballot Counts. Subscribe and listen to Downballot Counts from your mobile device: Via Apple Podcasts | Via Overcast | Via Stitcher | Via Spotify
Fight for the Senate: Democrats are on the brink of capturing the Senate to give the party full control of Congress, though the final outcome depends heavily on the strength of Biden's performance. Laura Litvan, Steven T. Dennis and Billy House break down the Senate races to watch.
House Democrats May Win 10 to 15 Seats: House Democrats are likely to add to their ranks after tomorrow's election, expanding their current 35-seat advantage over Republicans, new projections from the Cook Political Report said. "We now view a Democratic net gain of 10 to 15 seats as the likeliest outcome, with anything from five to 20 seats well within the realm of possibility," Cook said in a report that shifted eight races toward Democrats. Read more from Laura Davison.
Anti-Abortion Group Says It Spent $52 Million: The Susan B. Anthony Fund, which opposes abortion access, said it's spent over $52 million on Trump's re-election and key Senate races, the most for any anti-abortion group in an election. As a nonprofit, the group won't officially report its fundraising totals until a year from now, but in a summary of its election-year work, it noted that it's reached out to 8 million voters in Arizona, Florida, Iowa, Michigan, Montana, North Carolina, Pennsylvania, South Carolina and Wisconsin. Read more from Jennifer Jacobs and Bill Allison.
Also on the Ballot: Uber, DaVita, and General Motors are among the companies pumping millions of dollars into ballot initiatives in a year when the pandemic has upended political campaigning conventions. The issues include employee rights, tax reform, and marijuana legalization. Californians also will see a matchup between kidney dialysis providers and the state's largest health-care worker union. DaVita, Fresenius Medical Care North America, and other dialysis providers are spending more than $105 million to defeat an initiative from the Service Employees International Union-United Healthcare Workers West to require doctors to be present at clinics at all hours of operation (Proposition 23), according to secretary of state filings. Tiffany Stecker and Adrianne Appel take a look at what's on the ballot this year.
The Coronavirus Pandemic
'Fire Fauci' Is Easier Said Than Done: As a career civil servant, Anthony Fauci is not an easy man to fire, despite the pleas of a crowd of Trump supporters chanting at a rally. Fauci is a Title 42 senior-level federal employee, covered under the performance management system for members of the Senior Executive Service. The White House declined comment yesterday on whether it believes it has the authority to oust him. But Diane Seltzer Torre of Maryland-based Seltzer Law Firm said that under Fauci's status, said Trump can't fire him directly. Louis C. Labrecque, Josh Wingrove and Angelica LaVito.
Watchdog Targets Workplace Safety in Virus Plan: The Department of Labor's independent watchdog is expanding the reach of its already wide-ranging review of how multiple agencies have responded to the pandemic, increasing its focus on workplace safety and unemployment insurance. The Labor Department's Office of Inspector General will launch investigations into the Occupational Safety and Health Administration's decision to reduce workplace inspections while facing a lawsuit from meatpacking employees, according to an audit plan for fiscal 2021. Read more from Ben Penn.
Federal Agencies Hit with Pandemic Lawsuit: HHS and CDC allegedly failed to adequately prepare for or respond to the Covid-19 pandemic, according to a lawsuit filed by a Brooklyn charter school, a nonprofit that runs health clinics, and New York City Councilman Mark Levine (D). The lawsuit filed Oct. 30 appears to be the first of its kind accusing the public health agencies of ignoring their duties under the Pandemic and All-Hazards Preparedness and Advancing Innovation Act and the Public Health Service Act. Read more from Lydia Wheeler.
Race for a Vaccine:
More on the Pandemic:
What Else to Know Today
Trump Public Charge Rule Stuck Down: The Trump administration's new public charge rule, which expanded the definition of immigrants who are inadmissible to the country because of doubts they could be self-sustaining, has been struck down by a federal judge in Chicago. The rule violates the Administrative Procedure Act and must be vacated, Judge Gary Feinerman of the U.S. District Court for the Northern District of Illinois said yesterday. Cook County, Ill., and the Illinois Coalition for Immigrant and Refugee Rights had argued the rule's interpretation of who is a public charge was arbitrary and capricious. Read more from Bernie Pazanowski and Genevieve Douglas.
Health Care at the High Court:
Health Care in Lower Courts:
Ex-Officials Call for Organ Donation Revamp: The U.S. organ donation and transplantation system is convoluted and badly needs changes, a group of former federal technology officers said in a new report. The report identifies inefficient technologies, misaligned incentives, and a monopolistic contracting system as key issues in the organ donation system. It was produced by a group led partly by five former Health and Human Services Department chief technology officers. Read more from Alex Ruoff.
More in Industry, Regulations:
To contact the reporter on this story: Brandon Lee in Washington at blee@bgov.com
To contact the editor responsible for this story: Zachary Sherwood at zsherwood@bgov.com
Stay informed with more news like this – from the largest team of reporters on Capitol Hill – subscribe to Bloomberg Government today. Learn more.