HEALTH CARE BRIEFING: Early Trump Virus Response to Get IG Probe
Bloomberg Government subscribers get the stories like this first. Act now and gain unlimited access to everything you need to know. Learn more.
The Health and Human Services Department's watchdog agency will look at the Trump administration's early response to the spread of coronavirus "down the road," Christi Grimm, HHS's principal deputy inspector general, told lawmakers.
The acting head of HHS's watchdog said her office would look at "decisions and what actions were taken" related to the administration's response to the Covid-19 outbreak, but is currently focused on the oversight of funding and care being delivered in emergency fashion. "Now, we believe, is not the time to be looking into issue like that," Grimm told the House Oversight and Reform Committee in a virtual hearing yesterday.
Grimm came under fire from President Donald Trump after her office released a report last month on the shortages of protective equipment in hospitals. She didn't address the president's comments directly but said her office is "plowing ahead" with its oversight efforts. "I personally and professionally cannot let the idea of providing unpopular information drive decision making in the work that we do," Grimm said.
Grimm made the comment when asked if her office would investigate China's role in delaying the Trump administration's response.
Fourteen audits evaluations related to Covid-19 are ongoing at HHS's Office of Inspector General, focusing on use of the national strategic stockpile, how nursing homes and other long-term care facilities deal with infectious diseases and HHS's control over hospital emergency preparedness, Grimm said. It's also examining the Food and Drug Administration's emergency use authorizations, she said, Alex Ruoff reports.
Grimm also said at the hearing that her office is considering looking into how biomedical research and development funding has been awarded under the Trump administration, Shira Stein reports.
Rick Bright, who served as the director of the Biomedical Advanced Research and Development Authority until the end of last month, filed a complaint with the Office of Special Counsel over issues related to the coronavirus pandemic and concerns over contracts he claims HHS officials pushed based on political considerations rather than scientific data.
More Covid-19 Oversight: The House Energy and Commerce Oversight and Investigations Subcommittee yesterday announced the panel's first fully remote hearing on June 2 at 11:30 a.m. to discuss how governors are addressing the virus as the Trump administration leaves reopening responsibilities to states, according to a press release.
Stimulus Implementation & Reopening
Medicaid Providers Push for Stimulus Funding: Industry groups representing health-care providers and support staff that largely serve Medicaid beneficiaries are pressing the Trump administration to send emergency funds earmarked for their members. None of the emergency funds sent out by HHS so far have been specifically targeted for providers serving people on state-run public insurance programs, such as direct support professionals for people with intellectual and developmental disabilities, said Barbara Merrill, chief executive of the American Network of Community Options and Resources.
"We've been at the bottom of the totem pole time and time again," said Merrill, whose group serves people with intellectual and developmental disabilities. She said her group is organizing lawmakers to ask HHS to earmark funds for those who provide care for people with disabilities. Similarly, Bruce Siegel, president and CEO of America's Essential Hospitals, said on Friday his group wants HHS to release more emergency aid geared to hospitals serving Medicaid beneficiaries.
HHS has awarded over $21 billion in grants through emergency appropriations, according to agency records. It was given $175 billion through two bills cleared through Congress earlier this year, Alex Ruoff reports.
Reopening Doctors' Offices Costs Billions: The nation's doctors are cautiously looking to reopen their shuttered practices. But they want at least $10 billion in dedicated federal relief to help them get back on their feet. New procedures to ensure patient safety will need to be implemented before practices can reopen, which could put doctors at an increased risk for noncompliance. Failure to meet federal, state, and local guidelines could lead to monetary penalties, revocations of licenses, and other possible sanctions. Read more from Tony Pugh.
More Headlines:
Testing, Tracing & Treatment Efforts
Trump Plan Aims for More Tests in May Than All Done to Date: The Trump administration has released coronavirus testing targets for May, an aggressive expansion that would have some states doubling, quadrupling and even, in the case of Puerto Rico, completing 5.6 times the number they conducted through late April. The White House announced on May 11 that states had set the goals in partnership with the Trump administration but it didn't release specifics. The breakdown of targets by state was released on Sunday as part of a testing plan outlined by the Health and Human Services Department in a report to Congress.
The HHS plan calls for about 12.9 million tests this month. States are nearly two-thirds of the way to meeting that goal, with roughly 8.3 million administered as of Monday, according to the Covid Tracking Project. Mass testing is essential to understanding the coronavirus' spread. HHS's goals highlight the White House's approach, which has largely placed the responsibility on the states. But experts say that a stronger federal role is required to solve issues like shortages of key materials that are bogging down testing. Emma Court has more.
New York City Hires 1,700 Tracers: New York City has hired over 1,700 contact tracers, who will be trained and in action by June 1, Mayor Bill de Blasio (D) said. The city had set out to hire 1,000 but surpassed that goal, de Blasio said during a briefing yesterday. Tracers are critical in stemming the spread of the virus by identifying people who've come into contact with the infected. "This is when we go on the offensive," he said.
Chicago is seeking to recruit 600 people for a Covid-19 initiative that can trace 4,500 new contacts each day, according to Mayor Lori Lightfoot (D). Chicago has allocated $56 million in funds to hire and train a workforce of contact tracers, supervisors and referral coordinators, Lightfoot said in a statement yesterday.
Merck Advances Vaccine Candidates: Merck moved to bolster the global fight against the virus, showcasing development plans for a pill to treat the infection and two vaccines to prevent it. The U.S. drugmaker bought rights to develop a promising antiviral discovered at Emory University, and will work with partners to advance candidate vaccines based on the technology behind Ebola and measles immunizations, Riley Griffin reports.
Hospital Staff With Virus Have Antibodies: Almost all doctors and nurses who got mild forms of Covid-19 produced antibodies that could prevent reinfection, according to a study in northeastern France. The study of 160 volunteers shows all but one had developed antibodies within 15 days after the start of infection, Institut Pasteur and university hospitals in Strasbourg said in an early version of their findings released before peer review. Almost all staff tested had antibodies capable of neutralizing the coronavirus within 41 days of developing symptoms.
96% of Fatalities in Italy Had Other Conditions: The coronavirus outbreak in Italy has struck overwhelmingly among the nation's older population and those with preexisting medical conditions, according to the national health authority. Almost 96% of the nation's Covid-19 fatalities had previous medical conditions, data from Italy's ISS health institute show.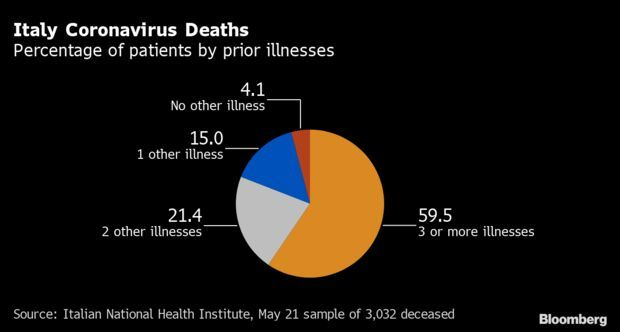 More Headlines:
What Else to Know Today
Insurers Embrace Medicare Plan to Cap Insulin Costs: Over 1,700 Medicare prescription medicine and managed care plans have applied to participate in a Trump administration savings model that will mean seniors will not have to pay more than $35 per month for insulin, CMS announced yesterday. If the model is successful, the administration will weigh expanding it to other "high-cost drugs," Centers for Medicare & Medicaid Services Administrator Seema Verma said in a call with reporters. Read more from Shira Stein.
Court Won't Block Order to Move Inmates: The Supreme Court left in force a judge's order that could require federal prison officials to transport hundreds of inmates out of an Ohio facility where at least nine people have died of Covid-19. The justices yesterday rejected calls from the Trump administration to block the order. Read more from Greg Stohr.
More Headlines:
To contact the reporters on this story: Alex Ruoff in Washington at aruoff@bgov.com; Brandon Lee in Washington at blee@bgov.com
To contact the editors responsible for this story: Giuseppe Macri at gmacri@bgov.com; Zachary Sherwood at zsherwood@bgov.com; Michaela Ross at mross@bgov.com
Stay informed with more news like this – from the largest team of reporters on Capitol Hill – subscribe to Bloomberg Government today. Learn more.