HEALTH CARE BRIEFING: Drug Price Deal Hailed, With Vote Possible
Bloomberg Government subscribers get the stories like this first. Act now and gain unlimited access to everything you need to know. Learn more.
Speaker Nancy Pelosi (D-Calif.) is pushing the House toward a vote on President Joe Biden's economic agenda with a few key issues still unresolved and without the full support of Senate Democrats.
Pelosi yesterday told fellow Democrats during a private meeting to anticipate voting on an updated version of the tax and spending bill even though changes will likely be made in the Senate, according to a person in the room, who asked for anonymity because the discussion wasn't public.
Democrats did make some progress in negotiating some of their differences, such as prescription drug pricing. The House schedule from Majority Leader Steny Hoyer (D-Md.) lists the measure for possible consideration today. Several Democrats expressed skepticism about whether a vote could be accomplished this week.
To get the legislation through the House, Pelosi has decided to include provisions that probably don't have the votes to pass the Senate. These include four weeks of paid family leave, which is opposed by Democratic Sen. Joe Manchin (D-W.Va.), and raising the cap on the deduction for state and local income taxes to $72,500, which was dismissed by Senate Budget Chair Bernie Sanders (I-Vt.) minutes after it was unveiled. Read more from Billy House, Laura Davison and Erik Wasson.
Drug Price Deal Hailed by Employers: Employers view the drug pricing deal by congressional Democrats as an important "foot in the door" even though they won't benefit from a provision allowing Medicare to negotiate some of the highest-priced drugs.
The agreement allowing the government to negotiate prices on a small number of expensive drugs is "an important first step," in making drug prices affordable for workers and their employers, Bill Kramer, executive director for health policy with the Purchaser Business Group on Health (PBGH), said in an interview. "We've broken through the fortress wall that pharma has erected over decades, and this is the first time we've been able to get through with anything."
Still, Kramer added, "We have a long way to go in order to get drug prices that are affordable for the payers and their workers and families." The PBGH represents 40 private employers and public entities across the U.S. spending about $100 billion a year to cover more than 15 million workers and families.
Employers had lobbied heavily to be allowed to take advantage of any lower prices that Medicare negotiates. Although not successful on that front, they were encouraged by other provisions in the Democrats' agreement. Read more from Sara Hansard.
The Congressional Progressive Caucus yesterday endorsed the drug pricing agreement. "Prescription drug pricing reform is overwhelmingly popular and desperately needed across the country," Rep.

Pramila Jayapal

(D-Wash.), chair of the caucus, said in a statement. Read the statement here.
Paid Leave Caps High Earners in Bill: House Democrats' pared-back paid family and medical leave benefits would provide more wage replacement for workers in the lowest income brackets than an earlier proposal. It would also create the new entitlement program within the Social Security Administration, though opposition from key lawmakers leaves its fate to be determined.
A worker whose employer doesn't provide paid medical or family leave would be eligible to receive as many as four weeks of wage replacement for time off during a one-year benefit period. The proposed program would replace 90% of wages for workers making up to $15,000 a year, up from 85% in a September proposal. That's a key change as lawmakers trim the tax and social spending package's overall cost. It would also cut off wage replacement for those earning more than $1,192 a week, or $62,000 a year. People with higher incomes can submit requests for paid leave, but their earnings are replaced up only up that level. An earlier proposal would have replaced a small percentage of income up to $250,000 a year. Read more from Paige Smith and Chris Marr.
Happening on the Hill
Virus Response: The Senate Health, Education, Labor and Pensions Committee holds a hearing on the federal Covid-19 response. National Institute of Allergy and Infectious Diseases Director Anthony Fauci, Centers for Disease Control and Prevention Director Rochelle Walensky, Acting Food and Drug Administration Commissioner Janet Woodcock, and Health and Human Services Assistant Secretary for Preparedness and Response Dawn O'Connell are scheduled to testify.
Energy and Commerce Markup: The House Energy and Commerce Subcommittee on Health plans to mark up nine bills including:
H.R. 3537, to direct the Health and Human Services Department to support research on, and expanded access to, investigational drugs for amyotrophic lateral sclerosis (ALS); and
H.R. 5487, to improve research and data collection on stillbirths.
The Coronavirus Pandemic
Biden Calls Vaccine for Kids 'Giant Step': Biden called approval of Covid-19 vaccines for children ages 5-11 a crucial step in the fight against the pandemic, and said a campaign to deliver the shots will fully ramp up next week. "We have taken a giant step forward to further accelerate our path out of the pandemic," Biden said yesterday at the White House. "For parents all over this country, this is a day of relief and celebration." The Biden administration's vaccine booking portal will begin scheduling shots for kids age 5 to 11 by the end of the week, after they were cleared Tuesday evening.
Biden also again encouraged elderly Americans to obtain vaccine boosters, and said that half of seniors who received the Pfizer-BioNTech vaccine have already gotten a third shot. He celebrated the U.S. reaching 80% of adults with at least one shot, and said that as a result, at Thanksgiving "our tables and our hearts are going to be full thanks to the vaccine." Josh Wingrove and Nancy Cook have more.
The Covid-19 vaccine rollout for children coincides with the busiest season for pediatricians, presenting staffing and logistical challenges for providers as they juggle flu shots and winter illnesses. Providers who administer children vaccines say they're ready to deliver. But extra work lies ahead. Providers will have to ensure they have adequate storage for the additional doses and that the vaccine vials—which have different doses for adults and kids—are properly sorted. Jeannie Baumann has more.
Covid-19 Recovery Hits Bump as Winter Draws Near: The U.S.'s two-month run of Covid-19 improvements may be coming to an end, in what's become a seasonal cycle of viral ebb and flow. That is not to say conditions will imminently begin deteriorating, but they have stopped getting better, much as they did after previous recoveries. Similar to the summer surge of 2020, the 2021 delta variant wave peaked in early September, giving way to two straight months of falling cases, hospitalizations and deaths. Now, the recovery is running out of positive momentum some 60 days in—a repeat of past patterns. Jonathan Levin has more.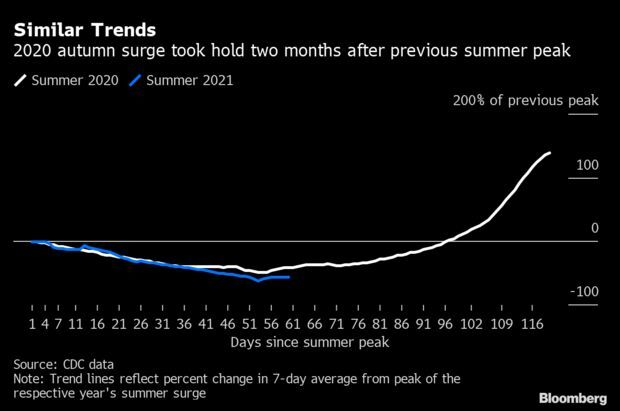 Pandemic Reveals Weaknesses in Coordinating Panel: Several makeovers to a senior-level HHS panel that coordinates medical countermeasures clouded the body's mission over the years, hindering its role in responding to the Covid-19 pandemic and other emergencies, the National Academies found in a report released yesterday. The report recommends the Public Health Emergency Medical Countermeasure Enterprise enlist an external advisory group of scientists, engineers, and other stakeholders to improve accountability and transparency in its decision-making. Read more from Jeannie Baumann.
Covid Triggers Giant Spike in Worker Respiratory Illness Reports: Covid-19 cases contributed to a nearly 3,900% increase in the number of respiratory illness reported by private-industry firms in 2020, according to a report yesterday from the Bureau of Labor Statistics. Firms reported 428,700 respiratory illness cases, with 390,000 attributed to "Covid-19 or other virus-related diseases," it said. There were 10,800 cases in 2019 for all types of respiratory illnesses. The report is the first time the bureau has offered 2020 data on the occupational illness impact of the coronavirus. Read more from Bruce Rolfsen.
Nursing Home Reporting Woes Collide With Vaccine Rule: The nursing home sector, facing severe staff shortages, has asked the White House to lighten burdensome Covid reporting requirements before a sweeping employee vaccine mandate that could create even more labor challenges. Nursing homes and long-term care facilities since May 2020 have been required to report the vaccination status of residents and staff every week to the CDC. But as the list of required information has grown, some facilities say it now takes up hours to compile and submit the data. Read more from Tony Pugh.
What Else to Know Today
Health Care Clings to Faxes Amid Electronic Records Push: Health IT pros and federal regulators dream of a health-care system in which the flow of information happens seamlessly through a simple mouse-click, with just the right data flowing in an instant to just the right provider in just the right form. But getting to health IT nirvana will mean dealing with the fax machine—and with the limitations of current tech that make fax machines necessary. At least 70% of health-care providers still exchange medical information by fax, according to federal officials. Read more from Christopher Brown.
More Headlines:
To contact the reporter on this story: Brandon Lee in Washington at blee@bgov.com
To contact the editors responsible for this story: Zachary Sherwood at zsherwood@bgov.com; Giuseppe Macri at gmacri@bgov.com; Michaela Ross at mross@bgov.com
Stay informed with more news like this – from the largest team of reporters on Capitol Hill – subscribe to Bloomberg Government today. Learn more.